September 27, 2006 - 10:54am
My first Bread baking blog galore
Hello Everybody,
I simply do enjoy coming here regularly to read everyone's post on different variations & methods of baking bread.
Just a few hours ago earlier this morning on the 20th Sept'06, I'd attempted to bake my first time; a wetter & slacker dough for my Poppy seed hot crossed buns.  I had changed the recipe I got in my recipe to use yellow raisins/glace red cherries/glace mixed peel and added poppy seeds & wholemeal bread flour too instead of the regular traditional recipe.
Thanks to Floyd's recipe of Pain de Provence using cointreau which I may add is an excellent option to soak all the fruits in overnight. Thanks to everyone's input on handling wetter & slacker dough, my first attempt produced a heavenly mouth watering aroma of Cointreau soaked fruits when sliced opened.
Oven spring was fantastic, the texture was soft & fluffy although it didn't have the irregular holes that I'd wanted in a slack dough. I reckon it's due to the fact that I didn't do any poolish/preferment/sponge first nor did I handle the dough gently when I was shaping it.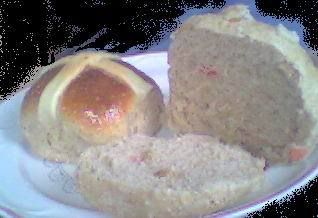 Here is the picture showing the fluffy texture of the crumb. You can also see the little bits of glace cherries/yellow raisins/mixed peel peeking out. Unfortunately, the poppy seeds aren't too noticeable.
Thanks to Floyd for helping me out with posting my photos.  
Rgds
Anthonia(amethystrosemaiden)