San Joaquin Sourdough: yet another variation
The San Joaquin Sourdough has been my wife's favorite bread for quite a while now. It's not that she doesn't like other breads. She thought Salome's Potato-Nut bread that I baked yesterday was "amazing." But, if I had an "everyday bread," I guess this would be it. The recipe and background on this bread are described in my blog entry for Pain de Campagne [1].
While this loaf used the method I have described a number of times, the ingredients were a bit different. I had about 20 gms of 100% hydration starter left over from another bread, so I used it and made up the rest of the 100 gms of starter from my stock 1:3:4 mixed flour starter. I'd exhausted my stock of Giusto's whole rye flour, so I used KAF Pumpernickel, which is more coarsely milled. I figured the 100% hydration starter provided a little more water, but the pumpernickel probably absorbed a little more, so I used 10 gms less water to mix the dough. In other words, I kind of faked it.
The dough tripled during cold retardation in bulk! That's probably why I didn't get much of a rise during proofing or much oven spring. The poor yeastie beasties must have been starved. <sniff>
I baked under an aluminum foil roasting pan for 10 minutes at 480F/Convection, then another 20 minutes at 460F. There wasn't a lot of oven spring, and, while there was respectable bloom, no real ear formed.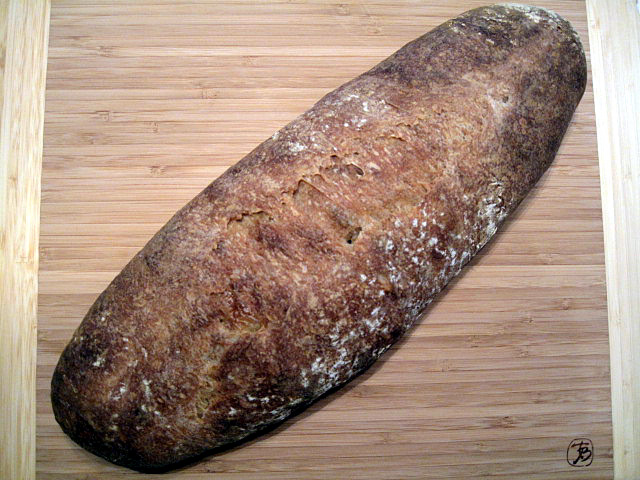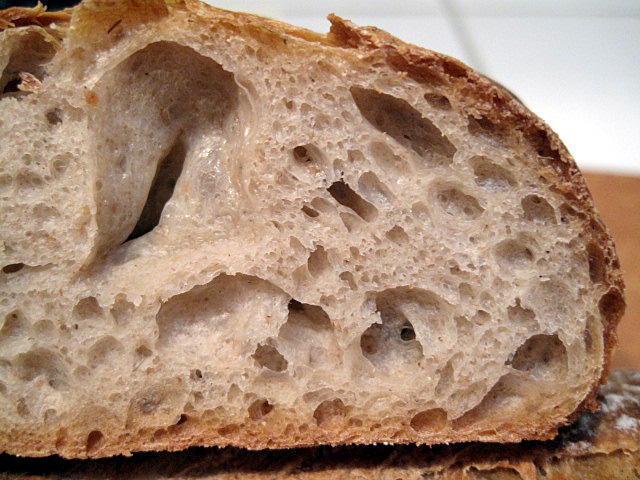 It turned out that the bread had a nice crumb structure, and the taste was as good as I've ever made, if not better. It was assertively sour, which we like. Interestingly enough, while I'd been having mild problems with the retarded dough being slacker than I wished, this dough was a bit more elastic. I can't explain it, unless it was due to the slightly lower hydration (73% vs. 75%).
I think I'll bake this bread again with 10% pumpernickel flour.
David