Molasses & Light Rye Crusty Sourdough
Back in April, my son asked if I could make hot cross buns for Easter.  I Googled the recipe and a whole new world opened up to me.  Up until then, I hardly used internet recipes (I am one of those Asians who believe in "brand names.")  The first hot cross bun recipe that I came across  was that of Dan Lepard's!  Then, came the following excerpt from Dan's website [1]:
"Good bread comes from an understanding of its nature... a good baker recognises that the doughs he makes are living things with individual identities, that they ultimately create themselves. The baker's skill is to encourage natural developments ...."
These few words touched me so much that I have since moved away from pastry that I love so much to a completely new frontier; I began researching day and night, right after Easter, for a period of perhaps 6 weeks non-stop.  Ever heard of a housewife staying up all night until 2 or 3 am every night studying (and still getting up at 6 to make the family breakfast)?  Before Easter, I had never heard of the word "sourdough." I have been making pastries for years because I have an enormous sweet tooth and I have made yeasted breads using bread machine every now and then, but strangely I had never heard of "sourdough" up until that point. 
I was trying to explain to my sisters back in Taiwan about this curious dough.  And, of course, I had to translate the word into Mandarin to make myself understood; I said it is a "sour - dough," or "suan-mientuan" in Mandarin, although I was not happy with that translation. Soon after that, I started to use "tse-ren-fa-hsiao-mientuan" meaning naturally-leavened dough in Chinese to describe it and I am much happier with that.
Well, I've had leftover molasses mixed in water that I am saving from the last Horst Bandel's Black Pumpernickel [2] that I made.  I have a special feeling for molasses because, for me, molasses (or treacle) is an old English thing [3].  The last time I used molasses was in a gorgeous Spelt Christmas Fruit Cake after Easter and it was a Dan Lepard recipe too. (Yes, I know, April is far from Christmas, but that's me. I love sweet things.)  To me, molasses is Dan Lepard!  Isn't it funny to say that.  I am sure somebody is going to protest.  I don't know him at all.  But I know he is also the one who puts all that ale and red wine into sourdough breads!
Now, you probably know where this is going. I've got a molasses starter ready to be put into action, but before I jump into any venture and do a Dan Lepard style of sourdough, I need to satisfy myself that there are indeed at least a few sourdough breads in his books that use this ingredient. First of all, the two books by him that I own turn out to be the same book with different titles (silly me). Secondly, there is but one recipe that uses molasses! There are more formulae in his book that use rye flour and ale (of course). I get the feeling that he is quite a pastry chef as he often uses ingredients (eg ricotta cheese) that are not normally seen in breads.
This cross-disciplinary approach to a century old tradition is what I find interesting. I see many young French boulanger (eg Frederic Lalos, Basile Kamir, and Eric Kayser) are bold in trying new ingredients. And certainly in Japan, as in France, there are a lot of these new age sourdough breads; many of them are a meal on its own.
This Molasses & Light Rye Crusty Sourdough is my tribute to Dan Lepard. I thank him for opening up a brave new world of sourdough to me. If such simple thing can make me happy in life, what more do I ask.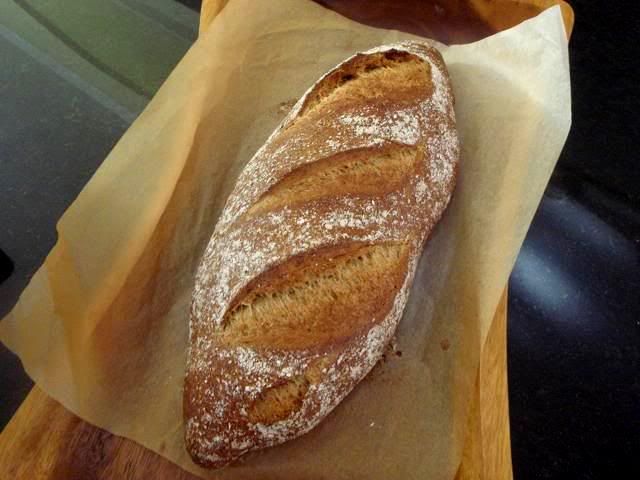 Molasses & Light Rye Crusty Sourdough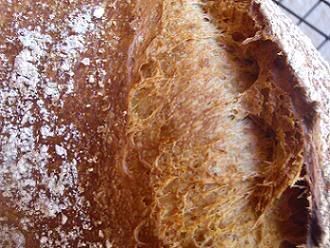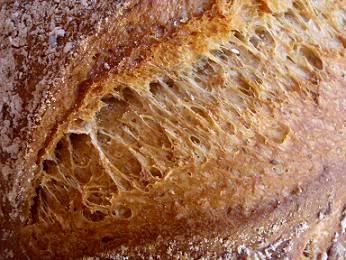 My formula
196 g molasses starter @ 100% hydration (note: I used one part molasses to 9 parts water and 10 parts flour)
160 g rye starter @ 100% hydration
278 g KAF Sir Lancelot high gluten flour
121 g molasses water (again, one part molasses to 9 parts water)
22 g olive oil
9 g salt
(final dough weight 786 g, dough hydration 70%) 
The dough was bulk fermented for 4 hours and during that time it received 3 folds. Shaped, then into the fridge for cold retardation for 10 hours. Proofed at room temp for 2 & 1/2 hours this morning before baking.
I have found something quite useful for new sourdough baker like myself and that is, NOT to over steam the oven. I know many at TFL gave clear instruction to steam the oven with only one cup of water, but I, for one, rarely follow instruction strictly. With too much steam, the scores seal up very quickly in the oven and seldom give nice grigne.  As many at TFL have found, I am learning more is not better.
We had this sourdough for brunch today and it was really lovely. My son said he could smell a pleasant sourness.  He had it with peanut paste (how typical for a growing boy). My daughter had a slice with grilled capsicum medley, like an open sandwich; my husband had it with a thick layer of butter, and I had it as is.  AND, Polly our dog got a slice too.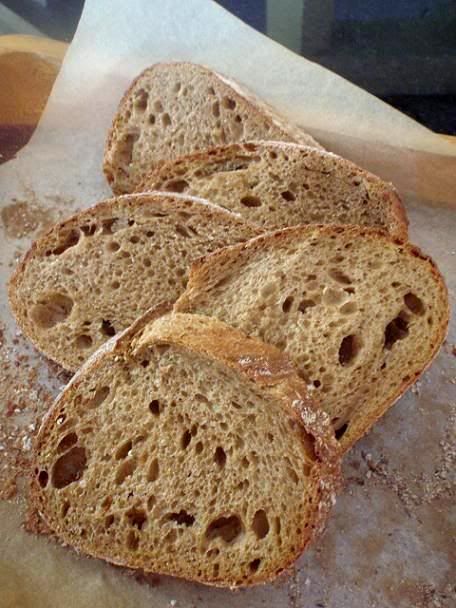 As the loaf is being sliced ...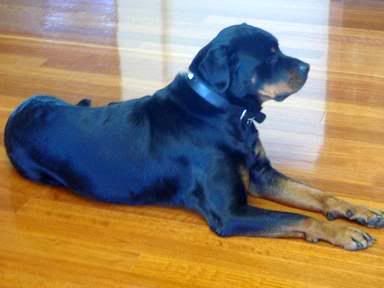 Polly awaits anxiously ... to get her share.
Shiao-Ping