Bread Machine Sourdough Light Whole Wheat Sandwich Loaf.
My wife makes three loaves of light whole wheat bread, alternating every other week with an all-white flour version of the same recipe. Two of the loaves are our "daily bread", the third routinely goes to a neighbor. She uses our bread machine, a Zo, on the "Dough" setting, and does a 2nd bulk fermentation, panning and proofing, and baking outside the machine. The machine does a one hour bulk proof; her second bulk proof is usually 2 to 2-1/2 hours depending on the dough's behavior. The long bulk proofings allow the doughs, expecially the whole wheat version, a chance to develop good flavors.
Curious if I could convert the recipe to a sourdough, i scaled it to produce the same dough weight and hydration as the original recipe, but replaced some of the white flour and water with 240g of active sourdough starter at 60% hydration, built using the 3-build approach I use for all my sourdough formula.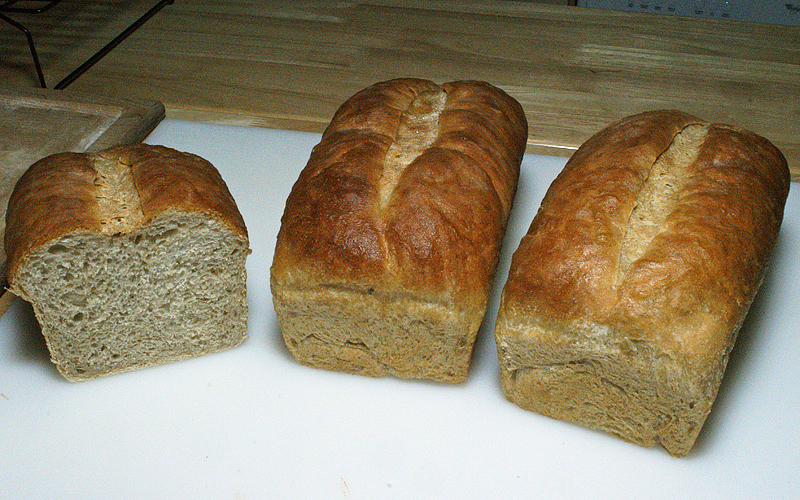 The photo answers my curiousty with a firm yes.
However, the experiement taught me the question I should have asked: "Is it worth the additional time and effort?"
This bread is all one would ask for in a sandwich bread: excellent flavor; closed, but light and slightly chewy crumb; and a soft crust--even before I brushed them with butter. But I can say the same things about my wife's bread. Here's a photo of her all-white version I took a couple of weeks ago.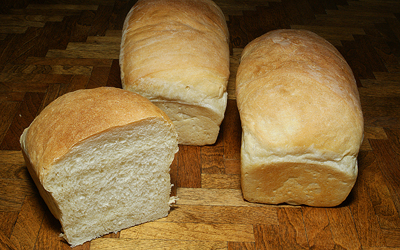 From my point-of-view we're going to stay with the tried and true Yvonne has baked for the last six years. Doing the sourdough was fun, and we will certainly enjoy eating the result.
Sometime in the future I'm going to see if I can be successful baking a single sourdough loaf entirely in the Zo. I think it's possible, in the programmable mode, using a very active starter, and removing the paddles after the knead step. This will allow up to a four hour bulk fermentation step. But that's for another day.