Hamelman's 5-Grain Sourdough Rye with High-gluten flour
Hamelman's 5-grain Soudough made with rye sour is currently one of my favorite bread. The formula calls for high-gluten flour, but I have not had any for a while. I now have some KAF Sir Lancelot flour, and this is the first bread in which I used it.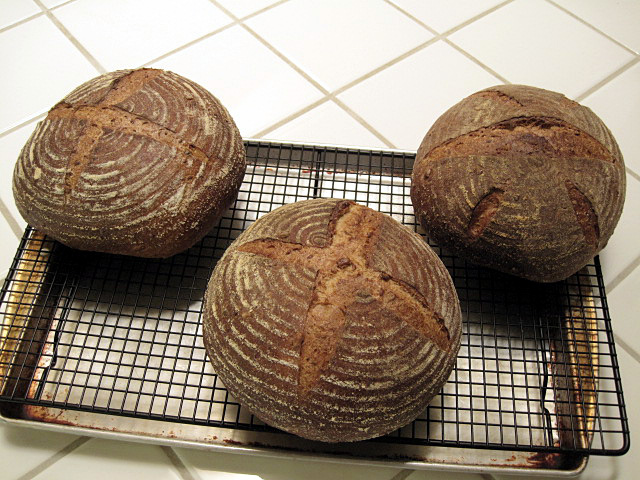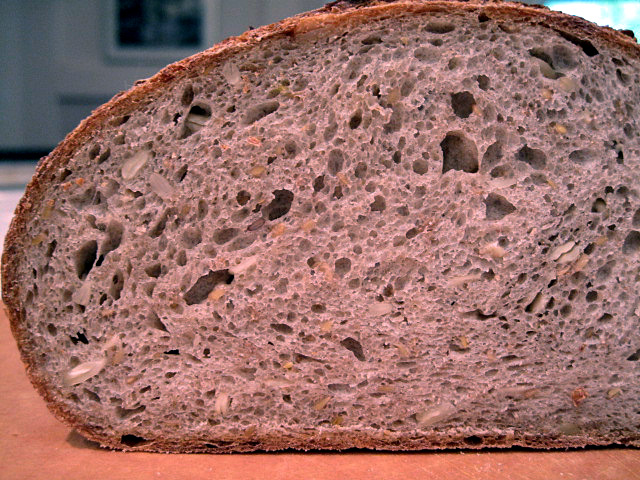 I followed the formula for ingredients exactly, as I had before. Using Sir Lancelot flour, the gluten developed a little more slowly. I think I could have given the dough another couple minutes mixing in the Bosch. I did a stretch and fold before bulk fermenting, but it could have used either more initial mixing or another stretch and fold.
The crumb was quite chewy. I'll be interested in seeing if this bread seems too "tough" when toasted.
BTW, you might notice in the first photo that the boule on the right has a duller (less reflective) crust. This was the first loaf loaded onto my baking stone, and I steamed the oven after the third loaf was loaded - maybe 45 - 60 seconds later. Even a few seconds baking without steam at the start has a pretty dramatic effect.
David