Bennet Valley Potato, Cheddar and Chives Torpedoes
My sourdough starter had been doing quite fine the past few days,as I had been paying closer attention to refreshing it lately. It was so lively yesterday morning I decided to make one of the recipes in Reinhart's BBA. 
I was driving like a mad-man to get home from office (as best a mad-man Singapore's traffic laws would allow) anticipating my bread-baking adventure. I had to make a quick stop-over at the grocery as I had wanted to get some sharp cheddar cheese.
My wife was wondering why I had gone into the kitchen and started to mise en place in my shirt and tie. I brought out my starter from the fridge to take off the chill before I changed clothes. After which, I dove into my baking.  And here is the result...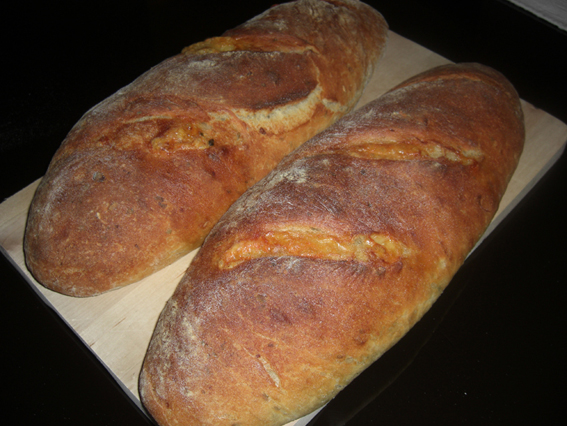 I was so pleased with the results, I nearly ate half as soon as they cooled. I brought one to the office today and  was quickly consumed by my team with a few gulps of coffee. Seeing how my staff enjoyed it was even far better than great taste of the bread itself.
Very satisfying indeed!