Baking SD the College way!
Hi Everyone!
I've meandered around here for some time now and posted a few questions concerning the biological background in sourdough.
Anyway, I've been making sourdough for about 10 months now from a starter I created by capturing wild yeasts at the summit of Mount Lemmon, Arizona.
It's been really tasty bread. Of course, when I was first making it I had no idea what I was doing (I still may not) and there was little consistency.
Since then, I have had much greater consistancy between loafs.
In the past couple of months, however, I've had more and more trouble squeezing sourness from my starter. Although the starter has relaxed mostly consistently, it seems to have a rather subtle sour flavor unless I mass a huge effort to make sure its super sour.
As the Subject suggests, I'm in college. I don't have a lot of time, so honestly, this is how I store, mix, and proof my starter/bread:
-Stored in a clean yogurt container in the fridge
       -At a pancake batter like consitency.
-Remove from fridge, put in large mixing bowl, add distilled water and bread flour to a thick paste
-leave it out to ferment... could be 12 hours, could be 18.... I usually start this ferment 4-5 days before I make my bread.
-Refresh it every day till I have a sizeable amount of... proof is it called?
-About 12 hours before I plan on baking... I add  a little more distilled water (~1/2cup) and then just a bunch of flour till I have a workable dough
-I knead it very little
-Form a loaf on a cookie sheet, coat with a light bit of olive oil, cover with a towel, and let it rise on the counter for ~12 hours.
-Voila! Most of my bread seems to come out rather flat lately. Still has a decent crumb, but kind of flat.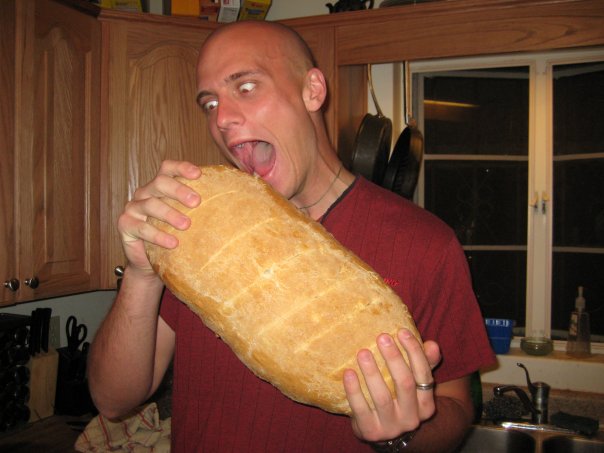 Any one have any suggestions for improvement?
:)
Thanks! You're all awesome!
As a side note: I have made an experiment by combining some of my starter with the liquid that seperates from plain yogurt... seemingly it contains some strains of Lactic acid bacteria that would rejuvenate the sourness in my bread. We'll see what happens. Has a new potent sour aroma to it already.