February 27, 2009 - 11:24pm
Pat's baguettes with a difference
Last week, I made baguettes using Pat's (proth5) recipe. They were good. I was amazed at the open crumb I got from a 65% hydration dough. See my blog entry:
http://tfl.thefreshloaf.com/node/10852/baguette-crumb-65-hydration-dough [1]
Today, I made them again, but included an overnight cold retardation during bulk fermentation. The dough was mixed last night and refrigerated. It expanded little, if at all, overnight. I decided to let it double before dividing and shaping. After 6 hours at room temperature, it had only expanded by 50%, although I could see lots of little bubbles through the glass of the 2 quart measuring cup in which I was fermenting the dough. So, I decided to go ahead and divide it. I preshaped and let the pieces rest for 15 minutes, then shaped the baguettes and proofed them for about 70 minutes. Scored, loaded and baked at 460F.
Being a sourdough kind of guy, I found the increased sourness more to my liking than the batch I had not cold retarded. The crumb was a bit less open, no doubt due to the less complete dough expansion during bulk fermentation. I will try this again but do the cold retardation of the formed loaves next time.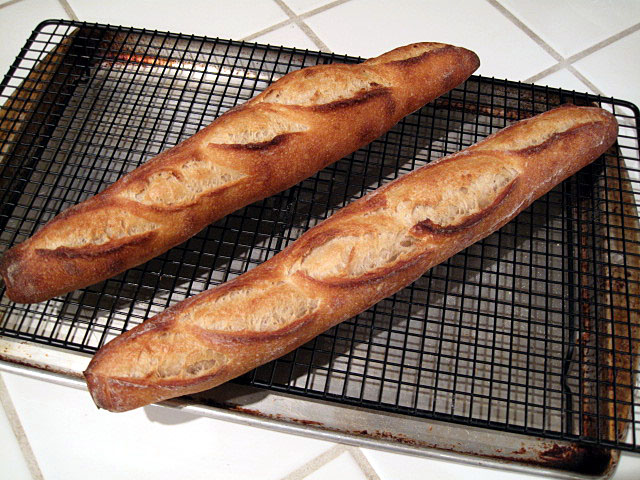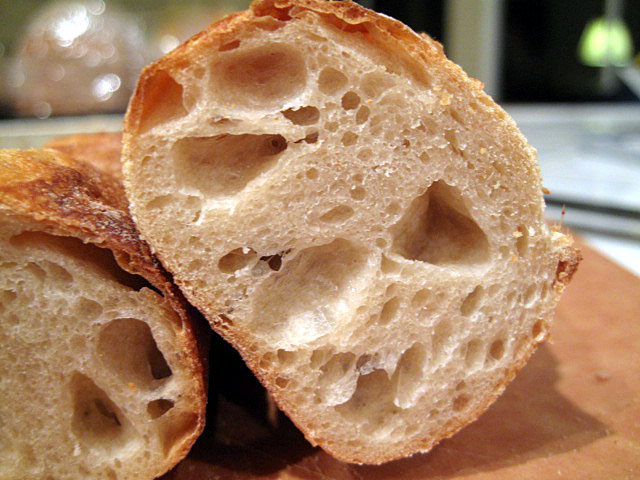 David