BBA Portuguese Sweet Bread
This is my first attempt at this bread.  I was so excited to finally get to try this.  The Lemon, Orange, and Vanilla Extracts added great flavor to the loaves.
Unfortunately, BBA said to add water to the final dough "as needed" and that the dough shouldn't be sticky or wet.  I really wasn't sure what it was supposed to actually feel like, but I guess that i didn't add enough water ro the dough.  Either that or I let the sponge sit too long because it didn't rise much even after sitting out for 3 hours. 
And regardless of what the books ays you can burn it.  I baked for 30 then rotated, then an aditional 20 minutes (BBA said bake 50-60) the thing is a dark brown color, but much too dark and we had to peel the crust off just to eat the thing.  The crumb tasted pretty good, but dry (ie not enough water).
I will definitely be trying this loaf again, it was a strange dough to work with since I haven't dealt with many enriched doughs.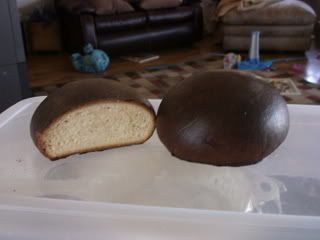 [1]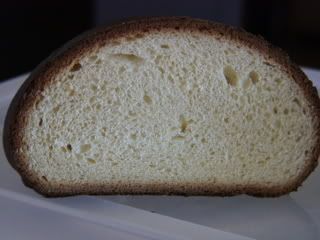 [2]