December 12, 2008 - 7:02pm
Photo: 12" Shrimp Pizza/ click on comments for more photos!
I had two fairly large pre-frozen dough ball recipes from Neo-Neapolitan P.R. American Pie.  Pre-heated my oven and stone to 550...it was set to come on and be pre-heated automatic for one hour...dough balls were left out to thaw...so when I returned home later that afternoon....everything would be ready for a fast pizza dinner...well under 30 min. dinner ready salad and all.  I opened a can of crushed San Marsano Tomatoes...Albertson's carries the brand...also had a package of combination shredded Italian cheeses, provolone, parmesan, asiago, fontina, romano and mozzarella...I know some itailians don't believe in mixing cheese with the sea food...some like it...we like it.. cheese on pasta, pizza, ect..with shrimp!  I had a few nice mushrooms so sliced those up..added my spices/herbs/garlic...to my crushed tomato..not a white pizza with the shrimp tonite!  I had about a dozen frozen fresh shrimp...Trader Joe's taste great and so handy out of the freezer...picked some fresh basil from my garden.  Floured my wooden paddle, laid my dough on it and poked it out into small circle...lifted it and stretched/slapped it back and forth over my hands...using only flour on one side/bottom...I do not add any more flour on my dough...till I had a faily large 12" or so circle...laid it down on the floured brushed wooden paddel....ladeled sauce, added cheese mixture, topped with chopped shrimp, mushrooms, one with a little sliced basil one without the fresh basil...Shook the paddle with little jerks to make sure everything was slidding....sat the paddle front tip down..holding the paddle low from the stone and gave a forward/backward little jerk till the tip of the pizza came in contact with the stone and gently slid the paddle back releasing the pizza nicely onto the stone!  Less than 8 minutes everything was done!  Lifted the pizza out with the paddle onto my paper grocery sack...keeps the crust crisp, I never put my pizza on a plate to slice..gets to soggy..poured a little EVVOil on top and sliced...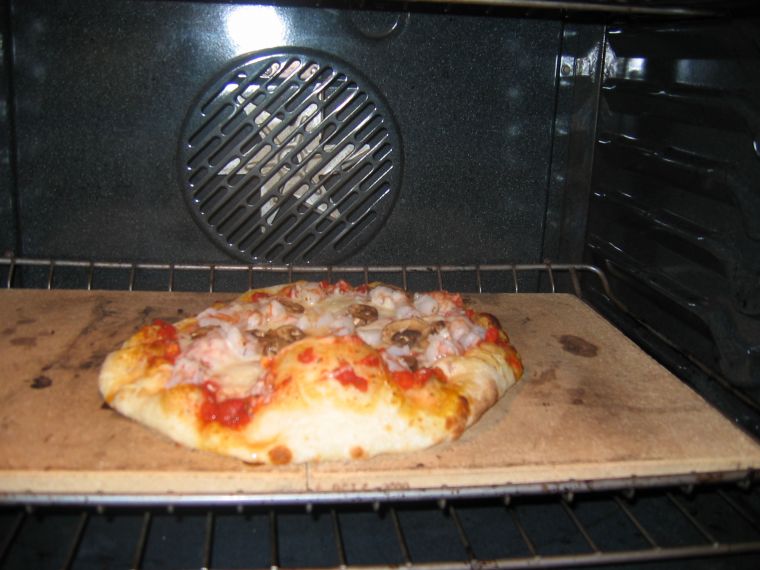 This crust is fairly denser to support the heavy toppings and brown nicely on the bottom...delicious flavor from the pre-fermented dough..with a chewy, crispy crust...Made two pizza's in less than 20 minutes.  Just Beginning to Brown.