November 25, 2008 - 10:51pm
Roasted Onion with Asiago Miche from BBA
One another thread, they are talking about your first bread book. The BBA as we call it was my first purchased bread book. It was a great introduction to bread making and I progressed with every new loaf. As I read along here I became distracted with other bread types and haven't been browsing as much recently. The other day I was comparing notes on bagels and since I use Reinhart's water bagel formula and method as my go to, best ever method, I had the book open. As I turned the pages I came across this bread, and knew I had to make it as soon as possible.
Anything with lots of cheese, green onions and chives and topped with roasted onions, well you know it's going to be great! Here are the proof and out of the oven shots and I'll come back with a crumb shot later. I plan on freezing one loaf for a day and bringing it with the other Turkey Day  items.
It looks great in person and smells wonderful. Thank you Peter!
Added crumb shot: This is a very aromatic bread with a very nice flavor of cheese and onion. The chives and scallions chopped and blended into the dough along with the 8 Oz of Asiago cheese really make a statement. The roasted onions on the top, above the cheese seemed to get a little well done but they taste great! I heartily recommend this bread for a full flavor meal. The texture is soft and delicious.
The author recommends not using a KA mixer with this dough due to the size of the batch and gives directions for hand mixing. I was able to easily able to mix and knead (hook) in my DLX. I think I could of doubled the batch with out any trouble.
Eric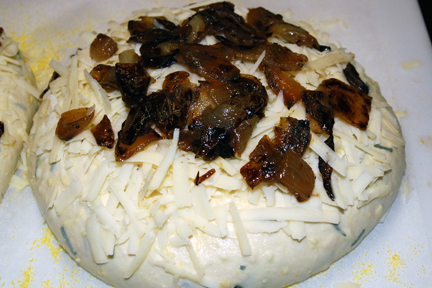 Proofed and ready to bake