First real attempts at bread baking
My wife always shakes her head at me because I'm constantly looking for something new to create. Whether it's woodworking or a software application or gardening or home made pasta, I'm always trying to find some new way to make things. Bread has always interested me, but I've really never known where to start. I've tried a few different recipies, but I've never understood why I was doing the things I was doing, or more importantly, why I shouldn't be doing the things I was doing.
So one day I was on Amazon and I was reading about Bread Bakers Apprentice. It sounded like a book that would give me the information I was after so I ended up taking it out from our local library. I have to say that the first 100 pages were exactly what I was after.
So after digesting those pages, this past weekend I decided to try my hands at the pain à l'ancienne recipe in the book. It seemed a little simplier than some of the other recipies, and this would be the first time I'd made a bread that took more than a day.
Here are the results: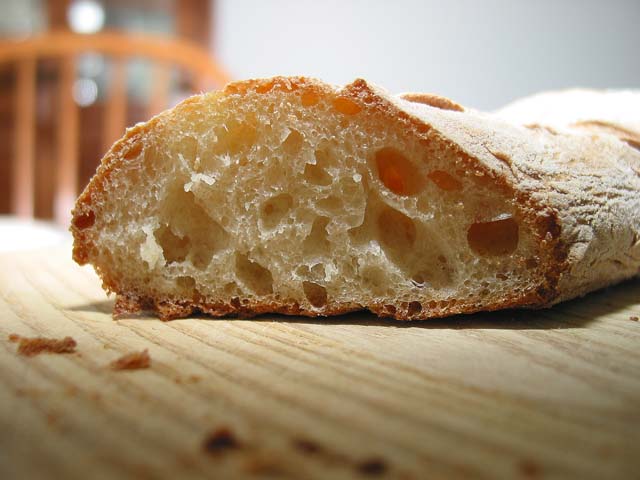 It's not the prittiest I've ever seen, but the flavor might just be the best I've ever tasted.
I also made a cabitta out of the same dough, letting it rise for 2 hours before baking it, but the crumb didn't come out as airy. I think part of the problem was that I took it out too soon.