Sourdough Turmeric Bread
Description
The spice turmeric is a known anti-inflammatory that imparts a subtle flavoring and a lovely yellow coloring to this bread. Due to its soft interior and crust, this bread works very well as everyday sandwich bread.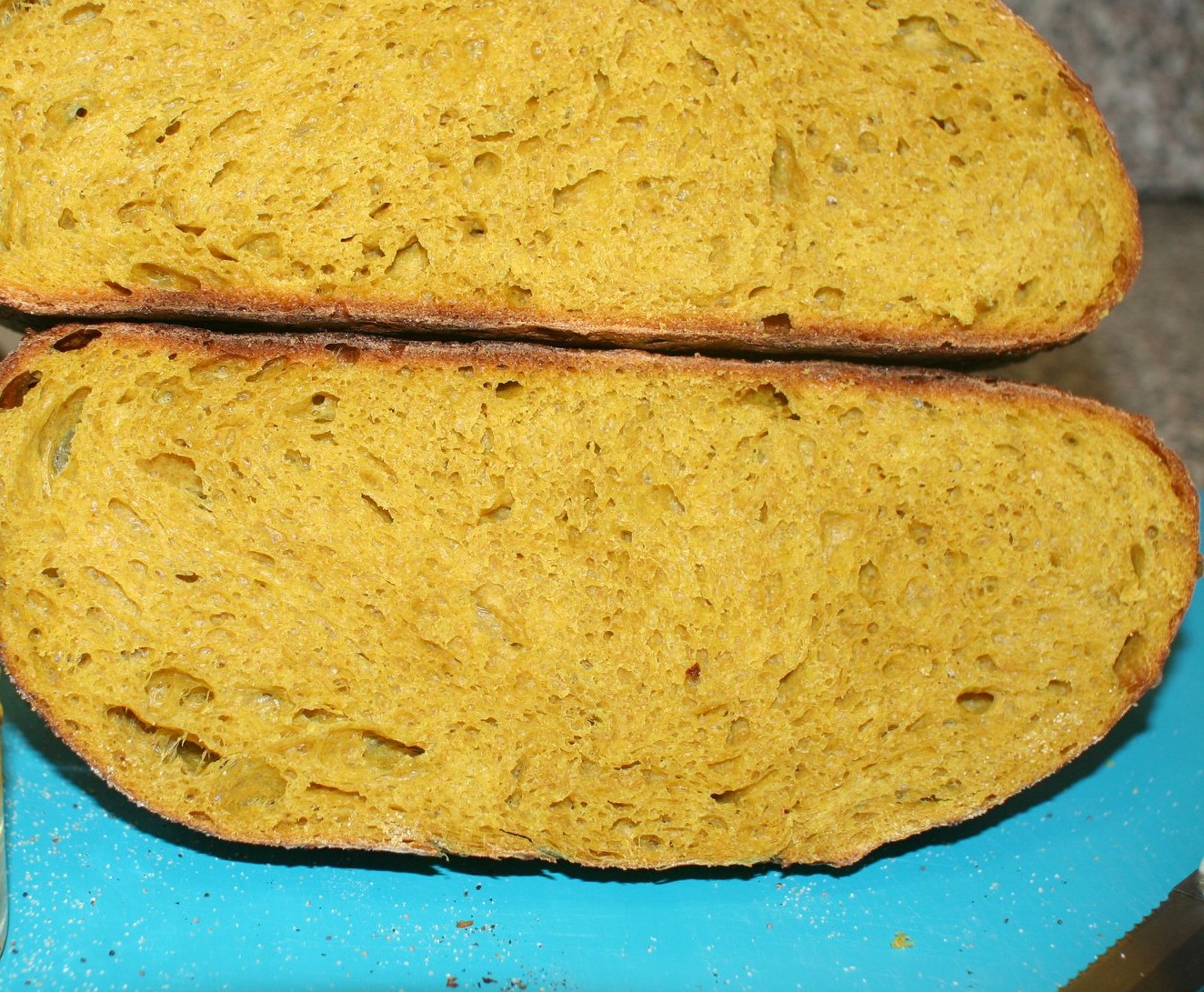 Summary
| | |
| --- | --- |
| Yield | |
| Source | Will Falzon AKA The Pie KIng |
| Prep time | 1 hour |
| Cooking time | 40 minutes |
| Total time | 1 hour, 40 minutes |
Ingredients
22 g
Ripe Starter (@ 100% Hydration)
6 g
diastatic malt powder
Instructions
 Mix the levain (first five ingredients) and allow to ferment until very active about 12 Hrs
 Autolyse
Mix the final dough, bread flour with 200 G of the water just until all the flour is wet

Rest untouched for 1 hr.
Final dough
  Mix together the bread flour mixture and levain with the rest of the final dough ingredients until well incorporated and a shaggy wet dough forms. Use wet hands to prevent sticking.

Rest untouched at warm room temperature (72F) for 1 hr.

Gently perform 1 set of stretch and folds every thirty minutes for the next two hours

Finish the bulk ferment untouched for one more hour.

Pre-shape the dough into a tight ball. Rest on the counter covered for 20 Minutes.

Being careful not to overly degas the dough, shape into a boule or a small batard .

Place the shaped bread into a banneton seam side up.

Cold ferment covered for 12 hrs, or overnight

Bake for 20 min. covered at 500F

Lower the temperature to 450F and bake for 10 Min.

Remove the cover and bake for 10 more minutes or until golden brown, with an internal temperature of 190F.