This is my desperate attempt to find good wheat for my home mill.
I've gotten into baking bread at home a couple of months ago and have become quite obsessive about it, as I always do with my hobbies. I love it. I've learned a lot and the results of making bread at home are very rewarding. I don't want to buy bread from elsewhere again!
I've recently acquired a mill (Salzburger) and am trying to find good wheat grains for it. I've ran into 2 producers in Romania (Biofarmland and Terra Natura) which are highly respectable and trusted here. But their grains (and flour) always result in very weak low-gluten flour. It is hard to work with, it breaks when I stretch and fold, etc. The result isn't bad, but I've seen other much better flours.
My question is: is there anyone here that is Romanian and has any idea where I could acquire good wheat? Or, do I have to just get accustomed to using this weaker wheat? I want to support the local agriculture and I don't want to order from abroad. I've tried Googling but I didn't run into anything trusted. Perhaps in Romania these things are hard to find online, or most of the good wheat goes to export? Hard to say. 
(EDIT) UPDATE ON RECIPE DETAILS
Night before:
Milled approx. 700g of wheat grains. Sifted lightly, lost some bran (up to 10% of total weight).
Mixed 250g freshly ground wheat with 175g water (70%) and 1/16th tsp instant yeast. Noticed that the water was immediately absorbed and that the grain wanted more. Took note to increase total hydration to 80% when making the final dough the next day.
Morning:
Biga looked double. Quite stiff (a bit like mud).
Added the rest of the ingredients: 225g water to make up for the lack, 250g of flour and another 1/16 tsp instant yeast. Hydration still seemed low but moved forward. Will likely try 85-90% next recipe.
10 min later: tried a stretch and fold and it tore. A part of the dough broke as I lifted it. Decided be more careful the next try.
20 min after: next stretch and fold. Dough is not very elastic and quite sensitive. Small tears.
20 min after: final S&F, dough looked like this: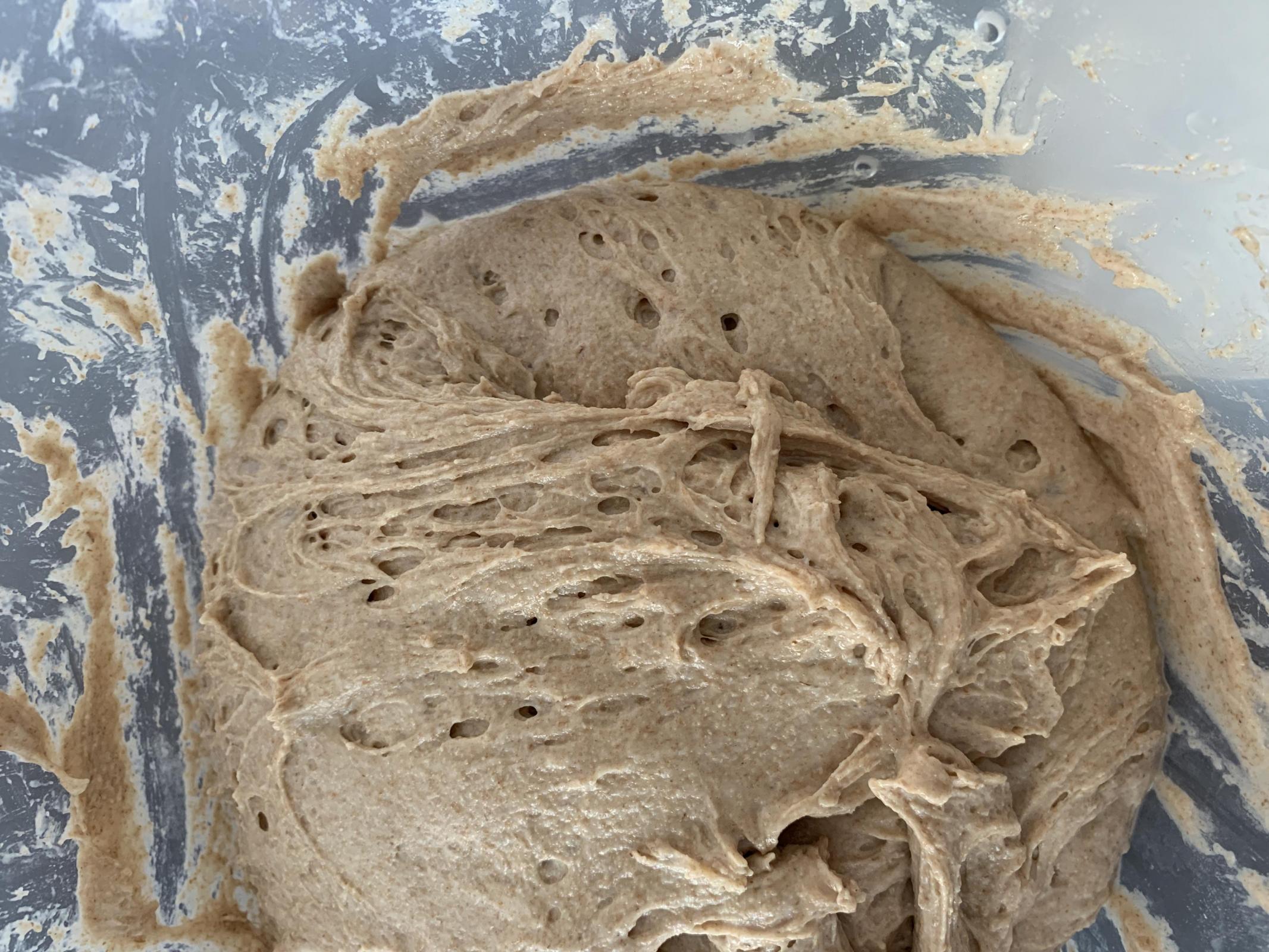 Left about 4-5 hours to bulk ferment. It about tripled in size.
Shaping:
Tried to shape it. Was very difficult, no seam at all. I wasn't sure if a bread will even come out of this. Moved to banneton for 1 hour. Got dutch oven hot in the mean time.
Baking:
Managed to remove from banneton, I didn't think I would succeed given how sticky it was. Dough had holes at the top, air pockets escaping. My hopes very low. Moved to dutch oven, I could see the top (which was the bottom in the banneton) was cracking open and realized it's not holding together. My hopes were becoming even lower. Nevertheless keen for a learning experience.
Baked for 23 minutes (as I usually do) at around 270C then 10 min at about 250C, final internal temp. 98C. Looked like this: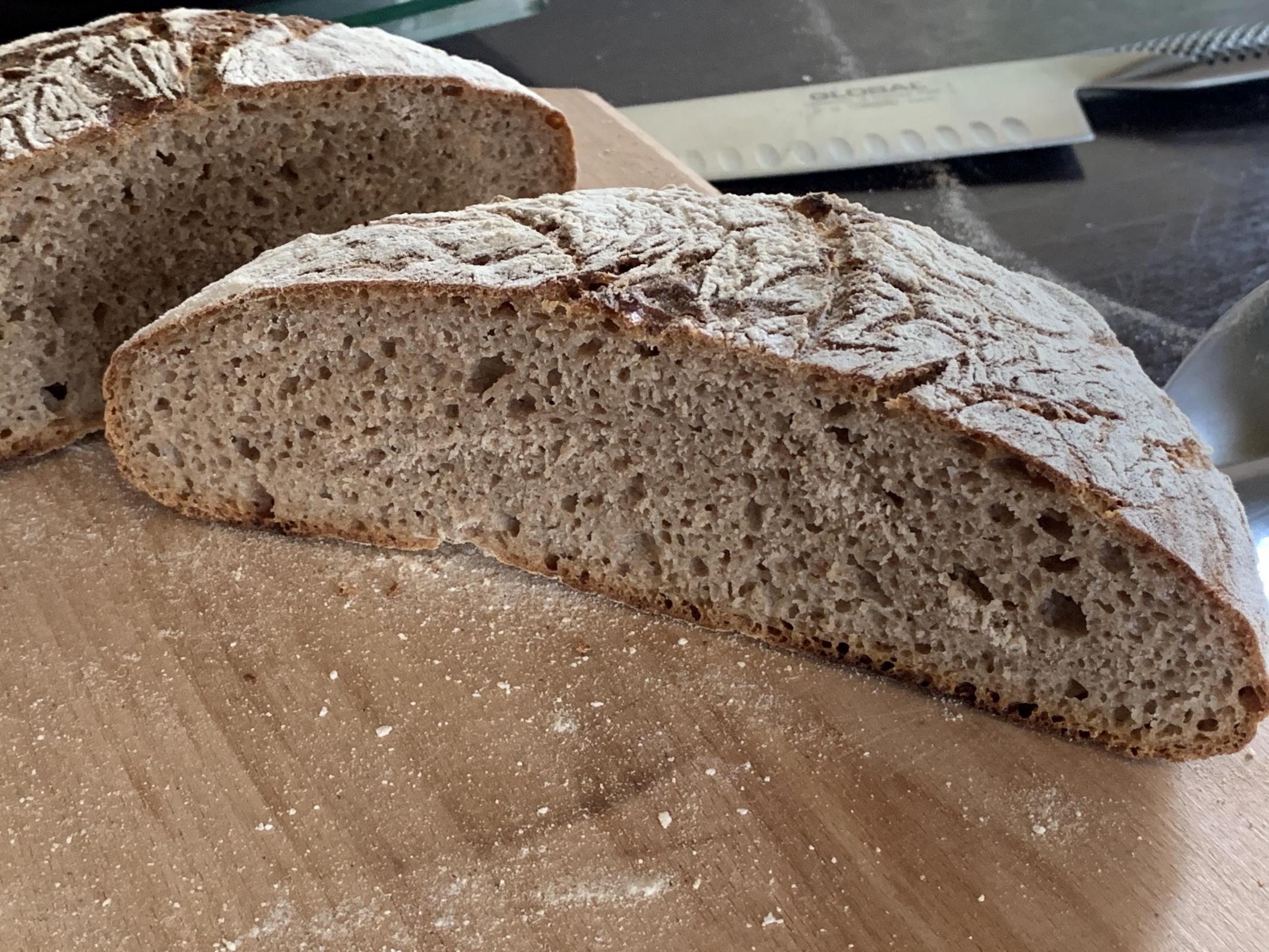 The truth is that it tasted delicious. I don't think I ever had such a good bread. But my expectations were completely different.