January 27, 2019 - 7:18am
Spiced Walnuts SD with 50% Sprouted White Wheat & Rye
This loaf was partly inspired by the tempering technique in Indian cooking. The aroma of spices blooming in hot oil is notably different from that of dry toasting spices. This makes sense: we all know the flavor of spices is oil-soluble :)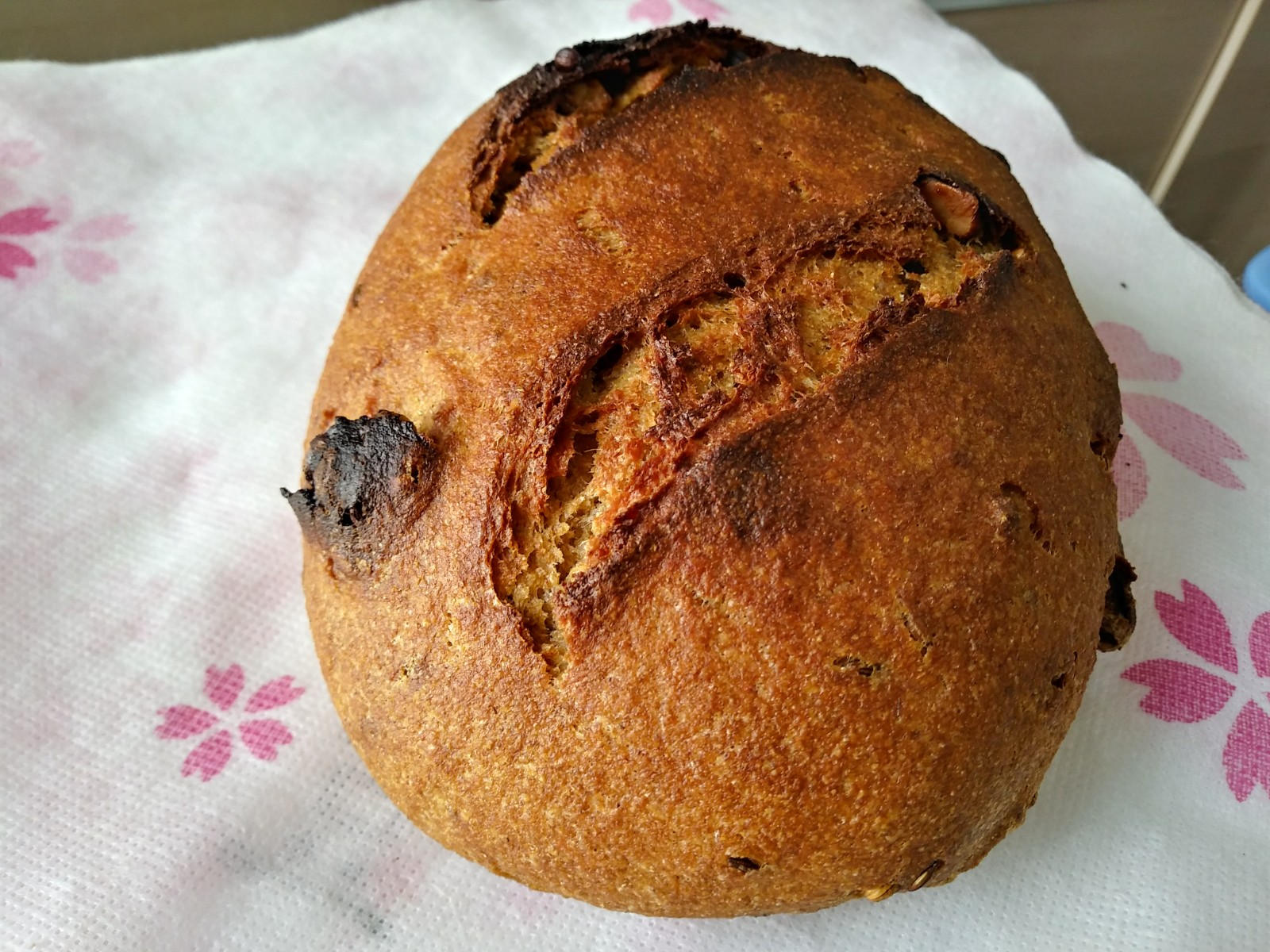 Spiced Walnuts SD with 50% Sprouted White Wheat & Rye
Dough flour (all freshly milled):
120g      40%       Whole white wheat flour
90g        30%       Sprouted white wheat flour
60g        20%       Sprouted rye flour
30g        10%       Whole rye flour
For leaven:
16g       5.33%       Starter
32g       10.7%       Bran sifted from dough flour
32g       10.7%       Water
For dough:
268g      89.3%       Dough flour excluding flour for leaven
150g         50%       Whey
88g        29.3%       Water
80g        26.7%       Leaven
5g          1.67%       Salt
Add-ins:
-g              -%        Mixed whole spices (1 tsp coriander seeds, 1/2 tsp each of cumin seeds and black peppercorns)
30g         10%       Raw walnuts
-g              -%       1/2 tsp cooking fat (I used ghee)
__________
308g        100%       Whole grain
278g       90.3%       Total hydration
Sift out the bran from dough flour, reserve 32 g for the leaven. Soak the rest, if any, in equal amount of whey taken from dough ingredients.
Prepare the ingredients under add-ins. Heat the fat of choice in a pan, put in the whole spices when it is warm-hot. When they start to smell fragrant, turn the heat to low and mix the raw walnuts in. Keep on stirring the mixture until the walnuts are toasted. Set the mixture aside until needed.
Combine all leaven ingredients and let sit until doubled, around 4.5 hours (21°C).
Roughly combine all dough ingredients except for the salt and let it ferment for 20 minutes. Fold in the salt and ferment for 20 minutes. Knead in the add-ins and proof for 3 hours 20 minutes longer.
Preshape the dough and let it rest for 40 minutes. Shape the dough then put in into a banneton. Retard for 10 hours.
Remove the dough from the fridge and let it warm up for 30 minutes. Preheat the oven at 250°C/482°F. Score and spritz the dough then bake at 250°C/482°F with steam for 15 minutes then without steam for 25 minutes more or until the internal temperature reaches a minimum of 208°F. Let cool for at least 2 hours before slicing.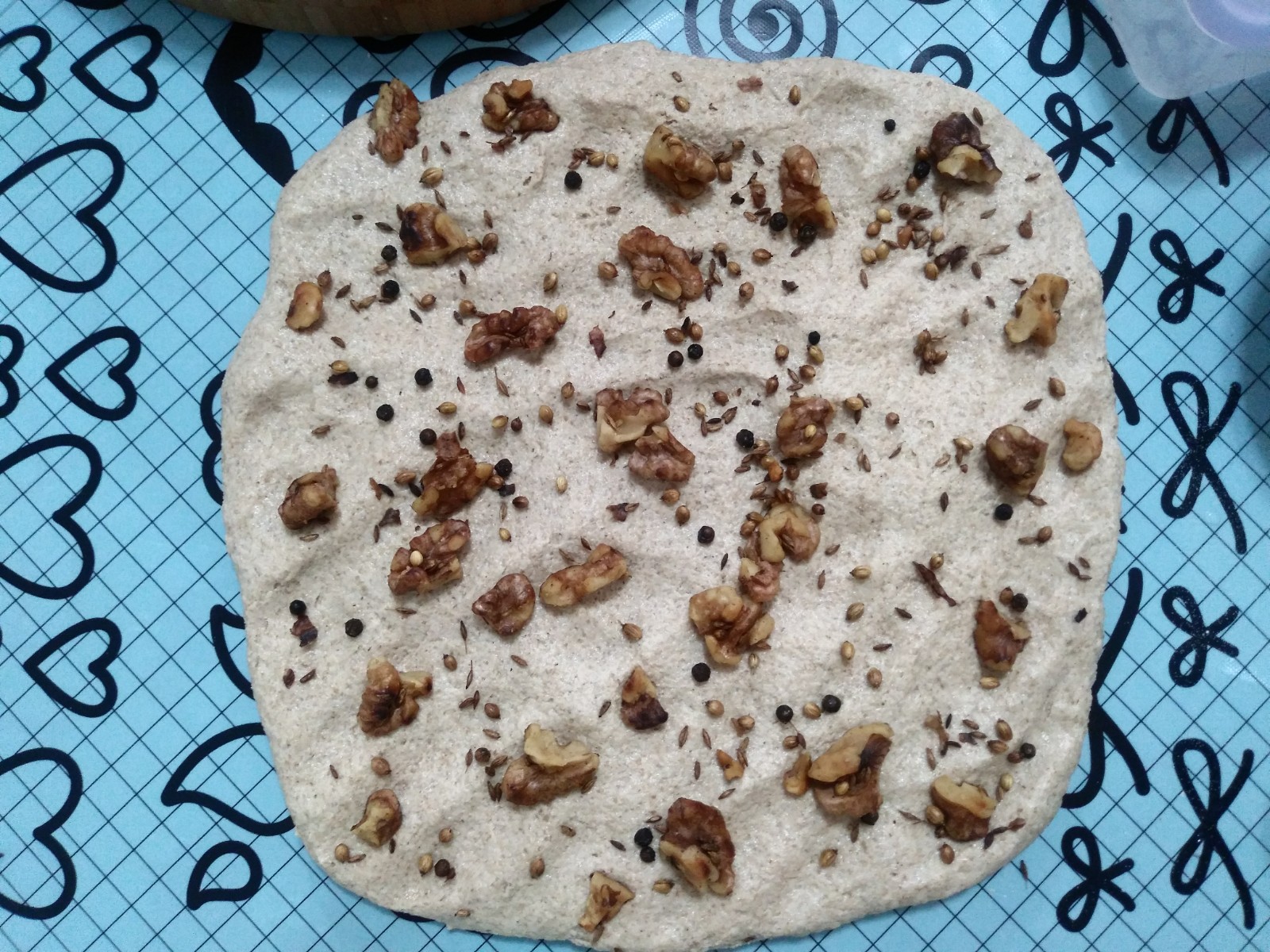 I got fair oven-spring for this loaf and it didn't spread much in the oven. This was probably due to the addition of whole rye, which is known to be less prone to spreading. The crust is quite crispy and browned pretty well, likely attributed to the sugar from the sprouted grains.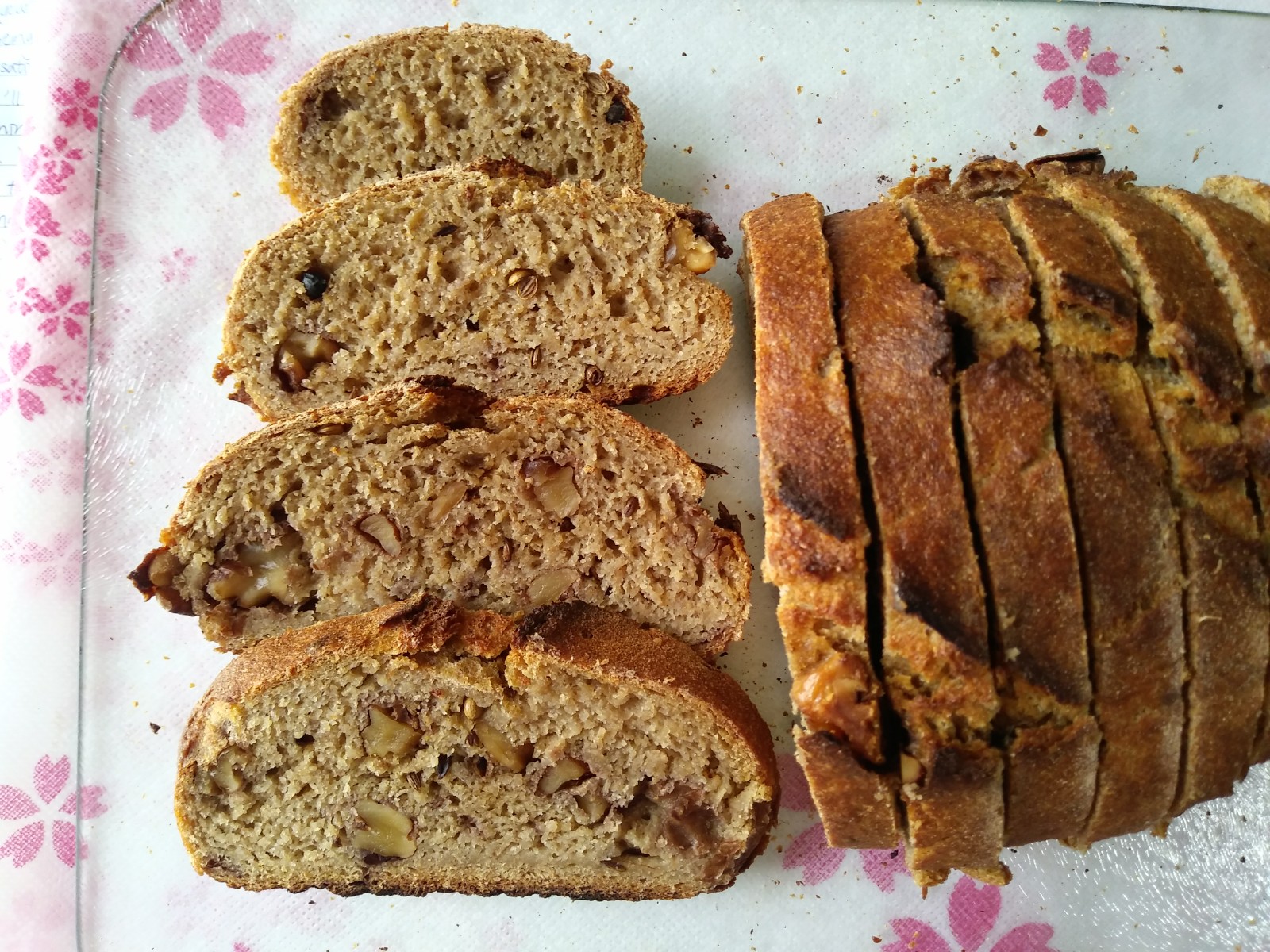 Once again, I cut into the loaf way earlier than I should… Can you blame me though? I'm not one who can resist the aroma of toasty walnuts, warming spices and malty grains, well, at least not for long. Sweetness dominates the flavor at the beginning, yet sourness slowly emerges as one keeps swallowing. I prefer to use whole spices rather than ground spices since I can keep getting surprising pops of flavors with different bites this way.
______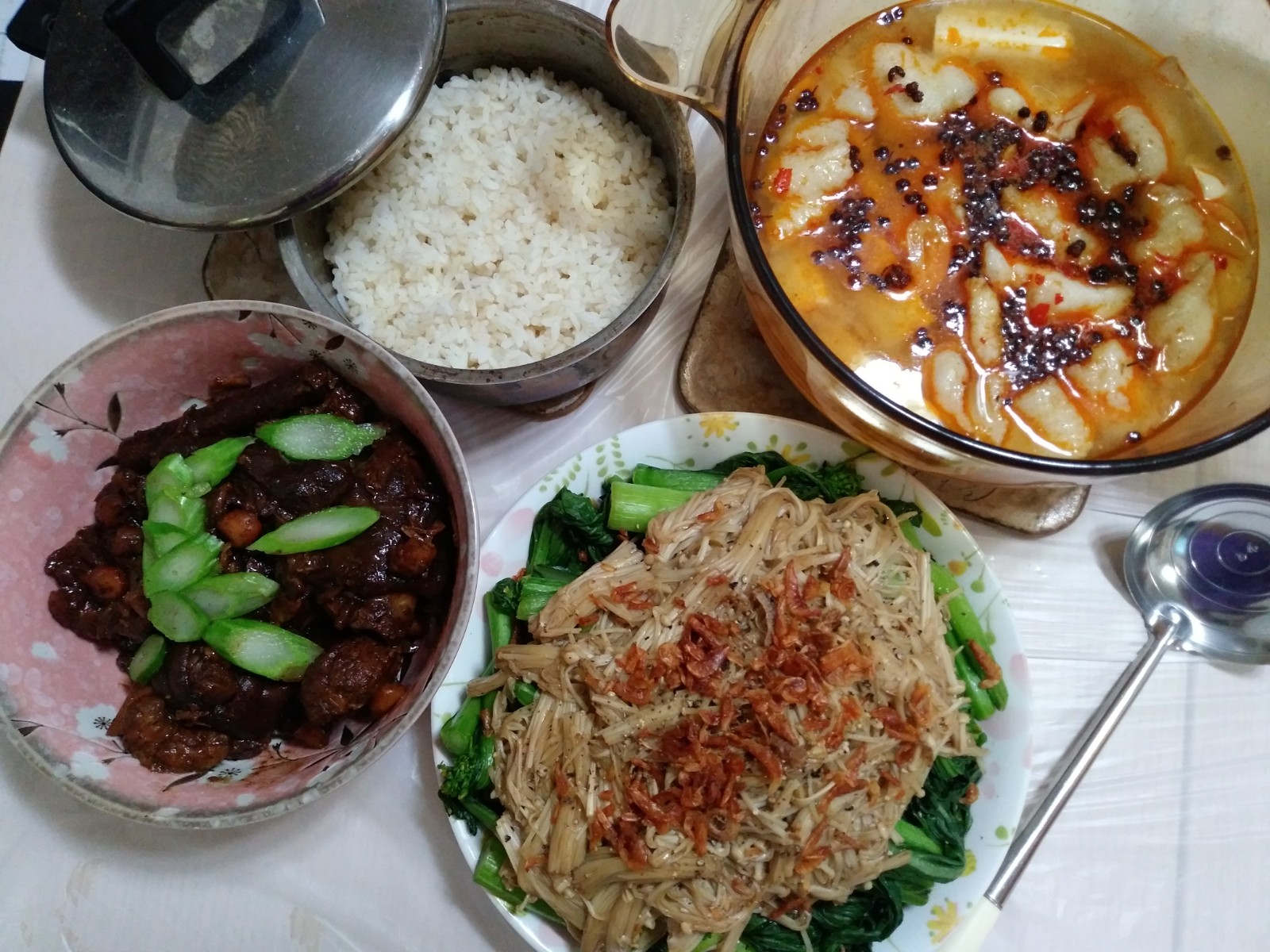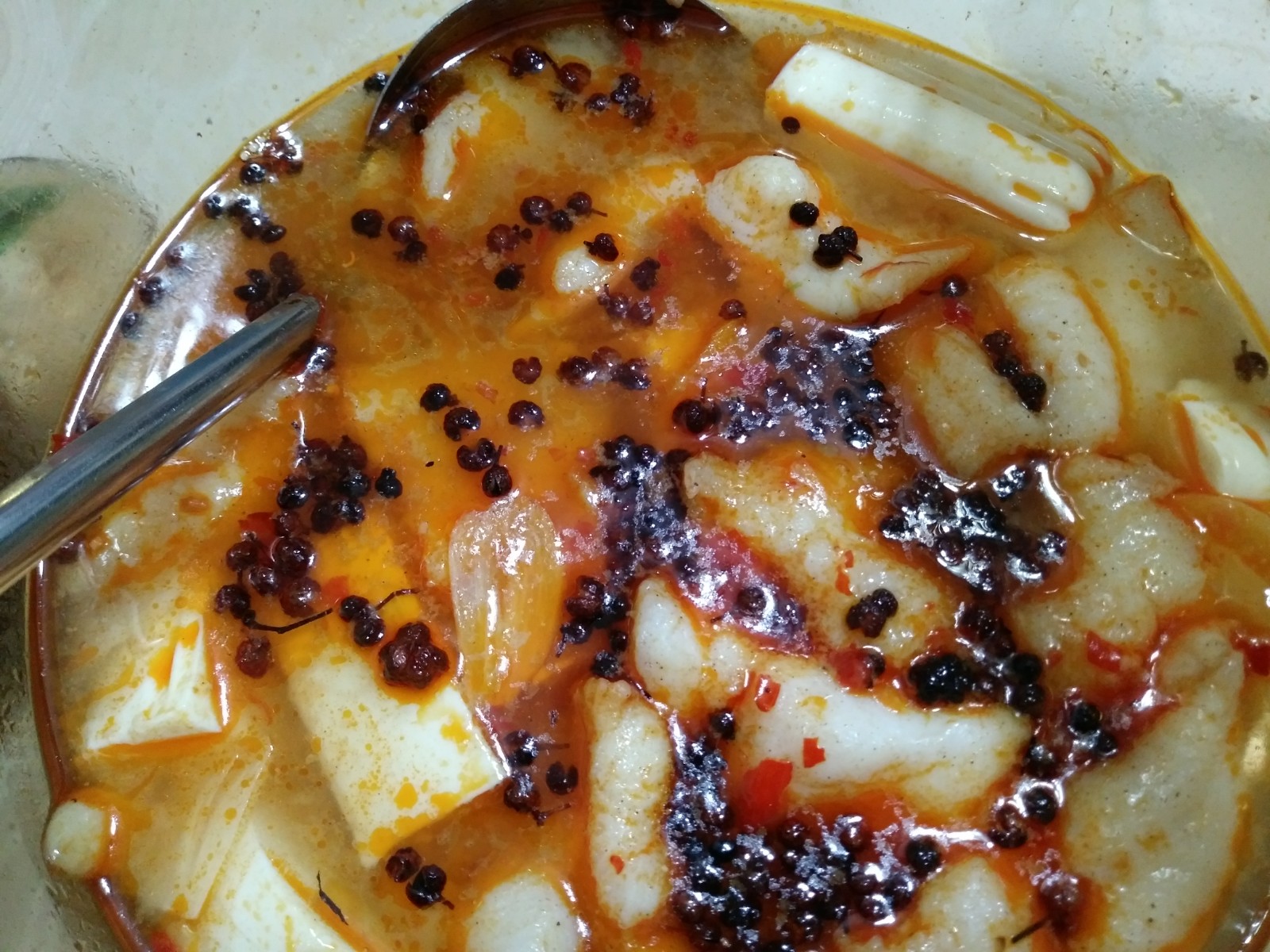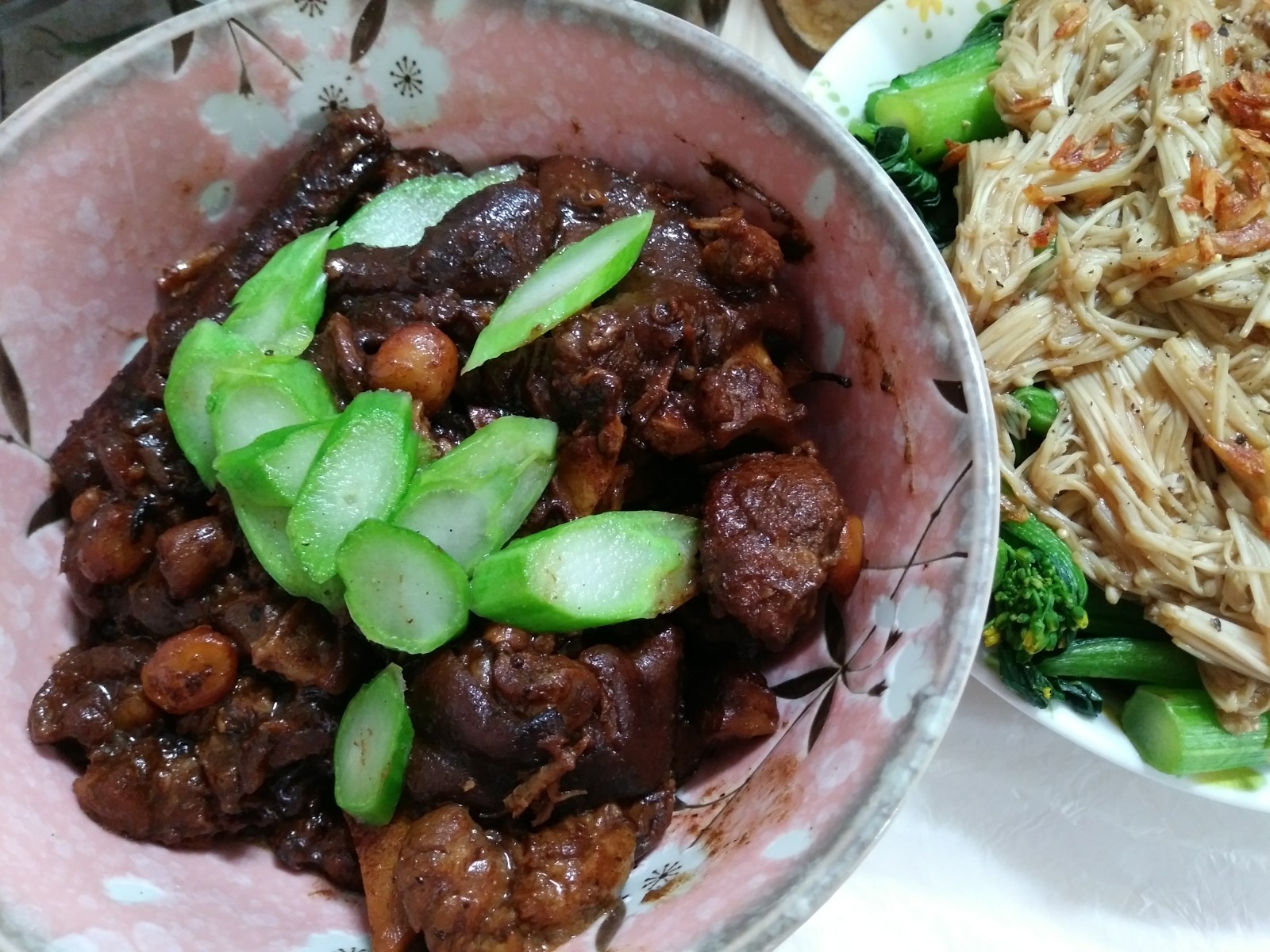 Sichuan fish fillets & silken tofu, Pressure cooked pork knuckle & peanuts in a Chinese fermented red bean curd sauce, and oyster sauce braised enoki mushrooms served over choy sum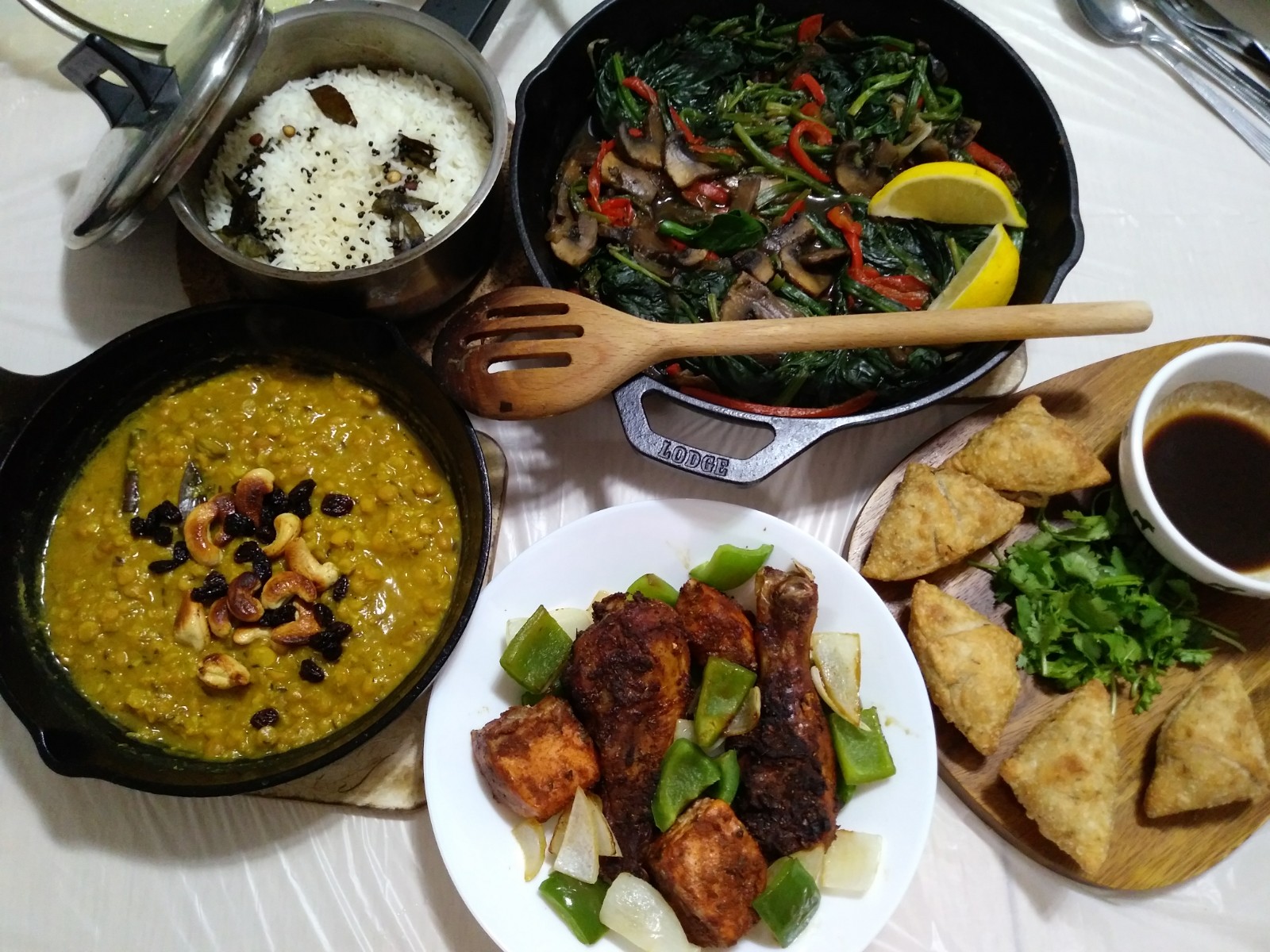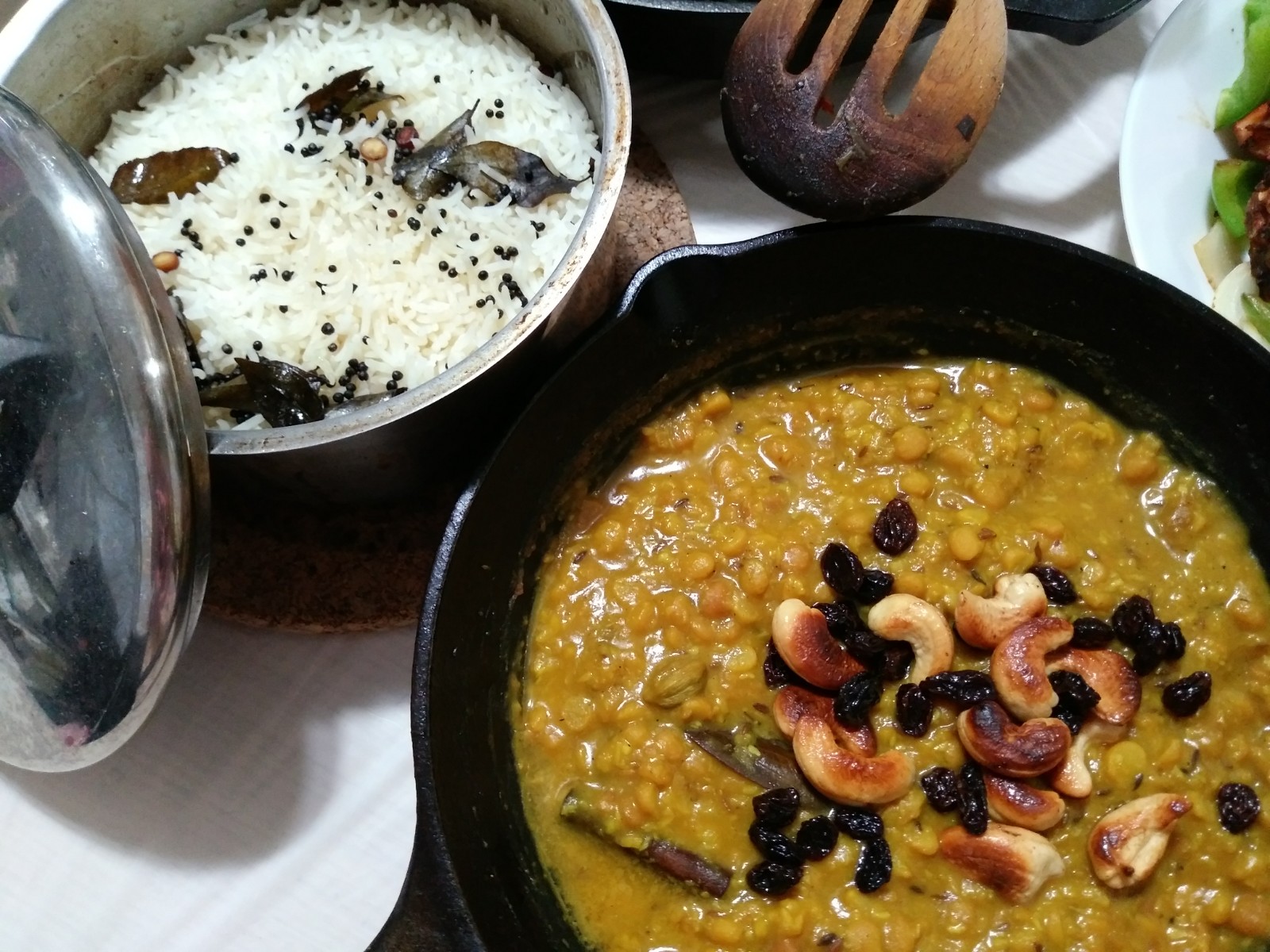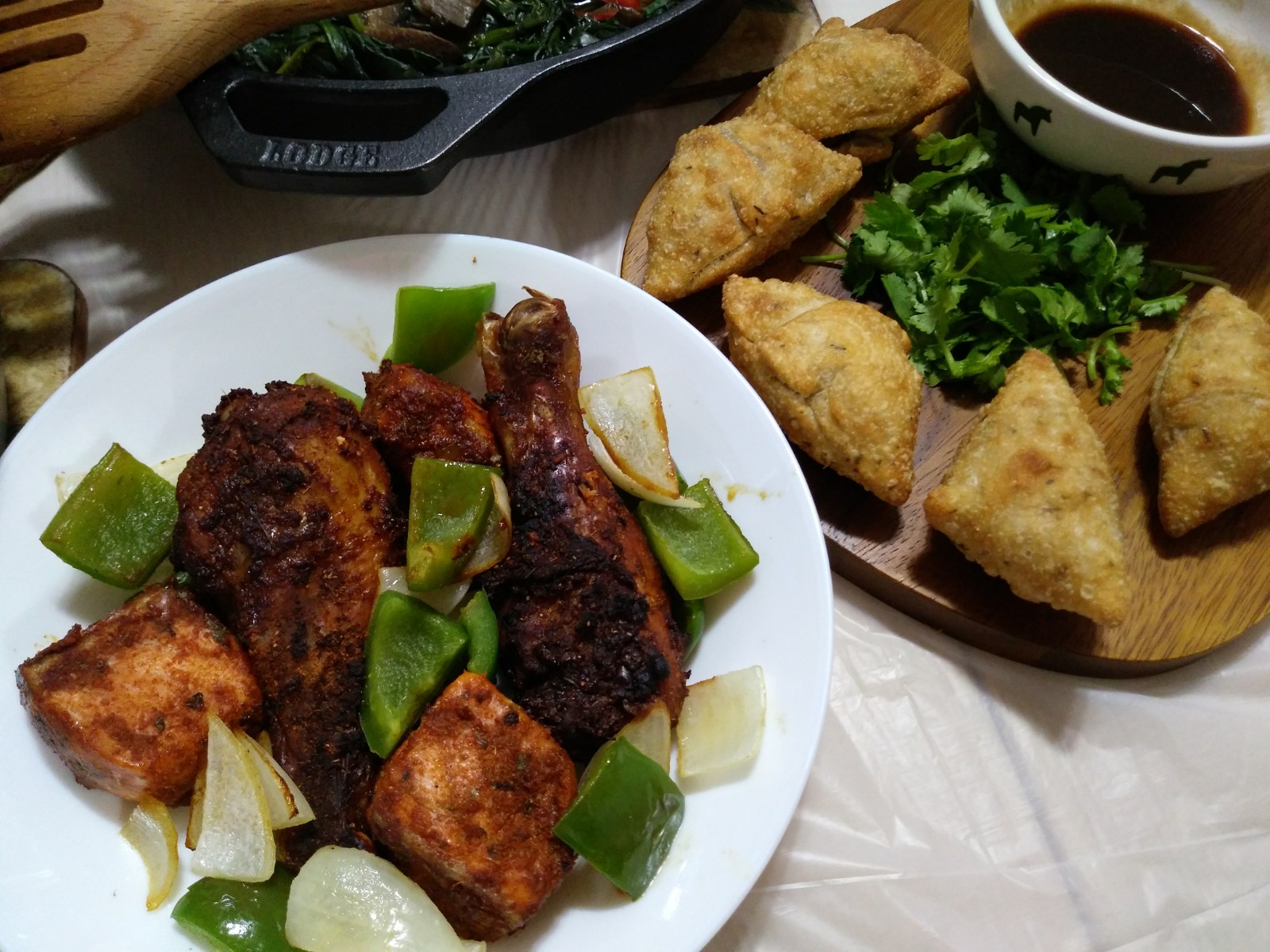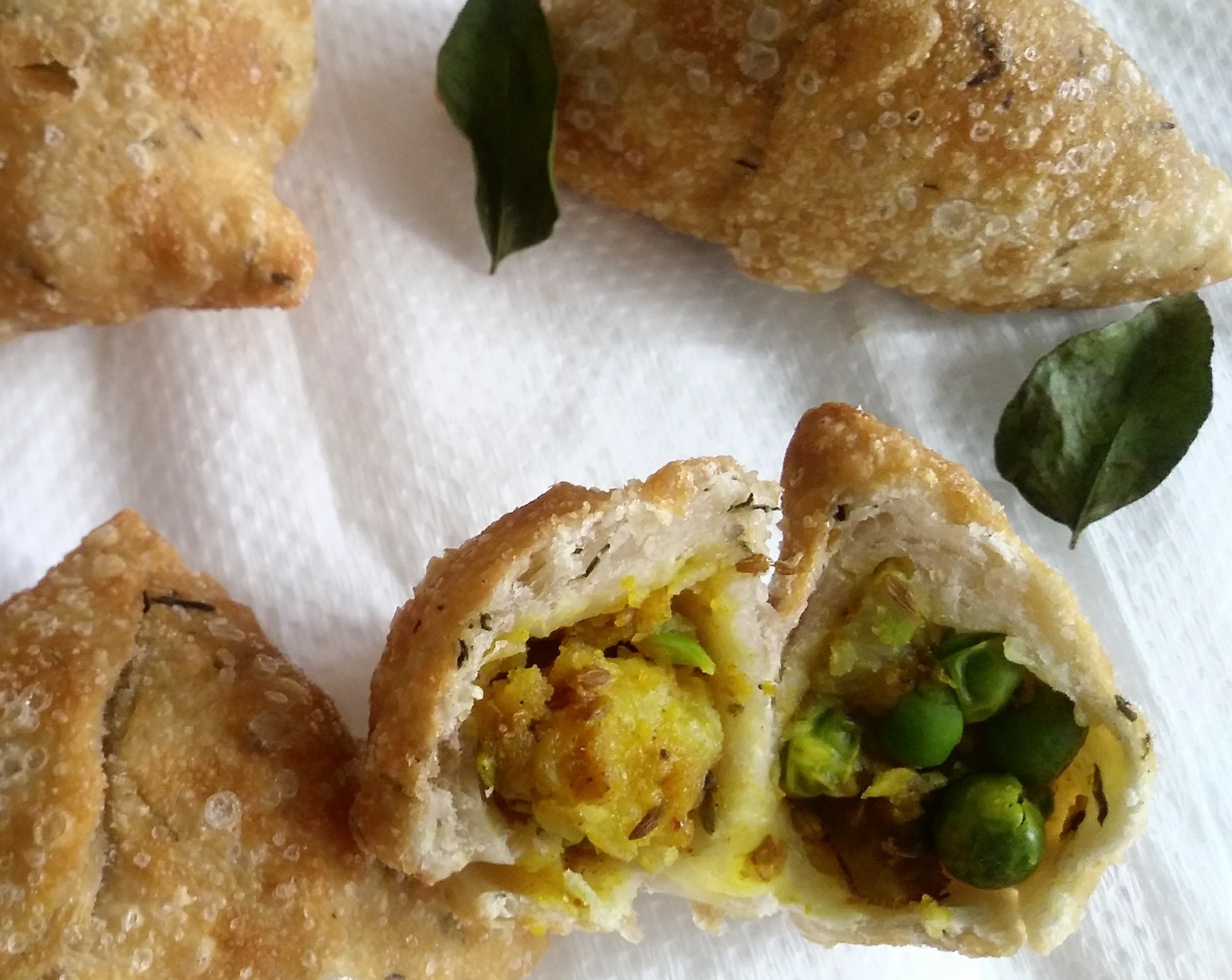 Homemade samosas, cholar dal, tandoori salmon & chicken drumsticks, sautéed spinach, red peppers and mushrooms, and spiced basmati rice