February 9, 2008 - 2:01pm
I've been baking a lot, I've just had no time with work and home life to post. Here's a quick update of what I've been making over the past few weeks.

The sticky buns have been a big hit, but I only make them when we've got company staying over -- otherwise, I eat far too many. Photos and the recipe are here.

Oatmeal bread has made a come-back. I've tried a bunch of recipes, but pre-ferments never work for me because, since I prefer to use cooked steel-cut oats, the water in the oatmeal and the pre-ferment together make the dough too wet. I've finally settled on the recipe from The Laurel's Kitchen Bread Book which relies on the oatmeal alone for liquid, but I took a cue from Hammelman and added an overnight retarding in the fridge. I love the warm, sweet flavor of the oats -- this might be my favorite sandwich bread.



I've also been making sourdough whole-wheat pizzas (60%). Here's the recipe I use for the dough, though lately I've been scaling back the water to 75% so that I can be sure I won't have any trouble with the dough sticking to the peel.




Here's that Ponsford Ciabatta that was giving me such fits a few weeks ago. It turned out OK, but, surprisingly, the flavor was not as yummy as the Poolish Ciabatta from Hammelman's Bread. It also started to go stale just a few hours after I made it. All I can figure is that I overproofed the thing.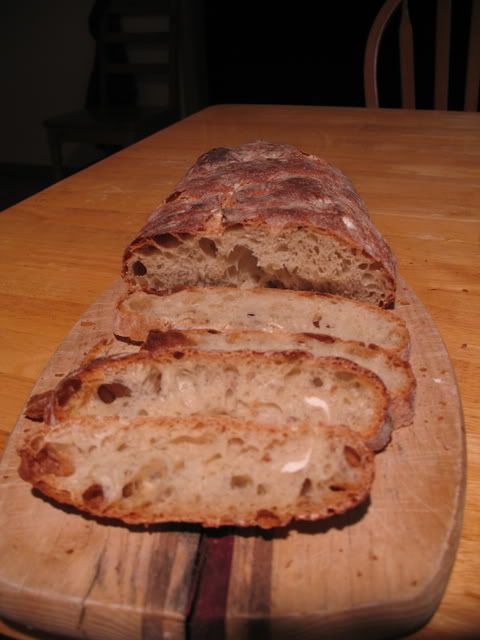 Here's a funny one. Just a simple loaf of whole wheat sandwich bread, made with yogurt, from Reinhart's Whole Grain Breads. I have no idea why the oven spring was so lopsided. Odd.




Last, I've been playing around a lot with rye, since I revived my rye starter from a massive attack of stinky black mold. I've tried breads with 40% rye and 60% whole wheat, but unless they're panned, I've never gotten the kind of volume I like. So I've been going with a 40-30-30 mix of whole rye - whole wheat - strong white flour that I've been very pleased with. I also add caraway. Yum.