January 16, 2019 - 7:38am
Still very much liking Wendy (Lazy Loafer)'s 1:2.8:4 formula, I've been trying to come up with a way to bake during the week, and I think we're getting close.
These are a 50/50 mix of T65/T110 (I believe T110 is roughly equivalent to first-clear flour), with 150g of rolled-grain scald (1:2 flakes:water) and a small handful of miscellaneous seeds (poppy and fennel, mostly). And some improvised bread spice.
Day 1 (very) late: Made the first stage of the levain, left it to ferment at room temperature until morning. Made the scald.
Day 2 morning: built the second stage of the levain, left at room temperature. Went to the office.
Day 2 late afternoon: stirred down the lovely, bubbly levain, whisked together flours, sprinkled salt over the bread spice so I wouldn't forget it. Then went about dinner prep.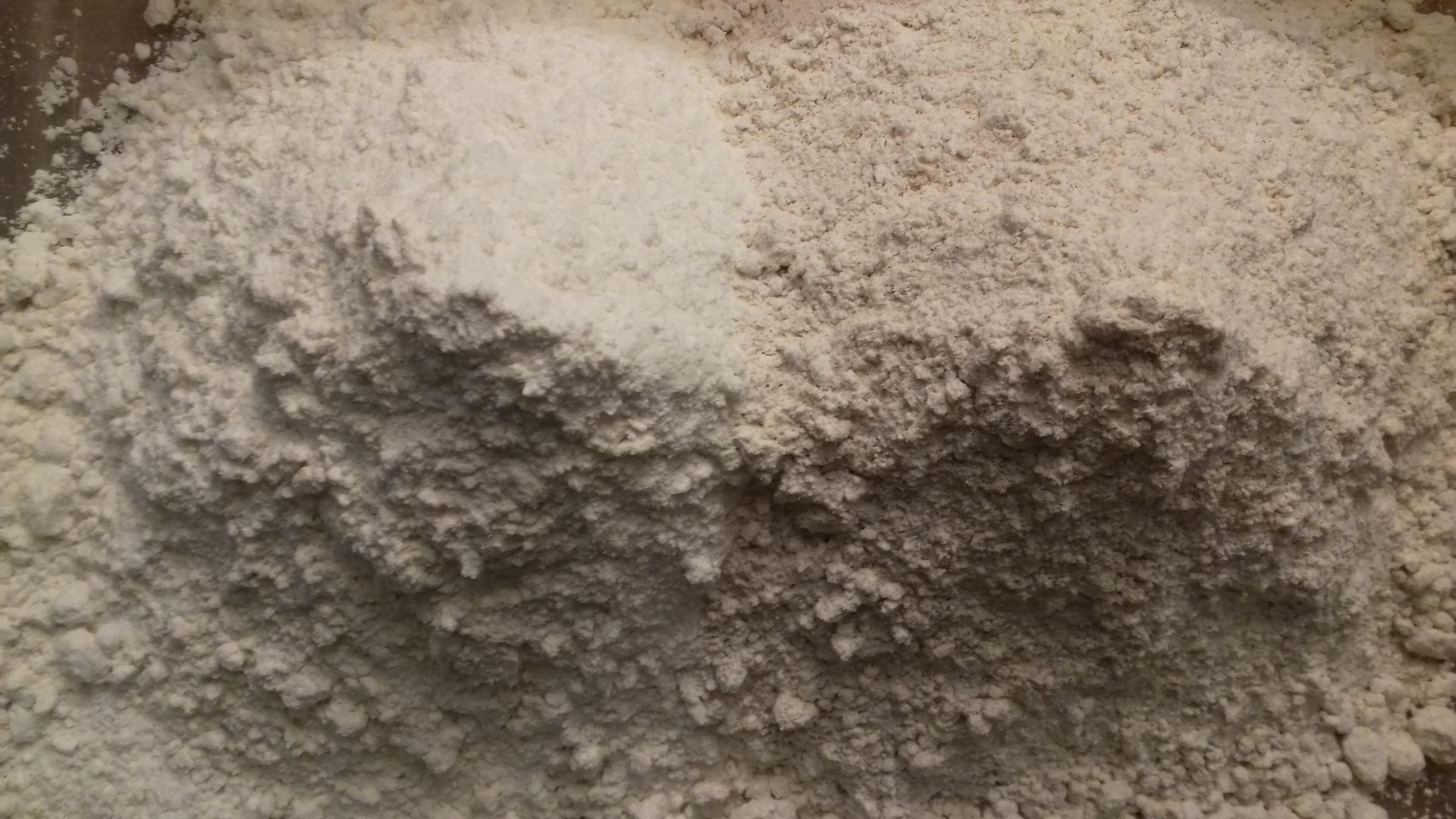 Day 2 after dinner and clean-up: mixed levain and flours and let rest for about 30 minutes. Added the scald, spices and salt, and mixed using about 150 SLAFs with a 20-minute rest about halfway through. Rested 30-40 minutes, then two sets of letter folds on the bench about half an hour apart. Then into the fridge, with freezer packs beneath and atop the dough tub, since our fridge takes its time to cool things down.
Day 3 morning: removed dough from fridge. The freezer packs seemed to have worked a treat; the dough, while only slightly bigger than the previous night, was nowhere near as proofy-looking as the previous bake. I let it warm up slightly and gave it a set of folds, then back into the fridge -- without the freezer packs -- and off to the office.
Day 3 late afternoon: removed dough from fridge, let it warm up about 90 minutes, divided, preshaped, rested, shaped and proved for about 90 minutes. The dough felt nice; airy, mildly tacky, soft. I had thought the proof time would be longer than that, but the loaves had grown by about 25% and the dough was feeling "ready". Baked together in my improvised roaster.
I tried two different shaping methods (if you could call it that): the loaf on the left was rolled up "backward croissant" style (starting with a triangle and rolling from the point to the base). The other was an attempt at a more "traditional" approach (start with a rectangle, fold one third toward the middle, then the other third toward the middle, seal each time, and then fold the thing in half and seal it). I scored each one differently, so I could tell them apart after baking. It would seem that the more "orthodox" way does give a more disciplined looking loaf, but that may also be the scoring, since it looks like the cuts opened better on the lumpy loaf. So the next step would be to shape them both the same way, but score each one differently, I guess.
Unfortunately there may not be a crumb shot, since the plan was to give these away. But that may change :-D
So, while these are not as beautiful as so many other loaves here, I'm pretty happy with this bake, and especially thrilled that I seem to be working out a process that accommodates time away from home. Wish I could taste these.
Update: Crumb shot!
Well, grandsons couldn't decide if they were coming or going, so one loaf was given away and the other, "disciplined" loaf was finally cut open. Here are the first couple of slices: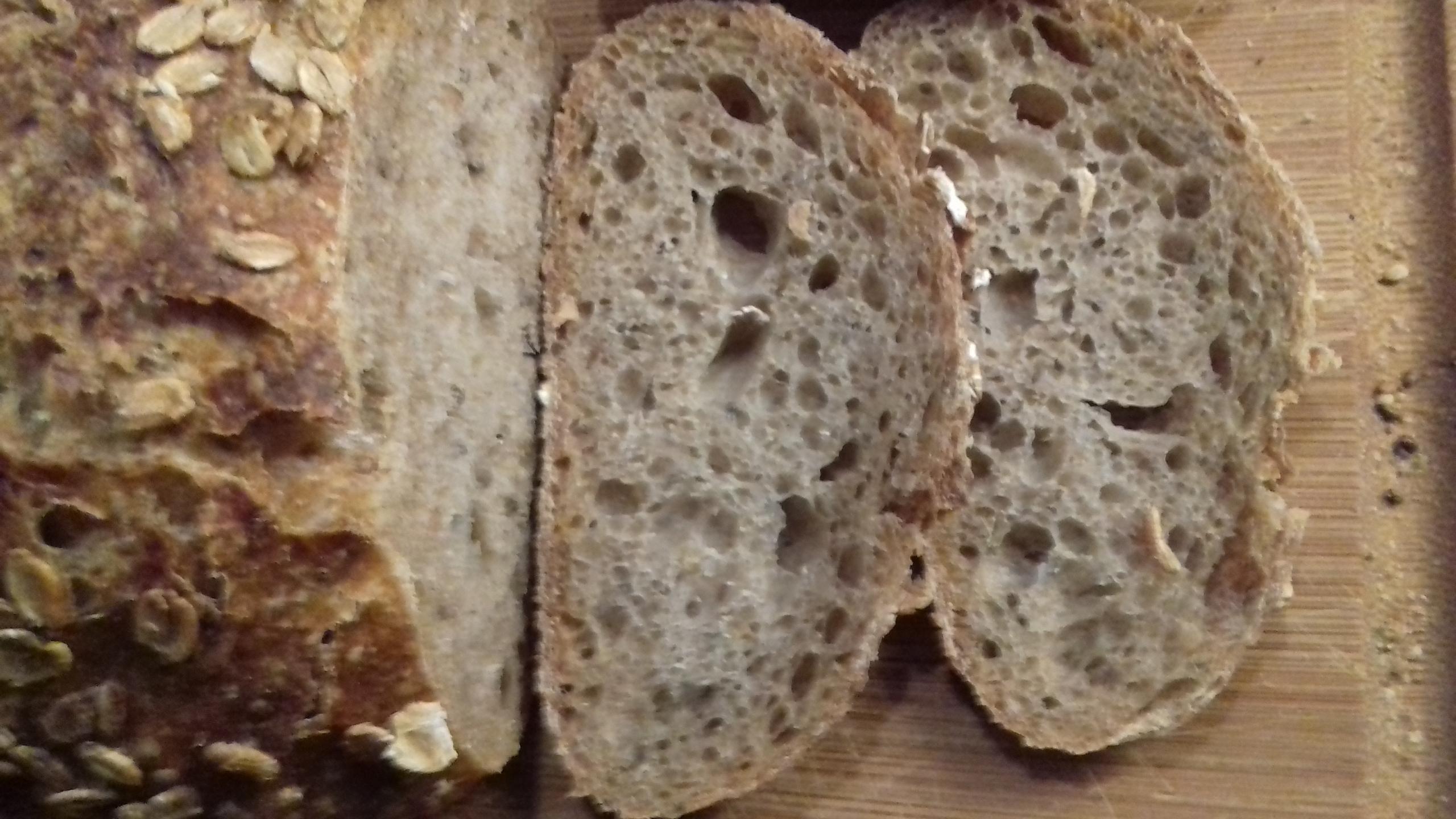 Still a long way from the lovely, glistening crumb that more talented bakers get, but I'm happy with the progress. Crust is thin and crisp. I need to calm down on the fennel and maybe up the other bread spices, which didn't come through too much (maybe a tsp for 680g of flour and 50g rolled grains).
There's always the next bake!