January 13, 2019 - 3:11pm
Recipe gave me bread with uncooked dough in middle.. Please help troubleshoot?
Evening all. Just cut into a bread that I baked earlier today and I am flabbergasted as to what went wrong.

I followed this recipe:
700g flour (100 spelt, 100 sprouted wheat, 500 white) 550g h20 125g starter 18g salt
4 hours bulk ferment with pull and fold technique and worked in a random amount of KAF harvest seeds.
18 hour cold proof
Flip out onto parchment, score, and plunk into pre-heated Dutch oven, 475F for 25 mins with top on, 25 top off, 10 mins out of Dutch oven for browning.
Only modification I made was a couple teaspons diastatic malt (first time using it, was that the issue)?  The bread that comes out (after letting it sit for 5 hours) looks like this;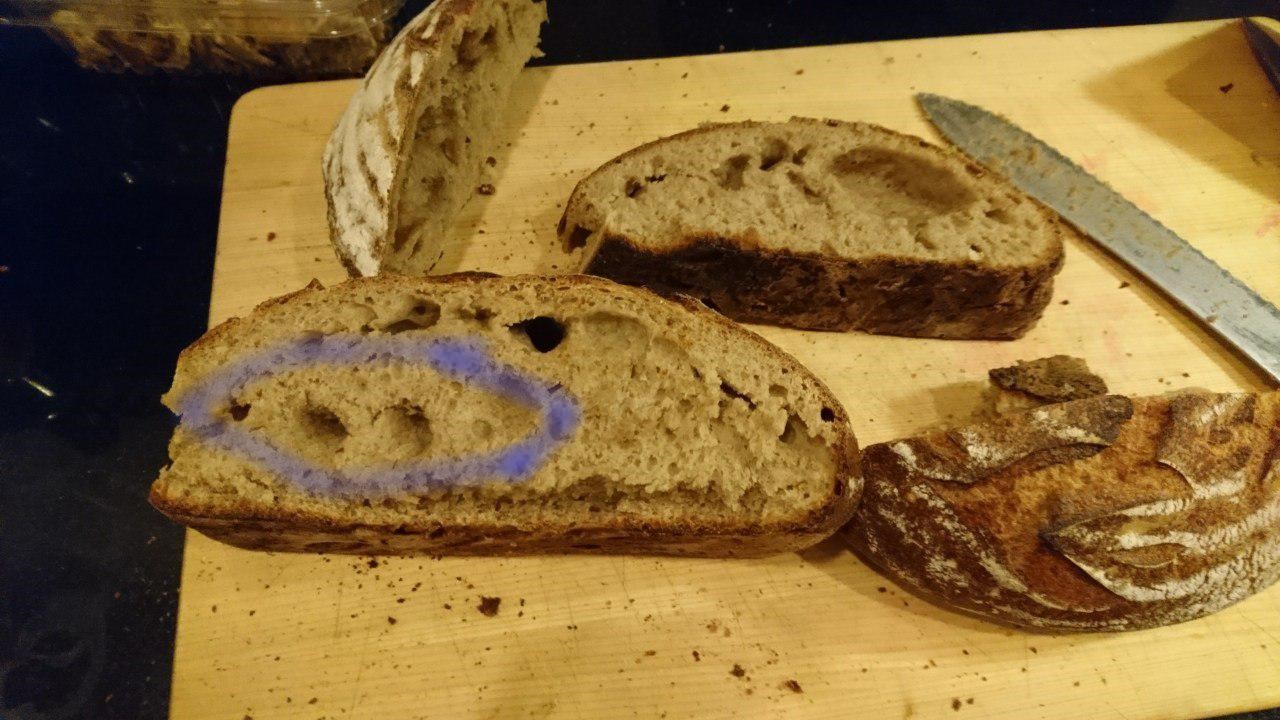 So, the purple area (circled in paint, apologies for the look) is where I stuck my fingers to test, and the knife in the back shows that its literally like cutting through underbaked dough. I don't understand what happened! The outside is beautiful, crumb is good, this is a year old starter that is used and refreshed once a week... its the same oven and dutch oven I've used for almost 3 years of baking.. Basically, no variables other than this recipe is different.  Yet the inside is like a doughy, brownie like wet texture that tastes pretty much like eating straight dough.  The whole thing has a beautiful spring and feeling but is pretty much inedible.
Can anyone help me understand what happened here so I don't repeat it? Could it be a fluke of nature? Could the 2 tsp of malt have done that? Is there something I should check? Thanks for any insights.