Sourdough Bagels for breakfast this morning (Jan. 2, 2019)
Sourdough Bagels
(adapted from Hamelman's bagel formula in Bread)
David M. Snyder
January 2, 2019
Almost two years ago, I converted Jeffrey Hamelman's formula for bagels to sourdough, although I did continue to spike the dough with instant yeast. Since then, I acquired my Mockmill 100 and have been baking almost everything with at least some freshly milled flour. Today, I baked a batch of bagels using 24% home-milled whole white wheat. The rest of the flour was Breadtopia's "High-protein Bread Flour." These are by quite a bit the best bagels I have ever made. They may be the best I have ever eaten.
| | | |
| --- | --- | --- |
| Total Dough |   |   |
| Ingredient | Wt (g) | Bakers' % |
| High-protein bread flour | 705 | 76 |
| Whole white wheat flour | 223 | 24 |
| Water | 538 | 58 |
| Barley Malt Syrup | 5 | 0.5 |
| Salt | 18 | 2 |
| Instant yeast | 11 | 1.2 |
| Total | 1500 | 161.7 |
Makes 13 113 g (4 oz) bagels.
Note: For this bake, the High-protein bread flour was from Breadtopia. The whole white wheat flour was freshly milled using a Mockmill 100.
| | | |
| --- | --- | --- |
| Liquid Levain |   |   |
| Ingredient | Wt (gm) | Bakers' % |
| Hi-protein bread flour | 200 | 100 |
| Water (85ºF) | 200 | 100 |
| Active liquid levain | 80 | 40 |
| Total | 480 | 240 |
Dissolve the levain in the water.

Add the flours and mix thoroughly.

Place in a clean container and ferment until ripe. 8-12 hours, depending on vigor of your starter and the ambient temperature – 76ºF is ideal. (For a liquid levain, this means the surface is bubbly and wrinkled. It should smell fruity, not like raw flour and not sour.)

If not ready to mix the final dough, the ripe levain can be refrigerated for up to 3 days.
| | |
| --- | --- |
| Final Dough |   |
| Ingredient | Wt (gm) |
| High-protein bread flour | 520 |
| Whole white-wheat flour | 223 |
| Water (85ºF) | 353 |
| Barley malt syrup | 5 |
| Salt | 18 |
| Instant yeast | 11 |
| Liquid levain | 370 |
| Total | 1500 |
Procedures
In the bowl of a stand mixer, place the water, ripe liquid levain and malt syrup. Mix at low speed until these ingredients are well-blended.

In a separate clean bowl, combine the flours, salt and instant yeast. Add this mix to the liquid ingredients a third at a time, mixing each addition at low speed until well-blended before adding the next.

Mix at medium speed until an early gluten window forms (6-8 minutes).

Transfer the dough to a lightly floured board. Form into a ball and place in a lightly oiled clean bowl. Cover tightly and ferment at 76ºF for one hour. The dough should be almost doubled in volume.

Transfer the dough back to the board and divide into 113 g (4 oz) pieces.

Pre-shape into rounds and allow to rest, covered with a towel, for 20 minutes or so.

Form bagels from each piece. Degas gently. Form a tube, as if shaping a baguette. Roll each tube into a cylinder (not tapered) about 12 inches long. Wrap this around your open hand, with the ends overlapping under your palm by 2-3 inches. Roll your open hand back and forth on the board to seal the bagel. If it sticks, flour the board lightly. If it slides, wipe the board with a very slightly damp towel.

Place the bagels with at least an inch between them on parchment-lined baking sheets sprinkled with semolina or coarse cornmeal. Cover with plasti-crap or place in a food-safe plastic bag and refrigerate for at least 6 hours or overnight. (I find quarter sheet pans most convenient. Each holds 6 bagels.)

Pre-heat the oven to 500ºF (with an optional baking stone in place).

In a large sauce pan (4 quart or larger), bring water to boil with 2 tablespoons of barley malt syrup.

Take as many bagels as you can bake at one time out of the fridge.

Boil the bagels right out of the fridge, 3 or 4 at a time, 15-20 seconds on each side. They should float.

Remove the bagels to a cooling rack placed over a sheet pan. If topping, press the top or both top and bottom, if desired, into a pie tin containing the topping of choice. (If the bagels' surface is too dry for the toppings to stick, place a damp paper towel on a baking pan or another pie tin. Put the bagel on this for a moment before pressing into the topping mixture.)

Then place the bagels on a clean, parchment-lined baking sheets sprinkled with semolina or coarse-ground cornmeal with at least one inch between them.

Repeat steps 10. and 11. until all the bagels have been boiled and topped. (Note: If you cannot bake all the bagels at once, leave the ones you cannot accommodate in your first bake in the fridge until the first batch has been baked, then repeat steps 9.-11. with the remaining bagels.)

Bake for 15-18 minutes, until the desired degree of brownness has been achieved.

Cool on a rack for at least 30 minutes. Those that are not to be eaten right away can be frozen for later consumption.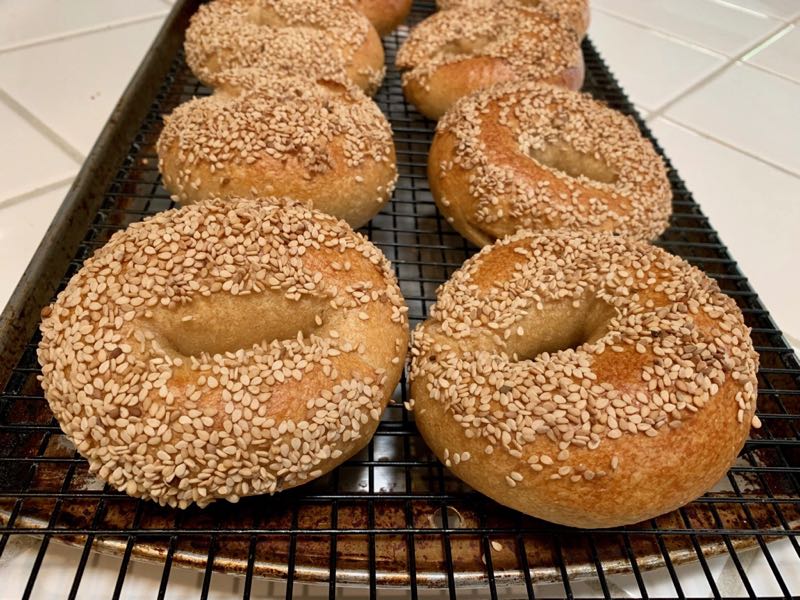 These were baked this morning, so freshly baked for breakfast. I had one half with a lox shmear made yesterday ...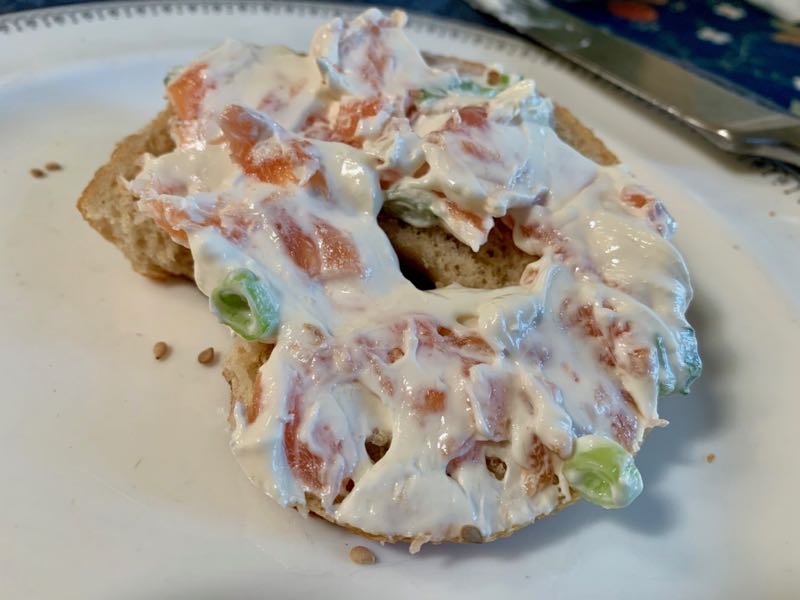 I don't know how my local Whole Foods Market knew I would be baking bagels today, but yesterday, for the first time I can remember, they had genuine Great Lakes Smoked Whitefish! So, that's what I had with the other half bagel for breakfast.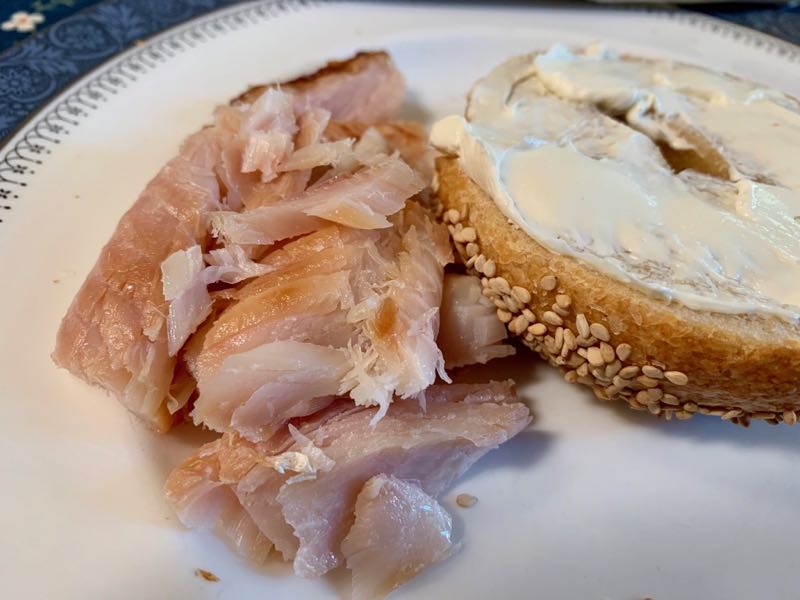 Very yummy stuff!
For your interest, this was not actually my first bake of 2019. Yesterday, I baked some more multi-grain sourdough, which continues to be our favorite "daily bread." You can see it here: https://www.instagram.com/p/BsJ7lDLjnSc/?utm_source=ig_web_button_share_sheet
Happy New Year to all my Fresh Loaf friends, and Happy Baking in 2019!
David