November 3, 2018 - 5:17pm
Absolute beginner here trying to make a sourdough starter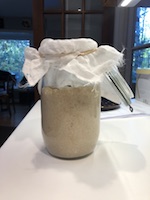 Day eight of trying to coax flour and water into a viable sourdough starter.
I started with a mix of 100g Arrowhead Mills rye flour and 100g King Arthur AP flour and 200g lukewarm water. Marked the level on the jar with a rubber band, covered with a coffee filter. Fed at 7am and 5pm with AP flour, using a 1-1-1 starter, flour, and water ratio, discarding half the starter. Dropped back to 100gs each starter, flour, and water.
I rigged a proofing box out of a styrofoam cooler and a light bulb, and it's keeping the jar between 74-80 degrees. 
There was rising/falling activity on days two and five. Hooch - or at least a separated liquid, appeared on days three, four, and five. The photo is from day two.
 Last few days no rise and fall, no hooch, and only small bubbles beneath a very thick skin formed on the top. It's like the kind that forms on pudding, only denser. Underneath that skin, the slurry is puffy and light, though it does not rise.
It smells like fresh flour with a distinct but pleasantly earthy whiff of ferment. It tastes very tangy/vinegary and feels almost fizzy on the tongue.
 Is that skin on the top a problem or a natural phase? What could be causing it? Any adjustments I should make to feeding ratio, timing, or temperature?
Thank you for your expertise and patience with a newcomer.