October 21, 2018 - 4:40pm
One dough, two ovens -- gosh!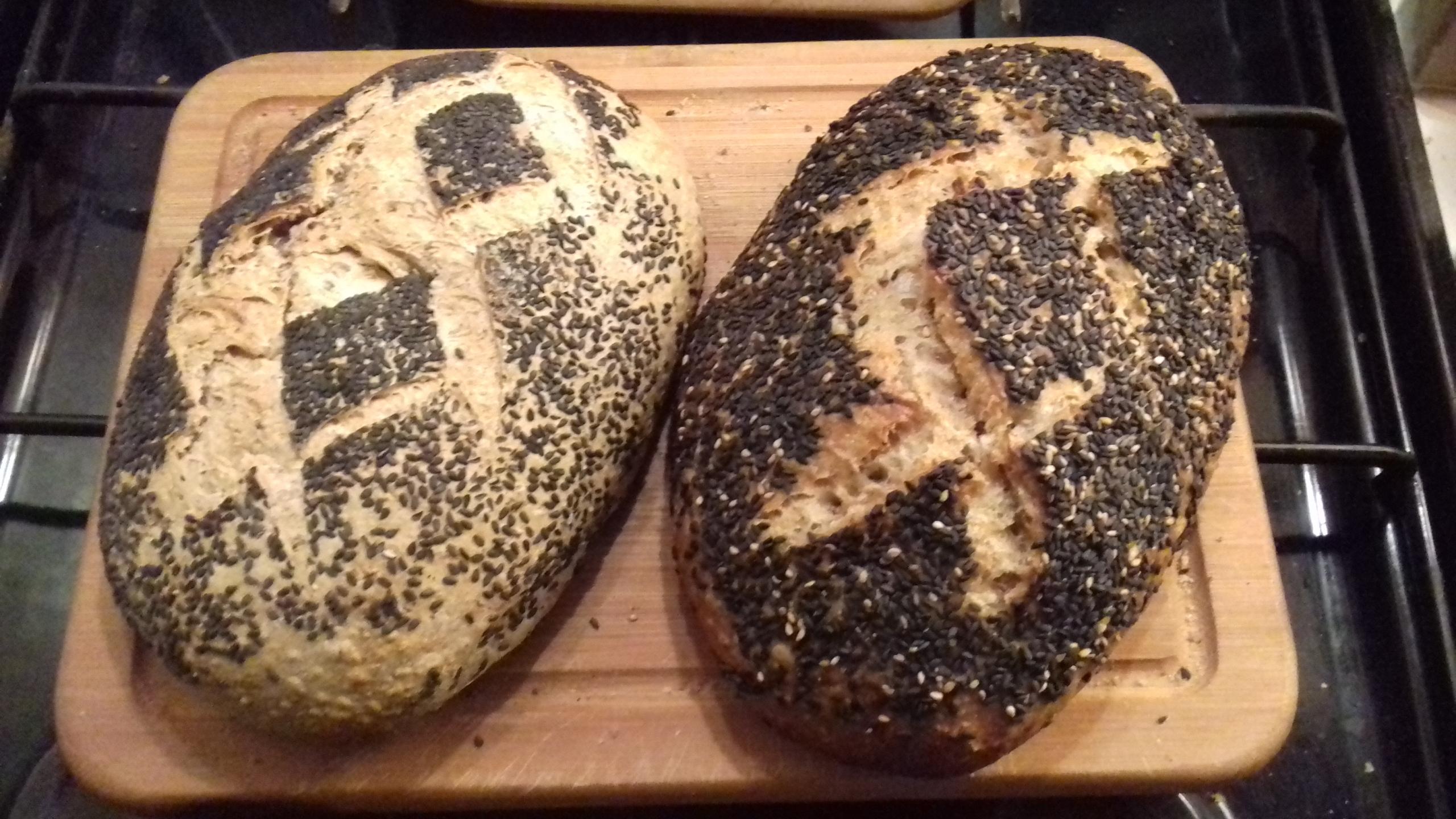 Having decided to wander over to the Bread Banquet being held in another neighborhood, I decided I'd take advantage of the fact that there would be a wood-fired oven stoked up and available to anyone who wanted to bake.
Since this event wasn't going to start until 2pm Saturday, I mixed the dough mid-afternoon on Friday, gave it a couple of hours of BF with one fold per hour, then put it in the fridge until after dinner. Took the dough out of the fridge, let it warm up a bit, divided, preshaped, rested, shaped, rested and back into the fridge. By then it was about 2am.
This was making me a bit nervous, since Susan's original recipe calls for three hours of bulk and three hours of proof, and here I was, spinning the process out over 24 hours.
We took one beswaddled loaf to the event, which was full of workshops for learning about wheat and grains and bread making, mostly geared toward children. The WFO was there, with space for me, so we unwrapped the loaf, I spritzed, the baker scored (amazing speed and sure-handedness), and into the oven it went. "Come back in about an hour". OK.
An hour later, we learned that there had been "issues" with the oven, so our loaves had been removed to a local bakery. When I saw mine, my heart sank. And it made me very worried about the second loaf that was waiting at home in the fridge.
Preheated the oven,went through my usual spritz/seed/spritz/score/spritz routine and loaded the loaf, 20 minutes covered, 18 minutes uncovered.
I am really surprised at the difference in the two bakes. Both loaves weighed the same before baking, give or take three grams. I had assumed that the wood-fired oven would give a beautiful brown crust, hopefully with loads of blisters. The top looked like it had actually caved in (or someone stuck a thumb into it).
Later that night, curiosity got the better of me, so I cut open the pale loaf:
Crust was extremely thick and hard, bottom was charred and crumb felt wet. Not gummy, just damp. I now have a huge bag of croutons (which will, among other things, wind up in future breadcrumb loaves).
So, if the occasion should present itself ever again to use a WFO, what are the pitfalls to watch out for? Did the loaf need to be in a DO? Or was this the result of the loaf having been pulled out of one oven to be moved elsewhere?
Here's the crumb from the home-baked loaf: