September 23, 2018 - 11:26pm
First successful bake from freshly milled flour
After a false start with my new Komo, I got some advice in this forum on tweaks I needed to make working with freshly milled flour.
Well, I did that, and this morning I pulled two respectable bâtards of whole wheat out of my oven: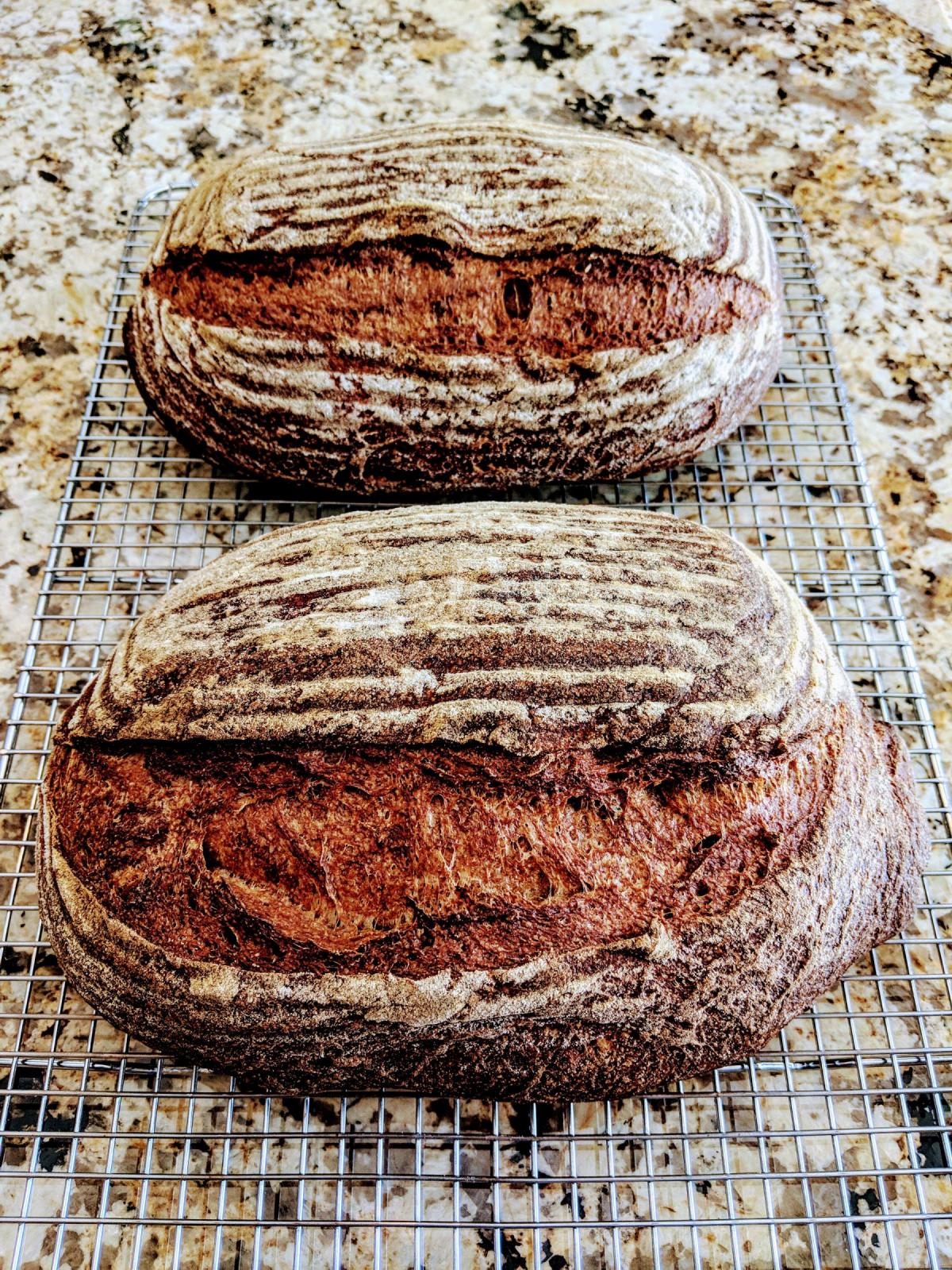 Crumb shot:
Definitely many problems left to fix, but I'm on the path thanks to this group!
I'm really surprised how vigorous the fermentation is. These loaves are medium sour even though I cut the amount of levain substantially, cut the bulk ferment time, and the overnight proof at 55°F to just ~7 hours (normally it can go as long as 12 hours with store-bought flour).
The crumb is denser than I like so that's my next area of focus. Kneading this dough in the mixer produced no appreciable gluten…after 45 minutes I threw in the towel along with 3¾% vital wheat gluten. :-) After I saw the fermentation was already picking up after an hour into the bulk ferment, I did an accelerated schedule of folding every 20 minutes for two hours to build as much strength as I could, then gave it a half hour rest, preshape, shape, and overnight proof in my wine fridge.
Intense wheat flavor. I was expecting a much more subtle difference, this was night and day, so very surprised and happy about that.
On another note, has anyone tried Wolfgang Mock's muesli with your home mill? I did, it's great! Highly recommend. Just mill a heaping ¼ cup of oat groats on top of a roughly mashed, ripe banana, then cover with milk and stir. Add whatever else you like in your muesli—berries, toasted walnuts, chopped apples—and enjoy. Absolutely delicious.