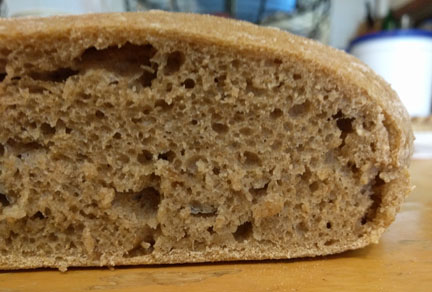 I used my food processor to shred the hockey puck loaves into crumbs, then froze the crumbs. 
I attempted to use the crumbs in new loaves, per the altus technique. Mixed results.
The directions I found said to wet the crumbs, then squeeze out the water. OK, that must be to prevent the crumbs from sucking the moisture out of the new dough. So I did that. Discovered that if I squeezed the crumbs, they started to dissolve. They were not dry enough. So I just let them drain in a sieve. 
Directions said to add them after the second stretch and fold. I flattened out the dough and dumped the wet crumbs in the middle. Like dumping wet oatmeal into the bread. I folded the crumbs into the dough and hoped for the best. The best did not happen. When I went to form my loaves, I hit a layer of wet crumbs, which smeared onto the counter. I ended up kneading the dough for a few minutes to mix the crumbs. I had an *extremely* hydrated dough. 
Managed to get loaves shaped and into bannetons. Loaves rose nicely and baked up pretty. Bread tastes good but it is quite moist. See crumb shot. 
Next time I will not soak the crumbs. Just leave them out of the freezer until they reach room temp, then fold them into the dough. 
Note: I was conservative in adding crumbs. I added 120 g of crumbs to dough that was 1200 grams of flour and starter (not counting initial water).