GOST Borodinsky Rye - subbing whole rye for medium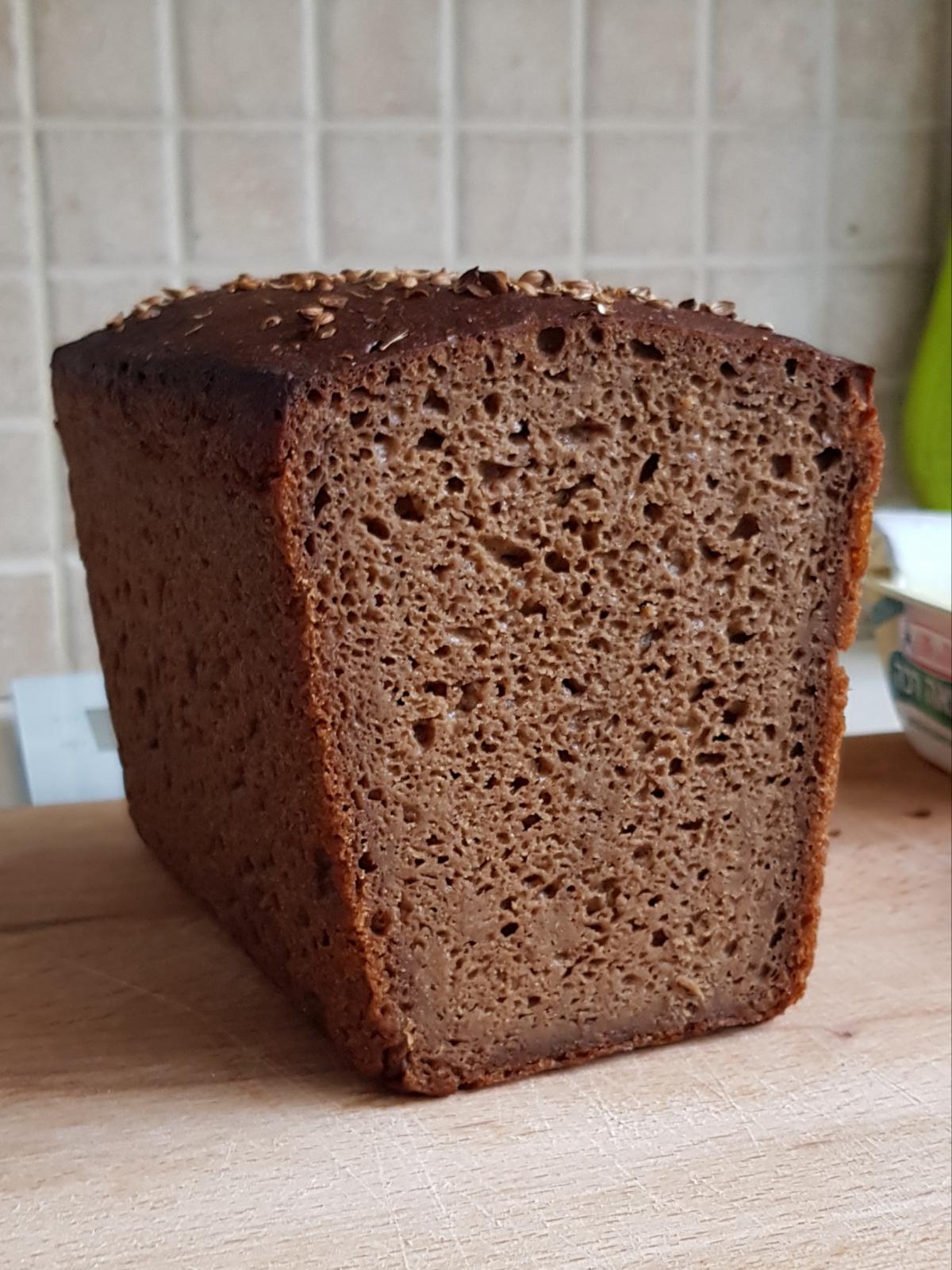 Hello! I'm here to solicit advice on how to improve my rye breads with the considerable limitations I have in flour variety and quality available to me.
After baking my way happily through his blog, I recently bought The Rye Baker by Stanley Ginsberg and started dog-earing recipes to try.
The second one I made is this Borodinsky bread, based on 65% medium rye, 20% bread flour and 15% course rye meal fortified with red rye malt and molasses. Like other black Russian and Baltic breads it combines a lot of ripe sourdough sponge with a malted scald into a turbo sponge that leavens the loaf in only a couple of hours without any additional yeast, and perfumes the kitchen with outrageous smells of coffee, toffee, spices, booze and fruit.
Not having access to medium rye or coarse meal, I subbed fine meal for all of the rye flour. I also subbed T60 crystal malt for the red malt based on a suggestion by Stanley. Instead of the ~2300 cc bread pan he calls for, I subbed a deep, 2000 cc Cadac cast iron bread pot, the closest thing I had, figuring the whole rye would give me a weaker rise anyway.
The sponges and dough trucked along happily in my hot kitchen, happily hitting all the required benchmarks in more or less the time given, until I got to the 90-120 proof. 40 minutes in, I found myself rushing to preheat the oven as the dough threatened to overflow the pan. 
The bread took 15-20 minutes longer to bake than indicated, which I chalk up at least partially to my sluggish oven. The end result, as you can hopefully see, was not bad at all, deliciously flavor and fragrant though a little bit too far on the sour side, with a tender, glossy and open crumb. The bottom third was not as good at the rest, coming out gummy and dense.
Here are my take-aways; I'd love corroboration and tips from other rye heads on this venerable forum:
- it seemed like everything was on schedule, but I suspect that due to the fast proof and sour flavor that it was actually ahead of schedule and over fermented slightly resulting in the dreaded rye goo - the higher fiber content meant that the sponge and dough expand less despite fermenting faster, and in my hot kitchen I should have moved on to the next stages earlier.
- you can see that the right side of the loaf, which faced the colder front of my oven during the initial high temp steam bake, rose less and was just a tiny bit gummier. This makes me think that a longer preheat and a thinner walled aluminum pan could reduce some of the density. 
- six inches is too deep a pan for high percentage rye bread - the depth and narrow sides may have squeezed the gasses out of the dough at the bottom. The bread may also have been slightly under proofed when I baked it. Next time I'll use a shallower aluminum pan and scale the recipe.
- the scald didn't seem as sweet as it should have been - perhaps the use of flour instead of coarse meal lowered the effective hydration, hampering sugar extraction? It was difficult to effectively moisten all the flour when I mixed it. 
- obviously, subbing whole for medium rye resulted in a denser, more vigorous dough, maybe next time I could use 30% high extraction flour instead of 20% BF to get a more similar ash/protein profile? 
Any and all comment and tips welcome!