Solstice Challenge - maybe
My planned Solstice bake has not eventuated, it may still in a few days time.  Still this bake started on 20th, and finished today.  My very first 100% Rye bread - Madelaine Jude's Danish Rugbrod.  Here in NZ,  it is the winter solstice so maybe it is fitting.
20th June
9 am - 20 g Rye starter + 20 g water + 20 g rye flour leave on bench
8 pm Add 60 g water + 60 g rye flour and leave overnight
21st June 
8 am Add 60 g water + 60 g rye flour and leave on bench.  Cover 125 g whole rye berrieswith boiling water and leave to soak.
11:15 am Mill 65 g chocolate malted grain (I think it is probably barley, it should have been rye but that is all I could get) on the coarsest setting on my Mockmill.  It had a few chunks but milled quite fine and quite easily. 
Add 55 g boiling water to 62 g choc malted grain + 63 g kibbled rye, cover and leave.  It was like a very thick paste but almost crumbly.  Smelt like dark dark coffee.
7 pm Cook the soaking grains for about 12 minutes until tender but had to add a little water. Cover and leave.
Mix the final levain - Add 80 g water and 80 g rye flour and leave on bench overnight.
22nd June
9 am Mix together 150 g rye flour + 400 g levain + 15 g malt extract + the rye berries/kibbled malted grain mix (about 175 g).  This was such hard work, no way was it wet enough.  Double check recipe.  No additional water.  I decided to keep adding water until it became as author said  "stiff dropping consistency" - this took about an additional 140 g. By this time I am exhausted!! really really difficult to mix by hand - all I wanted to do was have a lie down!!
Here is dough just before I put it in the pan.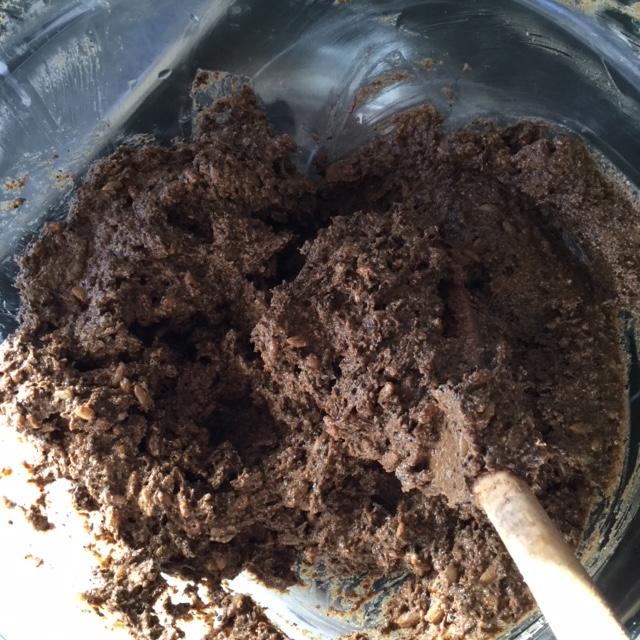 No salt?? double checked but no salt, ok.  Transfer to metal bread form, smooth top with wet spatula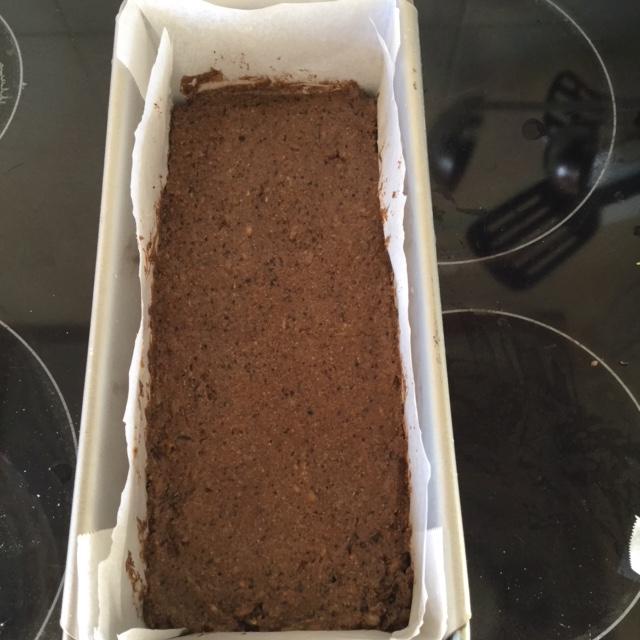 and leave to double. It took 4 hours even though kitchen was probably at about 20 - 21 deg C.
Covered and tented bread form with foil and baked for 30 minutes at 220 deg C and 30 minutes at 180 deg C.  Internal temperature was only 170 deg F so I put it back for  another 30 minutes but uncovered. Internal temperature now 208 deg F so all good.
I will follow instructions and wrap bread and leave it for 2 days before slicing.  This was on my husband's wish list as he had spent some time in Denmark as a young man and wanted me to replicate the bread.  Time will tell if this is a true replication to the Danish bread he remembers.
It was quite a different bake for me, will post crumb once we cut it.
Leslie