advice on my experiments please.....
hi
new to bread/sourdough making and followed a mates recipe to get consistent loaves.  recipe is.....
500g strong white bread flour
250g water
10g salt
300g 50/50 starter
i believe thats a 60% hydration
mix them all up, knead for 10 mins, cover with shower cap for 2 hrs, shape into baton, plop into basket, leave in fridge overnight to lengthen the prove (and hence a better chance of catching the sweet spot to bake), straight onto a baking stone, slash with razor and bake for around 30 mins in a 240 oven with water in a tray underneath for steam.  as i say im getting consistent results, nothing special but happy enough.
been reading this forum and following links, watching youtube vids and decided to experiment with higher hydration for 'light airy crumb'.
firstly i thought id up the water by 30g (65% hyd) and try the 'slap and fold' method instead of kneading, due to the sticky dough.  i ended up with this....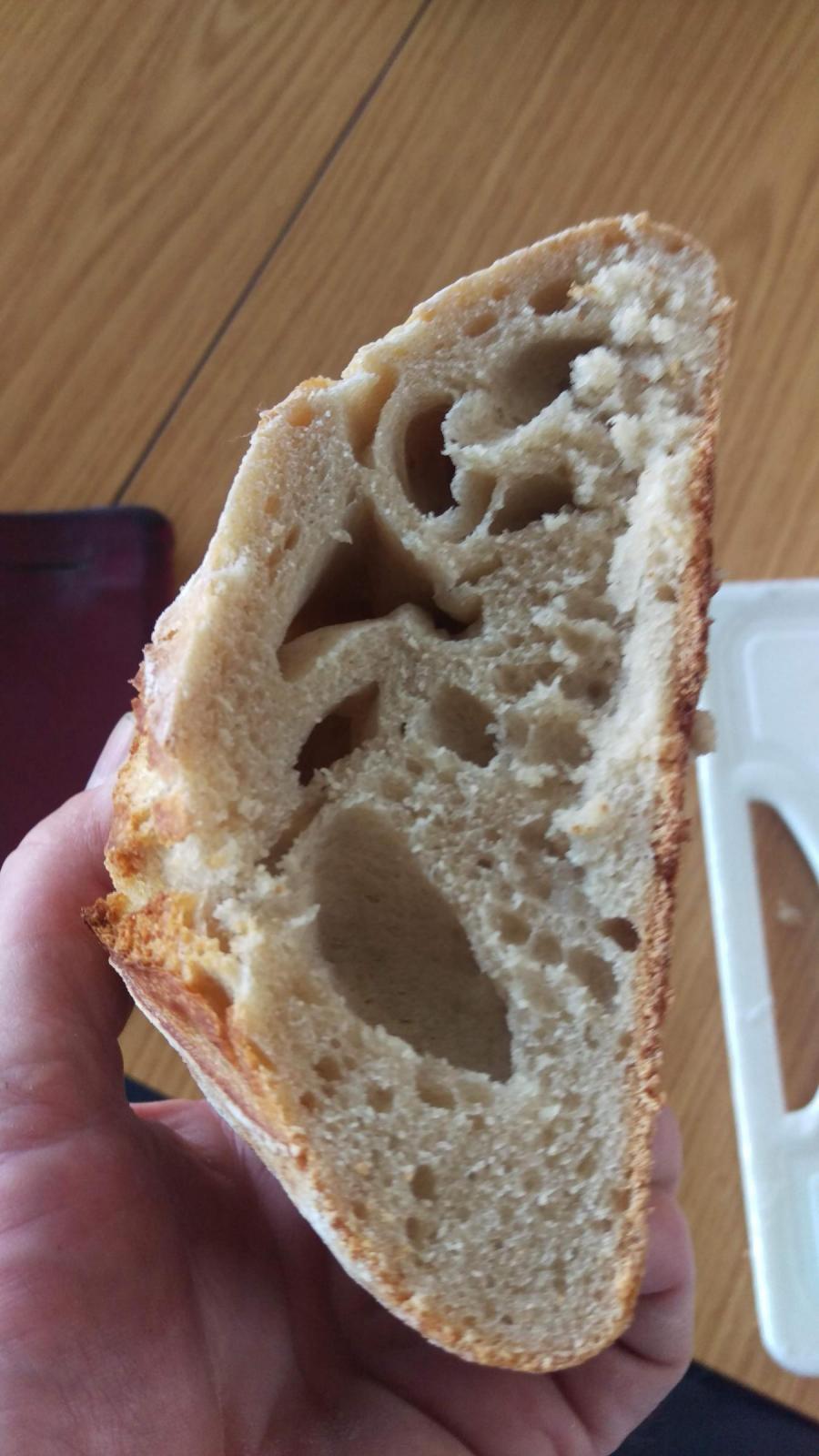 not ideal, and im not experienced enough to know what went wrong.  so advice on that please?  underproved?  overproved?  something else?
anyway yesterday i thought id try and up the hydration again by another 20g, so 50g more than original (68%) and instead of slap and fold, try the 'rubaud method' of just gently manipulating the dough.....
http://www.breadwerx.com/how-to-mix-wet-dough/
i really didnt think id have much success as the dough would be much stickier and i have problems with dough sticking to my hand in the normal recipe, but i was pleased with how i actually got on with it.  i also decided to autolyse it, just flour and water for 45 mins then mix in the salt and starter.  no idea why but i read it can be better).  however, it seemed difficult to mix in after that much time and as i was using the 'rubaud' method over good old fashioned kneading, im not sure it was a 100% effective mix).  so the method was autolyse, 'rubaud method' for 10 mins, 4 final folds (north, south, east, west) and into a bowl.  had to go out for an hour or more then so did my next folds maybe 90 mins later, but as it says in the video "dont sweat it, take it eaaasy, itll be fiiiine" :-)
then maybe 4 more sets of folds at half hour intervals, still very wet but what did i expect? finally into the floured basket and into the fridge with the idea of overnight prove.
anyways, i kept checking the dough, and after an hour or two in the fridge i thought "hmmm it seems proved around the edges, maybe not quite there in the middle, but hey, its an experiment, lets try it."  as i always read on here, go by what you think the doughs like in itself, not the clock ;-)  this is how it looked in the basket, still a little soft in the middle but a finger prod around the edges seemed quite firm and left a 'half-dint'.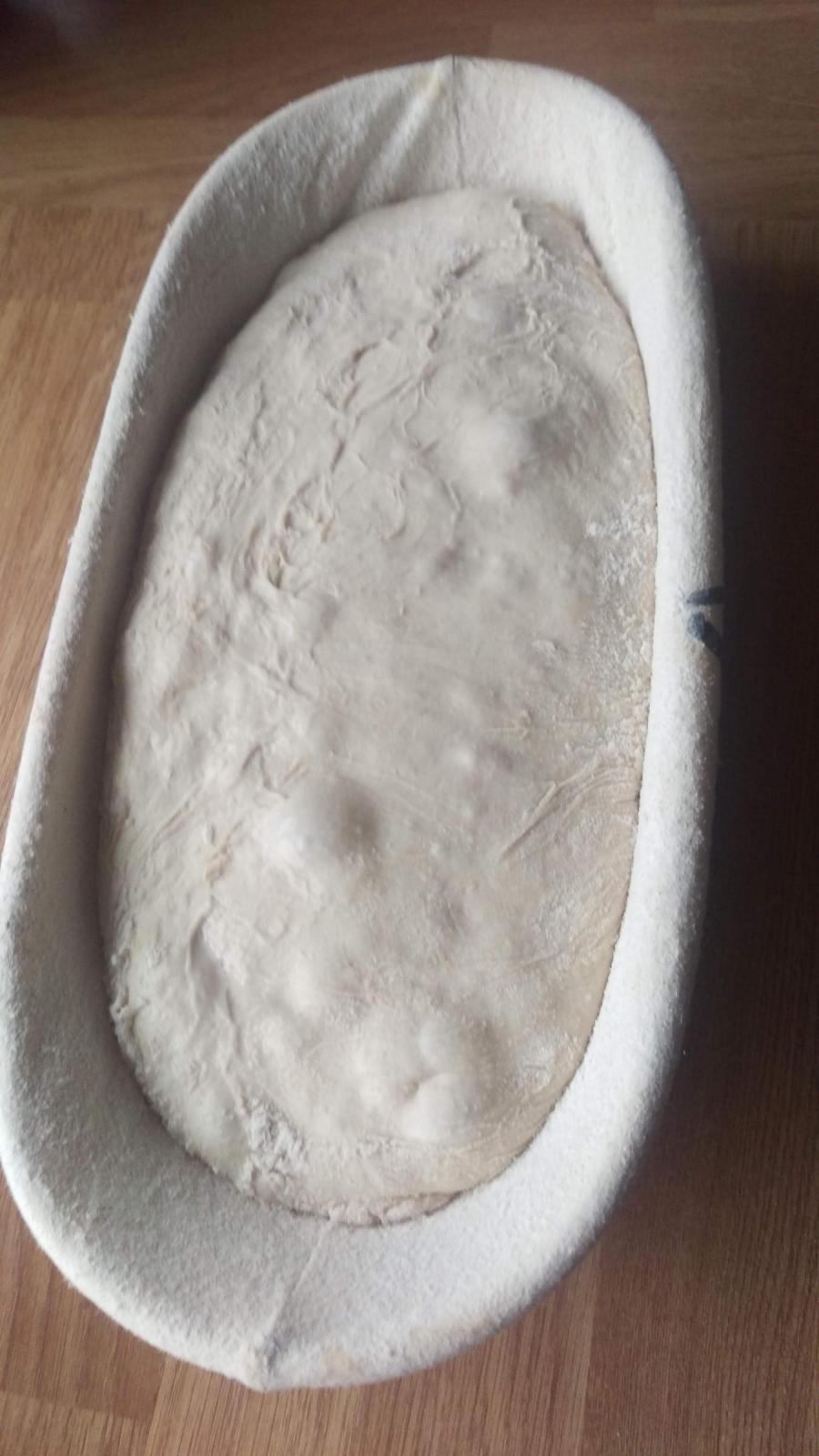 so.........pre-heated the oven to usual temp, plopped the dough out onto the stone and this time i didnt slash it.  rationale being ive seen some beautiful natural tears on here and i thought as its so wet anyway theres a strong chance of a pizza splat and a few slashes may cause it to spread even more.  let it just do its thing.
so.......finally it came out, no tear but a bit mis-shapen instead.  i forgot to take a pic of the finished loaf, but this is a slice....
looks better than the other day, but still a bit too 'holey' at the top, im just not sure about it.  also when it came out of the oven, it didnt really pass the 'hollow tap' test, the end seemed like it had a soft hole in it, and the bottom was still soft.  that would almost certainly be because of the middle of the dough not being ready before baking do you think?
so...........what do you think?  the holes at the top suggest overproving?  the soft bottom suggest underproving?
do you have any advice on improvements, either in timing, 'rubaud method', stretch and folds over 4 hrs say vs 2 hr 'leave alone' bulk fermentation of the original, in fact anything at all?
im going to try this making one again today, but this time im not going to autolyse (i may do in future if i do proper kneading or slap and fold), and even if i think its almost proved, still leave it in fridge overnight and see what difference that makes.  im sold on the higher hydration now, even if i dont really see any difference in crumb texture, the extra water MUST make a difference do you think?
thanks for sticking with me and reading to the end :-D