European Peasant bread a la Danni (or it was supposed to be!)
Loved this one that Danni had posted  http://www.thefreshloaf.com/node/56209/european-peasant-loaf-take-2
So this was the third loaf that I made this week.  I scaled Danni's formula down as I only wanted to make one loaf.
Monday: refreshed starter and then built 100% levain and left to ripen.  8 pm built the final levain for dough using all bran I had sifted out plus some flour to give me enough flour and left at room temperature overnight
Tuesday: 12:20 pm mixed together flours and water and left to autolyse for 1 hour
40 g breadflour + 40 g spelt freshly milled + 40 g freshly milled rye + 40 g wholewheat freshly milled (not willing to try a second kamut loaf until I had seen the result of my first try) + 3 g gluten + 222 water + 12.6 g ground flax seed.
13:30 pm mix final dough
6 g salt + 8 g yoghurt + 219 g 100% levain.  Was thinking wow this is a lot of levain, but that is what I wrote down, must be correct!  Slap and folds, stretch and folds until all ingredients incorporated then left to rest. At 30 minute intervals did 3 sets of S & f then left to bulk ferment.
Wow, this dough is really moving - no way will I get a long BF.  At 4 pm preshape (dough had doubled!!) and at 4:35 final shape. At 5:15 I placed the dough in the refrigerator as I needed oven for dinner.  
At 6:15 pm placed dough in preheated DO and baked at 450 deg F for 15 minutes lid on, 15 minutes lid off. 
I went back and looked at the notes I had made when I copied Danni"s formula and found that whilst I had divided all her ingredients by 3, I had forgotten to do this for the levain so I had a huge proportion of levain - little wonder it took off like a rocket ship!!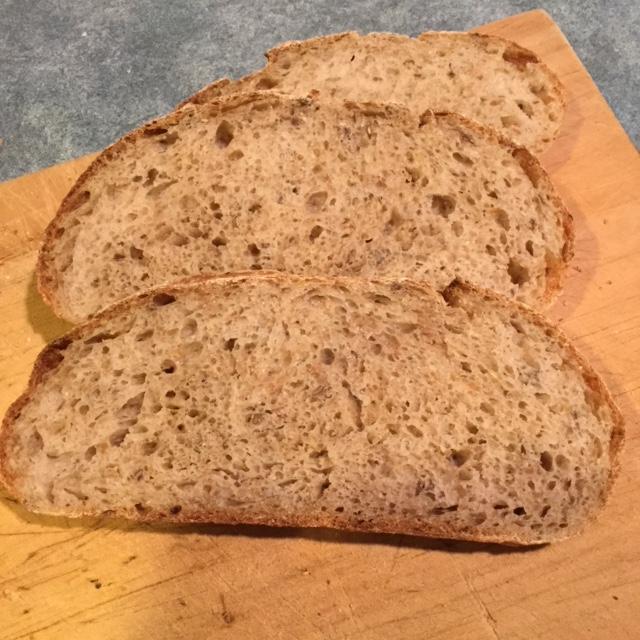 I think I may have bulk fermented a bit too long but the result is ok, it just spread a bit. Danni - what do you think?   If I had had the correct proportion of levain, the dough may have been a bit firmer? 
It is sliced and frozen, will see how it is later in the week.
Leslie