DanAyo"s recent post prompted a response by Trevor Wilson.
http://www.thefreshloaf.com/node/56018/acedic-vs-lactic-flavor
So time to give this a shot, see if I could do a long warm fermentation such as Trevor suggested without the dough degrading and see what effect it has on flavour.
Sunday morning:  Refresh my mother starter (basically a 1:2:3)  which lives in the fridge. 
Sunday evening: Refresh again keeping to this ratio, making a bit more than I required.
Trevor's suggestion was  to make a lower hydration dough eg 65% hydration with the stiff levain being only 10% of the total dough weight.
330 g flour
214 g water
6 g salt
So Monday morning 7 am I weighed out 55 g stiff levain and added 214 g water.  Then added some of the flour to make a thick slurry before adding the salt and the rest of the flour.  I hand kneaded until I was close to window pane.
As I don't have a proofer, I used the microwave to heat a cup of water, then placed the dough container in the microwave with the light on and the door cracked open.  It held the temperature quite happily at about 80 deg F.
1 pm As per instruction, once the dough had doubled at the 6 hour mark, I removed dough and degassed with firm stretch and folds then returned it to the microwave.
3 pm  repeated the degassing and stretch and folds, did a fairly firm preshape, and returned the dough to the microwave for 60 minutes. 
4 pm The dough had puffed up again so degassed again, shaped firmly into a boule and left to proof.  Pre heated oven and DO.
5:30 pm I think dough is ready to bake, but as dough is warm, instead of scoring I snipped a square shape the baked in DO lid on, fan on at 230 deg C for 15 minutes, 15 minutes lid off.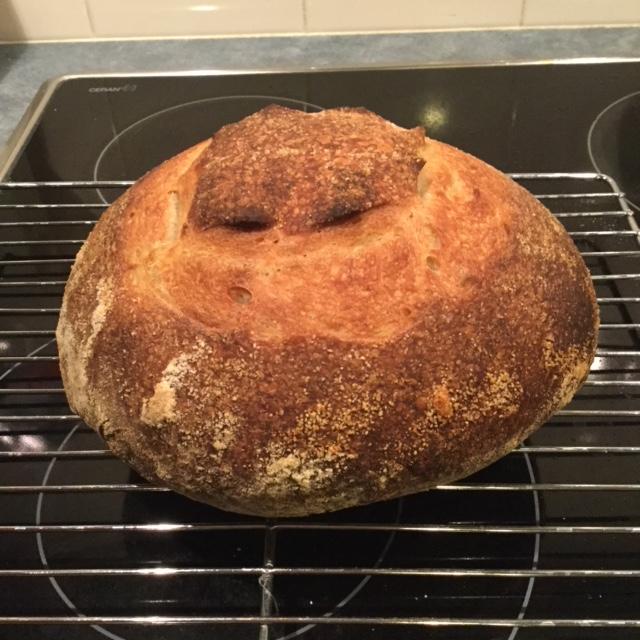 Crumb shot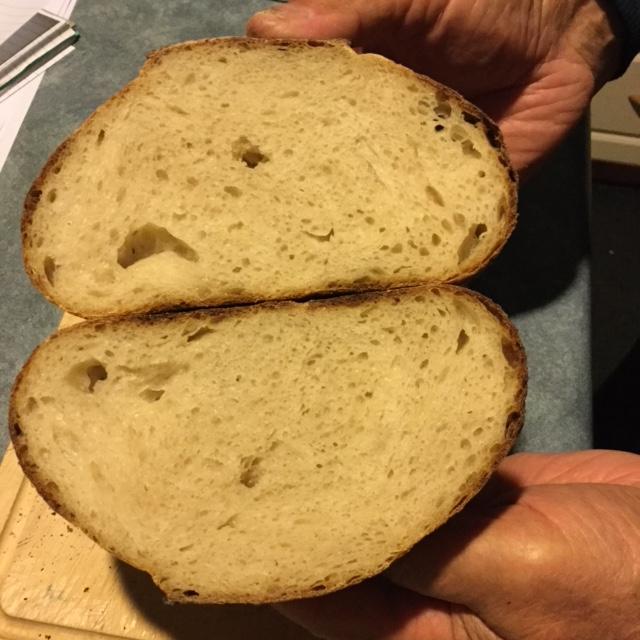 The flavour was definitely mild, crumb is soft and close but it is not dense.  
I was happy the dough did not degrade and I think I could probably have left the first bulk ferment a bit longer, it had doubled but was no where near tripling.  The second rise was quicker and it did more than double.  Shaping was not difficult and the dough although warm was not sticky.  It was fun to try something different and  I will try again I think.
While all this was going on, I repeated last week's bake of 25% wholewheat loaves comparing the 2 grains.  This bake was better than last week I think.  When I mixed the levain on Sunday evening I added the bran to the mix to help soften it.  
South Island wheat (780 g loaf)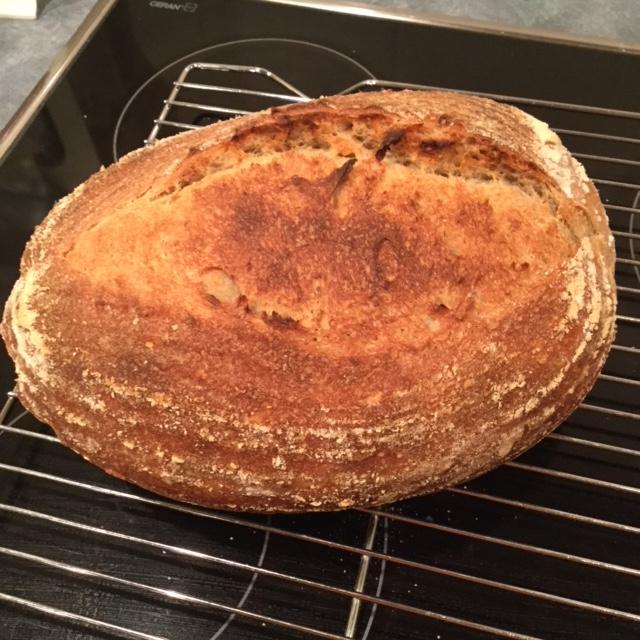 Crumb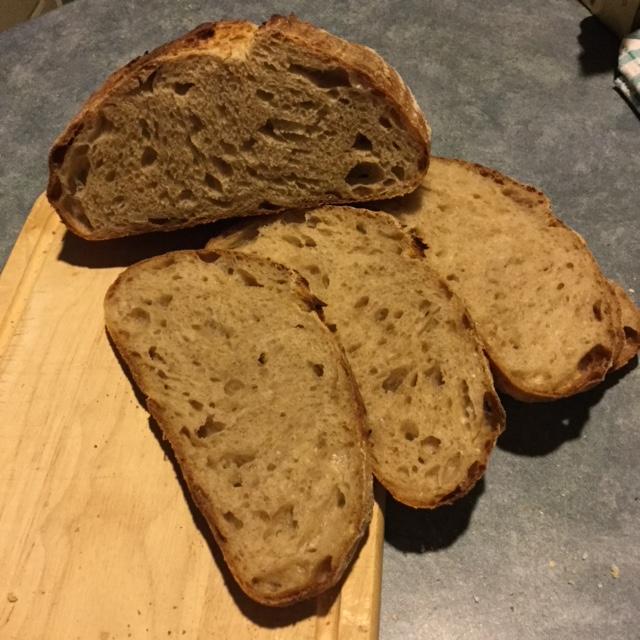 North Island wheat (900 g loaf)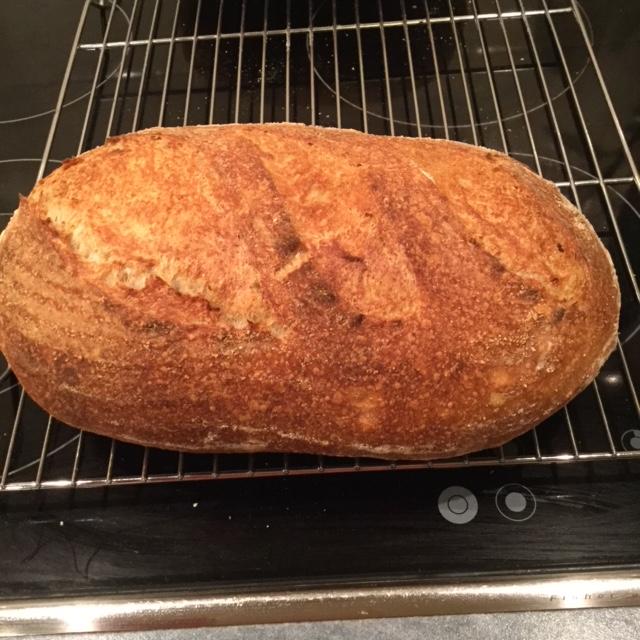 Crumb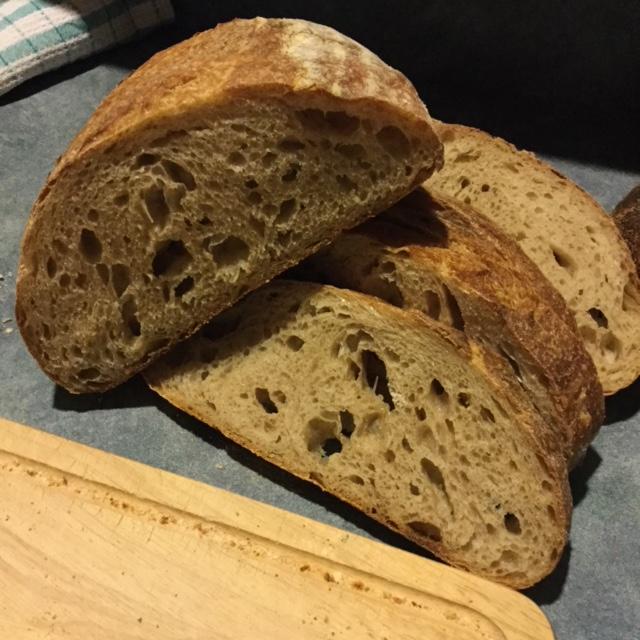 Not much between them I reckon.  I think too, adding bran to one of the levain builds is really upping the activity. 
This is a rewrite - tried last night but the gremlins got me, and I lost the whole post.....  :( 
Leslie