The holiday is over.  It was an awesome 3 week trip to our South Island incorporating a 7 day adventure of 4WD in back country, catching up with relations and exploring parts of the country I had never seen before. 
So it is great to eat home made bread again.  Today's bake was a simple loaf of 72% bread flour, 22% rye (freshly milled) and 6% whole wheat (freshly milled) at 77% hydration.  Refreshed starter which had been languishing in the fridge since Mid March, built the levain on Saturday evening, mixed the dough early afternoon Sunday.  I did a hour long autolyse followed by hand incorporating of levain, and salt.  I did 2 sets of 10 slap and folds and 1 stretch and fold.  The dough was left to almost double.  It was nice to handle and far away from the stickiness and problems I had had with Country Style Champlain bakes.  Preshaped just before dinner, then shaped and popped dough in banneton dusted with bran into fridge overnight.  It was baked for 15 minutes at 250 deg C in DO with lid on, and fan on to keep temperature up followed by 15 minutes at 425 deg C.  
It is a great everyday bread that I haven't made for a while. 
Crumb shot, sitting on the sunny bench.
On my travels we visited an organic farm near Christchurch to buy wheat, rye and spelt berries and also some barley flakes.  So in addition to the above bake, I made 2 small loaves comparing the 2 lots of wheat berries that I now have - one from North Island (2)and one from South Island (3).  I used 25% freshly milled wheat and followed the same time lines as above.  Hydration was about 70% so I wasn't pushing it.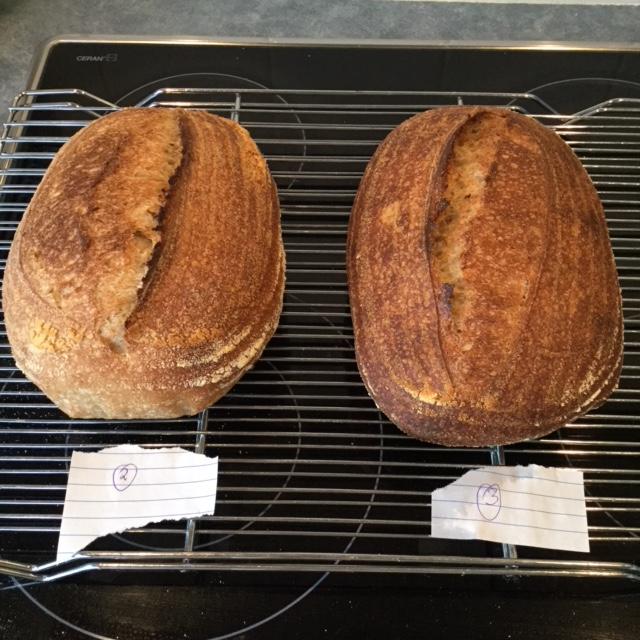 There seems to be a bit more volume in bread (2) on left, which was North Island grain. This surprised me as I expected it to be the other way.
Crumb shots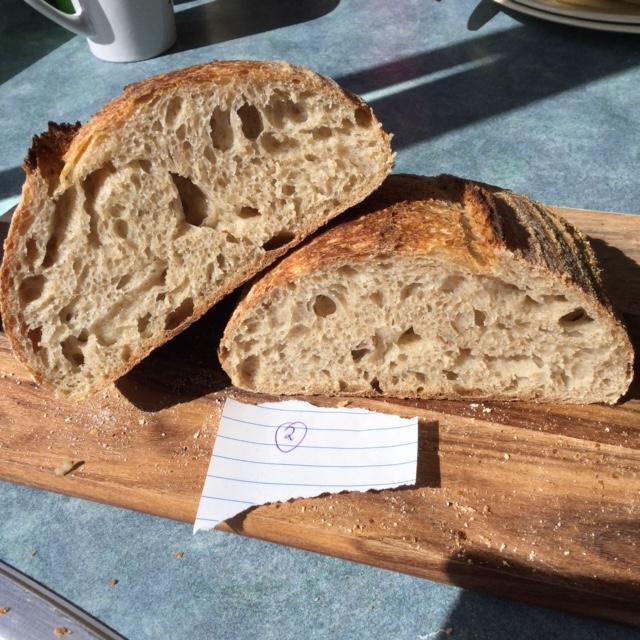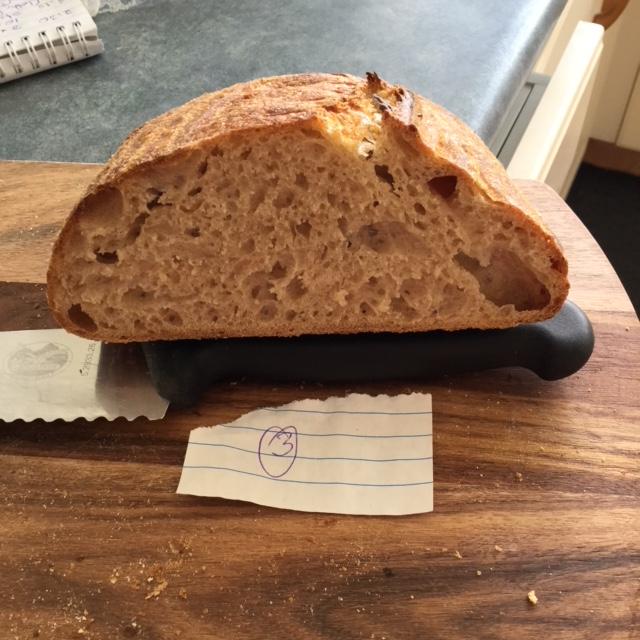 Nothing dramatic, just every day loaves - a good bake.
Leslie