First cousin to the Champlain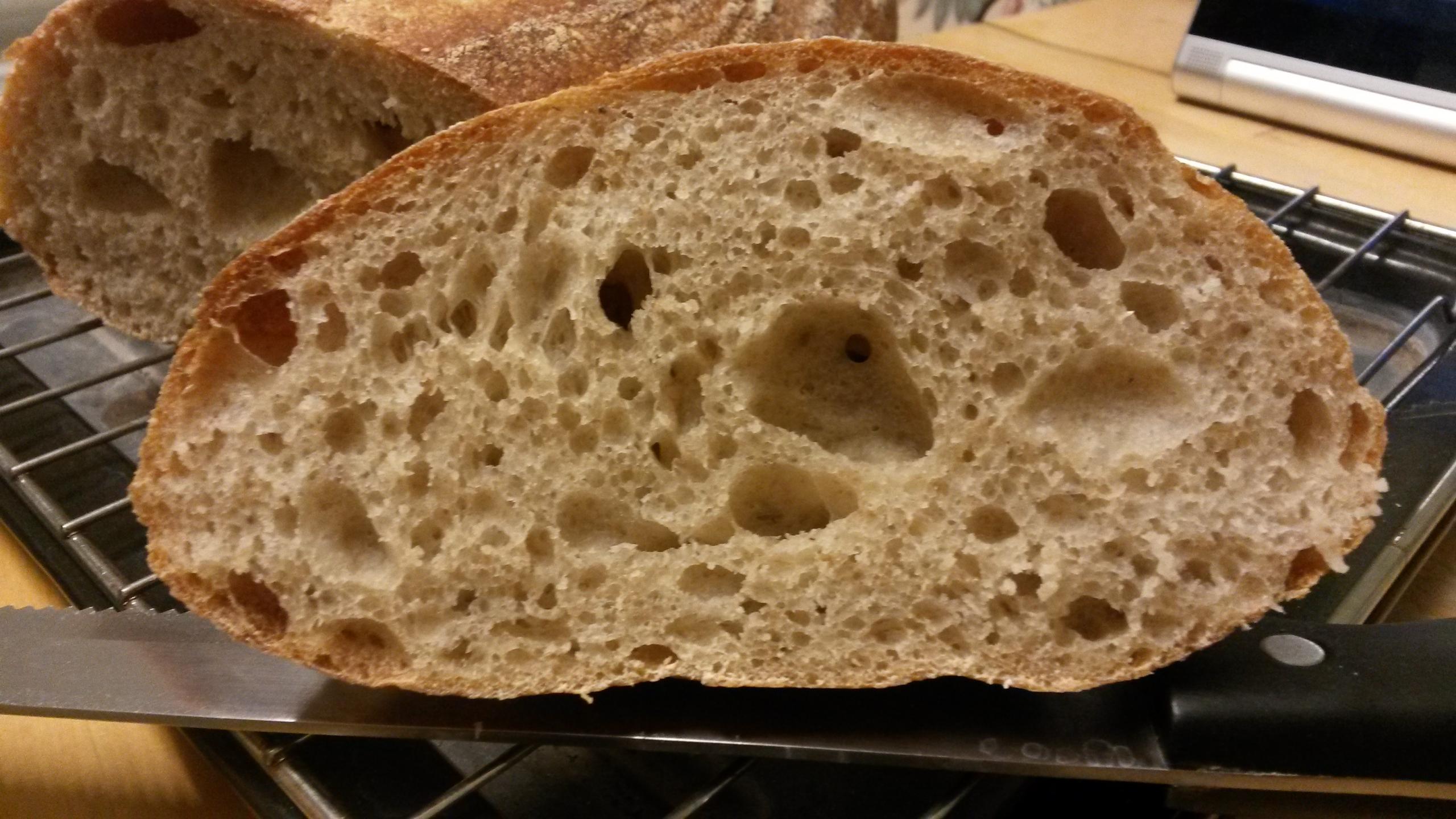 So continuing my quest for tang, and for one of the lactic persuasion moreso than acetic, I had planned on doing a do nothing bread but with a higher hydration starter. After procrastinating for too long I started the levain too late. Oh no, it's going to have to be more hands on. Making do with flour I had in stock and wishing to use some up I formulated an 82% bread flour, 12% whole spelt and 6% whole rye recipe. 70% hydration is high enough for a nice crumb and low enough to handle well. The recipe, after a second look, seemed close to an increased wholegrain champlain with a slightly lower percentage but higher hydration starter. And a recipe was born...
Bread Flour: 369g
Whole Spelt Flour: 54g
Whole Rye Flour: 27g
Water: 304g 
Salt: 9g
Starter @ 125% hydration: 45g (4g rye starter at 100% hydration + 18g bread flour + 23g water, fermented for 12 hours)*
*A good point Sharon has made... Since my recipe was continually being reworked and adjusted, while I built 45g starter to use a fraction of it for a no knead very long bulk ferment bread but ended up using all of it, that doesn't mean what I had left was the full 45g. Starters lose weight when fermenting. So when I used ALL of it that doesn't necessarily equate to 45g. If you build extra and use 45g, instead of my recommended build, then you might be using 5g or so more starter.
1: Autolyse the flours, water and starter for 1 hour. 
2: Add the salt and combine. 
3: An hour after adding the salt perform a letter fold stretch and fold one way then the other.
4: Perform a stretch and fold every hour. 
5: Bulk ferment for a total of 6 hours from the start of the Autolyse.
6: Pre-shape and bench rest for 20 minutes.
7: Shape and final proof in the banneton - 1 hr 30 min at room temperature then 1 hr 20 minutes in the fridge. 
I was aiming for longer at room temperature but my dough was moving fast (faster than Trevor's Champlain). It was almost done after 1 hr 30 min so I put it in the fridge as I like to bake a cold dough. It's better! 
8: Bake using usual method.
Oven spring was very good indeed, good crumb structure, handled well and what's most important is a lovely flavour with a tang more akin to yoghurt than vinegar.