Last bake before holidays!! Happy days
Yesterday was the last day to top up bread for the next week plus leave some in  the freezer for when we return.
So Sunday overnight refreshed the starter, then Monday made 2 builds, converting it to 100% hydration and using bran for the 2nd build.  2nd & 3rd builds combined as we were going to be out until evening.  Before going to bed built the levains required for my bake.
Hamelman"s 5 grain Levain (pictured)
Soaker
Flaxseed 62 g
cracked rye 62 g
sunflower seed 52 g
Rolled oats 52 g
salt 5 g
Boiling water 276 g
Levain
Bread flour 169 g
Water 211 g (yes 125% hydration)
Mature starter seed 34 g
Final Dough
Hi gluten flour 338 g (I used bread flour + 11 g gluten to approximate 13.5% protein)
Wholewheat flour 169 g
Water 175 g
Salt 12.2 g
All the soaker
All the levain
Monday afternoon weighted out the seeds, gave the flaxseeds a quick grind in the coffee grinder so it was a mix of fine and coarse. I use jumbo rolled oats so gave them a quick chop the toasted all the grains and left to cool.  Amazing smell.  I haven't used toasted seed in this amount before.
Monday night before bed mixed the levain and left on bench.  Mixed the soaker allowed to cool then covered it.  It soaked up all the liquid very quickly.
Tuesday morning room temperature is 21 deg C.  Added water and soaker to the levain, mixed well then added to flour and salt mix. Mixed with stretch and folds until all incorporated.  It was pretty sticky and much firmer than I remember from the other occasions I have made  this. Left to rest for 10 minutes then did some for stretch and folds.  I added 2 tspn water (about 6 g) at this point as I felt it was a bit too firm. Left to rest. I did 3 more stretch and folds over next 3 hours then left to finish bulk ferment. 
This is after 2nd lot of stretch and folds.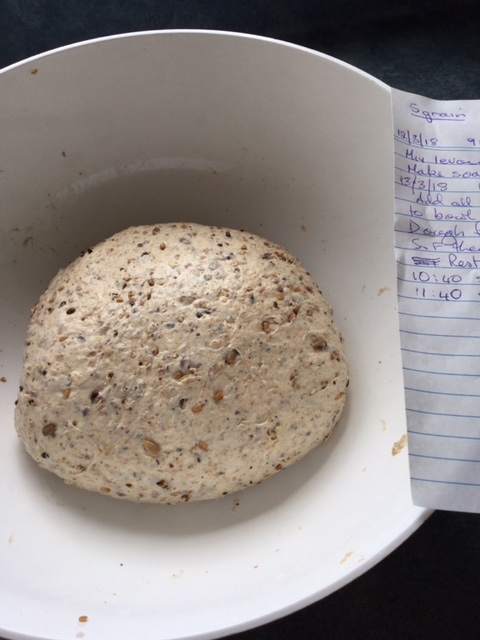 2 hours later I divided the dough and preshaped, it had increased maybe 40%.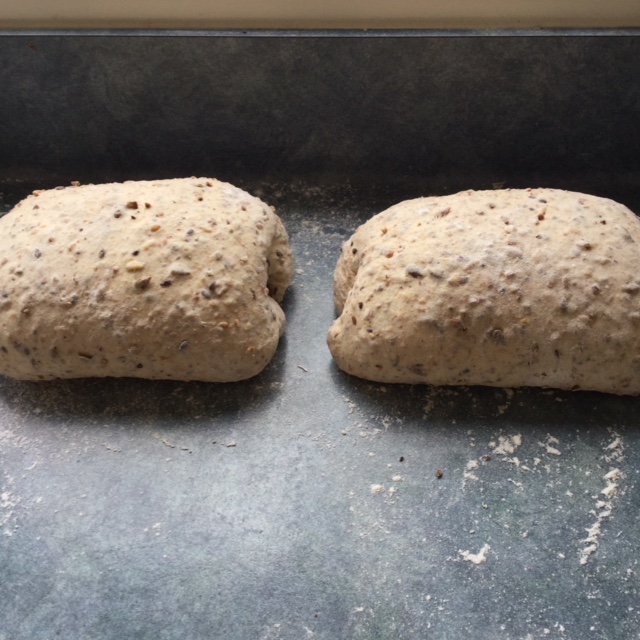 I left it for 45 minutes but it didn't relax hugely, but was easy to shape into 2 batards. Turned the oven on to preheat DOs. This time I bench proofed and about an hour or so later it was looking poofy so popped them into the oven 15 mins lid on at 250 deg and then 20 minutes lid off.  I kept the convection on during this bake to keep oven temperature up and it seemed to help. 
Here is the 2nd batard.  After my recent experiences with Tartine style Country Champlain the shaping, scoring etc was a breeze.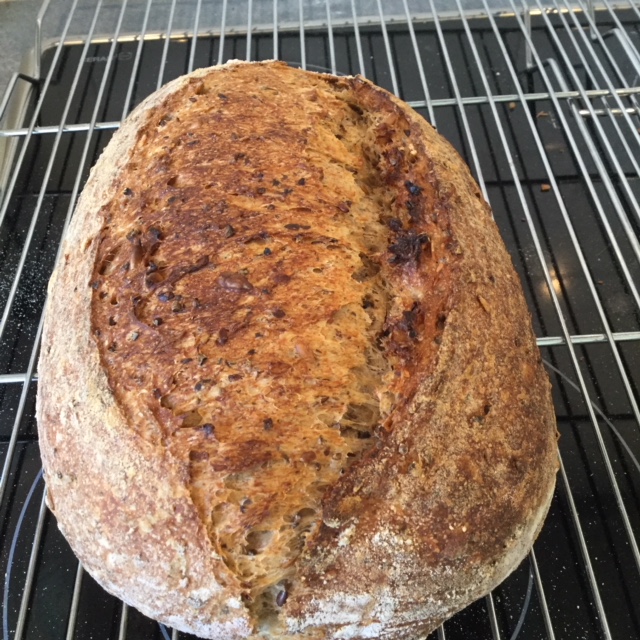 and of course, the crumb shot.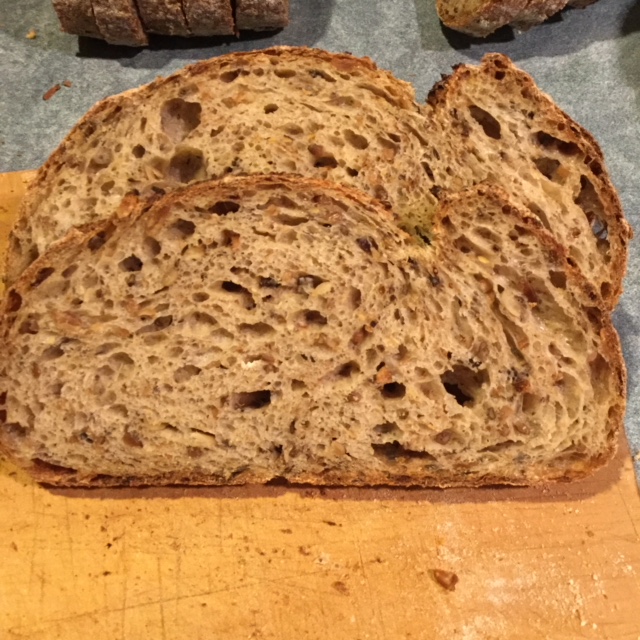 Very happy camper!
At the same time I made 3 small (300 g) 1:2:3 sourdough boules.   I found this was a very firm dough as well, much more so than normal.  I have opened a new bag of gluten flour (from a different source) and I really wonder  if that is influencing things so much.  I am adjusting my 11% protein flour to 12.5% but previous bakes have been much wetter. 
These had 4 x 10 stretch and folds, 2 hour BF followed by 20 mins preshape  with about a 2 -3  hour proof.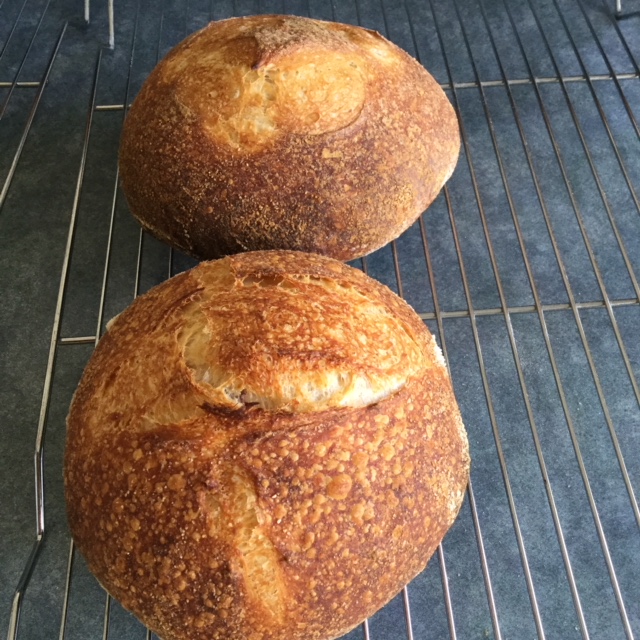 No crumb shot, these were frozen as is.
The final part of the bake was Trevor Wilson's Champlain.  I will post details on  "Anyone interested in a Champlain SD bake?" shortly.
The day went well, it was busy and I was on a schedule to get it all baked before I went out to a 7 pm meeting.  lol, hubby had to take the final 1:2:3 loaf which was the final one, out for me.   I am happy with the crumb from the 5 grain levain as this has such a lot of grain, but I think it is the best I have baked this bread!
Leslie