February 25, 2018 - 3:12pm
Banana YW Spelt levain Fig and Crimson Raisin SD
Basically the same process as the last bake. So little hands on that it is amazing to see what the dough becomes with just time and two s and f's. The one thing I will change is I won't be doing a bulk ferment any longer. I remember why I hate having to wait around for the dough to get warmed up and risen before baking. I will shape and retard in the banneton.  I like baking the cold dough as it is so easy to get out of the banneton. Other than that I won't change any of the technique . It all went flawlessly. 
I found a way to add cinnamon without placing it in the dough. I don't soak my dried fruit but I do mist it several times as I am working in the kitchen and keep it covered to get it hydrated. This time I misted and also tossed it with 8grams of cinnamon. Wow...the fragrance!  I stole a piece of raisin off one of the loaves and it tastes great. It doesn't get the flavor all through the loaf but I do have pockets of sweet cinnamony goodness now in the bread. 
500g KA bread flour
250g Red Fife flour
250g Kamut
400g Spelt levain 100% hydration ( added more flour and water to leftovers from yesterday and let it go about 4 hrs - young levain) 
320g milk ( I didn't have fresh so made double strength powdered milk ) 
50g maple syrup
50g yogurt
320 g Banana Yeast Water
20g Kosher salt
8g cinnamon on about 250g  diced dried figs and crimson raisins and hydrated by misting. 
Mixed flours, milk and YW  ,syrup and yogurt . Used as few strokes as needed to hydrate all. Covered and set in warm 80 degrees F oven. Left till puffy. about 3 hrs. Folded in damp salt with few strokes and then folded in all levain. Covered and left in same 80 degree F oven till quite puffy about 3 hrs. Removed and did 2 s and f. On the last S and F folded in the fruit. Placed in oiled bucket and left overnight. More than doubled. Removed and shaped cold using the pinch a seam method , nothing more. Took about 2 1/2 hrs to rise up. Bake preheated for 15 min  roaster at 500 -10 min covered, 475-10 min covered and 475- 20 min uncovered. Threw in 2 icecubes at the start. 
crumb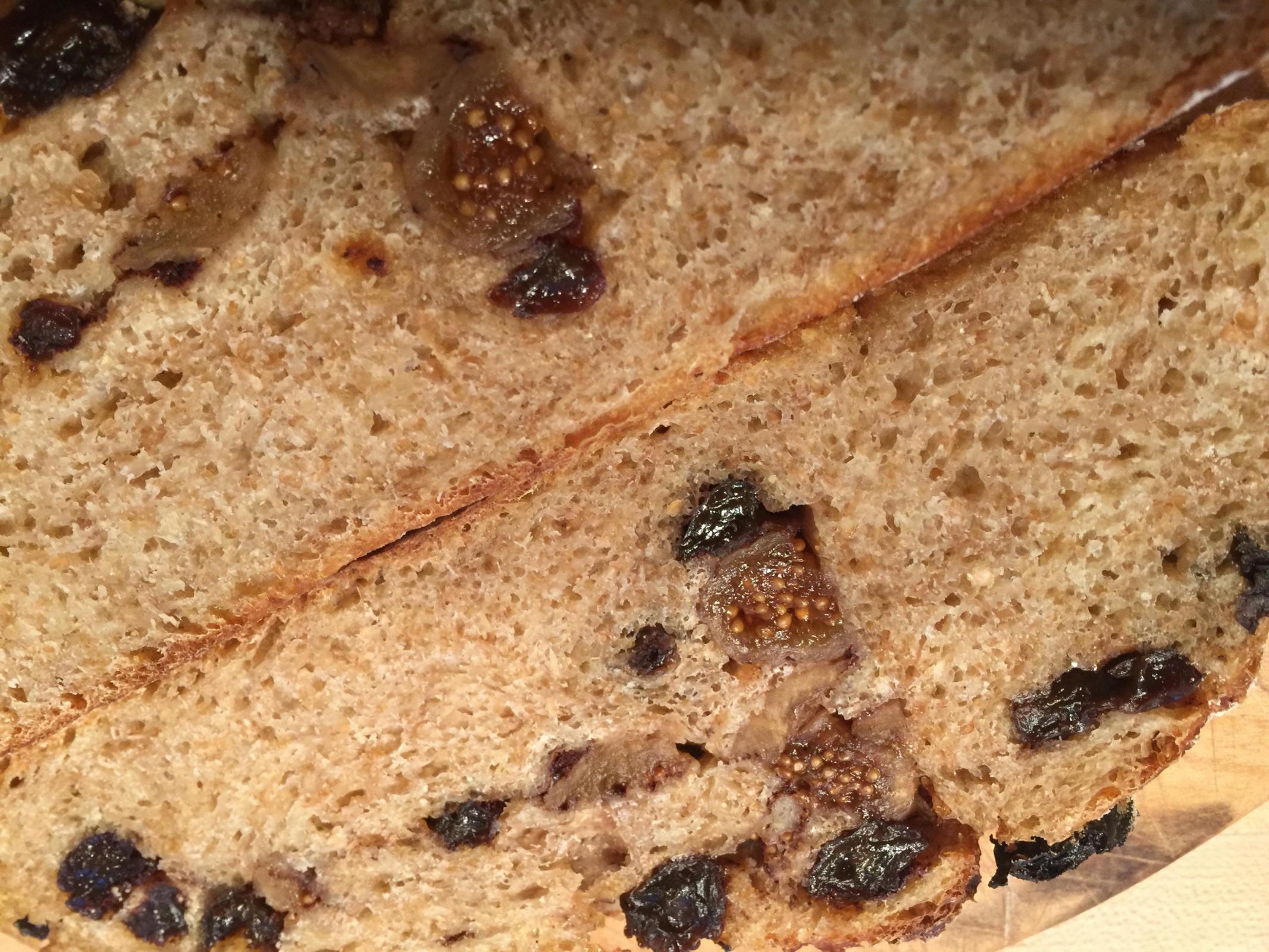 banana yeast water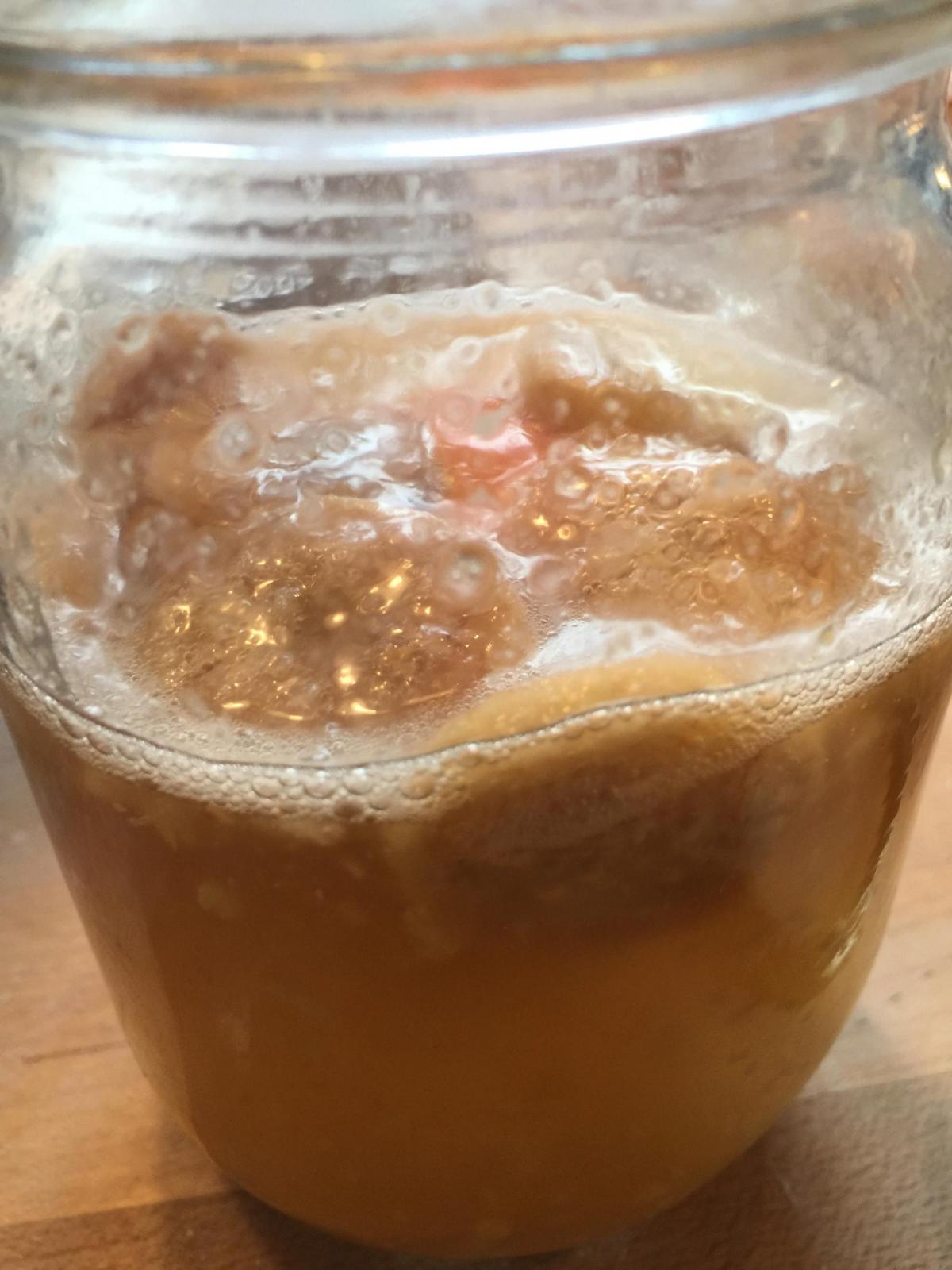 young spelt levain
folding levain into dough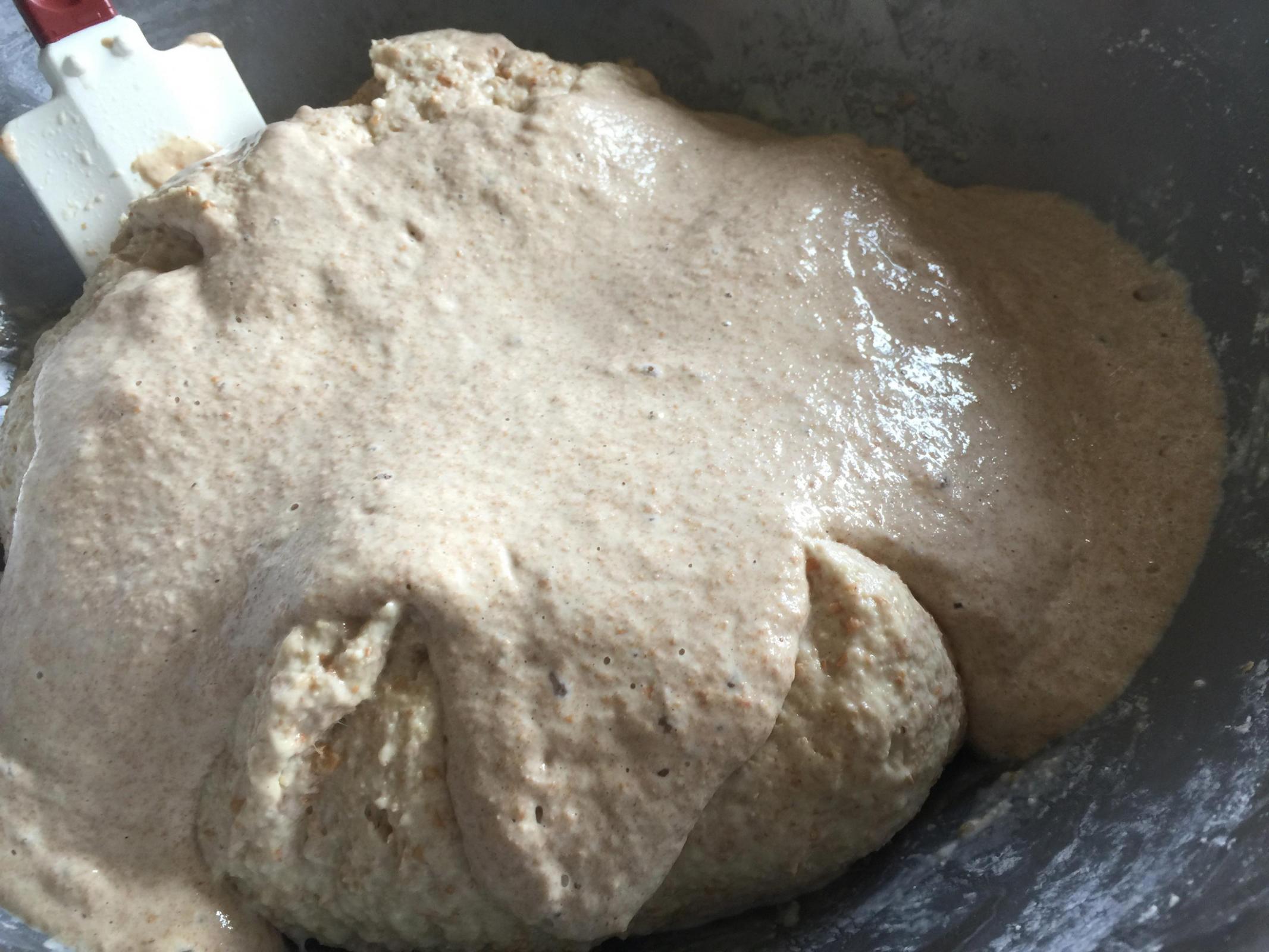 about 50% done folding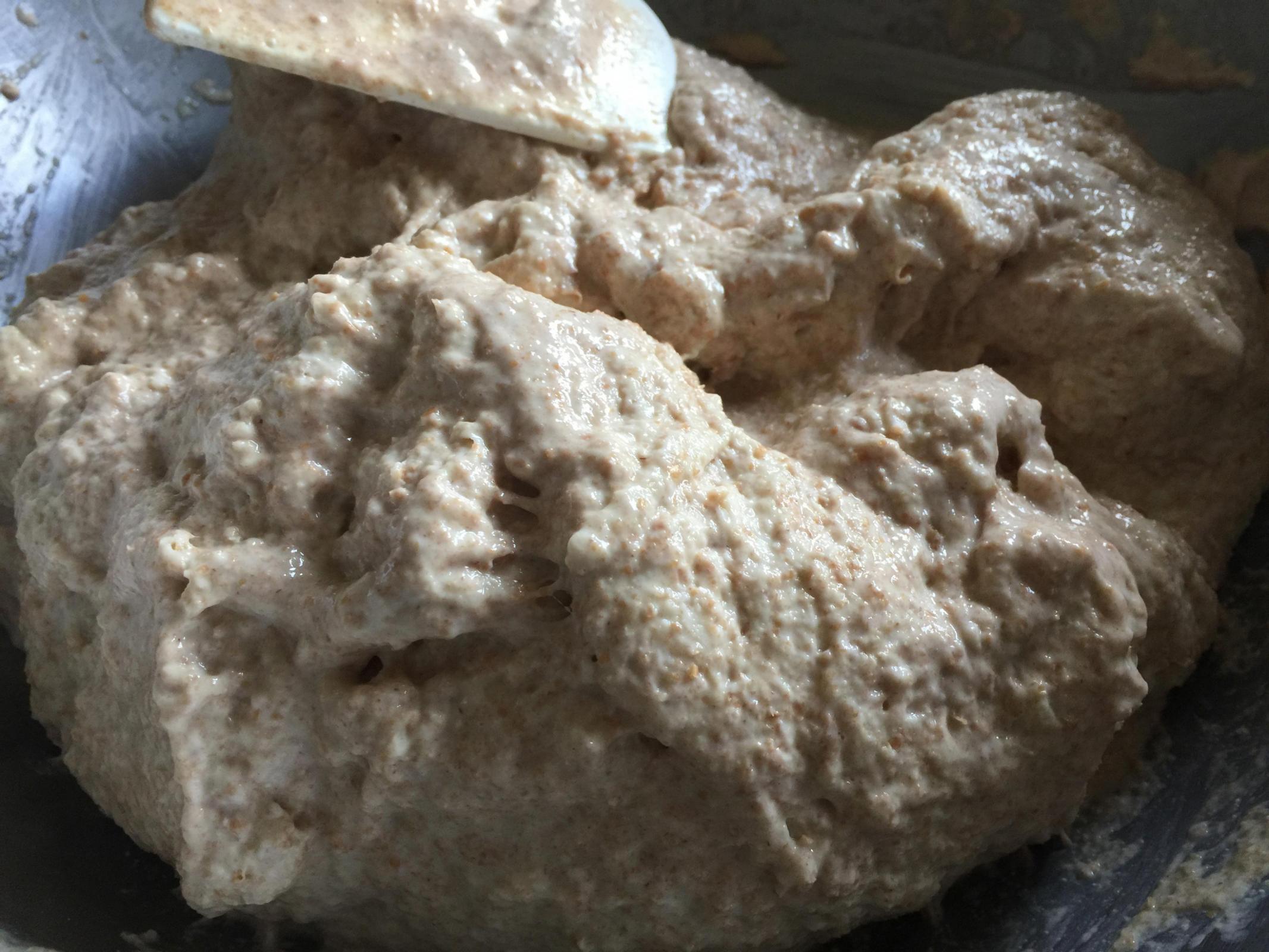 after the dough with levain has rested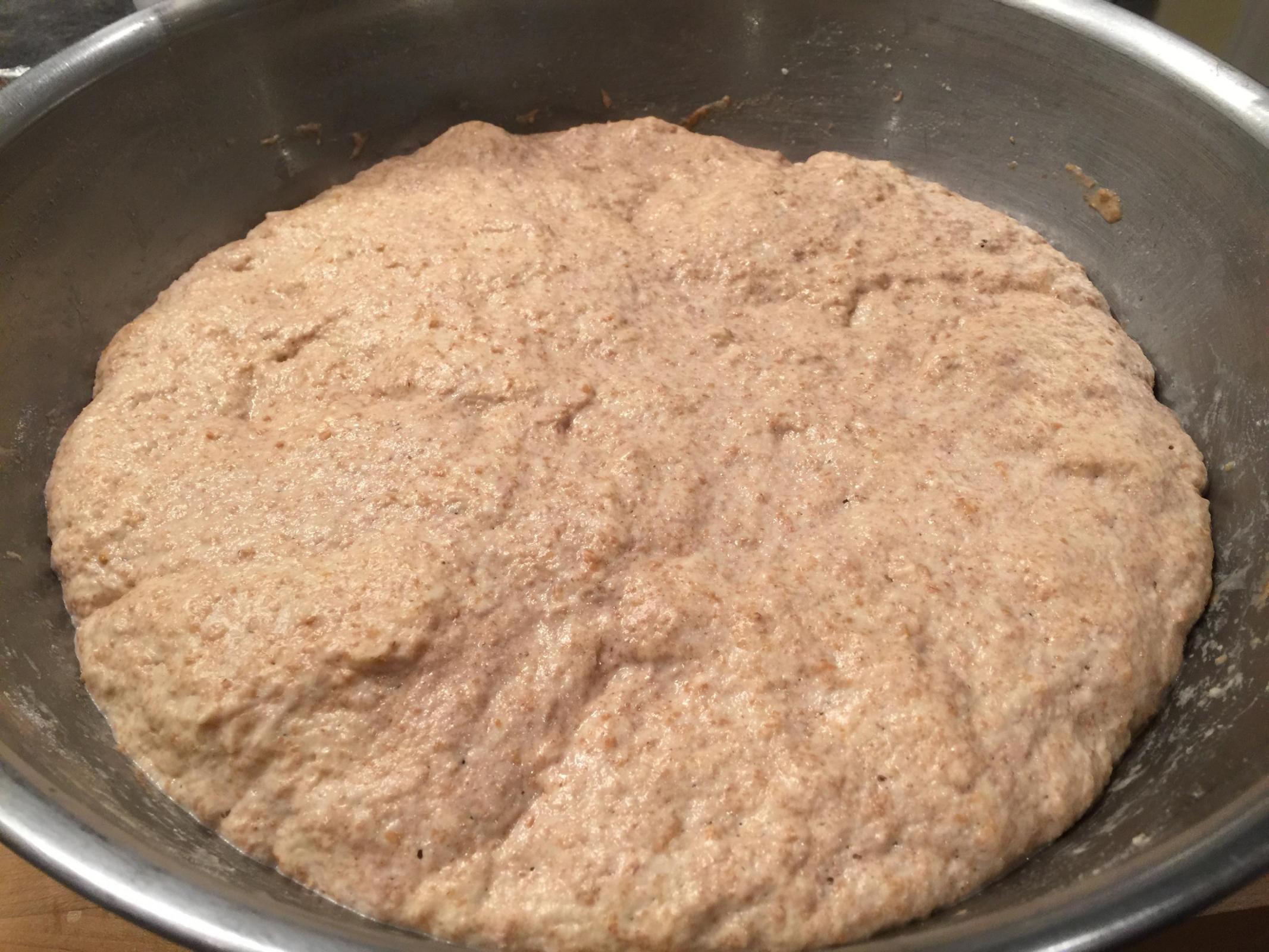 turned out dough on floured counter ready for s and f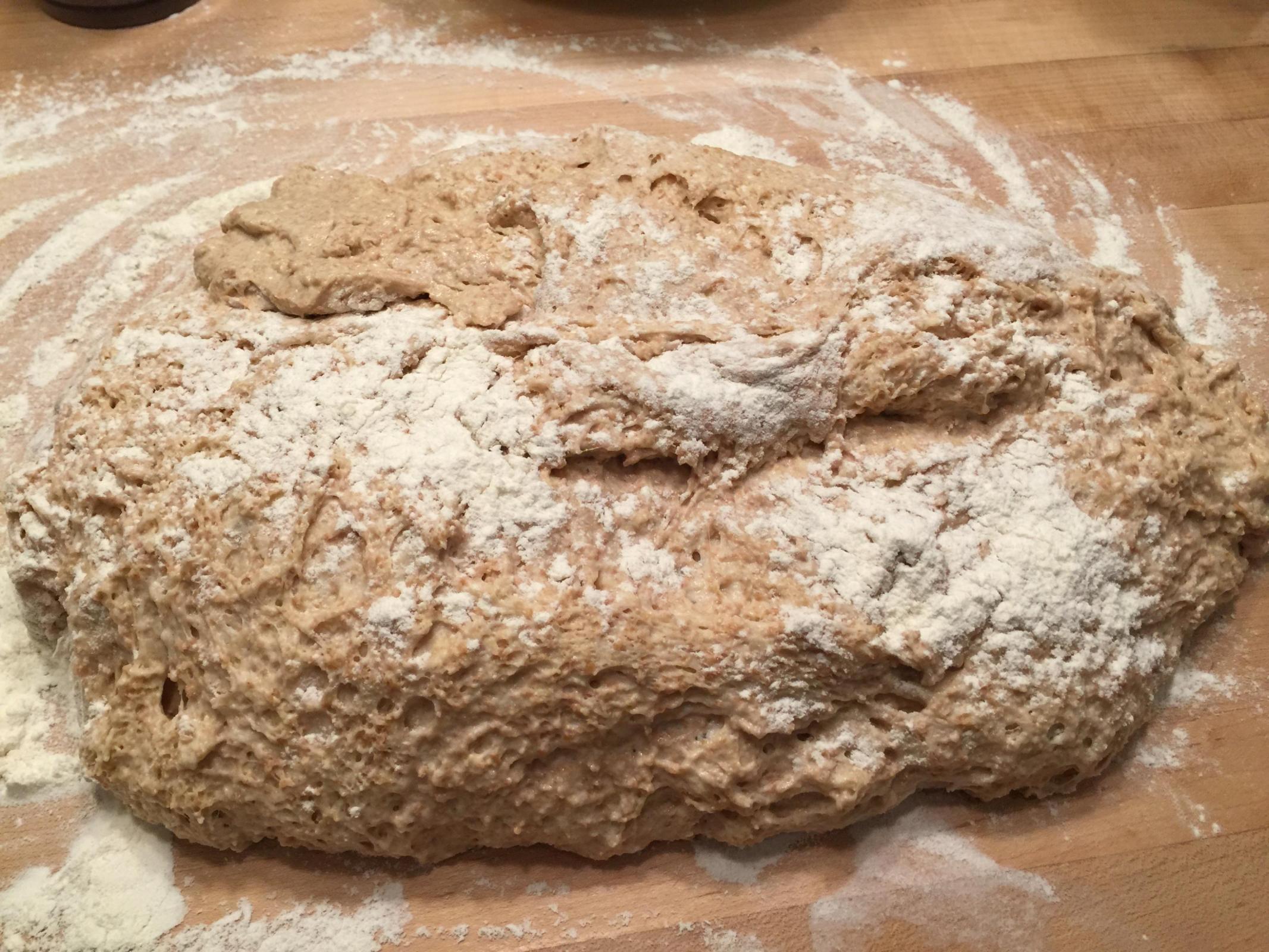 after 1 fold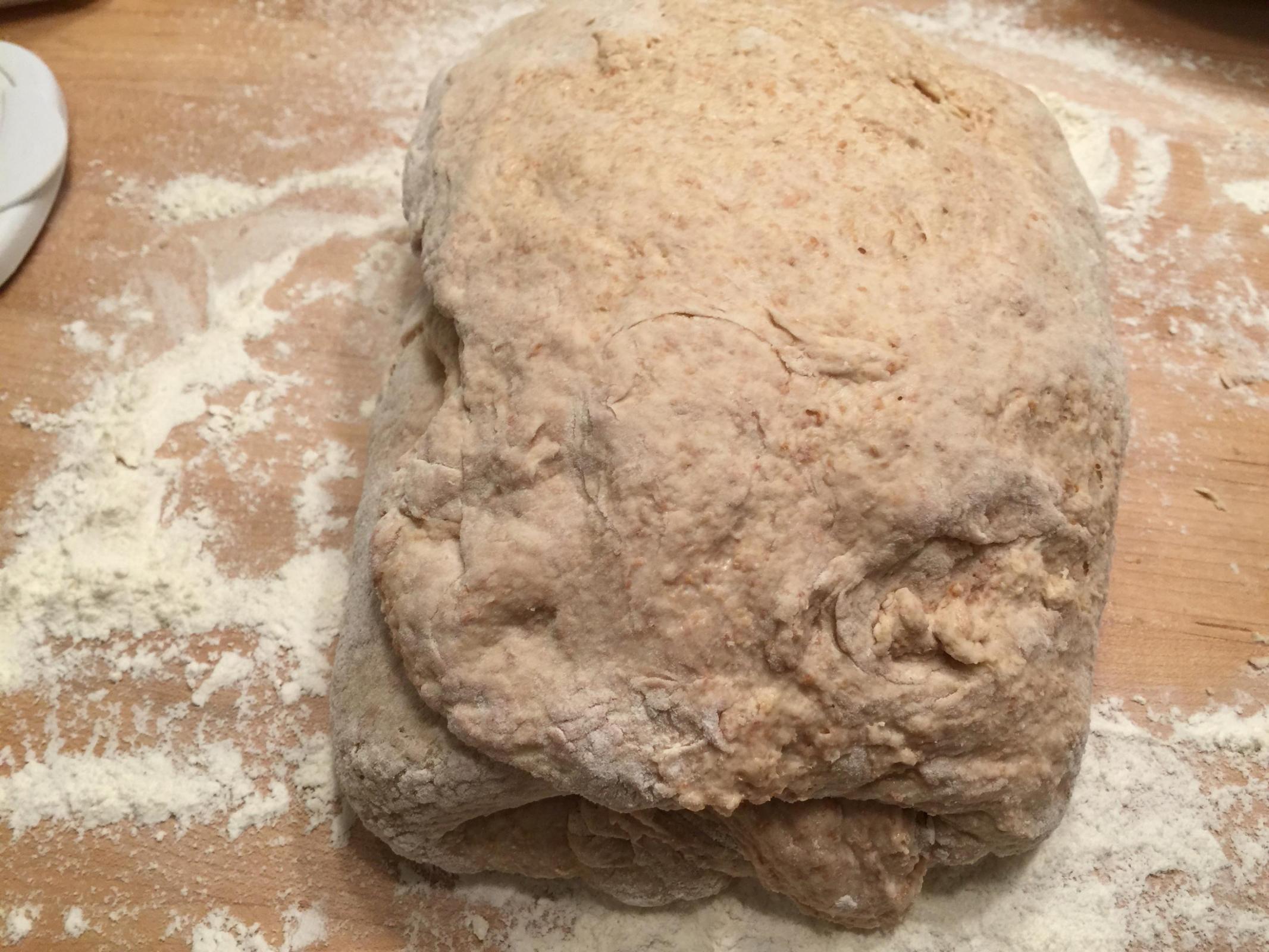 after 2 folds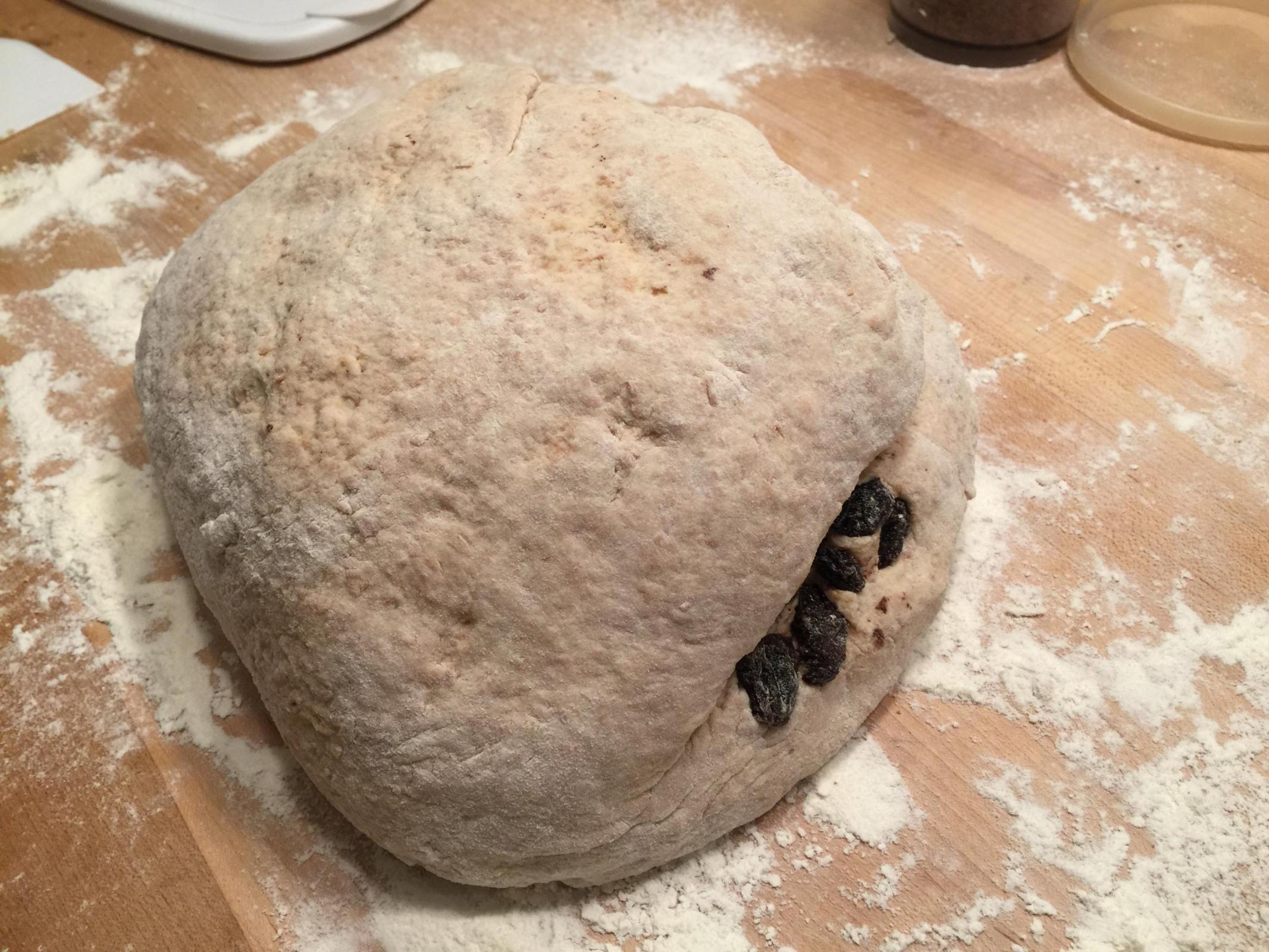 macerated dried fruit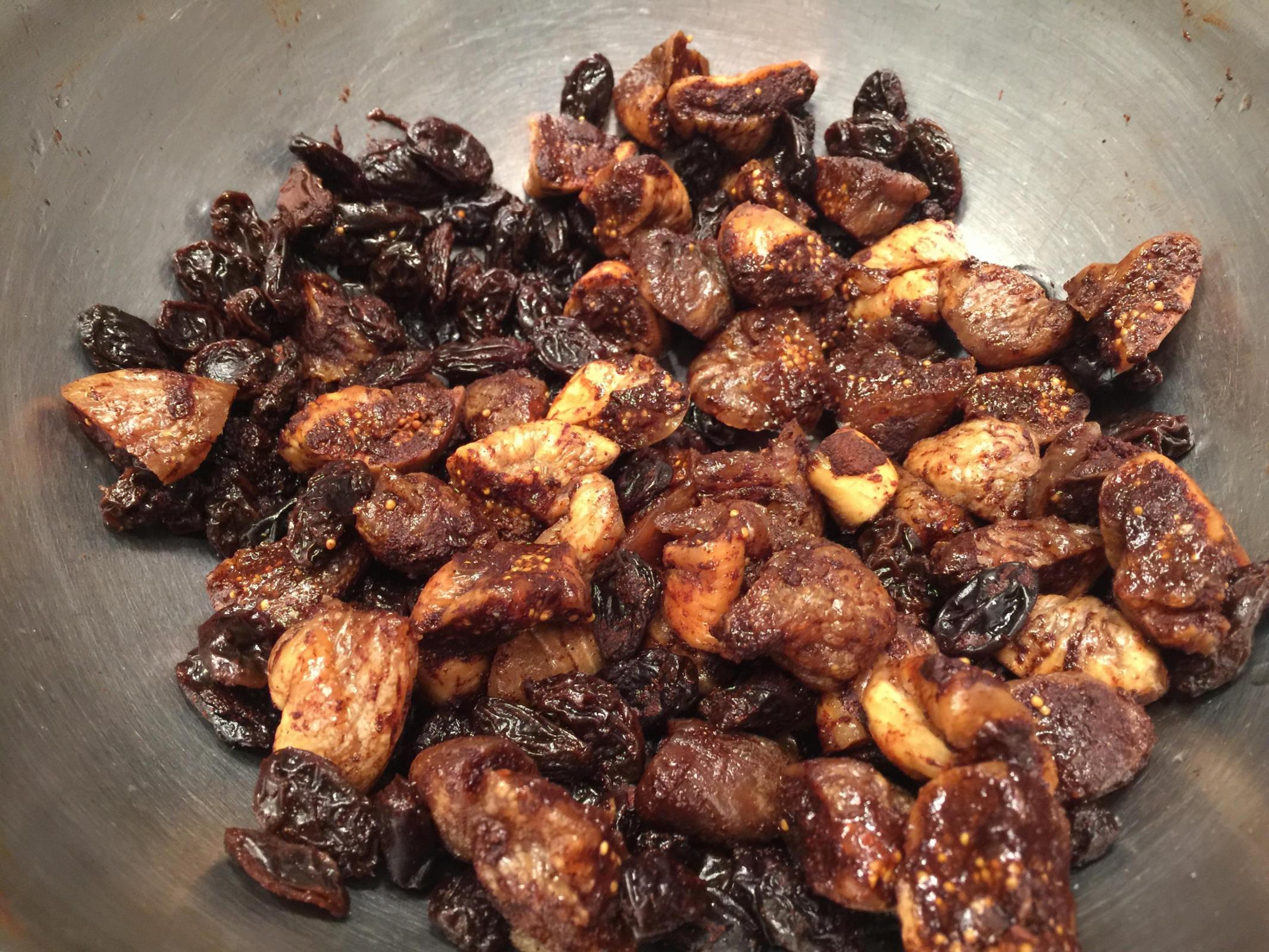 after retarding in bucket all night cold 34 degree F refrigerator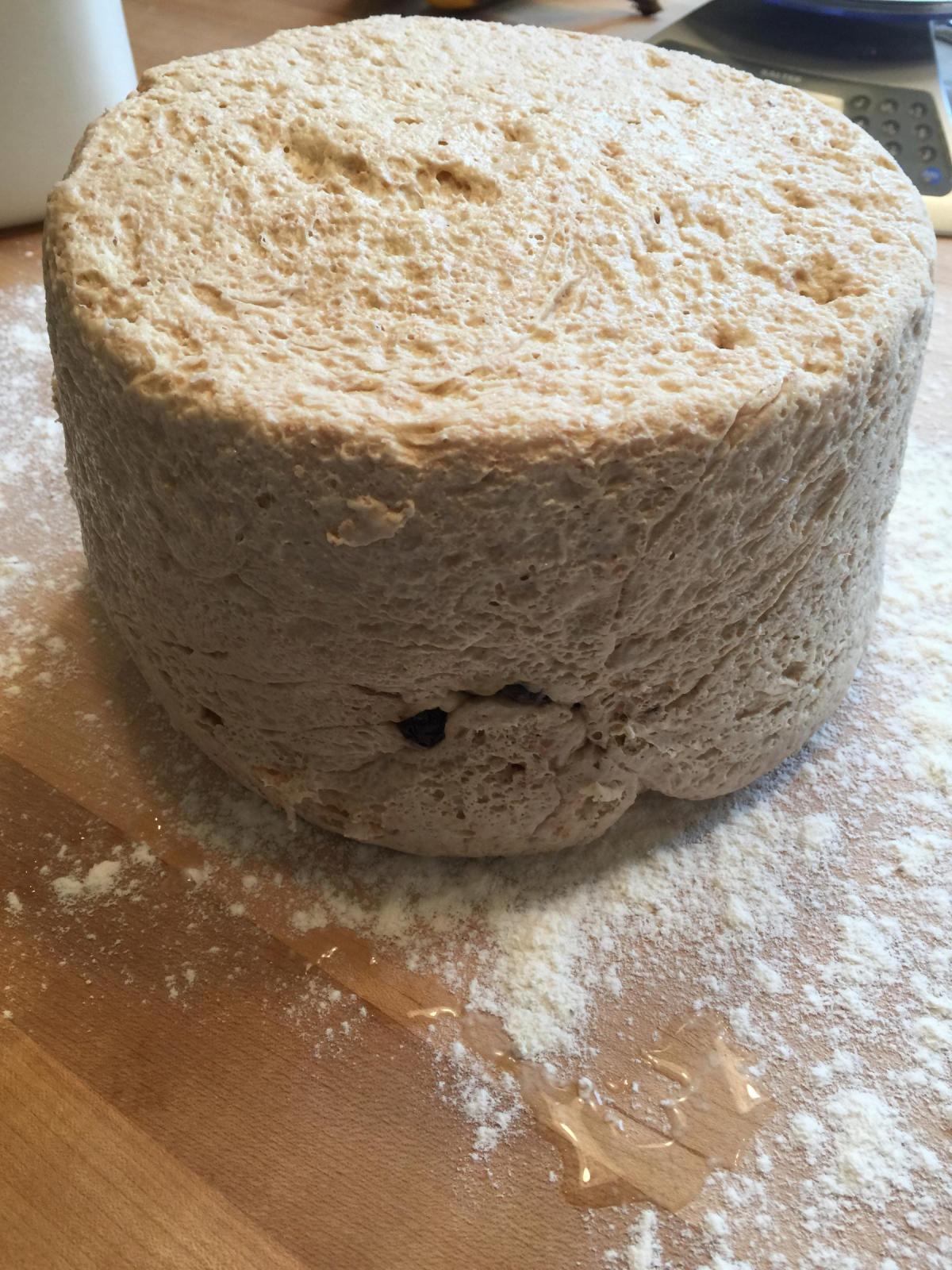 shaped cold loaves ready to rise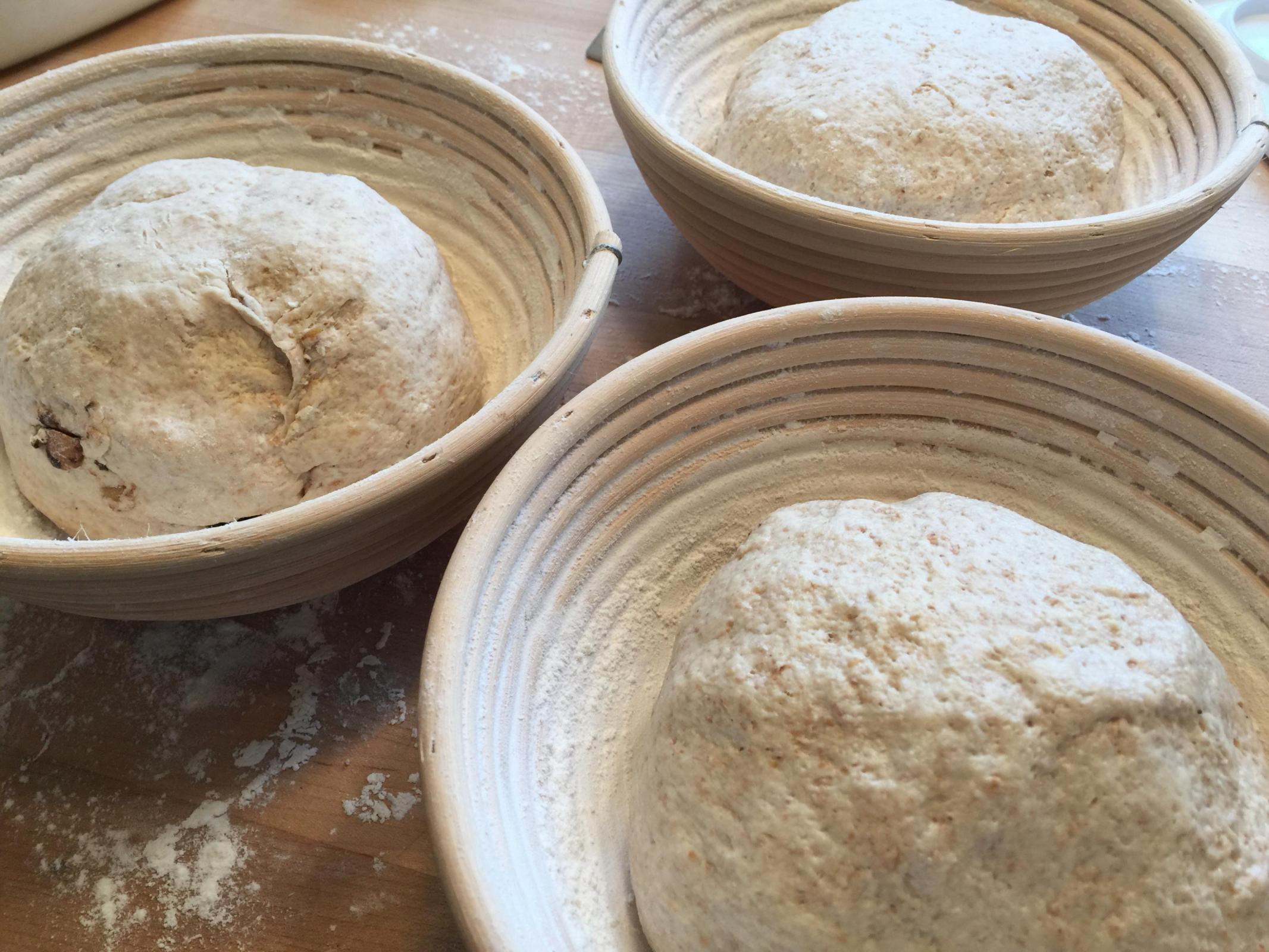 risen and ready to bake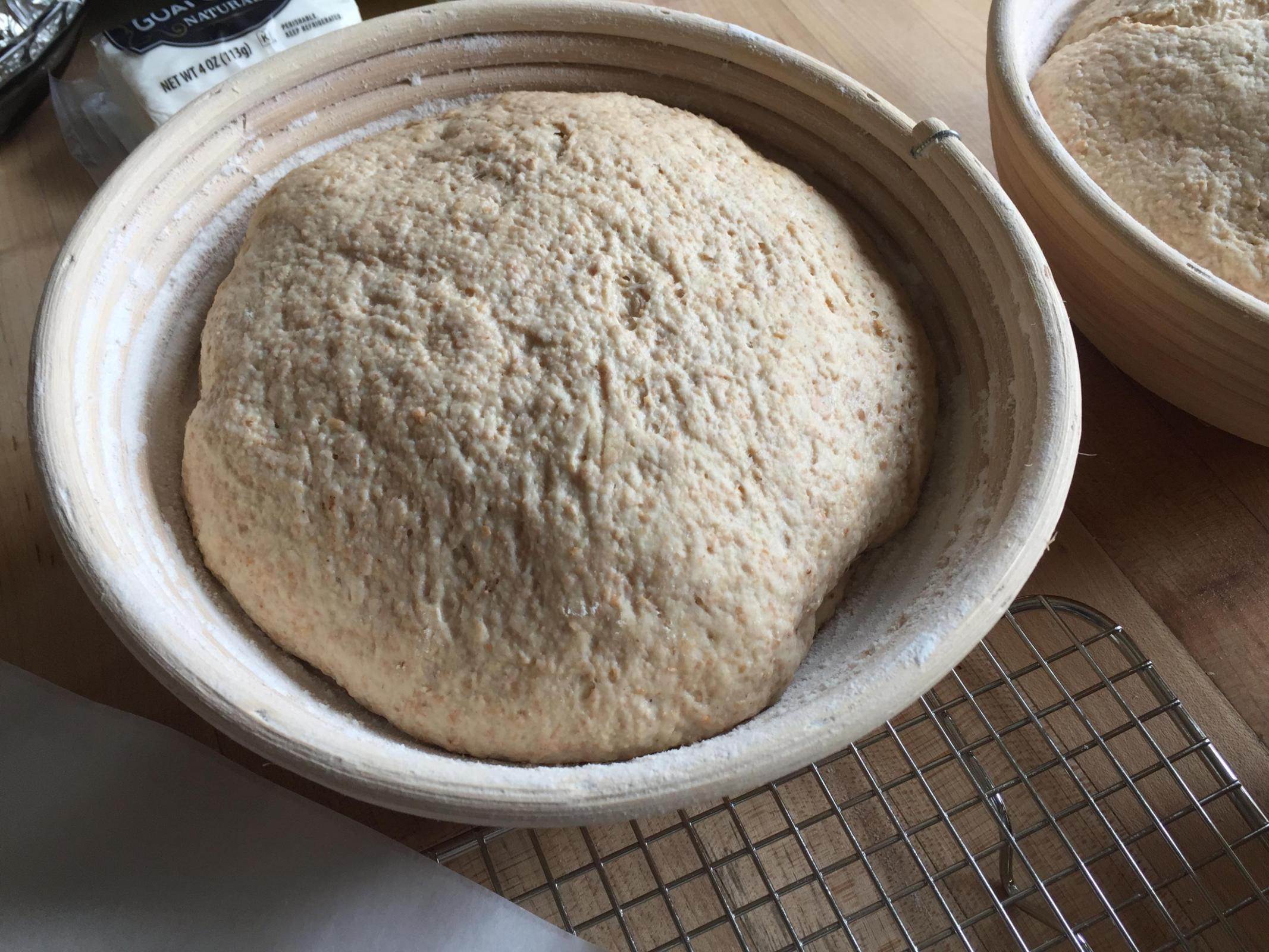 turned out of banneton ready to bake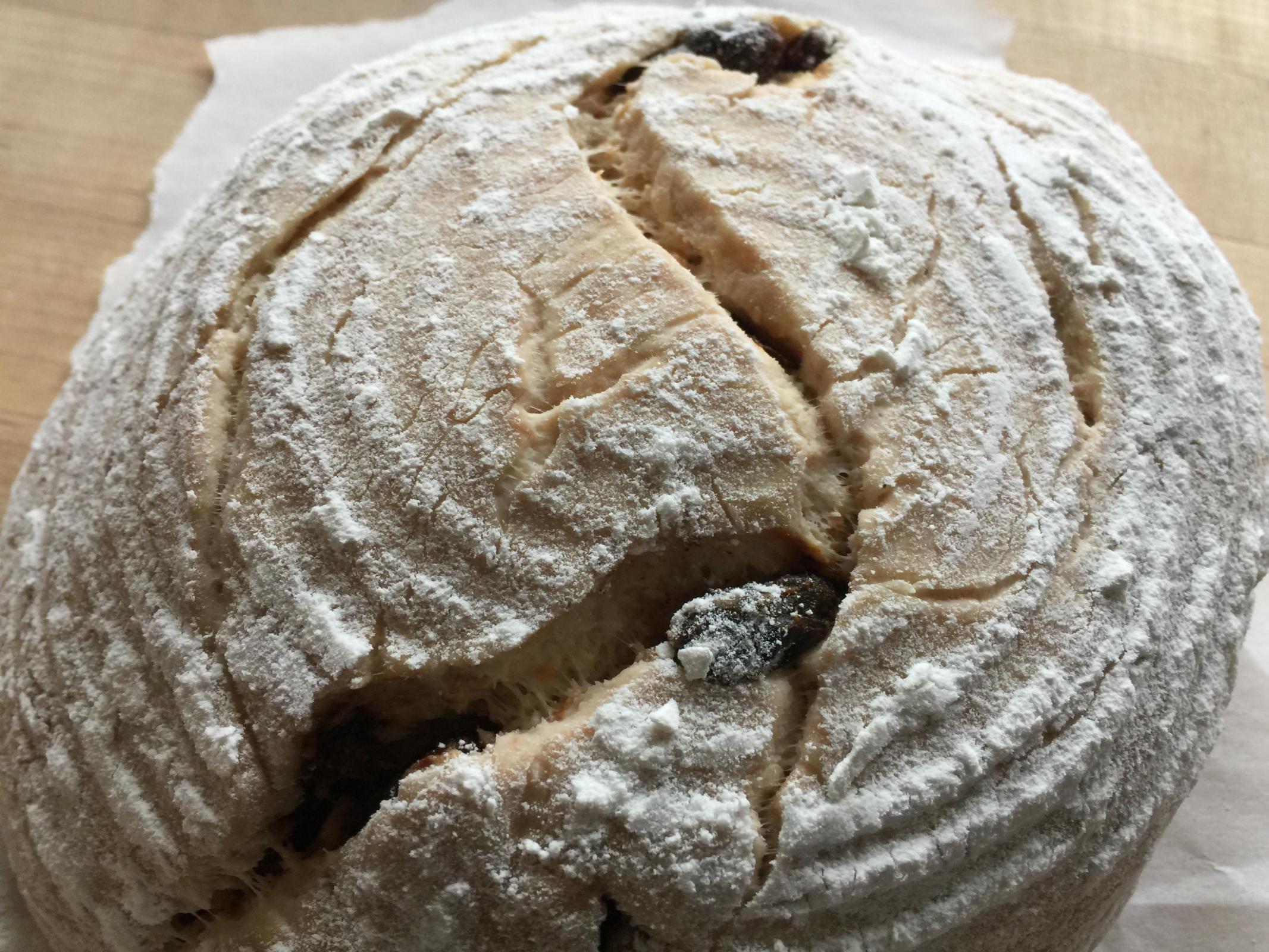 baked loaf