February 24, 2018 - 11:06am
look ma no hands ! AYW, Spelt levain almost no hands...
Well the pics tell the story but here goes for some more details. 
350g very very young spelt levain 100%( fermented only about 4-5 hrs) 
660g KA bread flour
90g Kamut
50g fresh milled rye
22g Kosher salt
20g maple syrup/20g yogurt
500g water ( 300g apple yeast water 200g water) 
I put all the flour and the yogurt and maple syrup with the  YW/Water mix together with just enough spatula work to get it wet. Placed covered bowl in the oven with the light on and door propped a bit open so warm but not too warm. Left it several hours till puffy and the young levain was also puffy and full of bubbles. A note about this. I took the  160 g water and 160g  spelt flour and added it to 18 grams very firm rye starter from my NMNF cache. I did not do multi feedings I did nothing...mixed it and set it in the warm oven with the bowl. 
I removed the bowl and sprinkled the salt on the dough and sprayed it till quite damp with water. I then did about 30-40 gentle turns with the spatula just to get it folded in. I folded in the levain using just enough gentle turns to get it mixed in. I then covered the bowl and placed it back in the warm oven. I waited a couple more hours. You can see the bubbles on the dough. I scraped it out onto a well floured counter. I did two s and f one right after the other....that was it...Nothing, absolutely nothing else. I placed it in the oiled container and DID NOT leave it out anymore. I placed it directly in a cold fridge. You can see it easily doubled and more by this morning.
I removed  the cold dough from the container. Divided into two 800g pieces. The rolls were barely shaped while cold  to preserve the puffiness so somewhat free-form. The batard was also barely touched. It was cold and all I did was lightly sprinkle the seam side with coarse rye flour . I then pinched the seam together. No preshape, no rest, no shaping at all. Just folded the edges together and pinched. Placed seam side down in rice/flour banneton. Plastic bag and into the oven with light on and the pan of rolls. Left to rise one hour. Baked the rolls first at 500 for 10 min and 475 for 10 min. They are brushed with egg yolk/half and half and sesame seeds sprinkled on. Misted a couple times with water in first 10 min. They are amazing...had a ham and cheese on one and husband had house cured pastrami from our son...so yum !! The batard was baked in my trusty roaster that was preheated 10 min at 500.Loaf turned out on parchment and lowered into hot roaster.  Loaf baked with two  ice cubes for steam thrown in bottom of hot pan for 10 min at 500 lid on, 10 min at 475 lid on and 20 min lid off. 
Crumb shot of bread will be tomorrow...I am taking it to our Buddhist meditation get together. I hope this lenghty description will help to further the " almost no hands on" technique of gluten development. It has certainly converted me. There is no reason to do much of anything. Nature takes its course with little interference. I have a fig/raisin banana yw that will have cinnamon in it to see how that does with the no hands treatment. More to come tomorrow. 
after the salt and levain were added and it rested in a warm oven....you can see the bubbles in the dough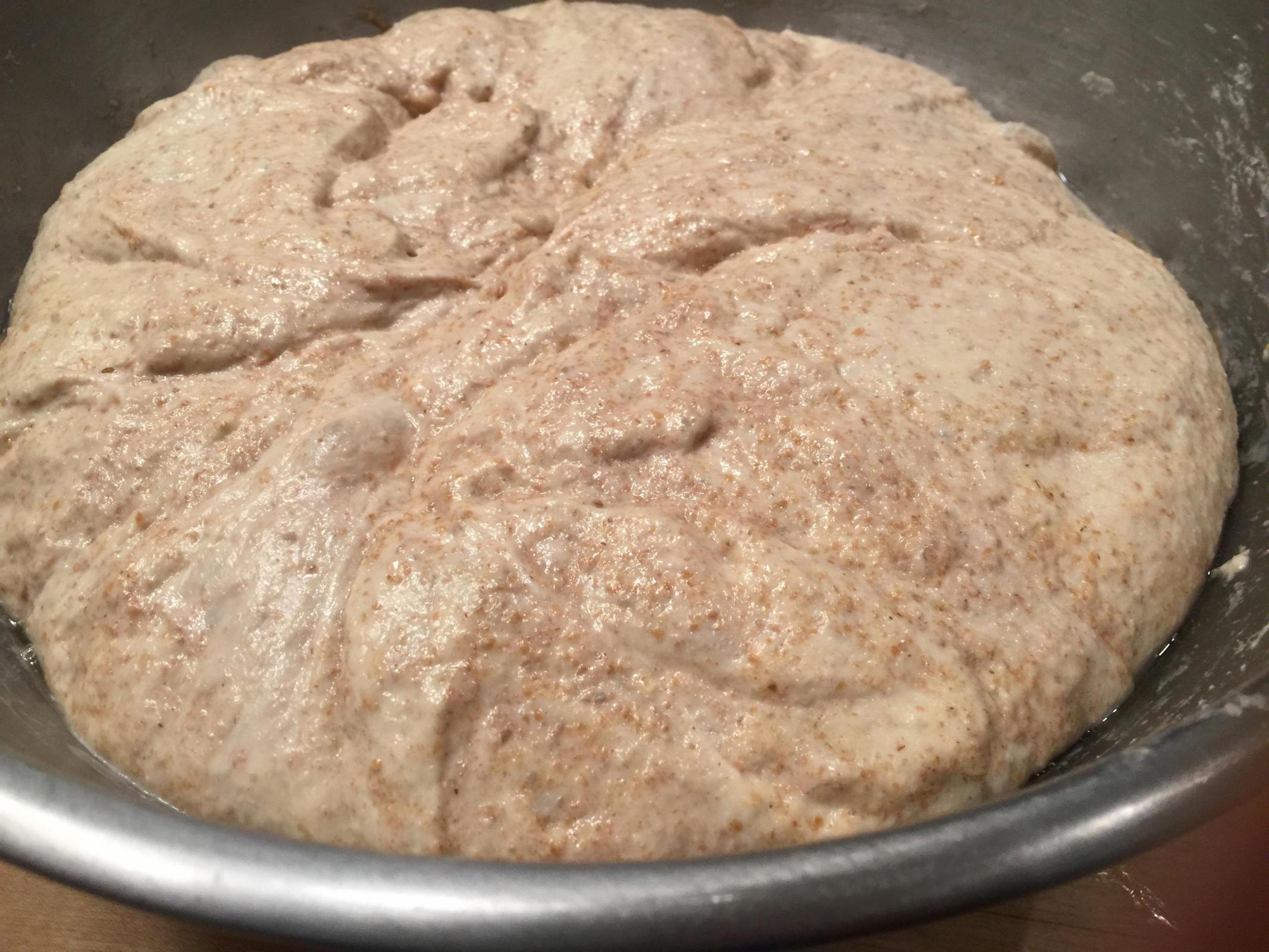 after only two stretch and folds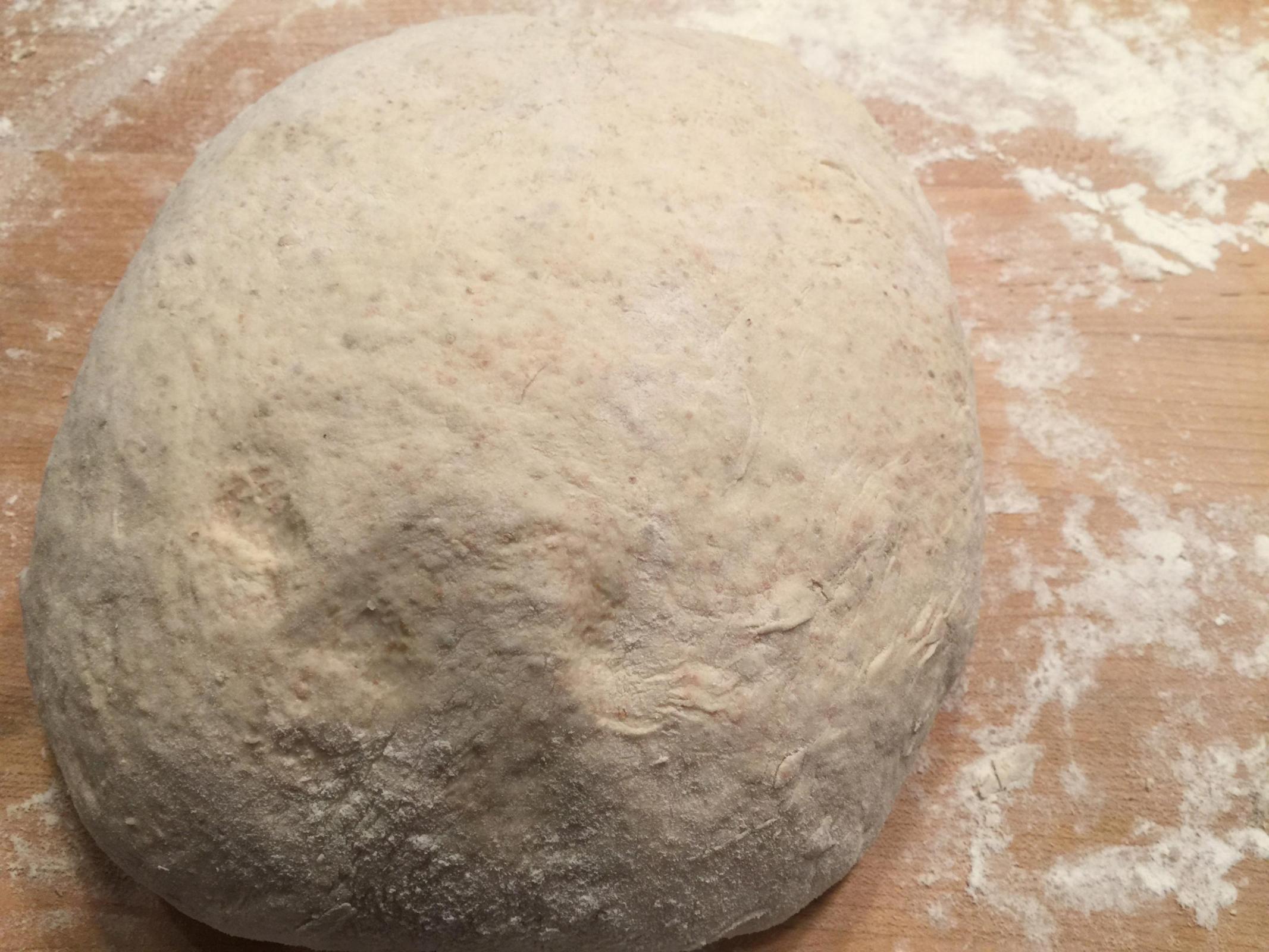 into bucket for the night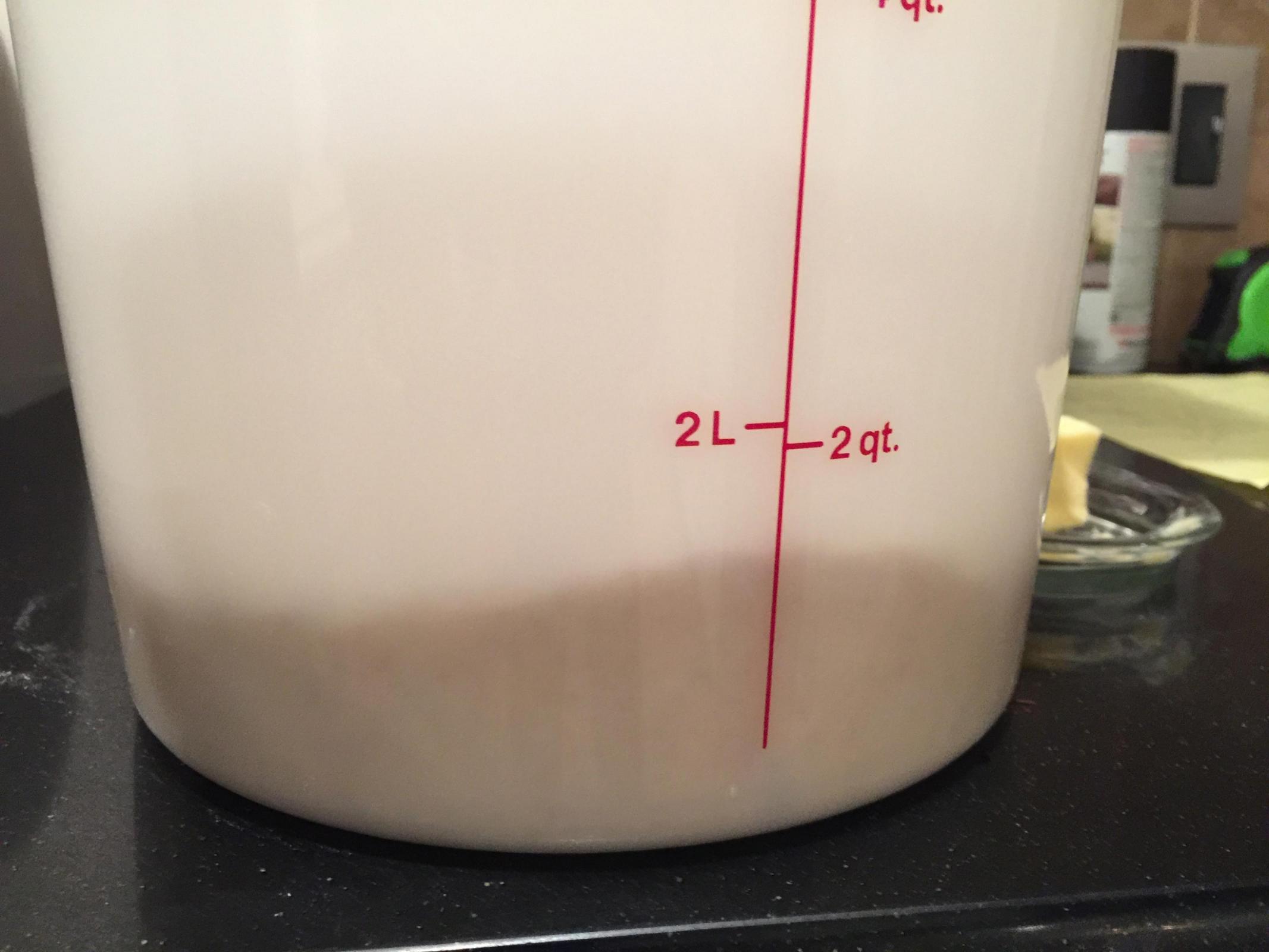 wow...look at that dough growth all in the fridge...no room temp time at all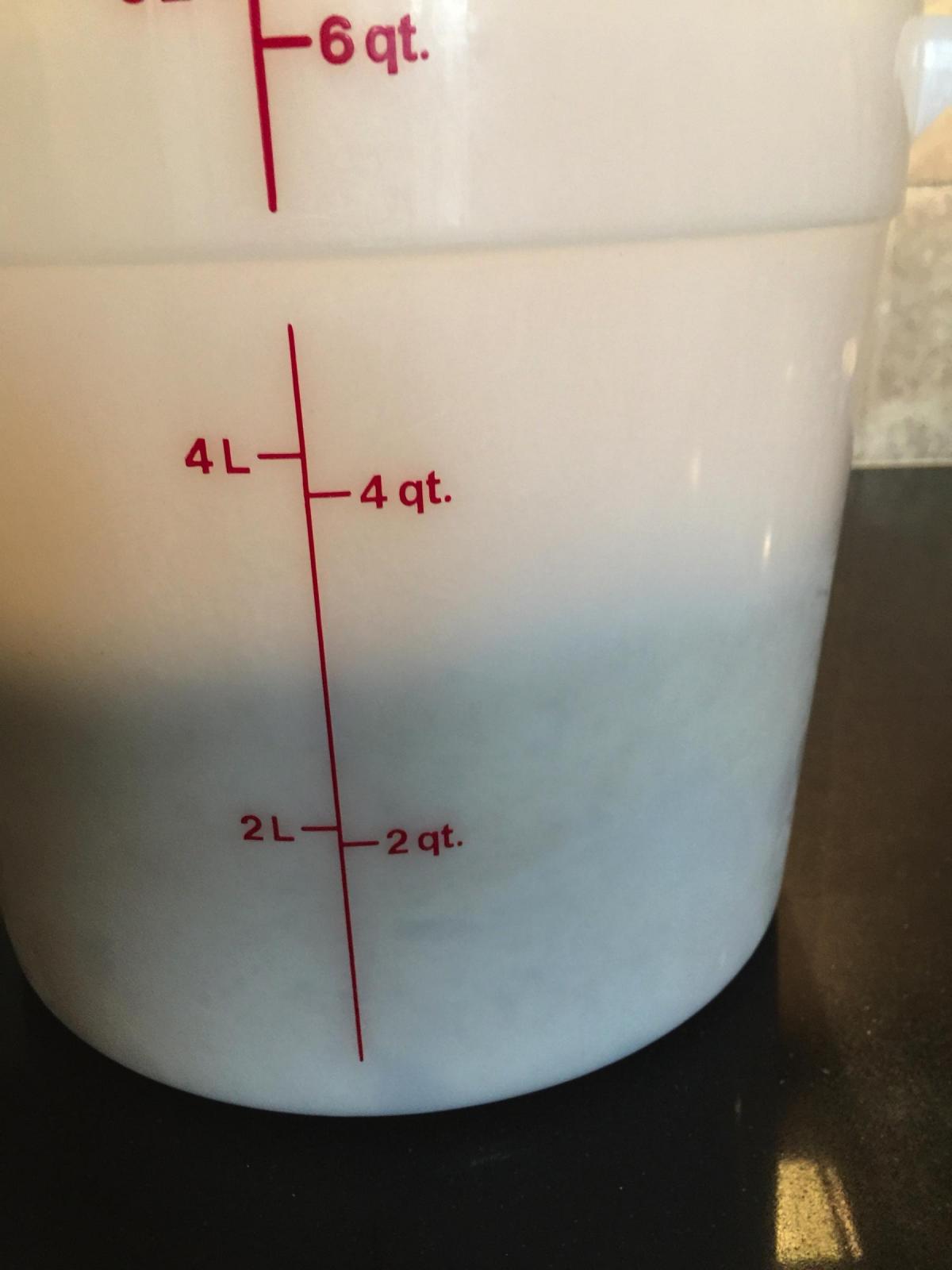 out of tub onto floured counter ready to divide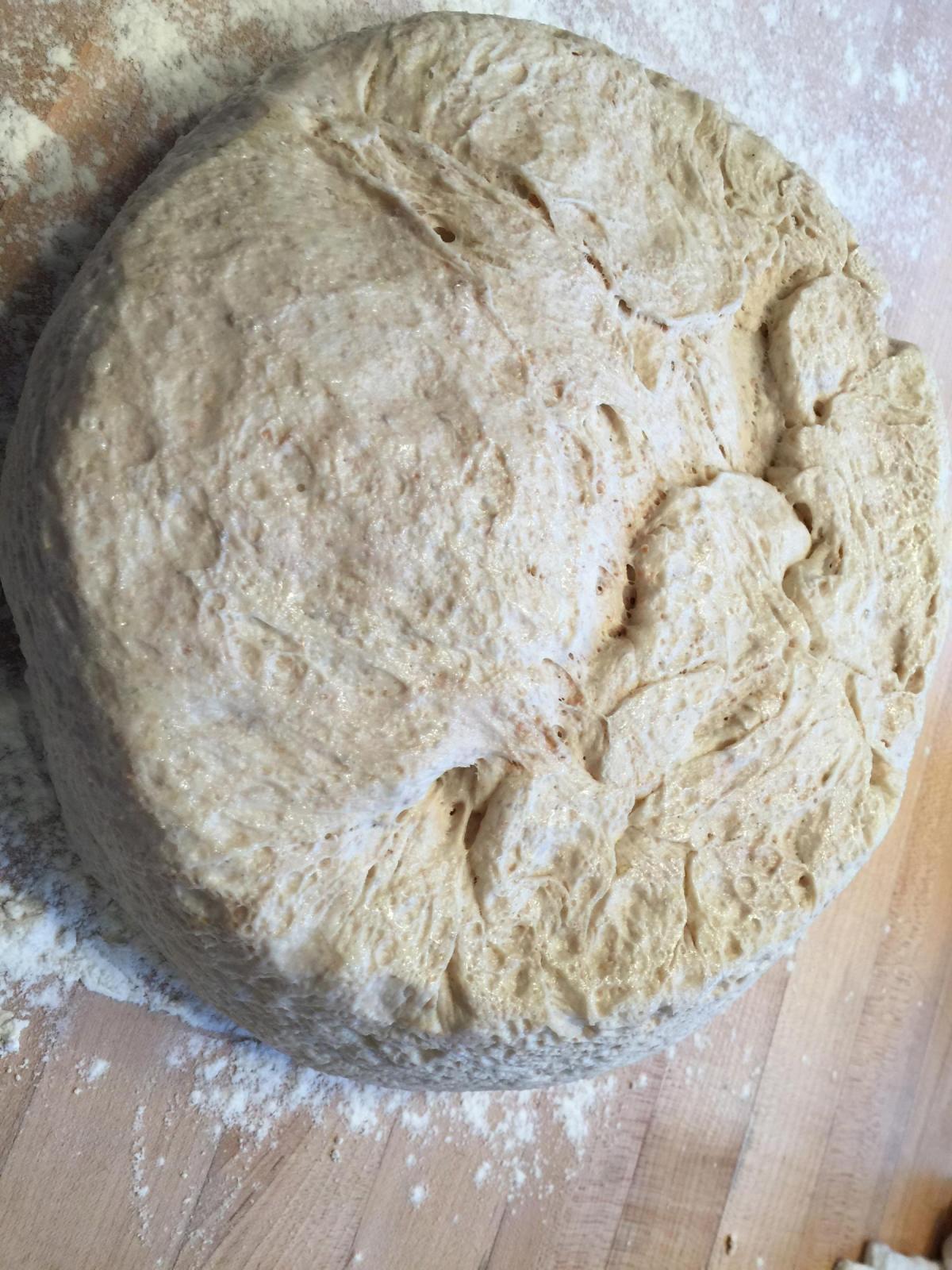 batard in banneton seam down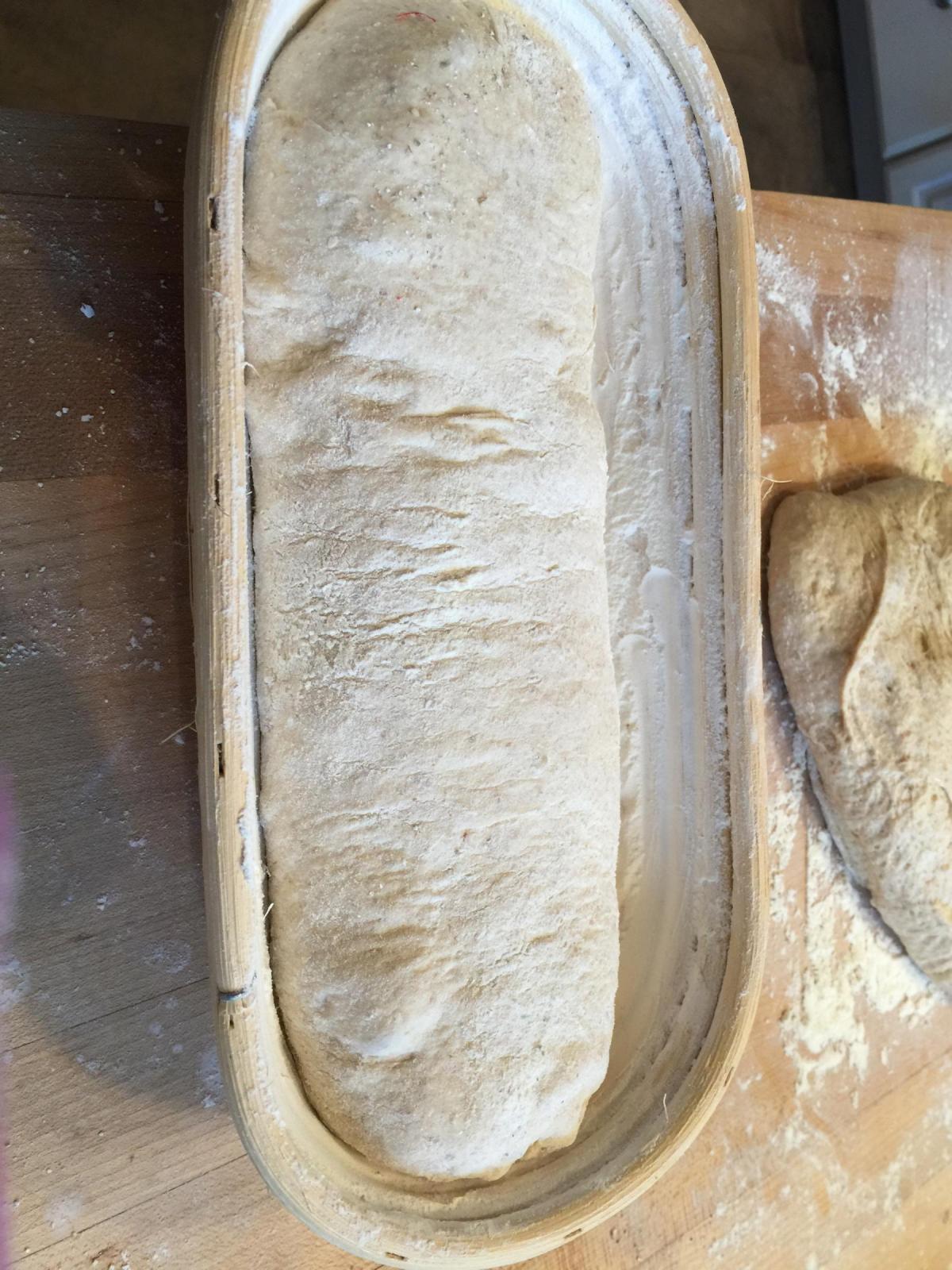 batard ready to be turned out after 1 hr rising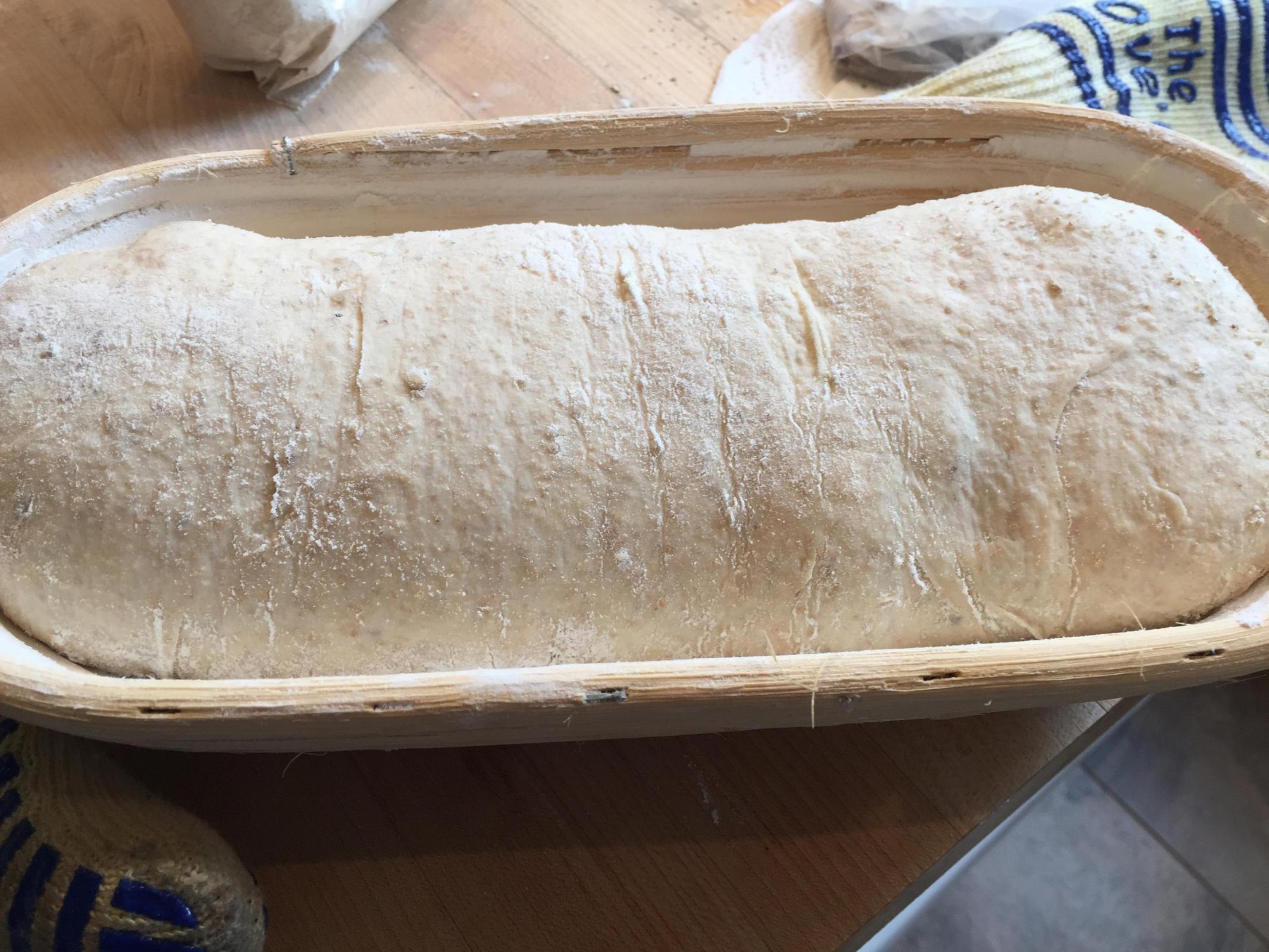 you crack me up...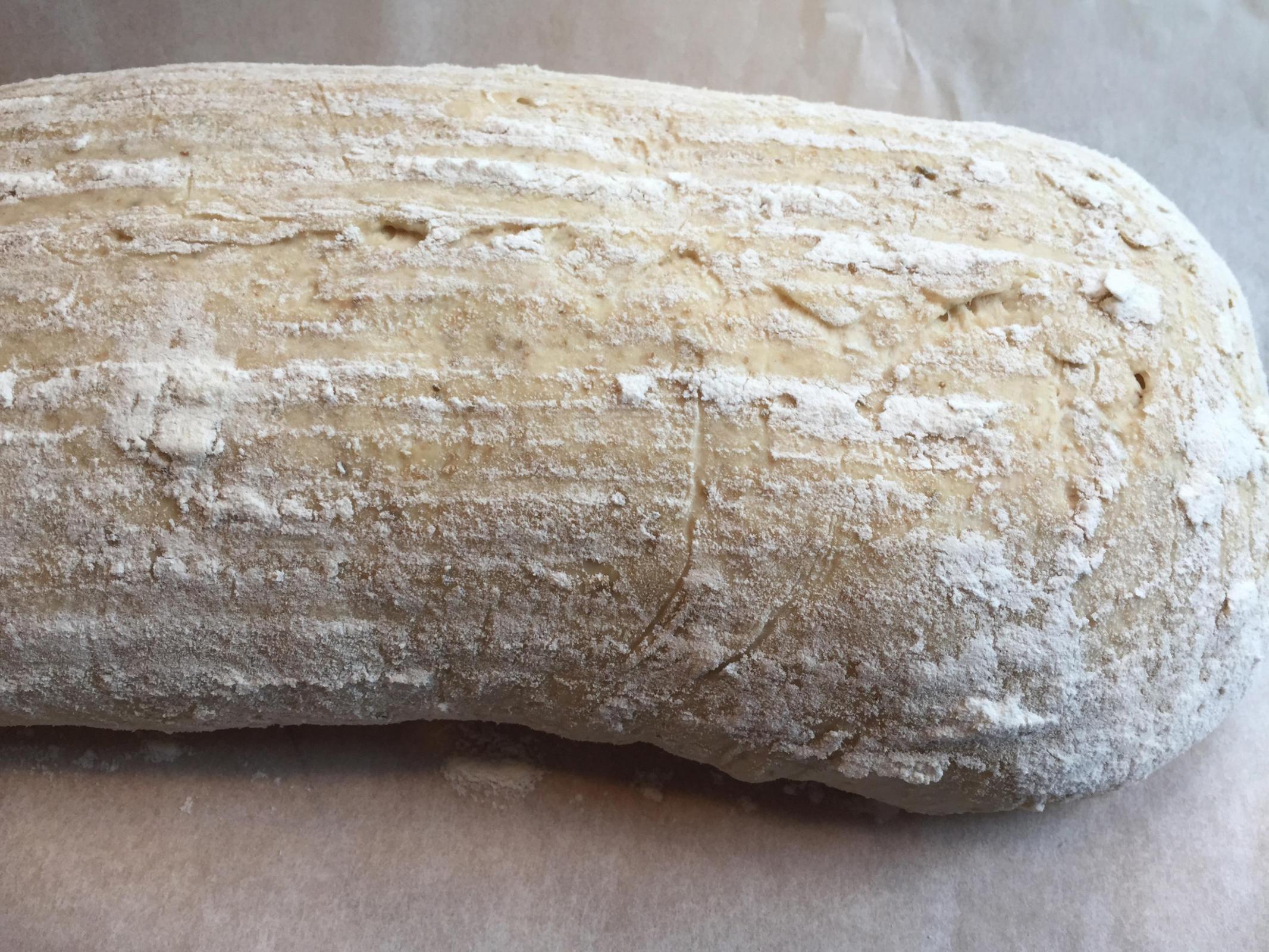 wow....what BIG ears you have :)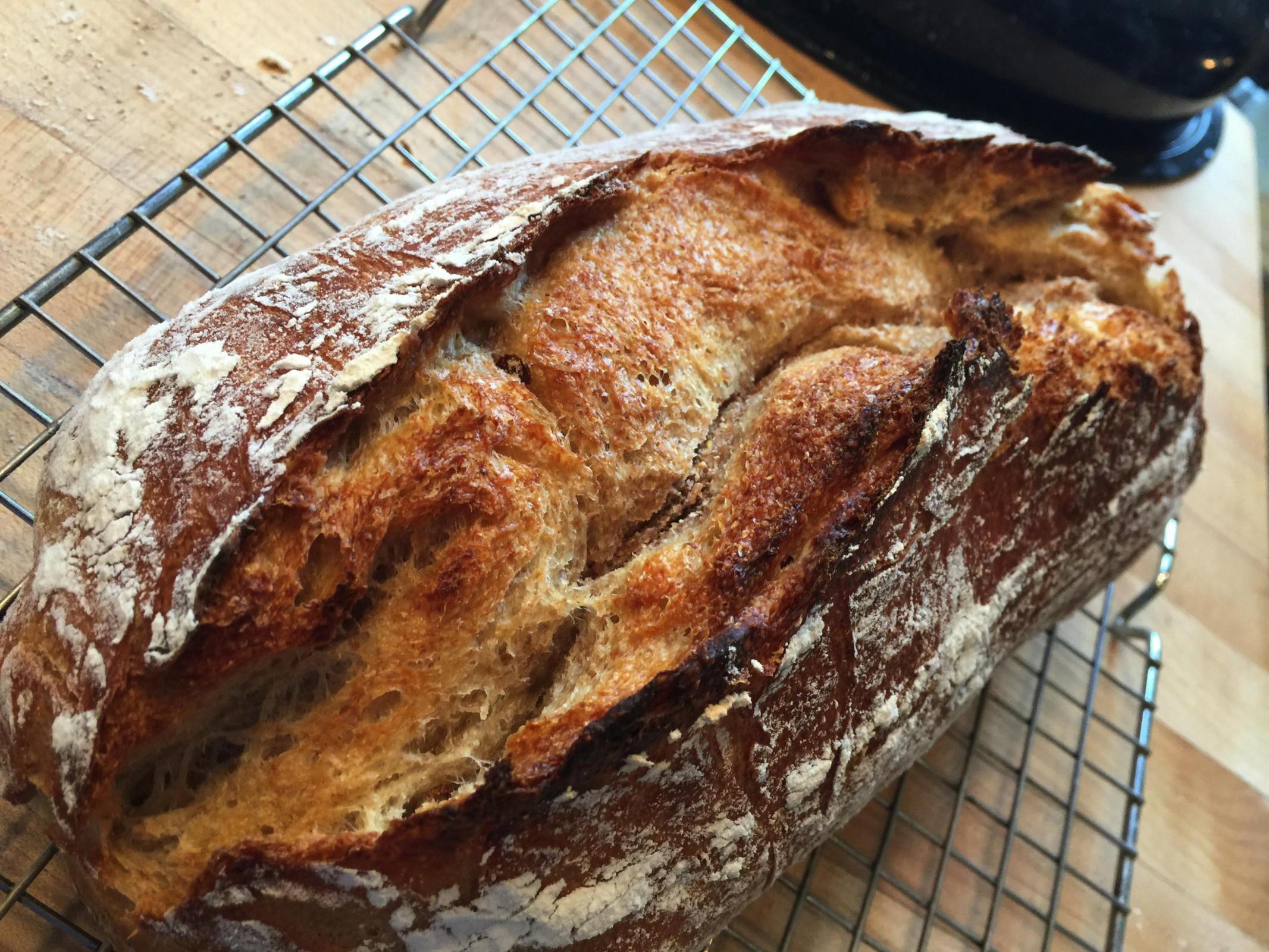 rolls risen and glazed and ready for oven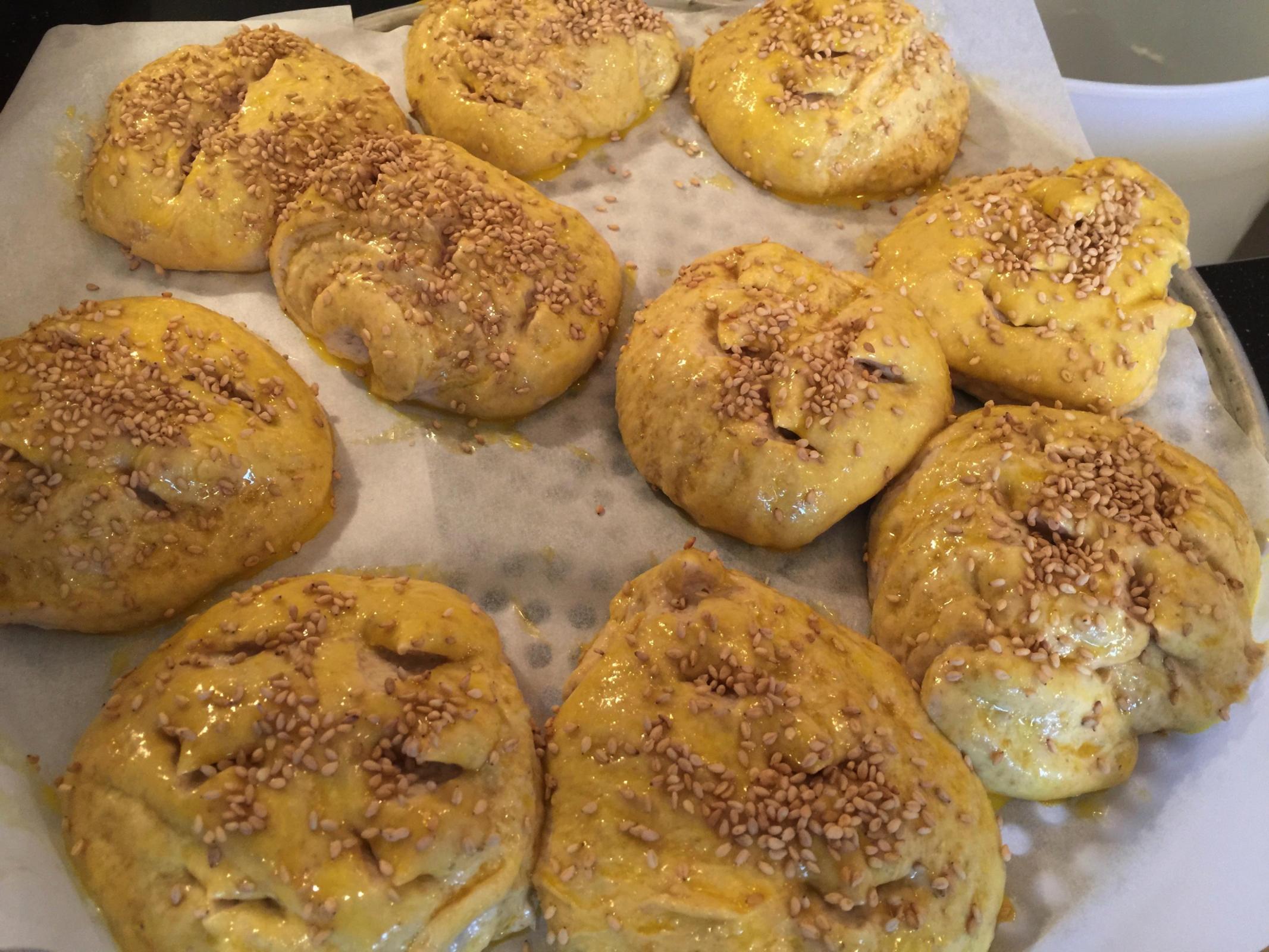 rolls baked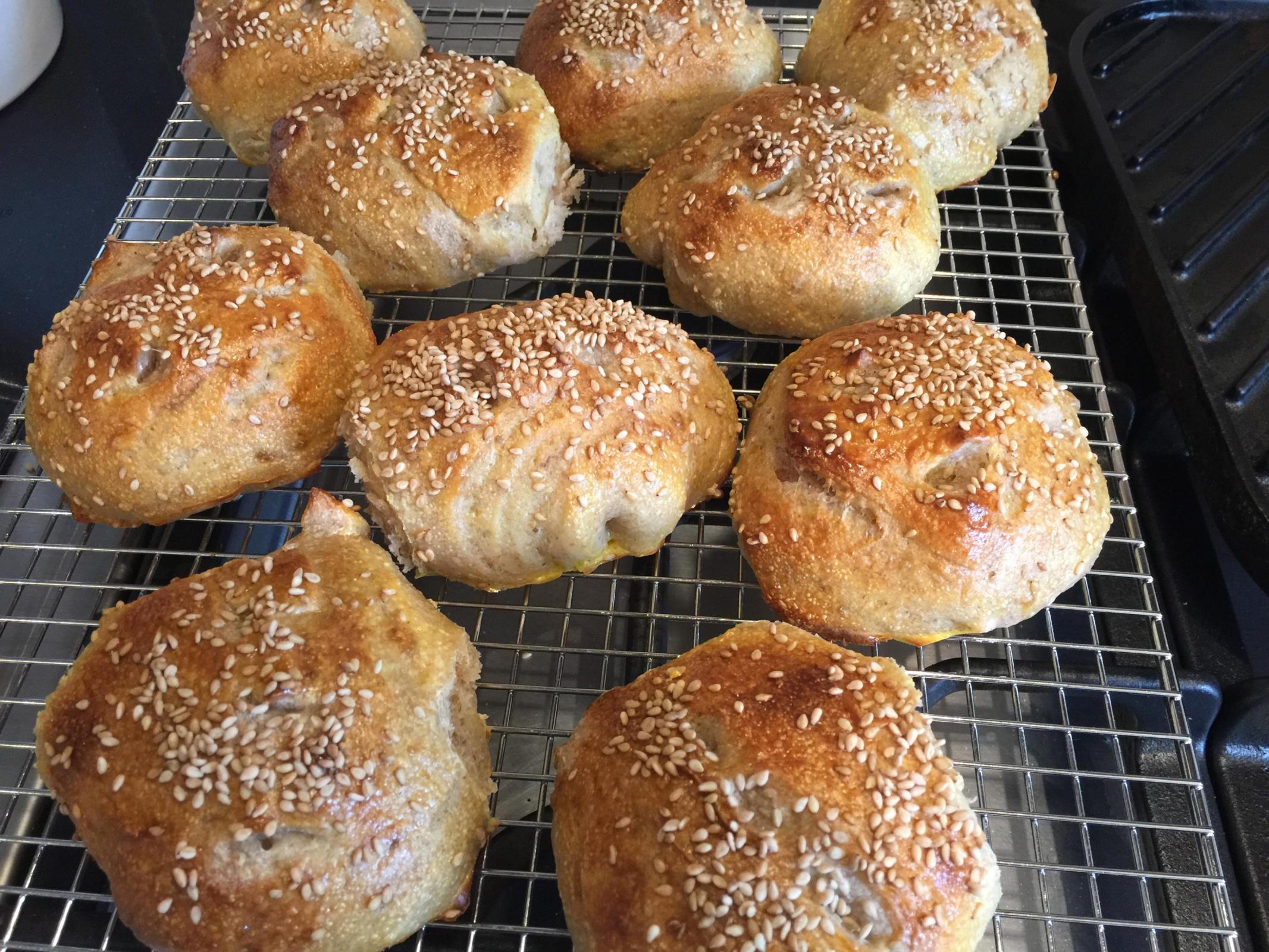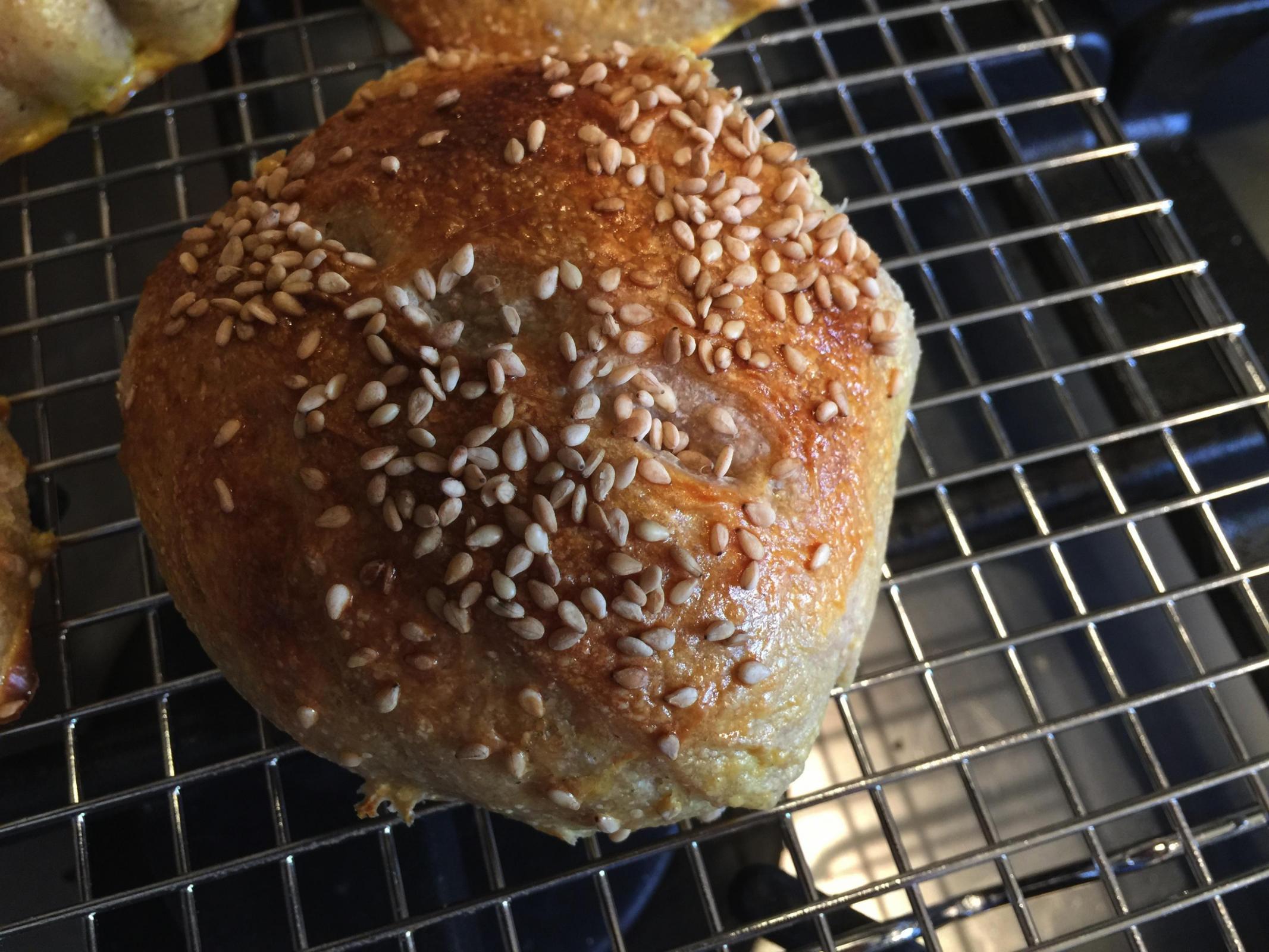 roll crumb