February 19, 2018 - 6:09am
Pain de campagne - Pâte fermentée
the loaf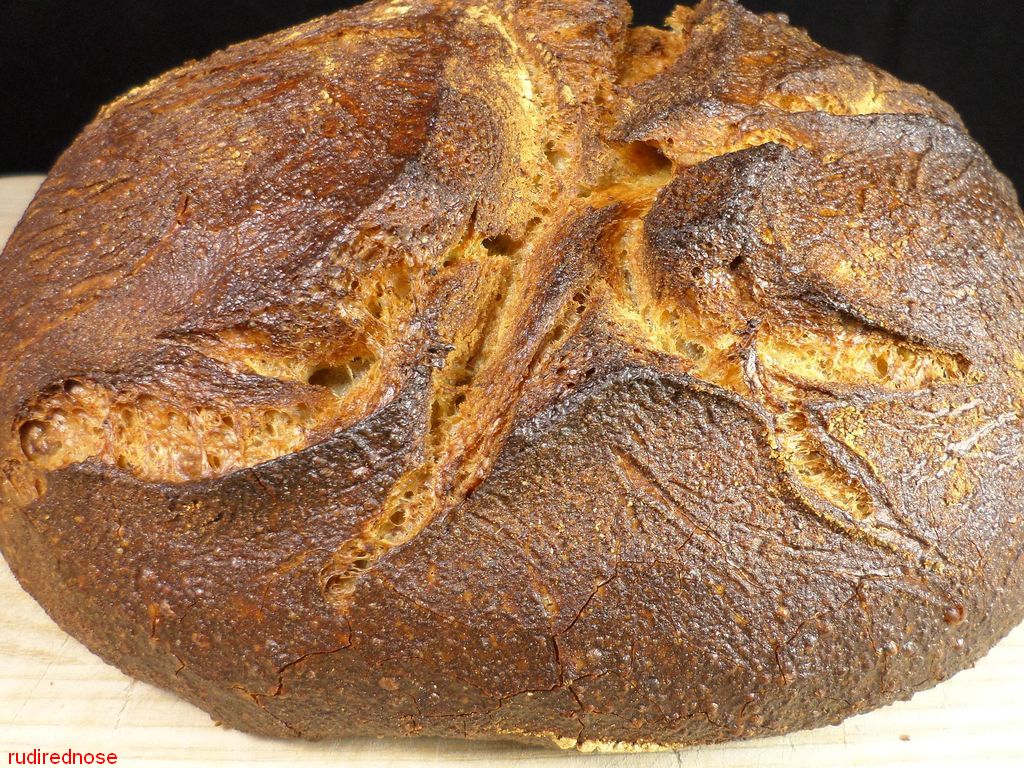 detail upper rim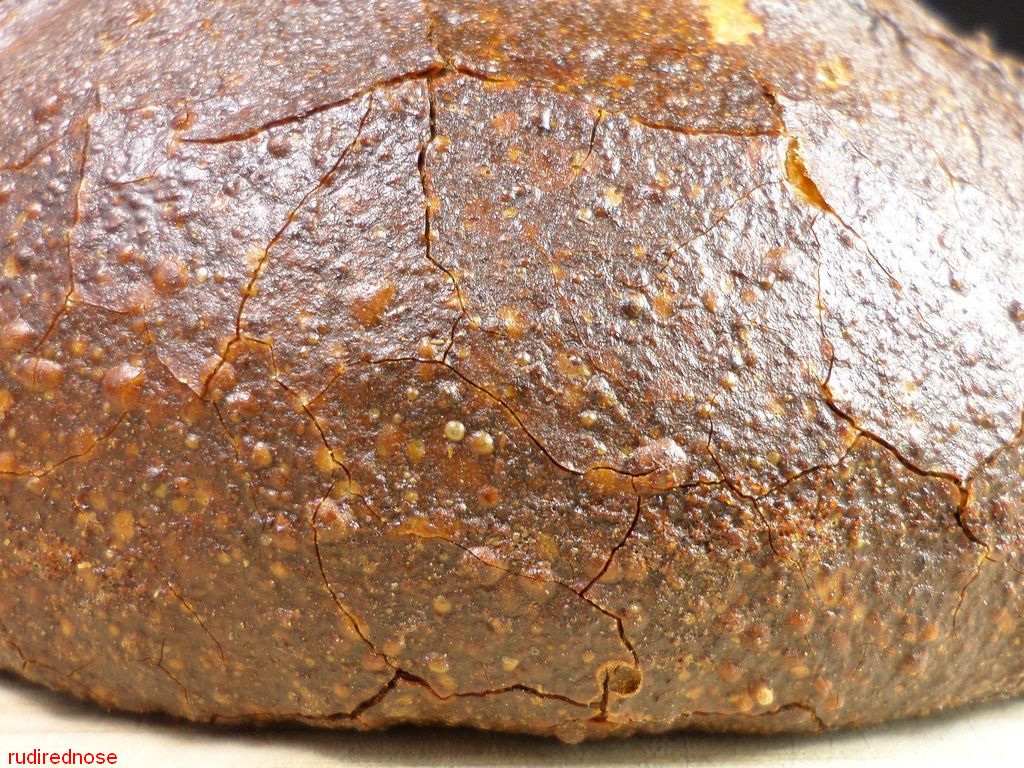 crackling crust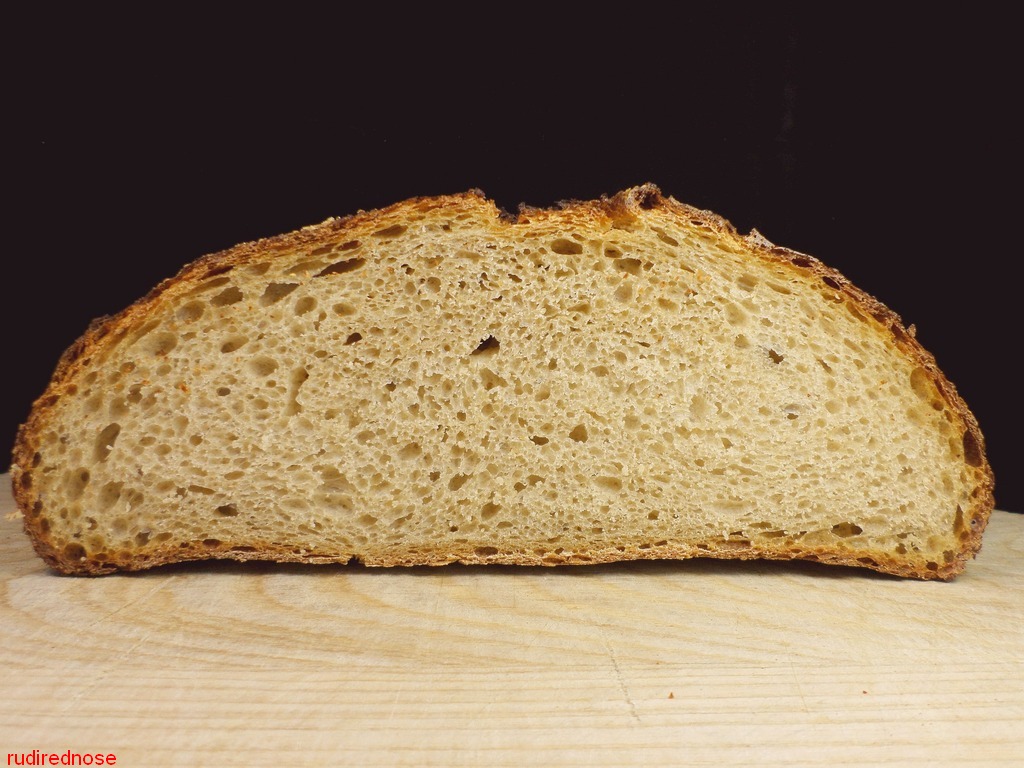 crumb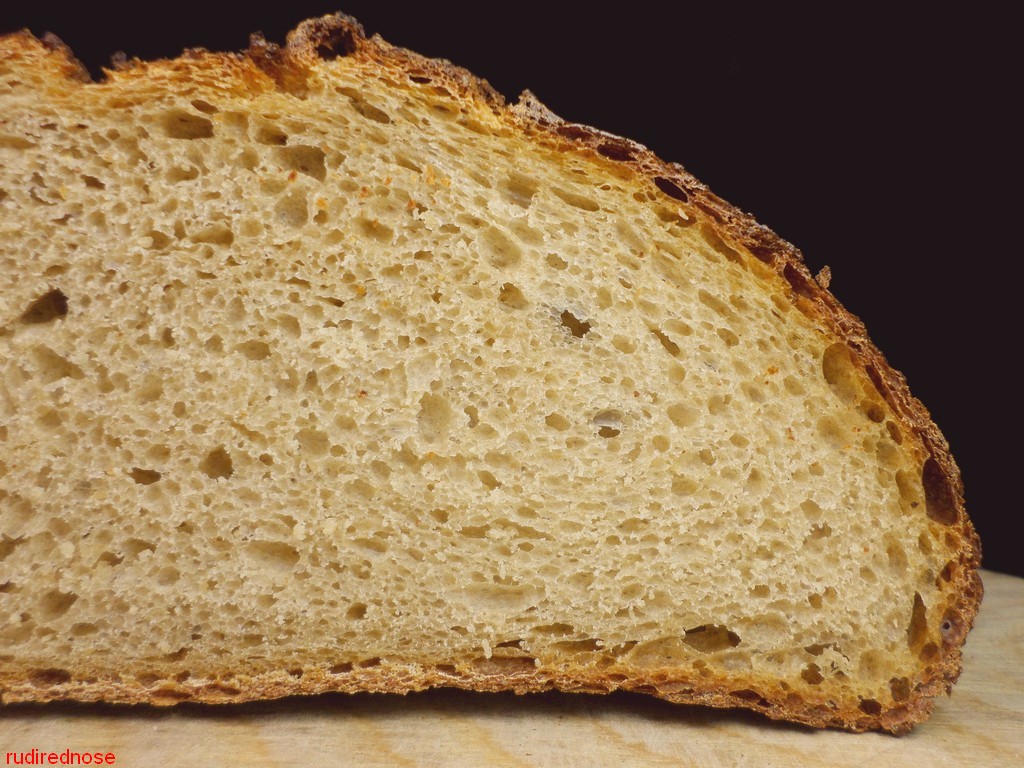 detail crumb
This bread has different 'fathers'!
The first 'father', a friend of mine, made Pâte fermentée with rye, no success, dead end! So he did not give up and made a mixed one fifty-fifty, success, that worked! He told me and so I made my PF with the amounts of wheat and rye as used in our regional peasant-breads:
wheat - first clear - 70 %
rye - medium rye - 30 %
water - 60 %
fresh yeast - 2 %
seasalt - 2 %
I feed once a week or so and one day before use. After feeding 1 h rest on the bench at roomtemp and then he lives all the time as compagnion with my sourdough in the fridge. He now is at least 1 y old!
The next 'father' is Richard Bertinet. In his book 'DOUGH' he has a recipe for 'pain de campagne' with a 'rye dough' as 'starter'. It is a french rye-bread with 20 % rye-flour, and this 'rye dough' is nothing but a PF!
The other 'father' is Gontran Cherrier. In his book 'GONTRAN FAIT SON PAIN' he has two recipes from the Normandy, each with a high amount of PF!
The last 'father' am I. I mixed these recipes, tested and corrected and got finaly this bread!
My Formula:
PF - 260 g - 28 % total weight - (french notation, formula see above)
AP - 280 g - 75.7 % - (this time I used french T55)
medium rye - 70 g - 18.9 %
VWG - 20 g - 5.4 % - (this against the biodegradation in the old PF)
water - 240 g - 64.9 % - (the water good warm, mine was arrond 43C/110F)
mix, cover, and let sit 1 h on the bench for an integrated autolyse at roomtemp, then add
fresh yeast - 5 g - 1.3 %
seasalt - 10 g - 2.7 %
2nd water - 15 g - 4 %
smoked dry potato granules - 20 g - 5.4 %
another water - 30 g - 8 %  - (to correct the dough if needed)
knead as used.
bulk-f : 1.5 h
s&f : every 30 mn
shape : boule, the seam well dusted with rye-flour!
final-f : 1 1/4 h at roomtemp or in the fridge at 4-6C/39-43F for 5-10 h  (I had 6.5 h this time) placed with seam-side down in a linned banneton, well dusted with rice-flour to the linnen side and rye-flour to the loaf-side. For isolation in a sealed plastic-bag.
baking :
preheating the oven with pressureless steam until the oven-temp ist near 98C/210F, then load into the oven seam side up
5 mn <= 98C/210F steam only
10 mn <= 240C/465F steam + convection mode (increasing temp)
10 mn 230C/445F convection mode + bottom heat
10 mn 210C/410F convection mode
20 mn 180C/355F convection mode, removing steam several times by opening the door
After the 'normal' baking-time I tested a tip from 'dmsnyder'. He wrote somewhere here that after baking he let his bread cool down a while in the oven with the door a little bit open. I did this for 20 mn and think, it works for me! Thx David!
This bread is very delicious. Hard, splintering crust, soft, creamy crumb, complex taste from the PF and a fine scent from the smoked potato granules. Like a vegan ham-sandwich! ;-)
happy baking
rudi