February 7, 2018 - 11:50am
Date YW Kamut levain multigrain with date syrup and yogurt
whew....I think that says it all !  Date yeast water has been stored in fridge. Still going strong and I had added water to the used dates to see how it would hold up. So far so good. Levain loves Kamut . It filled the jar in a matter of a couple hours so I stored in fridge. Using up many flours from Breadtopia in an effort to move forward with grinding my own grains. These three loaves are the proportions that I used for the buns except I used more grains in the mix to = 532g. I used my Middle Eastern date syrup instead of maple syrup. Final dough is Hard white Spring WW, fresh milled rye, Turkey Hard Red Winter wheat. 
Process. I am still experimenting with almost no hands on. Works really well. I mixed to shaggy stage only making sure ALL was wet. Used a large silicone spatula. NO SALT. Everything else in the bowl. Let it rest on radiator for 4 hrs. Sprinkled on Salt and wet it with spray bottle. Did 30 turns in the bowl with spatula. Covered and left 30 min. one set s & f. left 30 min and did one more set. Then a wrinkle ....I forgot the dough !! yikes !  Didn't set the clock...went about my business for a couple hours....oh wow !! dough loved every minute on its own...appears I have created a very independent bread formula !  Turned it out and cut three chunks for boules. New shaping technique employed that last few loaves with great results....look at those ears !  All I do is lightly dust both sides of dough. Then I pull four corners to the center and pinch them together as much as possible. Flip it over with this side down so will be free-form on top when turned out. No pre-shape ,no dough scraper, no gluten sheath tightening....nothing. Takes a few seconds. Doesn't degas the dough at all. 
Baking. Utilizing my granite ware roasters. 500 degree preheat in oven...takes about 15 min with my electric oven. have loaves on parchment , lower in to hot roaster put in one ice cube. Cover bake at 500 for 10 min lower to 475 10 min. Remove cover...go WOW !  finish for 20 min at 475. Internal temp 211. 
Crumb shot when thoroughly cooled
date YW
kamut levain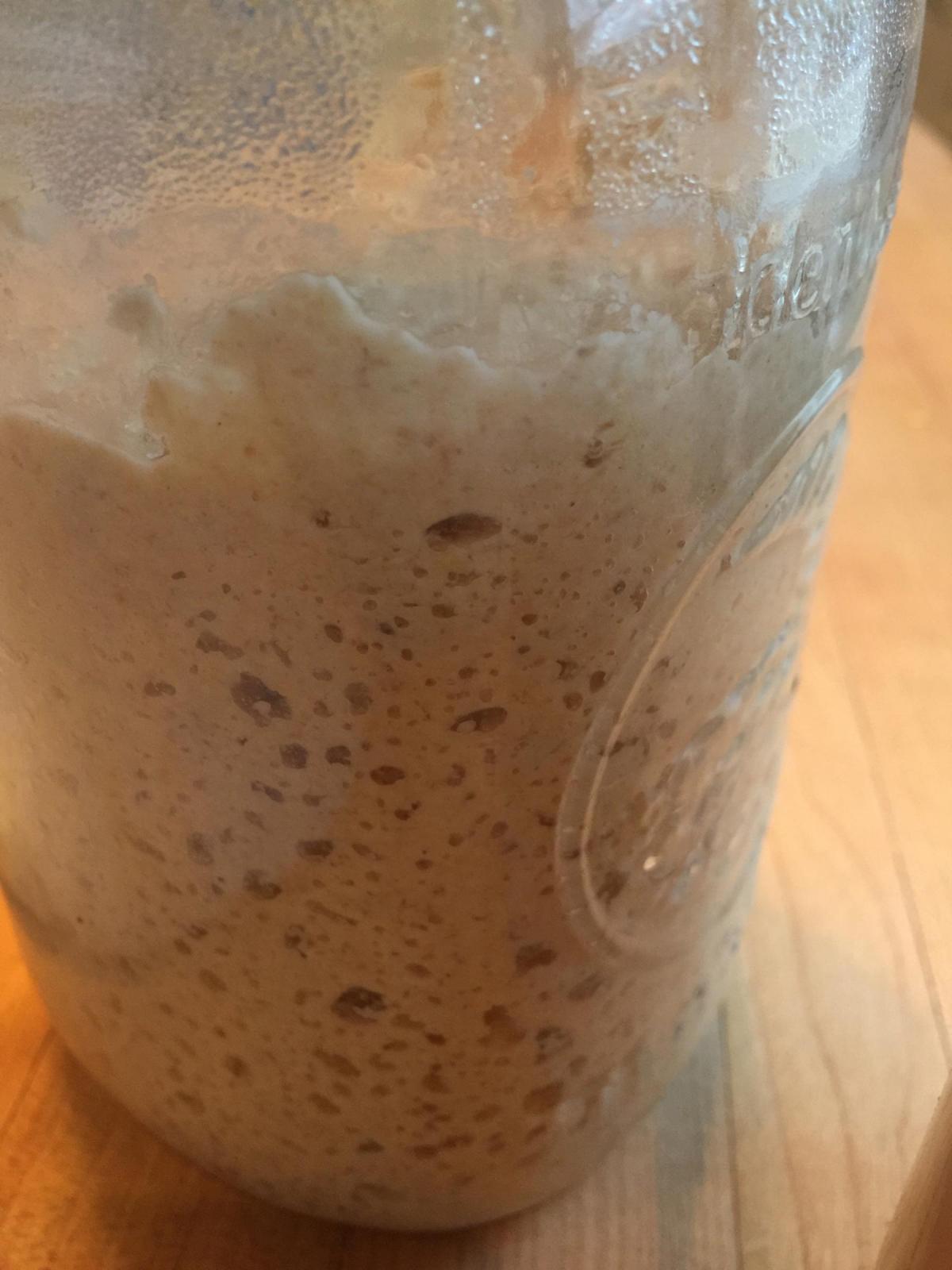 date syrup/levain/yogurt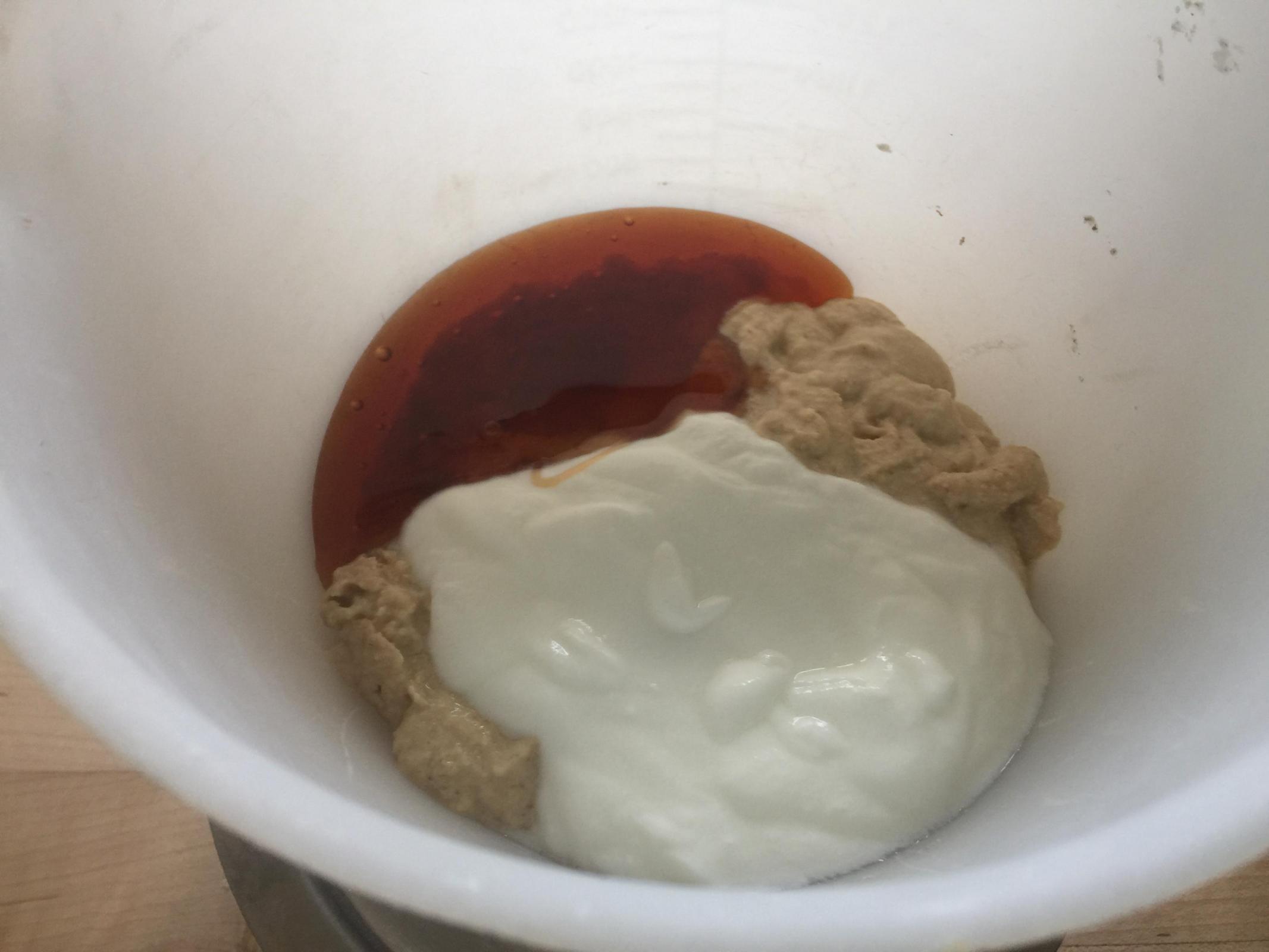 flour mix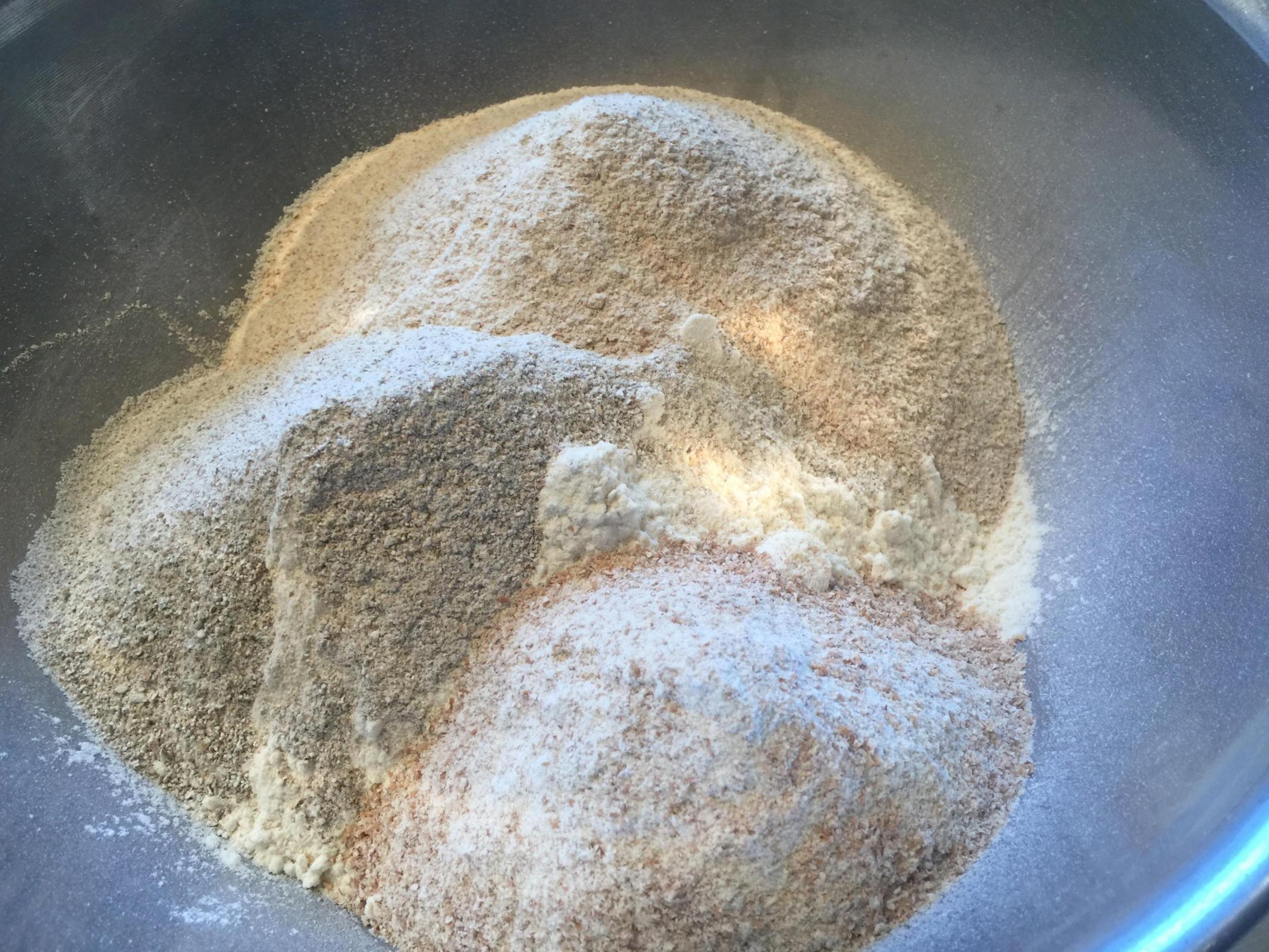 dough without salt ....rising nicely and developing structure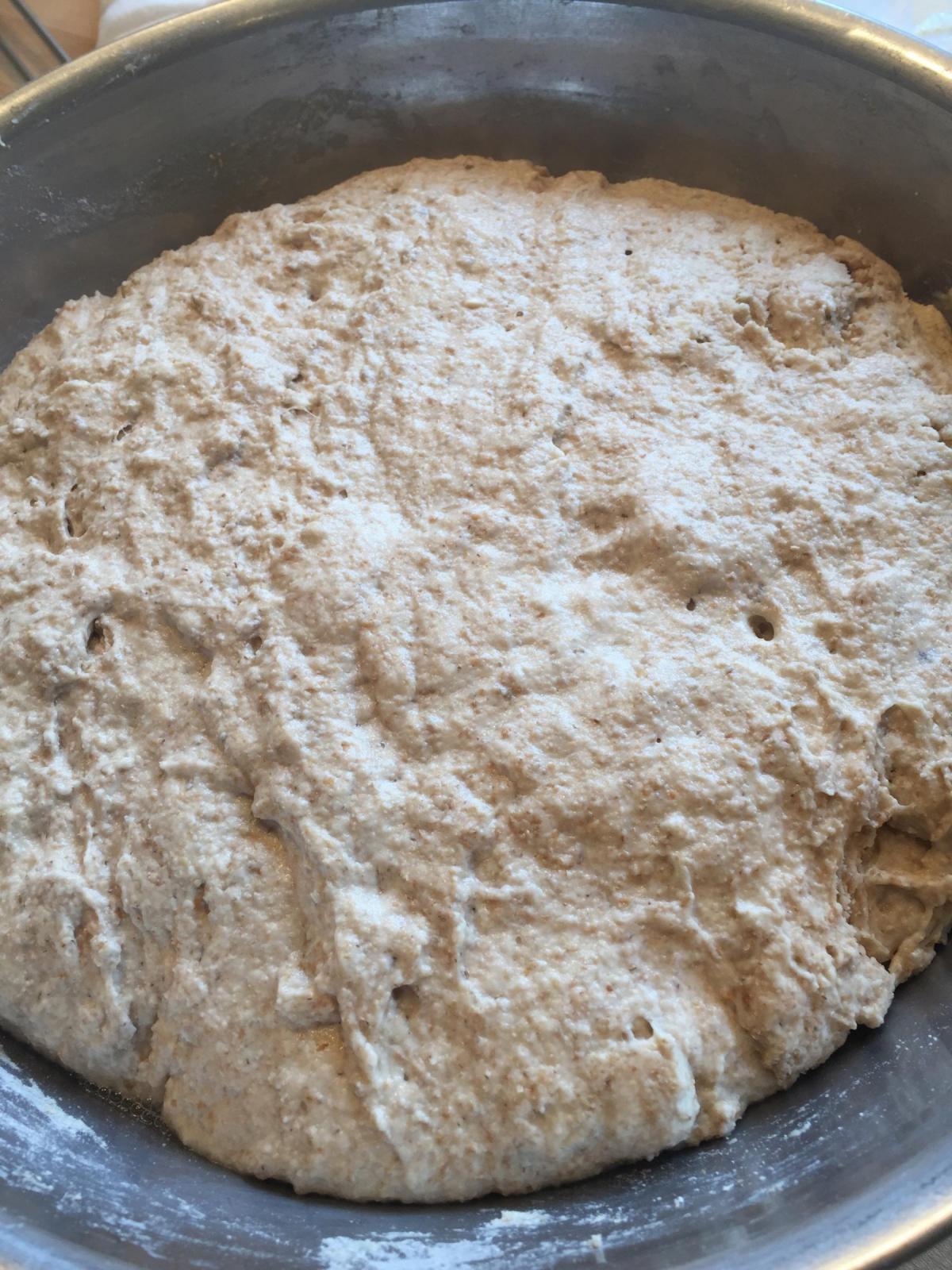 with salt sprayed with water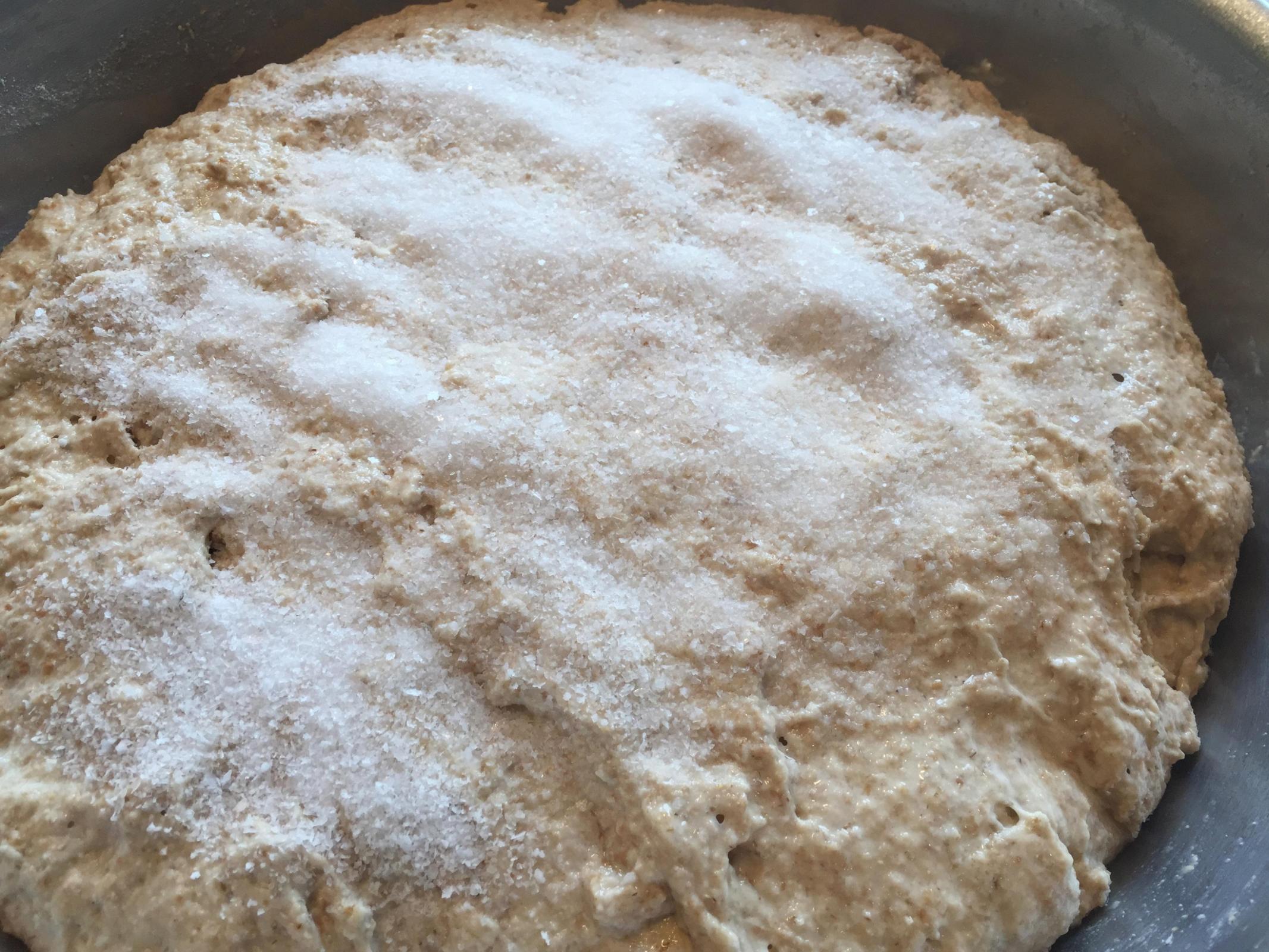 after 2nd  set of s&f !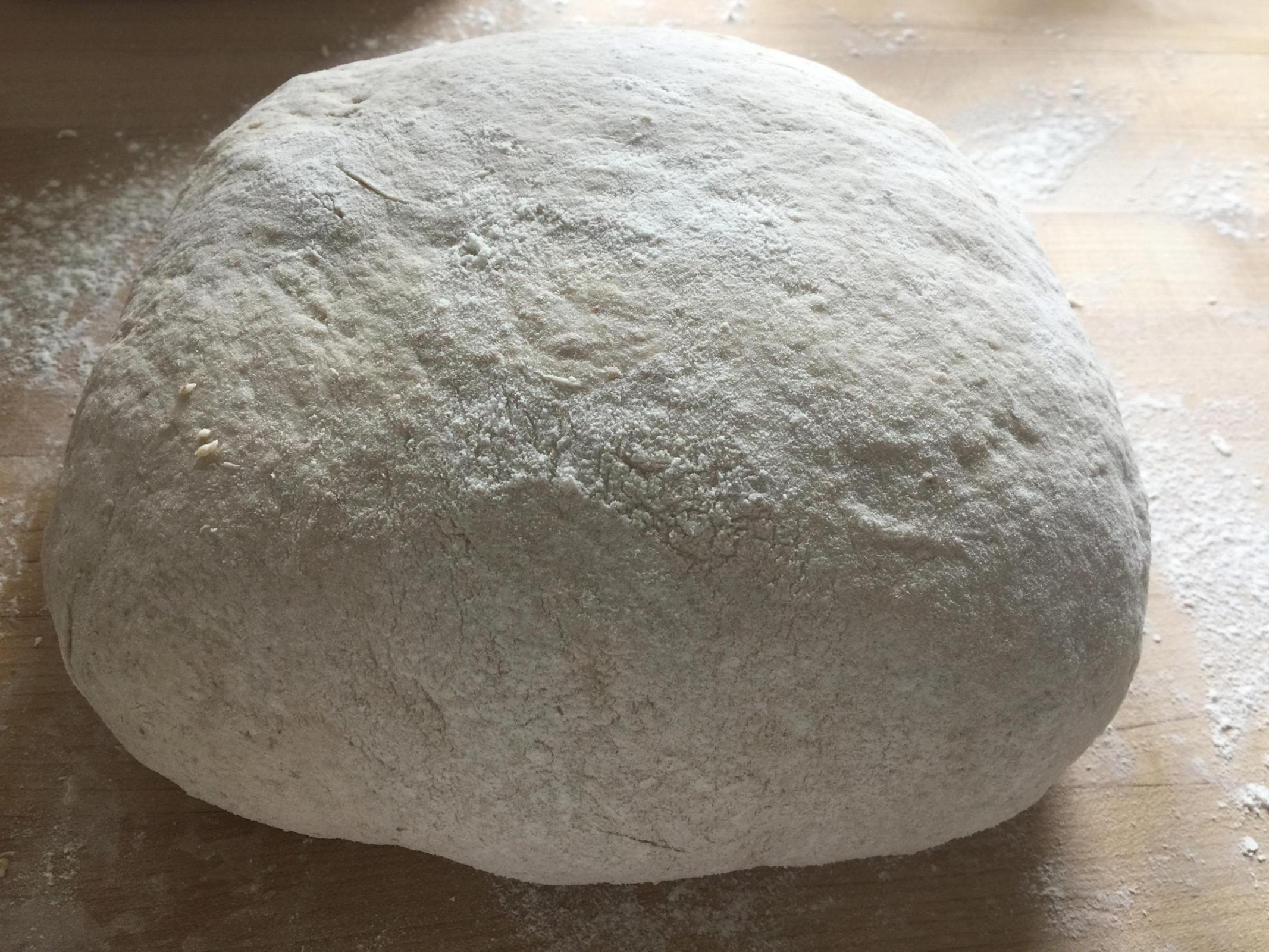 after first set of s&f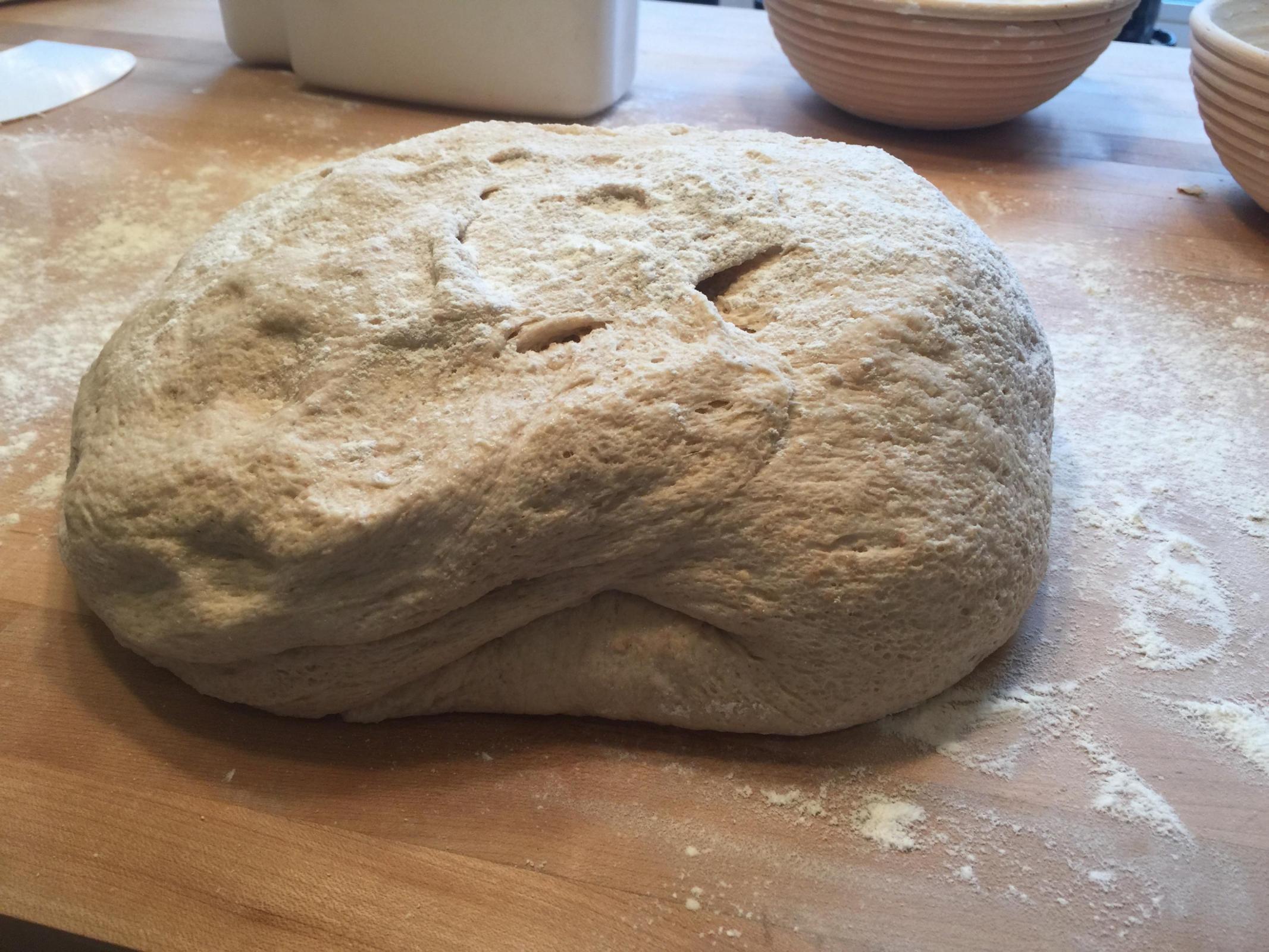 filled the banneton over night in the fridge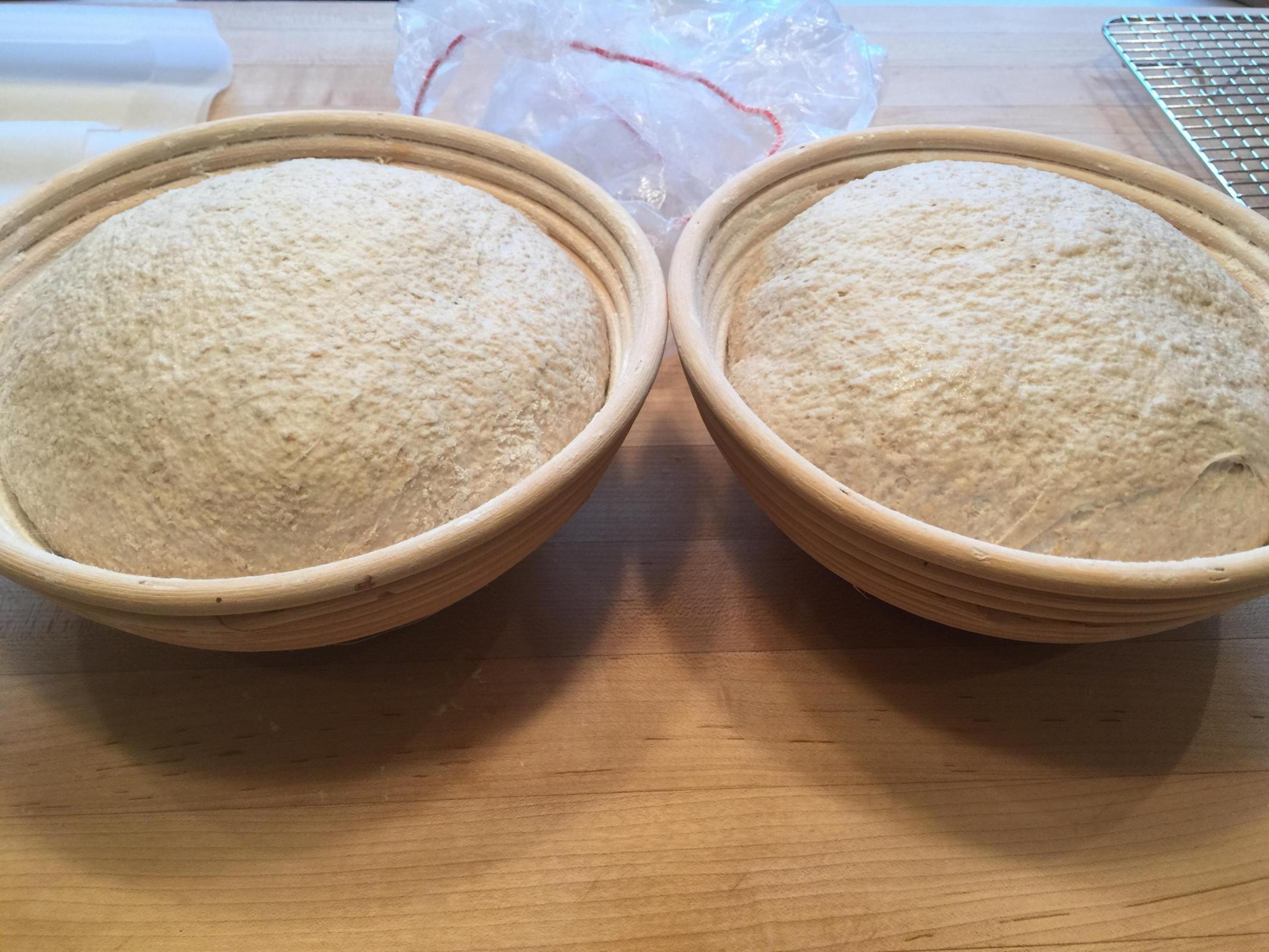 nice cracks soon to be ears !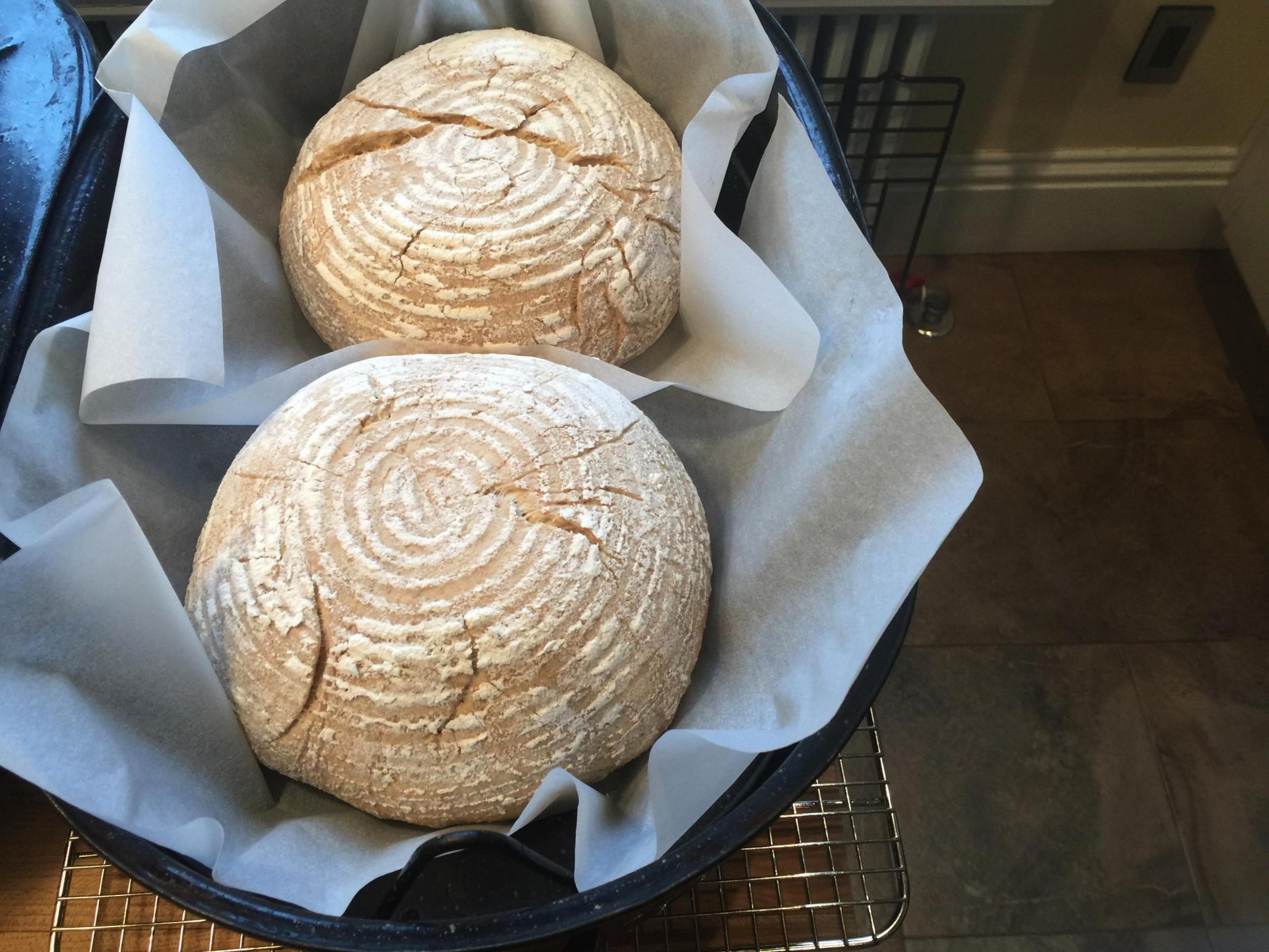 yep....looking good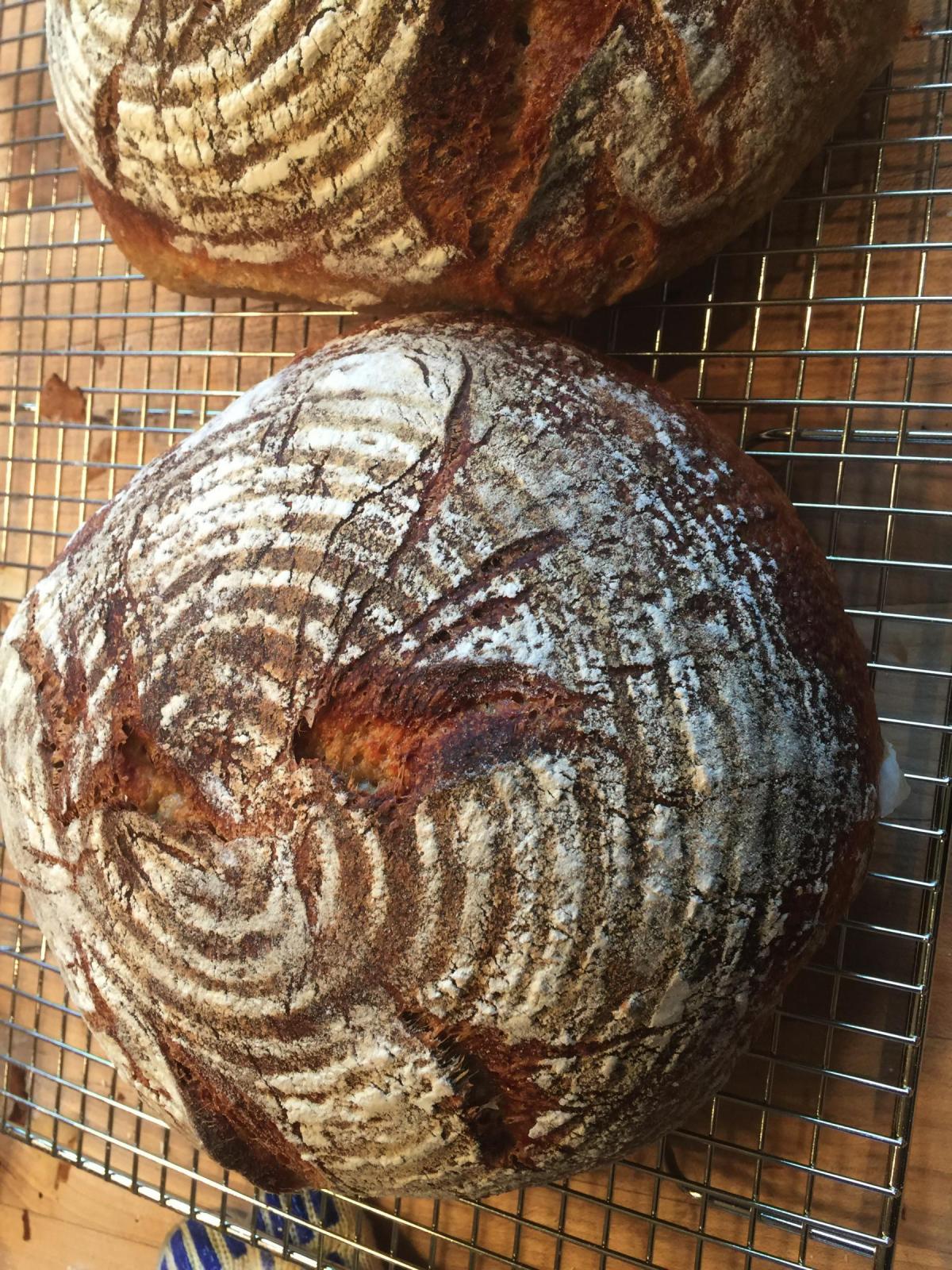 love my OVE gloves and my roasters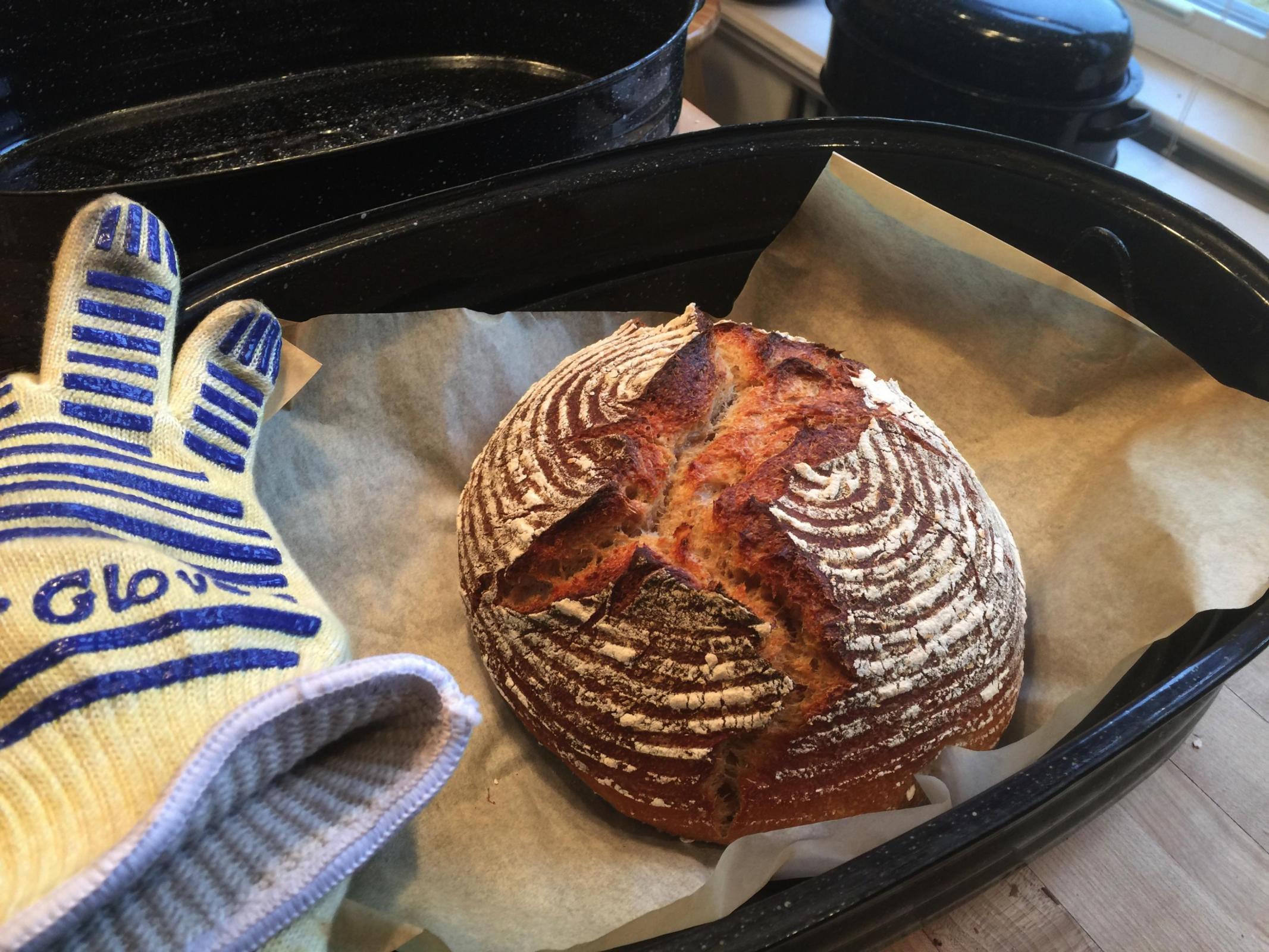 gorgeous even fine crumb with very crisp crust. flavor is remarkable and only a tiny hint of sour very tender chew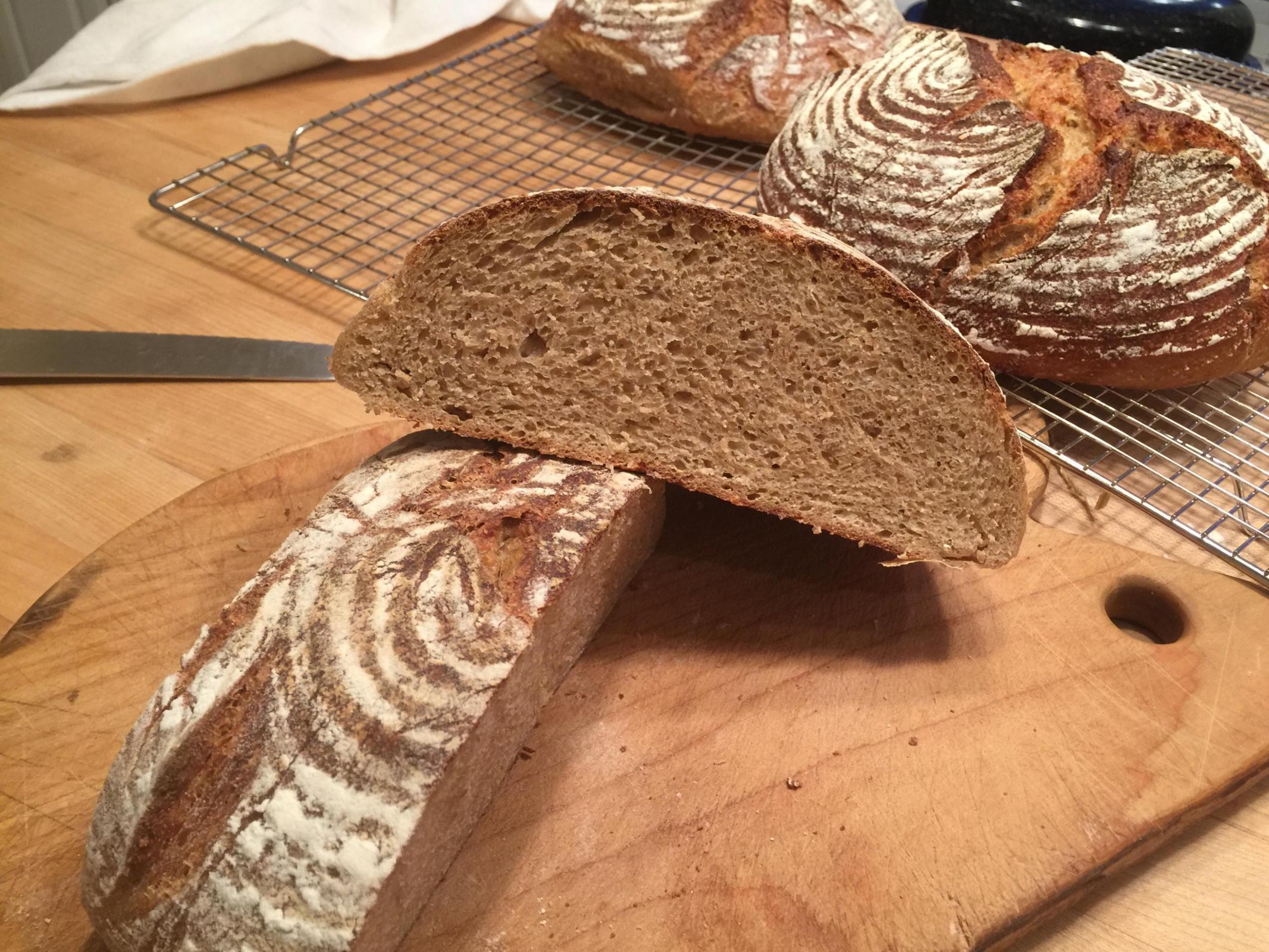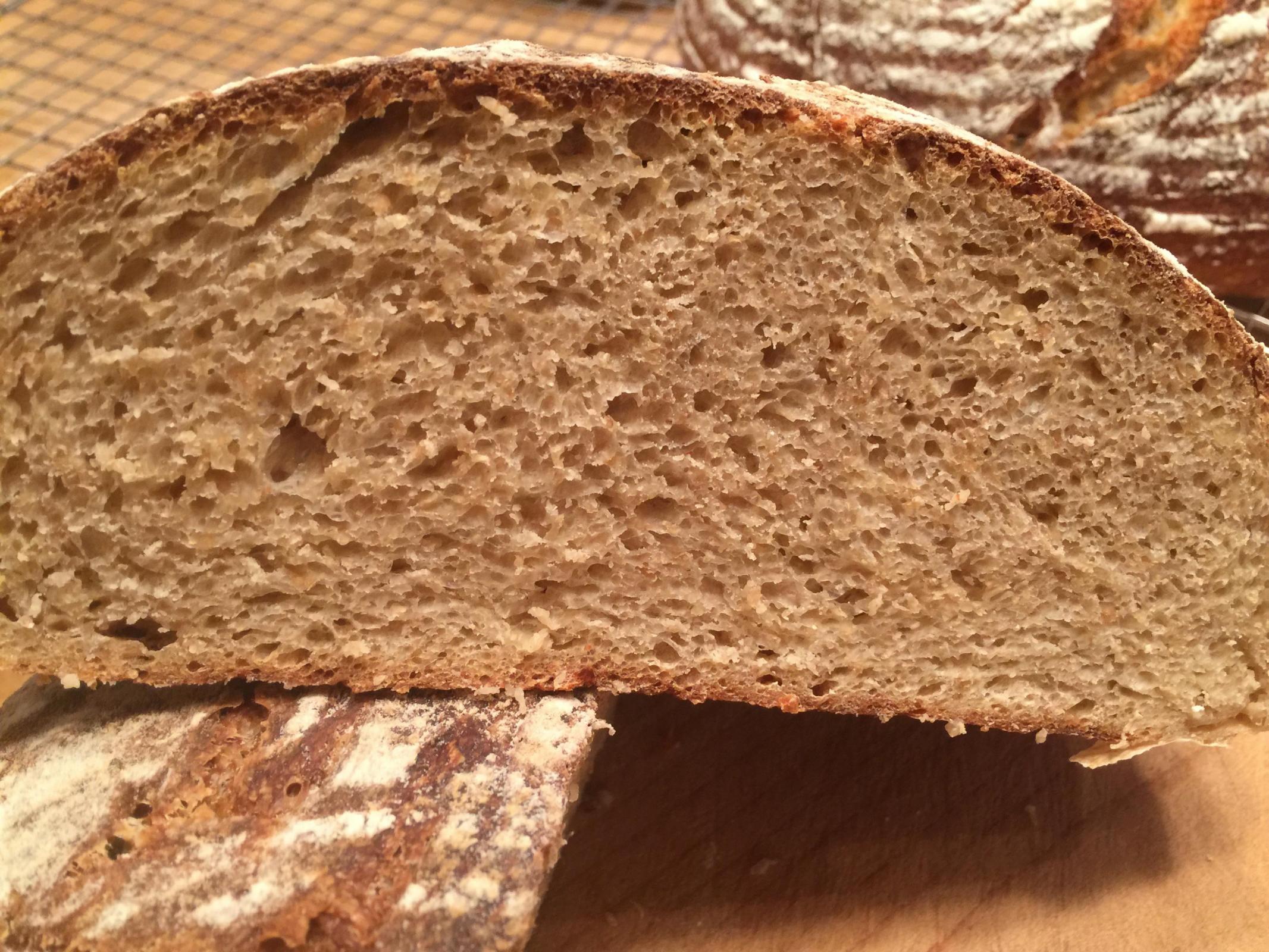 As I said the formula is the same as the buns I posted. 100g of active date YW added to 600g water  and 400g active kamut levain ( it was a rye levain in the buns) 
My feeling is that the levain works slower and the YW works faster but the YW needs warmth and the levain not as much . Seems to complement each other throughout the retarding of the dough as well as the bake. Will post pics of crumb when I get them.