February 1, 2018 - 12:32pm
2 yeast water levains/rye banana SD with pecans and dates - Take ll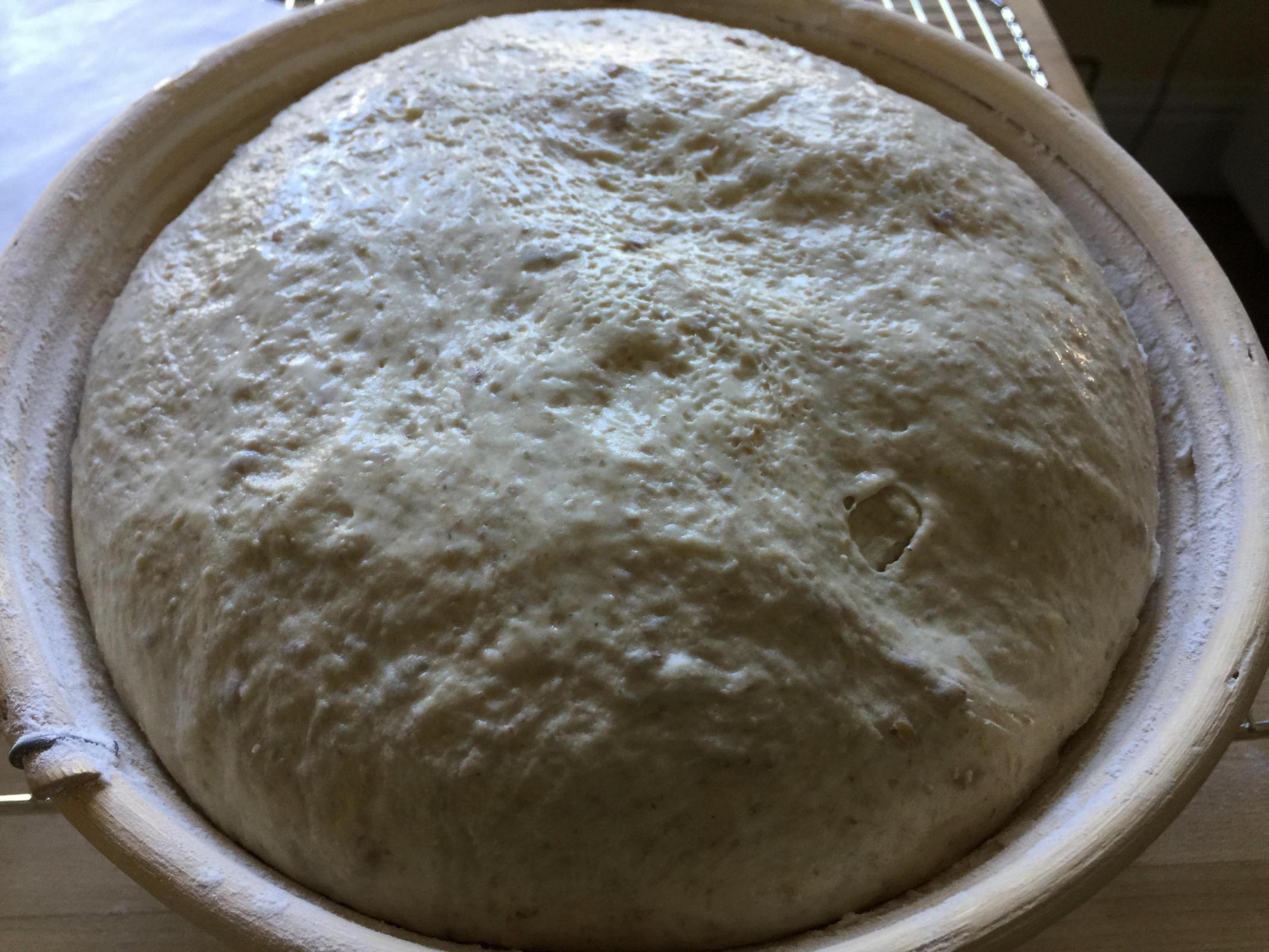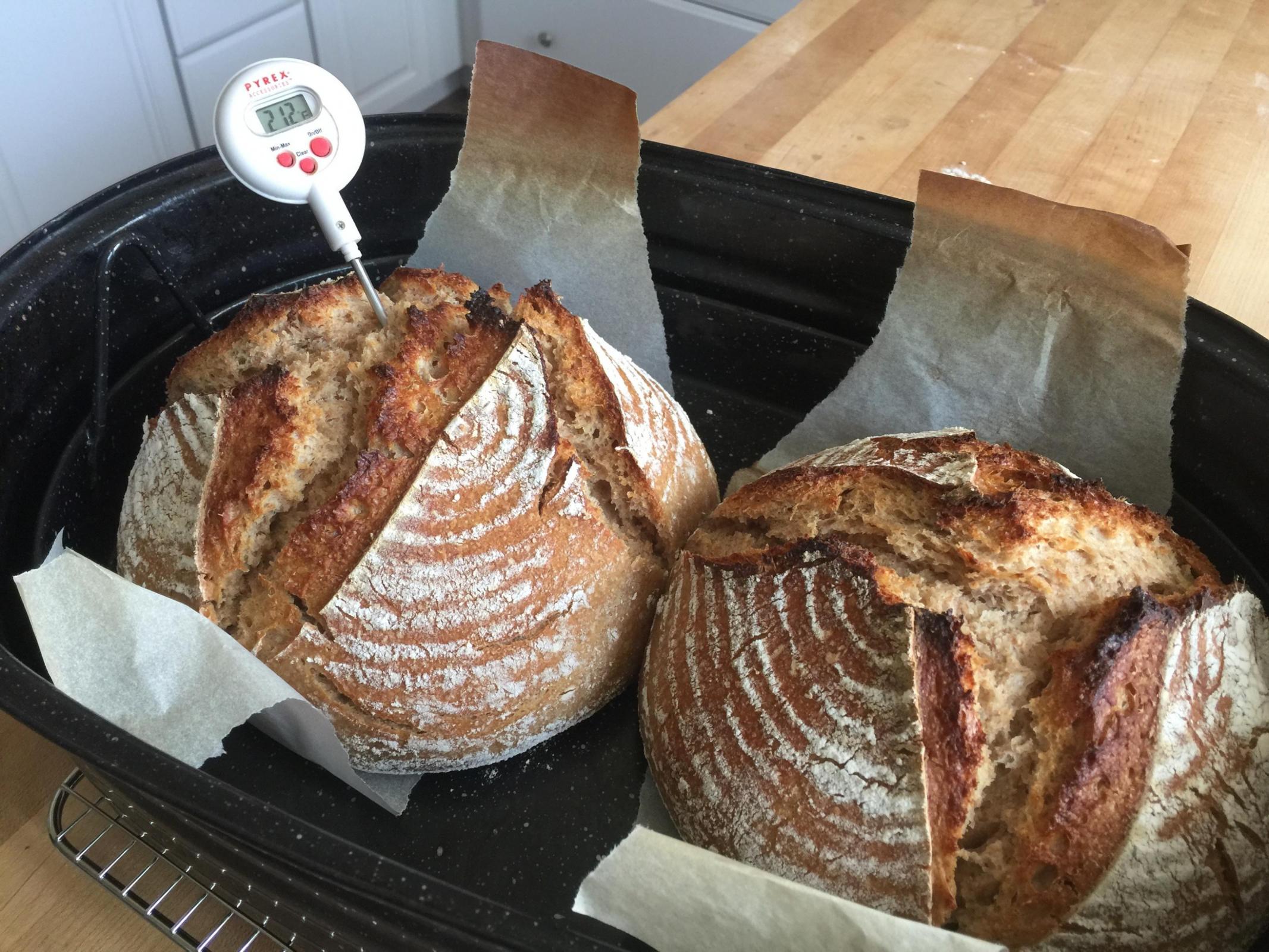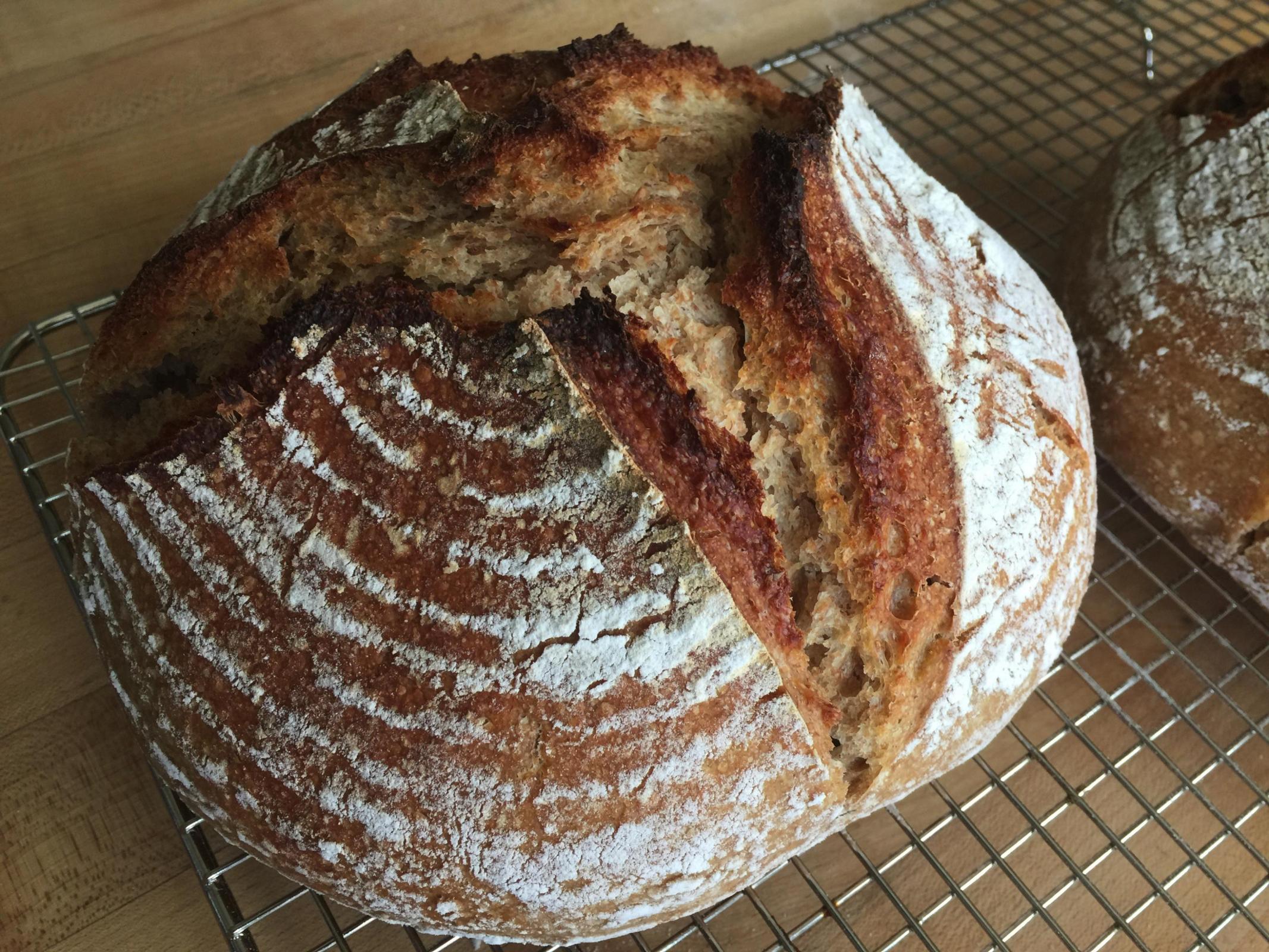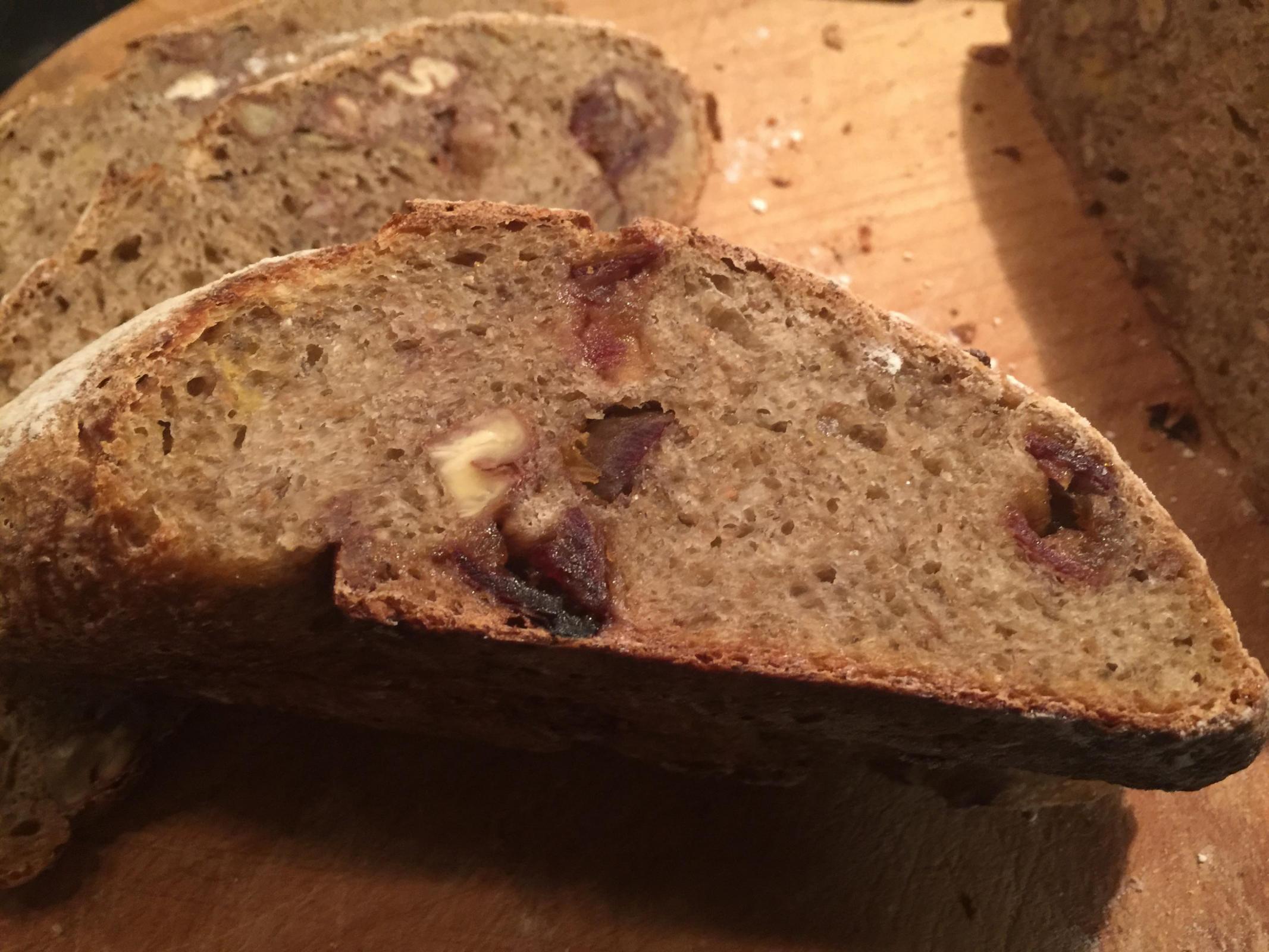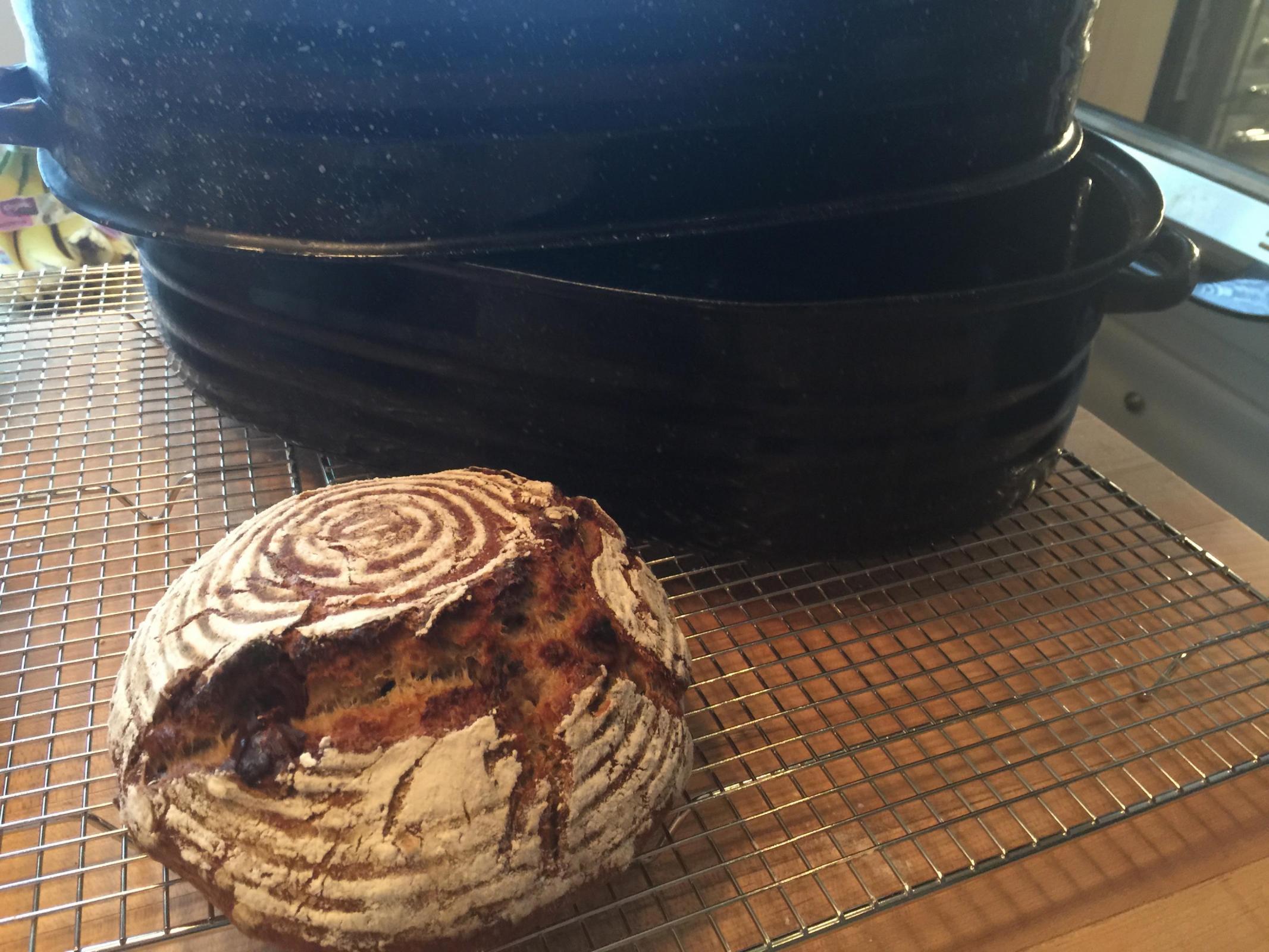 This is a further experiment with the rye banana SD I posted a week or so ago. I wanted to see what would happen if I got more  and quicker rise out of it and less sticky to work with . I used my AYW and made two levains. I also roasted the bananas as I had read that if they are cooked instead of raw they seem to not inhibit the action of the SD yeasts. I doubled the formula and made 3 approx 700 g boules this time. I also used my really big granite roaster circa 1940. Wow...is all I can say. Two boules fit perfectly. No time at all in the oven to get to 500 degrees. I did two first and then remembered someone on here posted they threw in some icecubes into their roaster. I did it for number 3 and look at the ears !! Will do that from now on as well. Cast iron shall continue to reside in the basement....granite roaster is the way to go , at least for me. 
500 g mixed levain= 400g of 50% unbleached KA and 50% fresh milled rye at 100% hydration with banana yeast water ( made it from my AYW by adding fresh sliced bananas and waited a couple hours for lots of bubbles to appear then fed over a couple hours 2 x to get the 400g. Started with 10 g NMNF ) 
                                 100g AYW levain fed only KA 
440 g AP KA flour
90g freshly milled rye
110 g spring hard wheat flour
500g roasted bananas ( roast in peels at 300 degrees till black. let cool and squeeze out pulp and water ) 
70g date syrup
70g yogurt
18g salt 
mix everything but salt. I place salt on top of resting dough and spray well with water.  Let rest for an hour or so till puffy.  Do 30 turns in the bowl a few times every 30 min. incorporating salt and watching for texture of dough to become pliable. Remove from bowl and begin gentle stretch and folds a few times. Add in the chopped dates and pecans. I don't weigh these I go by how it looks and feels. Place dough in oiled container and let rest in warm place till about 50 % . Yeast water moves fast so don't leave it too long. shape as desired and cover and retard in fridge. I took these out of cold about 30 min before baking to get the YW started again. As dab noted YW loves warmth. Preheat granite ware pot to 500. Place loaves inside and throw in a few ice cubes. Cover and bake 500 for 10 min reduce to 475 for 10 min. Remove cover and cont to bake 475 for 20 min -----if making larger loaves adjust final uncovered time till 205 or so degrees. Amazing bread. Crumb pics added. This bread was impossible to resist. Still a little warm but we had it with " breakfast for dinner" . Those are strawberries with my homemade Meyer Lemon curd....oh yum !!  The bread has a delicious tender crumb. Banana flavor really comes through. Not as heavy as the other loaf as there is less rye. Could have put even more dates...can't have too many dates LOL !   Will not forget the ice cubes ever again. Will cut that loaf on Sunday at our pot luck at our Buddhist center and will see if there is any difference. Definitely a keeper loaf. I will be subbing other fruit for the banana and see what I get. Stay tuned.