January 23, 2018 - 7:38am
Sourdough "Bagel-Crust" Squares
My first bake of 2018. I'm glad I squeezed in a bake despite my busy schedule. I find it more therapeutic than ever! :) Last time, I baked bagels and I really loved them because they were so satisfying to eat. Due to the boiling process it gets before being baked, they really have a unique texture. I thought it will be similar to laugenbrot with a thick chewy crust but I was wrong. Its thin and crispy crust is also our favorite to date but my parents find the crumb too chewy for them so I thought of why not soften the crumb a little bit and maintain that unique crust.

I originally planned to use my bagel dough and just add a little butter and a little more water to soften the crumb a little but I made some more improvisations along the way. I had 2 leftover egg yolks from another recipe so I added that to the dough so I won't have to store it anymore. :) I added more sugar because our favorite yeasted sandwich loaf is a bit sweet and because the egg yolks are added fat and richness I halved the amount of butter I scooped for the dough.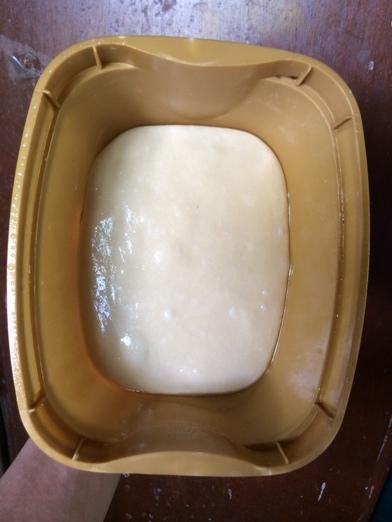 A high sugar dough seems to be an uncharted territory for Zhou Clementine, my starter. She was a bit slow in raising the dough. Bulk fermentation took 4 hours but the dough only grew to 1.5 times instead of doubling. I folded the dough into a neat rectangle and put it into a sort of rectangular container then into the fridge after a further 2 hours at room temperature. The dough did not grew much in the fridge as shown in the picture.

German square brotchen have always fascinated me through the years, I find their shape simply adorable. :) I love square-shaped breads including donut plant's square jelly donut in NYC although I still haven't had the chance to try it. I have only done a square fried bread but never a square "baked" bread so that's what I did here. Since it is not shaped, proofing times might be different so I followed Karin's (Hanseata) schedule here for similar rolls.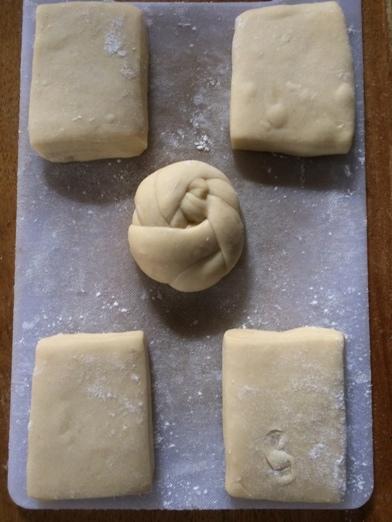 The dough was simply tipped onto a cutting board; edges trimmed; and cut into 4 pieces. I braided the trimmed edges as to not waste anything and fashioned it into a roll. I proofed them for an hour because they came straight form the fridge.

Here they are after proofing. The photo does not show much of a difference but if you look closely you can see shallower and softer lines as opposed to deep defined hard line before proofing, they also have increased a bit in height.




I think they do not need any proofing at all. They are already so soft and stretchy and bit sticky by the end and I mangled them a bit during the boiling process. Next time I will boil them right away after cutting and they will have a much better shape and spring. They look a bit small but they doubled during boiling and doubled again during baking so they increased in size by a total of 4 times.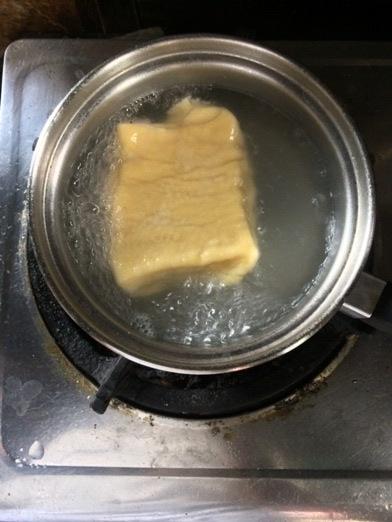 I think that pre-gelatinizing crust during the boiling process that is the key to the bagel crust that we really love so I also boiled these rolls 1 minute on each side to achieve the same results. The wetter enriched dough did not disintegrate in the water as opposed to common knowledge explaining why bagel dough is supposed to be dry. I think its drier dough is for the chewy texture. They look a bit sad and ugly after boiling but they were transformed by the dry heat of the clay pot.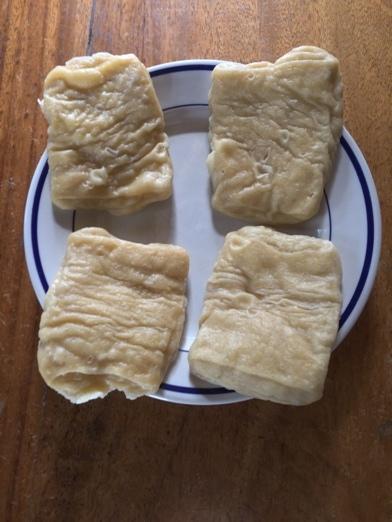 They were baked over heated pebbles in the clay pot for 10 minutes then flipped and baked again for another 10 minutes; 20 minutes in total with live fire.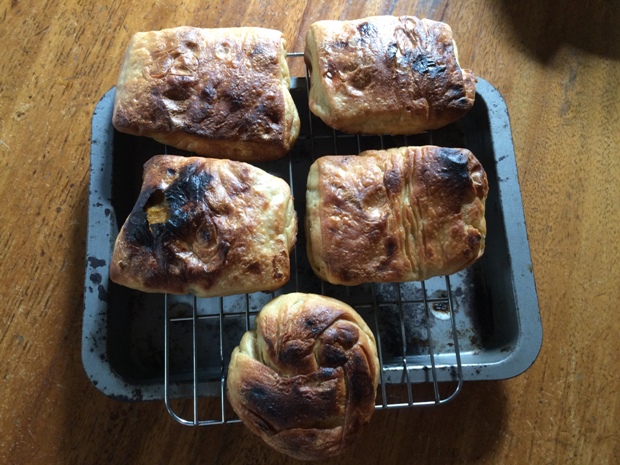 Only one got a bit burnt but I do not know why all look like they have burnt spots but they were just very boldly bake areas and do not look black in real life.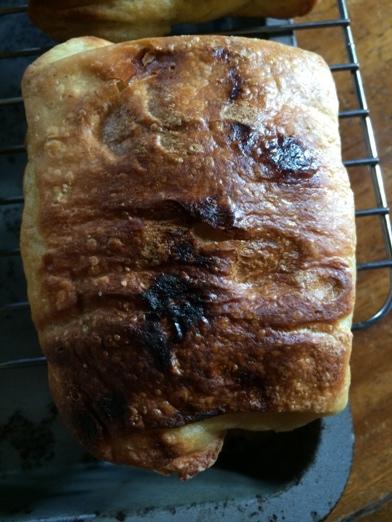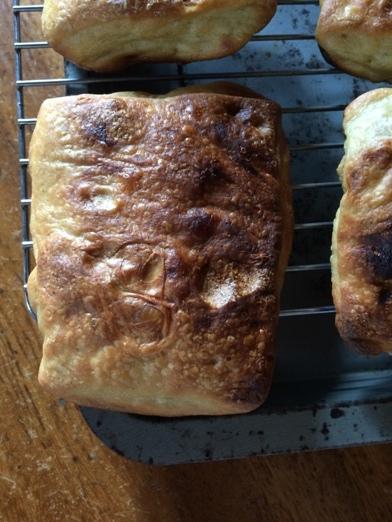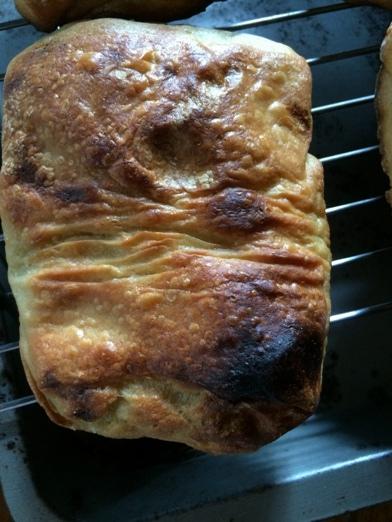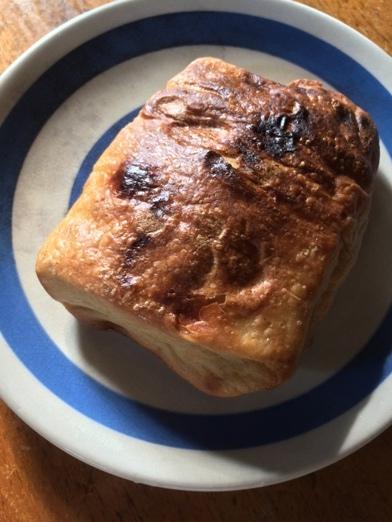 They were very fragrant coming out of the pot with a tangy smell and a touch of smoke and an extra buttery aroma. The crust was very crispy with a delicate feel to it and the crumb was soft with a very slight chew. The taste was complex; buttery, slightly sugary sweet with the barest hint of tang. Very good on its own or with fillings, so far we only had cheese in the house so that's what we used. Out of excitement we cut them while still hot so the crumb was still a bit wet and has not set-up completely. My parents really loved them because they don't have to fight them with their jaws but still has that lovely crisp crust like the last time.




Finally, I am loving the new way to upload pictures here on TFL. It's so much easier! Again, thanks Floyd!

Some more random photos of the rolls including the braided one. :) Now that I know that boiling is the secret for the crust that we like, I will now manipulate the crumb to make it lighter of heavier depending on our preference. I'm excited for future experiments for "boiled" rolls! I hope you enjoyed this post. Thank you and Happy Baking!