January 16, 2018 - 2:53pm
Another attempt at Danni bread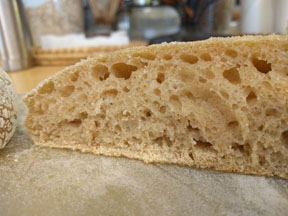 Danni posted a very simple starter recipe. I managed to screw that up too :( 
I used 100% hydration starter rather than the 70% hydration she uses. I had ramped down my former 1:1 by volume starter to 1:1 by weight, but forgot that this was still too wet.
The dough was just on the verge of too wet to handle. I had to tip it into the Dutch oven and it came out kinda crooked. 
Try try again. 
On the plus side: I used a stainless steel bowl for a banneton. I lined it with a linen square that I made myself that very day, yes indeed. Of course I had a length of medium-weight linen in the house. I sewed it up nicely, with hand-mitered corners. Then I needed a mix of rice flour and AP flour to dust the linen. Of course I had rice flour (mochiko). This is an island (Hawai'i) household after all. I make coconut mochi, butter mochi, sweet potato mochi. So, two wins.