January 2, 2018 - 11:38pm
Decided to mill some spelt and rye and use it in a simple 1:2:3 loaf and concentrate on open crumb and great oven spring.  My flour mix was 70% bread flour, 20% freshly milled rye and 10% freshly milled spelt.  
 I started off with a starter build of 1:2:3 late sunday afternoon.  Monday morning I built further 1:2:2 intending to use water at about 30°C but misjudged it and when I mixed it up it was more like 26°c. This was left at room temperature to mature.  Room temp started at 23°c.
 At 11 am mixed flours and water and left to autolyse until I was ready to carry on.  2 pm room temperature was 27°c, levain was ready so added the salt and levain to dough using Trevor Wilson's gentle method.  left it to rest 15 minutes and did another round of gentle stretch and folds which were then repeated hourly (3 times) with a final one half an hour later before dividing and preshaping dough. After 30 minutes did final shape and placed in bannetons then retarded over night. Baked this morning at 230°c straight from fridge. One batard with 2 slashes, one with a single.  
 It is frustrating - it all went well but whilst I got a little oven spring, the dough spread more than I wanted!  Tastes really good though.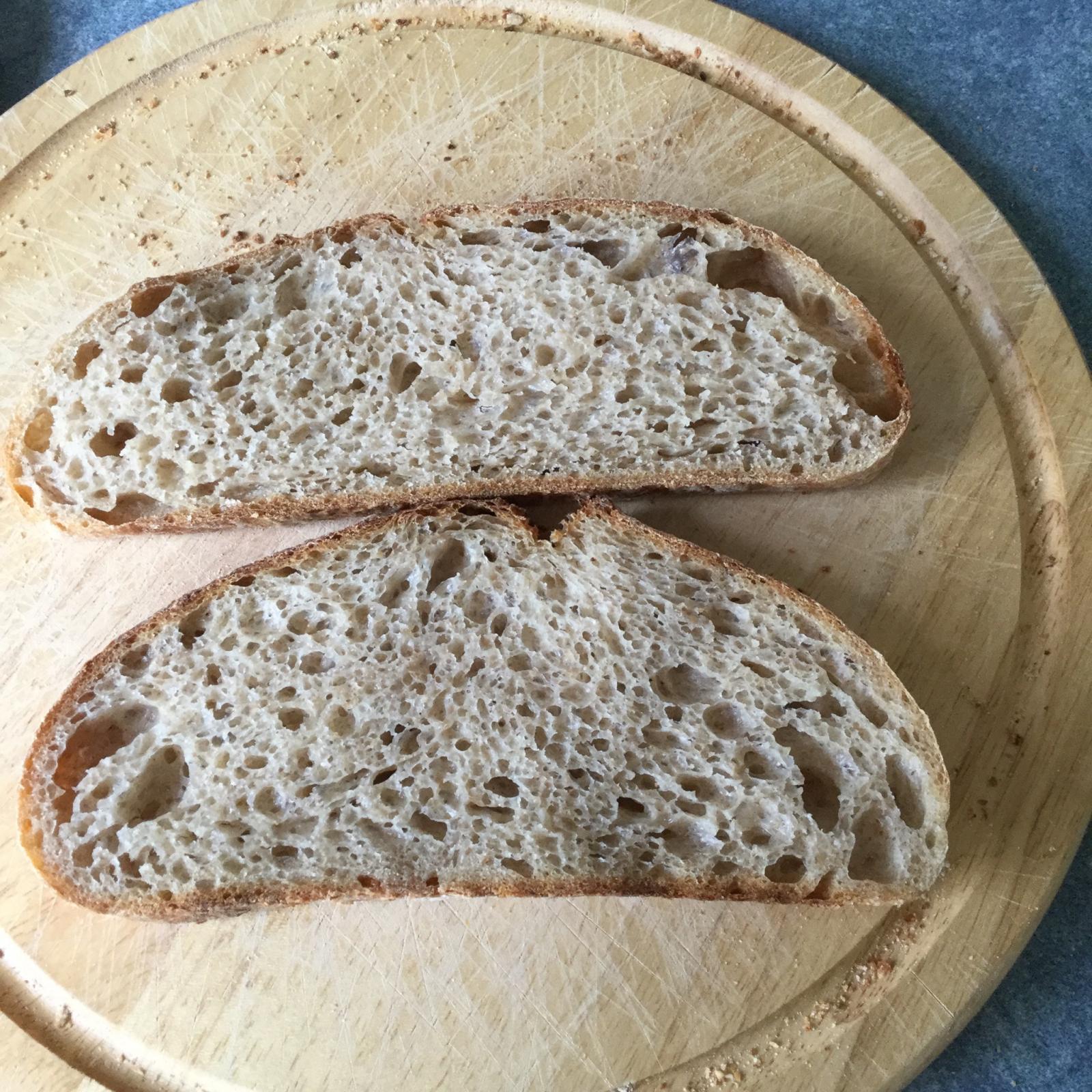 Question #1:  did I not build enough dough strength? (was going to check for window pane but forgot)
Question #2:  is this a result of using freshly milled grain?  should I have reduced hydration a little - loving being able to mill grain with my Mockmill100 but still learning about how freshly milled grain responds.
Leslie