Feedback on a new baking product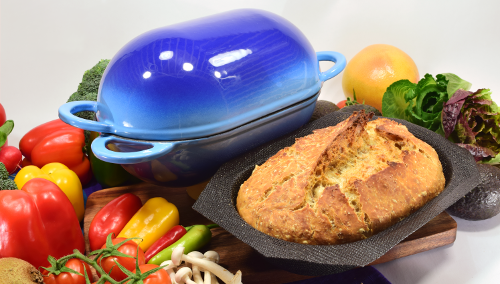 Dear fellow bread bakers,
As an enthusiast baker, I wanted to convert my hobby into a product. So, I started a small product development company in the Dutch city of Eindhoven.
For last few months I have been working on a product to make artisan baking at home easy for beginning and experienced home bakers. No-knead bread needs no introduction in this forum, but with our product LoafNest, we take it further to no-shaping and no-cleanup. You just pour the dough into the perforated silicone liner that sits inside an uniquely shaped cast iron casserole. Perforated glass reinforced silicone (similar to Silpat, but with holes) offers low thermal insulation and allows equal browning on all sides. Of course, it eliminates the need of using cornmeal or other release agents.
We plan to launch a Kickstarter campaign in a few weeks but before that, I thought it may be a good idea to present it to baking enthusiasts for feedback. You can find more details on http://trfl.nl/LoafNest and see images on http://trfl.nl/loafnest-gallery
* What do you think of the general idea of this product?
* What do you think of the way the story is explained? Any suggestions to change/improve the message?
* What are your thoughts about pricing? This will not be an ultra-cheap product since perforated silicone is quite high-tech and expensive.
I will be grateful to your feedback as a fellow bread maker.