December 2, 2017 - 7:47am
Is this overproofing? Or maybe underdeveloped gluten?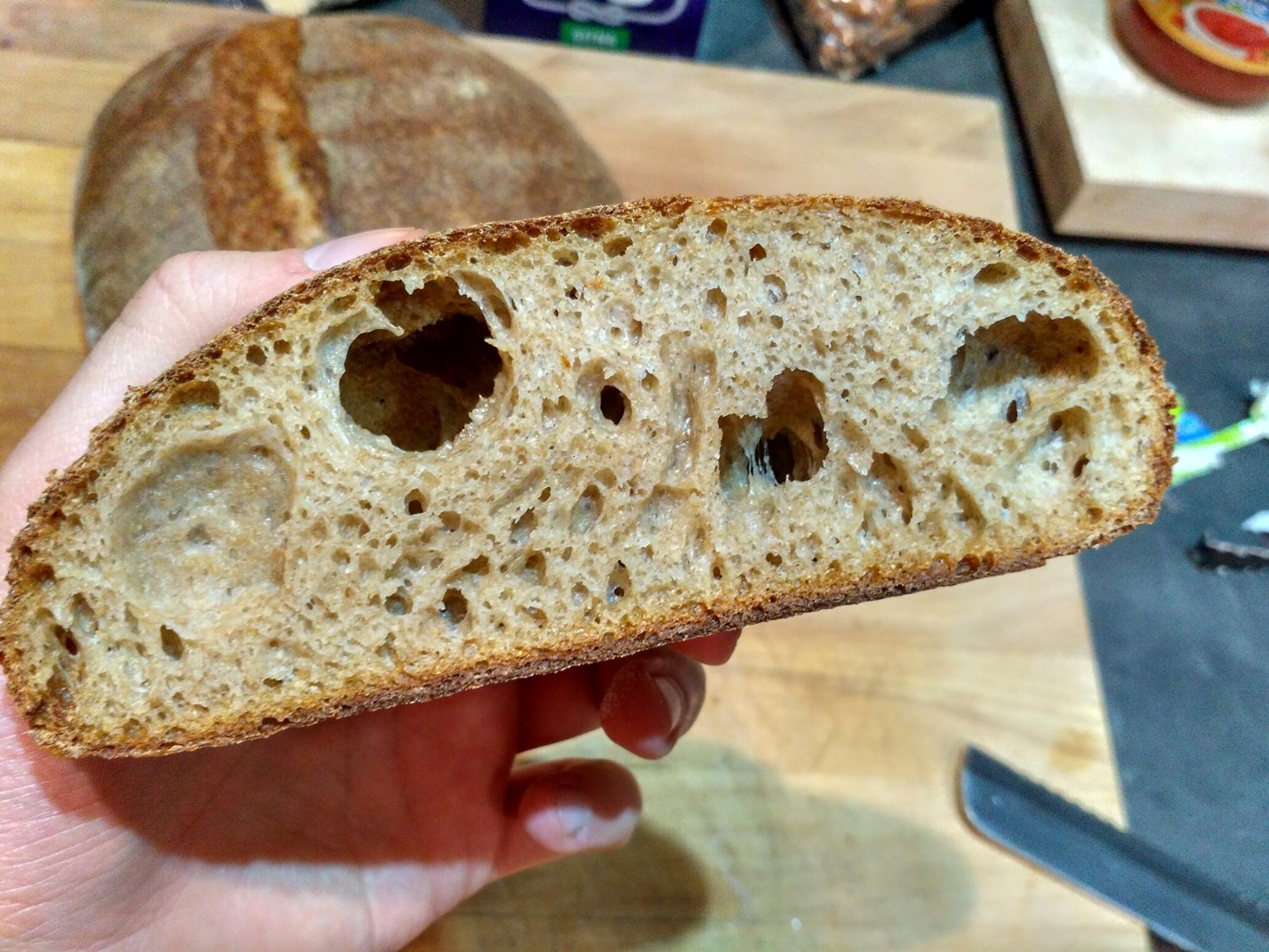 Hello everyone. I am new on this forum, i hope i do this post the right way. 
So, i started to bake sourdough bread 5 months ago, lately i did some very great breads, good structure, very good oven spring, and excelente taste. But my last 3 breads endid up like the one on the photo. Flat, minimal rise( you can see the whole bread in the backgruond), and somewhat diffluent crumb stucture( i dont know if this kind has a specific name to it, it is airy, not dense, but it seems that it was too fliud throughout the bake, so it is not that good looking open crumb, more like an "every hole is the same shape, round like". I made some breads that looked like a professional, almost like this, but with smaller holes https://2cv80798eul3adeda3i2a22v-wpengine.netdna-ssl.com/wp-content/uploads/2015/12/theperfectloaf-mybestsourdoughrecipe-title-1-1000x800.jpg   
I think you can see the difference in the crumb structure. I think i overproofed my breads, but i dont know how. My recipe is:
450 g wheat bread flour(11 g protein)
50 g whole wheat flour
375 g water
100 g levain
10 g salt 
I mixed the dough, folded it 4 times during bulk, the bulk was 3.5 hours, shaped, and final rise was only 1.5 hours, but at this point the finger poke test almost failed. 
Is it possible that my starter became so active lately that it is too fast for this much levain? I did it like this the whole time, and the final rise took about 5 hours in room temperature. I tried to put it in the fridge to retard, but after 7 hours, it turned out the same, a flat "bread". My shaping is not the best yet, but i think i can shape it pretty good to get a proper oven spring. 
What do you think?