November 17, 2017 - 6:57pm
Attempting to improve crumb - Hamelman's 5 grain levain
After reading Trevor Wilson's Crumb Mastery, I think I have to rethink a lot of my processes.  His explanations are so good and a lot of it makes a great deal of sense.  I don't understand quite all of it but hopefully this will come as I keep working on improving my bread.  
 So this week's bake was going to be just a 1:2:3 using sprouted grain, milled with  my new Mockmill 100.  But hubby stirred a bit and so I ended up making Hamelman's 5 grain levain.  Well, I had already mixed my levain about an hour earlier so I sat down calculated out how much of everything I needed.
Levain:
8 pm Wednesday: Took 30 gm refreshed starter and added 90 g water and 90 g flour.  So now I added another 3 g starter + 115 g water + 74 g flour and left overnight on the bench.
Soaker:
Added 267 g boiling water to 60 g cracked rye+60 cracked flaxseed + 50 sunflower seed + 50 g rolled oats and 4 g salt. covered and left overnight on bench
Main dough:
11 am Thursday: Milled 113 g sprouted wheat & 51 g nonsprouted wheat. 
11:30 am To the freshly milled wheat I added 320 g bread flour, 7 g gluten flour (to hopefully approximate hi gluten flour) and 11.9 g salt.  Added 169 g water planning to autolyse for a while. I then realized there was insufficient water to do this so went back and read the recipe.  ok now I see why it was too dry.  Recipe says to add everything and mix. So added 368 g levain and 493 g soaker and hand mixed until well mixed. Room temperature was 20 degrees C.  left to rest
11:50 am Gentle stretch and fold
 Re read recipe - Did I develop gluten enough? 
12:05 pm check gluten by gently trying to make windowpane in dough.  Think it is ok, dough was relaxed.  gentle stretch and fold
 13:15 pm. Another gentle check of gluten (I am nervous as this is quite a wet dough and Hamelman says moderate gluten development needed) followed by gentle stretch and fold
 14:30 pm very gentle stretch and fold, dough is getting puffy
15:00 I think I need to preshape as dough definitely puffier but I will have coffee first (fingers crossed, this is a lot less bulk fermented than I usually do so I think I will let it go a bit longer)
15:30 Tip out of bowl, scale and preshape into 2 boules using bench knife (a first for me)  Turn oven on to preheat along with DOs.
15:45  Dough seems to have some strength (this is what I was trying to achieve in this wet dough based in my reading of Crumb Mastery) .  Pat out into rectangle, fold in half then try do stitching.  Darn, its too strong, I could definitely feel that so I changed my mind and just folded over again so now (as he said) I had 4 layers of dough, pressed seam closed with base of hand, gently cloaked a bit and put into the banneton.  2nd loaf I just fold twice and gently rolled and cloaked too.  Gee, I got a whole lot of new expressions to use, and I understand what they mean! yay!!  Placed bannetons in large ziplock bags to proof. 
16:45 They had nicely proofed so turned out, scored and popped into DOs and into oven at 250 degrees C for 15 minutes lid on and 22 minutes lid off.  Internal temperature was 210 degrees F.
 One of these was for a friend so after dinner popped over with it.  They wouldn't wait and ended up eating the whole lot that night!  Crumb was moist and they just loved it.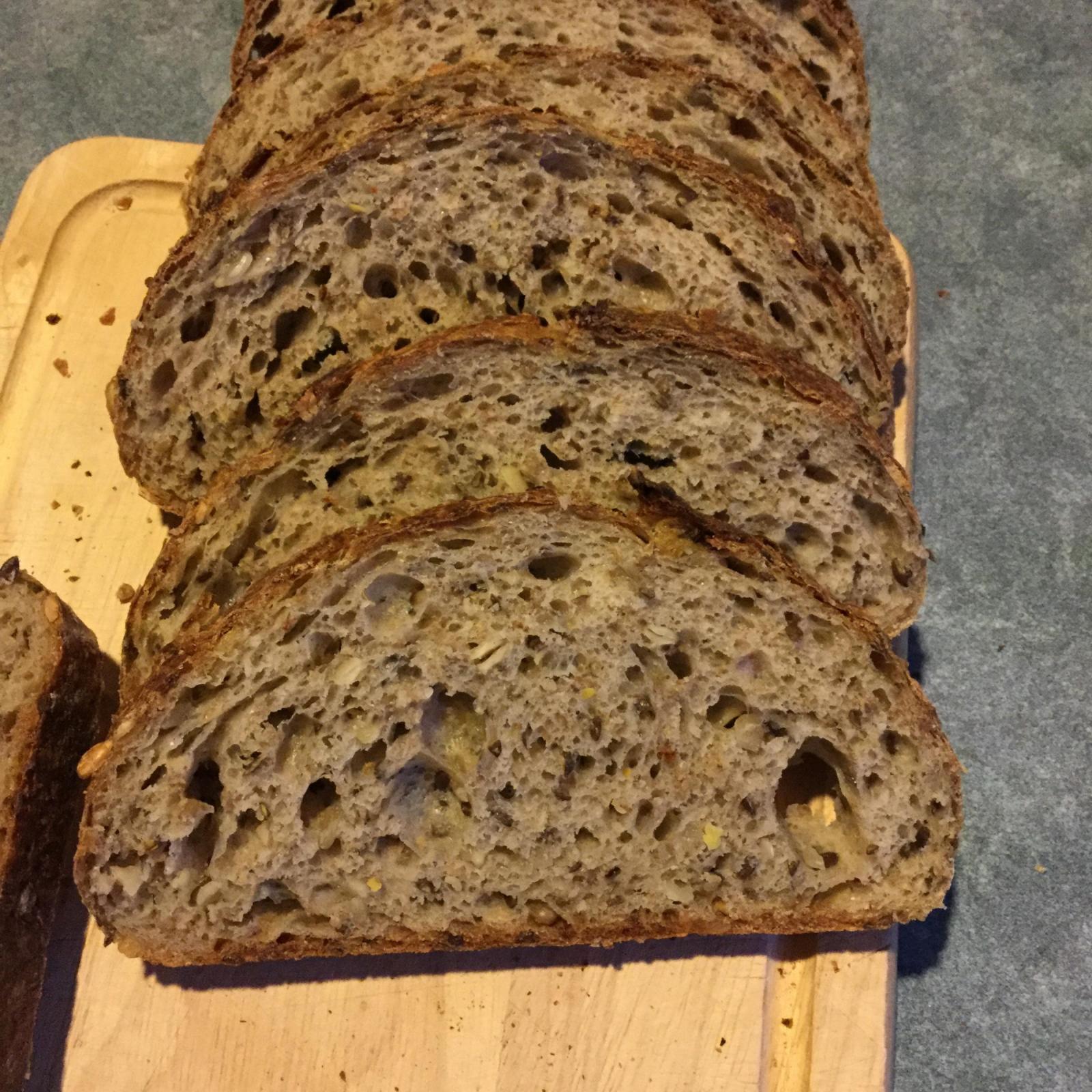 I sliced and froze my loaf but we have had it for lunch several times since and it is really delicious.
 I learnt quite a lot from Trevor's book, lots still to learn.  I had the feeling that my doughs often lacked strength (without knowing that that was what was lacking) and spread more than I wanted.  This was a wet, sticky dough and normally I would have struggled mightily with shaping.  I did have to use more flour than Trevor seems to, but shaping went much better.  I will need to re read the book but from me it will score 5 stars!  his explanations are simple and readily understood.  Putting them into practice will be the thing though.
 Really happy with first step and a huge thank you to Trevor Wilson
Leslie