November 6, 2017 - 9:56pm
Potato Cream Cheese Multigrain porridge loaf
This is my first attempt at Isand66 recipe last weekend.
Friday night mixed levain and left it overnight on the bench then refrigerated
36 g starter + 114 g flour + 32 g spelt
 Saturday morning mixed & cooked porridge ingredients then allowed to cool
45 g rolled oats  (extra here as no flaked barley), 25 g oat bran, 19 g kibbled rye and 362 g water.
Diced potato and roasted until tender and allowed to cool
 13:00 weighed out flours.  64 g whole grain spelt flour, 45 g finely reground durum, wholewheat flour 127g and my attempt to get something like a french style flour - a mix of 90 g white cake flour(plain flour) and 76 g bread flour.  Added 144 g water.  It was way too dry so I added 45 ml extra water.  It was still too dry but I was too scared to add extra until all ingredients incorporated.  Left to autolyse for about 15 - 20 minutes. Tried to mash potatoes, no good, too rubbery so I blitzed them and ended up with very small chunks..  I added the 89 g potato, all the porridge, 16 g oil, 146 g cream cheese and 14 g salt.  I was really struggling to incorporate the ingredients as the autolysed flours remained in very firm solid chunks.  Transferred dough to mixer bowl and attempted to use dough hook but it wasn't much help so I changed to the paddle.  It helped a bit and so I changed back to the dough hook and added all the levain and mixed for a few minutes.  It was better but not great. Tipped dough (if you could call the wet, sticky mess that) out onto the bench and the hand kneaded trying to squish all the dry dough lumps.  It was just a sticky gooey mess and was soooo wet and sticky that I added 60 g bread flour, something I very rarely do.  It helped.  
Finally after working the dough for a total of 30 - 45 minutes I could leave it 15 minutes to rest, then did 3 lots of stretch and fold every 30 minutes then  at 4:30 pm left it to bulk ferment.  It puffed up beautifully so at 7:15 pm I preshaped into 2 approx 750 gm batards and rested 15 minutes before shaping and popping into the refrigerator over night.   
 Sunday morning I scored and baked in hot oven 250 degrees C for 15 minutes lid off the DO, dropped temperature to 235  then baked for a further 15 minutes lid off. Internal temperature was 209 degrees F.
 Not a huge oven spring but crumb is really soft with a thin crust and it is lovely. will try again someday soon.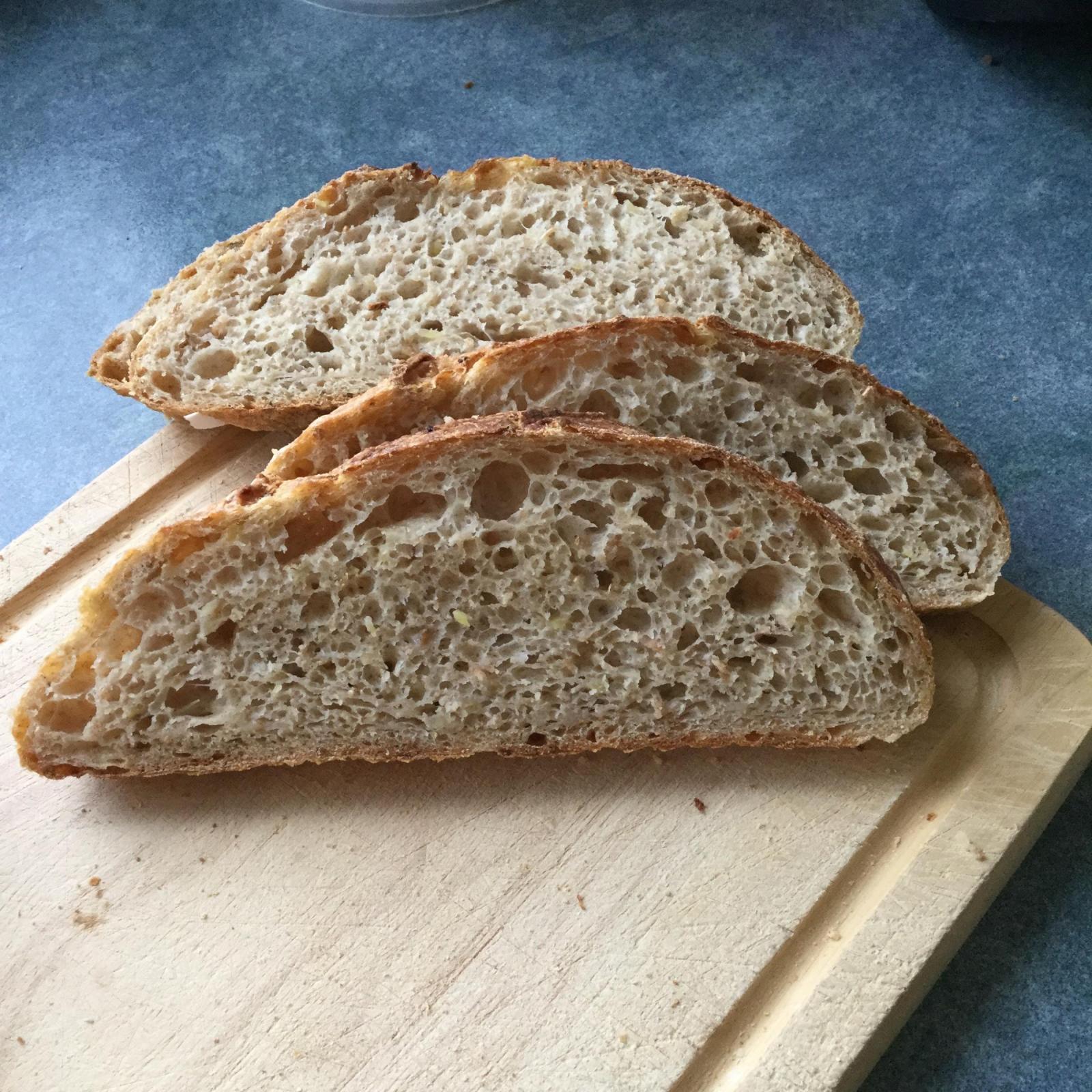 not sure what caused the denser line at bottom of loaf - underbaked? underproofed? any ideas appreciated.
Should I have just baked the potato whole then diced and mashed? I have used mashed potato but not roasted a mashed so think I got it wrong.
Leslie