October 23, 2017 - 8:30am
Analysis needed of what the heck happened!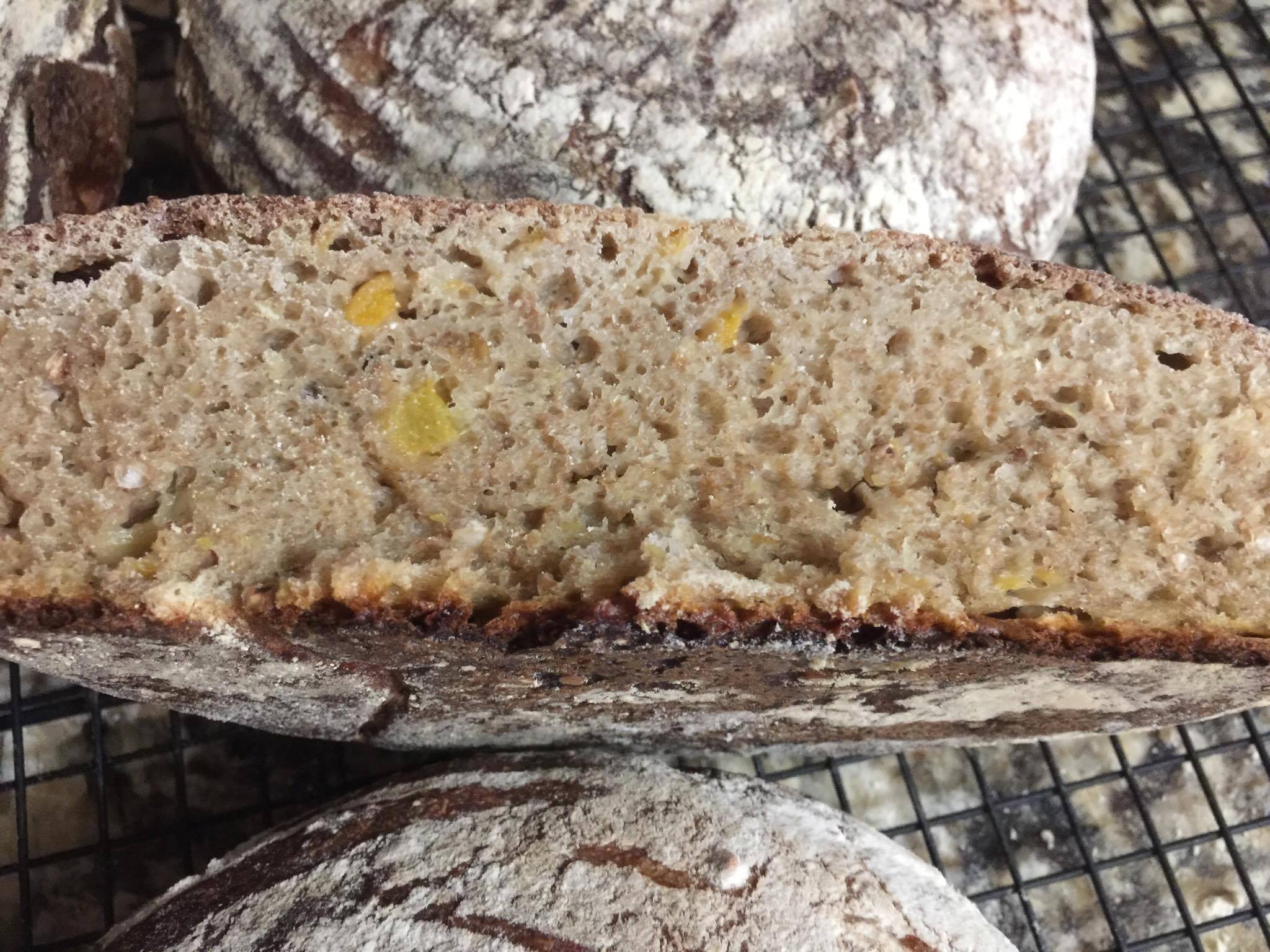 I was given a couple of bags of organic buckwheat groats and thought that a bread including those and dried apples and apricots would be very tasty. Well, it is tasty but there was zero oven spring! I have a few thoughts on what happened but I need your input.
Here is the recipe and method I used.
1. Toast 150 g of buckwheat. Chop 75 g each of dried apples and dried apricots (these had sulphur dioxide as a preservative). Soak all of this in 400 g of hot water. The apples and the apricots swelled significantly. Once cooled to warm, add 50 g organic yogurt.
2. Autolyse all of the above with 550 unbleached flour, 50 g of fresh buckwheat flour, 100 g of multigrain flour, 252 g of freshly milled Selkirk wheat, 50 g fresh ground flax seeds, and 450 g of water. The dough felt as if it was on the drier side during the initial mixing so I kept adding water until I felt it was about right and that equaled to 450 g of water.
3. After a couple of hours, I added 270 g of levain and 22 g of salt. The levain was a two stage levain where I fed 80 g of starter with 80 g of rye flour and 80 g of water for the first stage. Second stage was to add 106 g of whole rye flour, 422 g of unbleached flour and 422 g of filtered water. The starter tripled in 4 hours. I usually use a 4 stage levain but I was trying to use up levain left over from my other bakes.
4. I did four sets of folds about 20 minutes apart and right from the first set, the dough was super sticky and didn't seem to want to hold a shape. After the fourth set it did hold for a few seconds but then relaxed. The stickiness never improved. After a couple of hours, I knew I was going to be in trouble with shaping so I put it in the fridge to stiffen it up. I took it out once it had doubled in there.
5. Taking it out of the buckets, seemed to really deflate the dough. It just didn't feel right. It held together but I didn't get that spring back that good solid dough has. I gave it a quick shape, a quick rest and a final shape. The final shape did not have the usual tightness. It just seemed to stretch out and stay there. I then put it back into the fridge to final proof. I didn't do any proofing on the counter.
6. 10 hours later, I took it out of the fridge and noted that it had not risen very much at all. I left two batches on the counter to proof more and the loaves were a nightmare to load into the pots as the dough just stretched and stretched. I had to move really fast to be sure to get them into the pots without it stretching down to the floor. 
7. I baked as usual... 25 minutes at 450 F and 25 minutes at 425 F. I was super disappointed that there was no oven spring. So the last two batches, I baked right out of the fridge but that didn't improve matters.
So I posted a picture of the crumb so you can help me figure out what happened. Here are some of my thoughts:
A. Too much water was released back into the dough from the soaked apples and apricots. Next time, don't soak them.
B. The sulphur dioxide from the fruit interfered with the yeast. I don't know if this point is valid since the dough did double during fermentation.
C. Something went wrong with my starter because I did a two stage levain rather than my usual four. It did triple as usual for the normal amount of time so I don't know if this really was part of the issue.
D. I should have added vital wheat gluten to the dough because of the buckwheat flour. But then again, it wasn't a lot. Only 50 g for a dough of around 1130 grams.
E. Maybe I over fermented the thing. I don't think it was over proofed because the loaves barely rose... maybe I seriously underproofed the loaves.
F. And what was with the stickiness? Dough usually starts off sticky but then gain structure with the folds. This gained a bit of structure but not much. Maybe I should have done more folds?
I plan to redo this tomorrow so any help you can give me would be very appreciated.
Danni