October 22, 2017 - 10:04am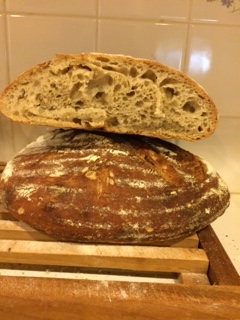 For posting the King Arthur Artisan Sourdough Recipe last week.  I made it this weekend to good success.  My scoring on one loaf was sub-par so it collapsed a bit.  On the other it was better. 
Not sure why but the flavor is not quite as good as the regular Norwich Sourdough.  The NSD is virtually the same as the Vermont SD in Hamelman's book but made with 100% hydration starter instead of Hamelman's which I think is 125% hydration.
I'm thinking the flavor difference is b/c the Norwich SD takes me 3 days to make and has a larger %age of levain than this one does.  This one also is made in a shorter amount of time.
hester