October 19, 2017 - 11:07am
Crumb feels moist and chewy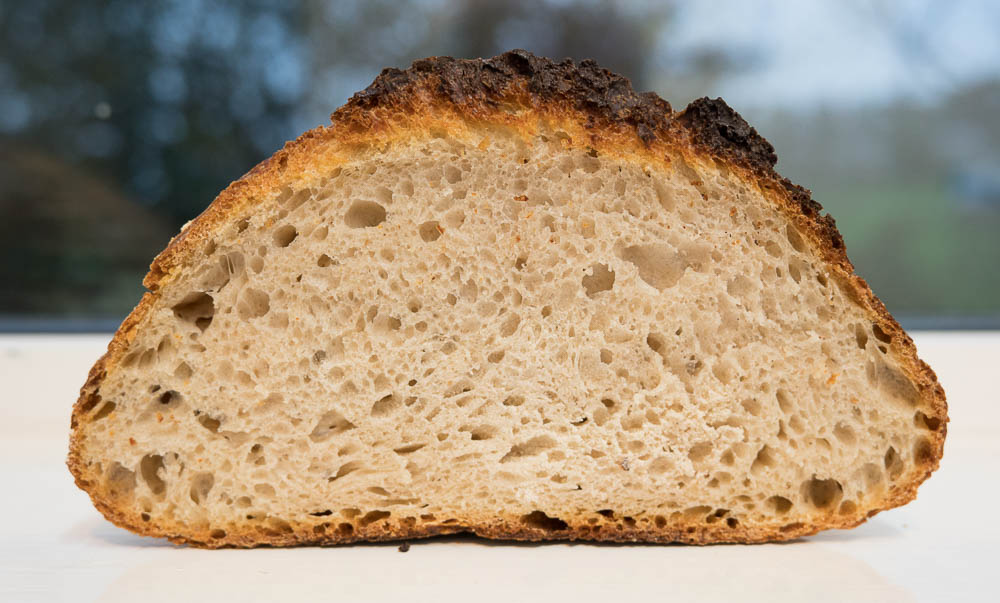 This sourdough bread is 70% hydration with 11.8% white flour. The proving was overnight in the fridge.
I baked it for 15 minutes in a dutch oven at 260C (500F) for 15 minutes then dropped the temperature to 220C (430F) for a further 15 minutes (although I doubt the temperature in the dutch oven dropped by much).  I then took off the lid and cooked for another 20 minutes at 220C (430F).
The temperature in the crumb went up to 99C (210F) shortly after removing the lid, but it didn't go to 100C (212F).
The oven rise is pretty good (I think?). However the crumb feels a bit damp and is quite chewy.  I really don't know if this is what the crumb should be like (it certainly isn't a very light crumb as you would get in a French-baked baguette, for sure).
Toasted, the bread is lovely ... so the extra cooking dries out the crumb nicely.  But I couldn't bake the loaf for any longer without ending up with a very black crust.
After baking and cooling, the water content in the bread is about 28% (weight of loaf - weight of flour ) / weight of loaf. 
Is there something wrong or is it just that I am not used to this sort of bread?  I would prefer a drier, lighter crumb personally.
Thanks!