October 11, 2017 - 10:36am
Oct 5-8: Obsession, verging on insanity
Apparently 'tis the season for clan gatherings – and the associated baking.  Fortunately, the weather is pretty nice for it (I'd much rather be working in an 18 - 20 deg C kitchen instead of 30), and it gives me an opportunity to indulge my obsession without over-filling the freezer ;-)
 I started last Wednesday building up separate rye, oat, and durum levains, and doing a rough preliminary plan for what I wanted to bake.  We adored the shortie baggies that I'd made last week, and I most definitely need lots of practice on that shape, so those were a definite on the list (blogged separately here http://www.thefreshloaf.com/node/53875/oct-8-shortie-baggies-round-2  to make it easier for me to track my baguette-ish progress).  I've been quite caught up in the ongoing whole wheat challenge talked about here http://www.thefreshloaf.com/node/53708/wholewheat-sourdough-bread-doesnt-oven-spring, so wanted to do a small whole wheat loaf to confirm that what I was suggesting should actually work.  For the Thanksgiving dinner with the clan, I needed some dinner rolls, and my stash of my husband's favourite was getting to critical low levels, so a bake of these http://www.thefreshloaf.com/node/52425/catching-myself-oat-kamut-rolls-july-7 with a mix of dinner roll size (45g) and small sandwich size (78g) seemed in order. 
 Since we would be hanging about with the clan all day, I needed some "nibbler" bakes, and my Father-in-Law requested a mix of muffins.  I had enough stashed in the freezer of banana / blueberry, chocolate / beet / cranberry, and durum / mixed berry muffins, but thought that some sourdough rye / carrot muffins would be a good addition that was suited to the season.  While the levains were doing their thing, I quickly threw these together: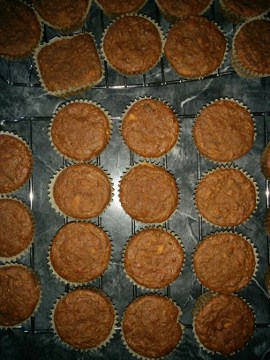 My overall idea was to get the loaf dough all mixed and starting to ferment on Thursday, with an overnight retard, and then shape and bake on Friday.  First up was the whole wheat:
INGREDIENT

AMOUNT (g)

FLOUR TOTAL (g)

WATER (g)

BAKER'S %

LEVAIN

 

 

 

 

Fresh Milled Durum

18

18

 

5.14

Water

14

 

14.00

4.00

DOUGH

 

 

 

 

Fresh Milled Durum

87

87

 

24.86

Fresh Milled Hard Red Wheat

245

245

 

70.00

Salt

6

 

 

1.71

Water

264

 

264.00

75.43

 

 

 

 

 

Total Dough Weight

634

 

 

181.14

 

 

 

 

 

Total Flour

 

350

 

100.00

Total Water (Hydration)

 

 

278.00

79.43

 

 

 

 

 

 

 

 

 

 

Autolyse started at 9:45 with 231g water (room temp 20 deg C)

 

Mixed in levain, plus salt, and 20g water from 11:20 to 11:30

 

Did 240 slap-and-fold, then 100 in-bowl

 

 

 

Mixed in additional 13g water with 200 in-bowl on second mix 11:50-11:55

Stretch-and-fold on bench at 12:30 and 1:00

 

 

Moved to bulk ferment container, stretch-and-fold at 1:30, 2:00, 3:00

Feeling really poofy, so in to the fridge at 3:07

 

 

Pulled out of fridge for stretch-and-fold on the counter at 5:30, dough very extensible, but not too many bubbles

Out of fridge at 11:30 a.m.

 

 

 

 

Pre-shape, bench rest 20-30 min, shape at noon

 

 

Preheat oven to 475, with roaster inside. 

 

 

 

Proofed and in to oven at 2:30

 

 

 

 

Bake covered at 450 for 22 minutes, then uncovered for 20 minutes

Cool completely (a day if possible) before covering or slicing

 
 This dough was really quite lovely to play with, and I enjoyed paying close attention to how it felt, and just how much hydration it "wanted".  I was actually surprised at how much higher I ended up going above my original plan of 75%, but the humidity was quite low that day and maybe I was feeling more brave than usual ;-)
 While the picture isn't great, there were lots of bubbles obvious in the dough when I pulled it out of the fridge in the morning, both on the bottom / sides of the container and on top: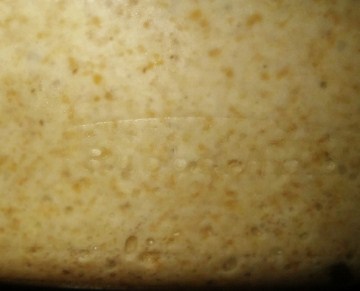 I did let it over-proof a wee bit while the oven was heating up, but it still came out with a respectable oven spring (in my prejudiced opinion):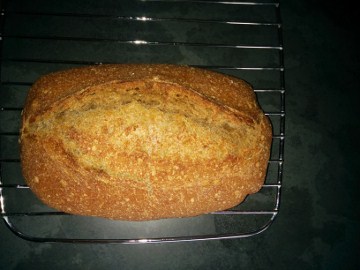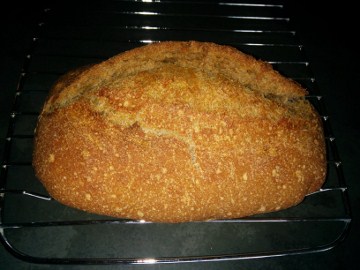 The crumb actually ended up a bit more open than I usually aim for, but I'm going to attribute that to practicing the pre-shaping that I am liking for the baguettes (really nicely demonstrated here: https://www.youtube.com/watch?v=xUeS2PSXtP8 ) combined with my favourite batard shaping (nicely demonstrated here: https://www.youtube.com/watch?v=vEG1BjWroT0 ).  I was so focused on practicing the pre-shape and shaping that I neglected doing an even de-gassing of the dough, and so earned all of those extra over-sized holes for my sandwich condiments to leak through: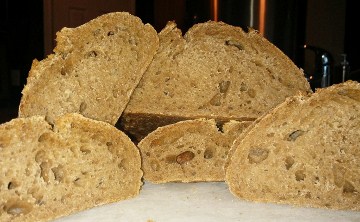 Working around the whole wheat dough, I also put together dough for my shortie baggies.  We loved the flavour on them last week, but 4 was too many since the slices aren't really ideal for our primary sandwich use, so I did a tiny scale up on the quantities for 2 x 350g shortie baggies along with 1 x 700g loaf (details will be in the baggie-blog).
 This loaf was just plain fun, and I have to admit to missing the de-gassing on purpose for this one (that's what napkins are for, right?!?).  I wanted a different score than on the whole wheat, so figured that I'd give a double-score a try.  Well – it looks like I didn't get them anywhere near even enough, so ended up with this:
 The crumb did end up quite moist and open and delicious, so we don't mind the extra holes:
 It was interesting to see the difference in result on the 100% whole wheat loaf (which was a 9% smaller dough weight) and the 32% whole grain loaf.  The timing, temperatures, and handling were very similar, but all of that extra whole-wheat goodness sure seems to attract more gravity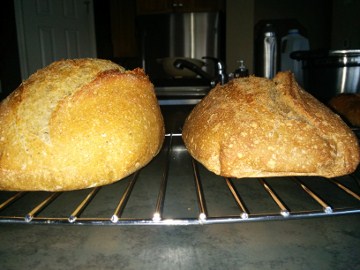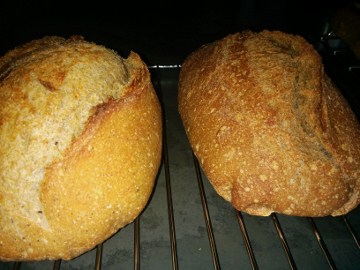 Somehow on Friday, before the dough all came out of the fridge, I got hit with a craving.  My Mother-in-Law had mentioned that she might end up just using a store-bought dessert, and apparently my twee little brain wasn't happy with that idea and came up with a NEED for cheesecake.  Well, I have never made a cheesecake, and didn't have a springform pan handy, so I randomly decided that I would make mini-cheesecake bites in muffin tins – and would do them as half pumpkin with cranberry filling and half plain with cranberry filling (since, well, why not?!)  Since that wasn't enough extra work (especially trying to learn how to do it on the fly), I decided that these needed a gingersnap bottom crust (and I'd never made gingersnaps before, either).  So, in between bread loaves, I made some gingersnaps, whipped together some plain cheesecake filling, mixed some of that with a pumpkin custard recipe that I pulled out of thin air, cooked down some cranberries with raspberries for filling, and eventually put them all together in 2 dozen plain and 2 dozen pumpkin mini-cheesecake bites.  This is all that was left by the time we came home: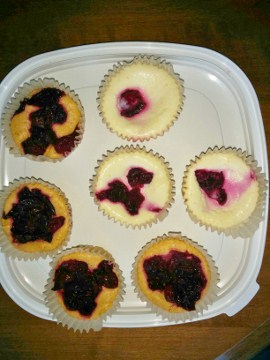 Since the dessert idea wasn't in the plan, I ended up missing my timing for doing my usual poolish for the oat kamut rolls.  Instead, I ended up "proving" about 2g of ADY in warmed milk and kamut (instead of the usual pinch for a poolish) and mixing it in to the levain and the rest of the dough after just a half hour.  This was at 8:00 Friday evening, so the dough got a couple of hours fermenting at room temp with some stretch-and-folds, and then was tossed in to the fridge for overnight.  I pulled it out when I got up at 6:30 Saturday morning, pre-shaped, rested, shaped, and baked them off when they were nicely proofed at 9:30.  It ended up as perfect timing to just cool enough to transport before we headed out for the dinner on Saturday.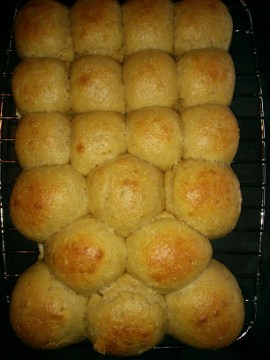 These rolls actually got me a very nice compliment from my Brother-in-Law.  He's Armenian, with a whole-hearted passion for "white bread", and he had stopped at his favourite bakery for fresh dinner rolls that he knew that he would enjoy.  He quite politely tried one of mine, and then ate 2 more of them, telling me how good they were and how he was surprised at me making a "white" roll when he knows how I like whole grains…  He took it really well finding out that my little "white" rolls were actually 55% whole grain --- and has asked me to bake some other breads for him to try.
 Phew!  What a bake – and so much fun!  Hope you all are finding time to play and experiment, and keep baking happy!