October 9, 2017 - 12:57am
Pecan Cherry, cranberry Porridge bread (isand66)
This sounded so good when Ian postedit I couldn't resist. I only made one 750g loaf so recipe is scaled. I couldn't get barley flakes so I used an additional portion of rolled oats. As I only had jumbo rolled oats I roughly chopped them before making the porridge. I used frozen cherries, defrosted & drained.
The levain was mixed up on Saturday night and left overnight on the bench. Sunday morning weighed out everything carefully.  I made the porridge and left to cool.  Soaked the remaining cranberries in the water, then drained them offreserving water for the dough. Just after 1 pm I mixed the flours and water and left to autolyse. Added levain, olive oil, salt and mixed by hand. Added chopped pecans, quartered cherries, and cranberries and kneaded, stretched and folded until well incorporated. Funny, dough doesn't look big enough for 750 g......
Around now I mixed up the other loaf I was making with remaining levain.  This was a simple 1:2:3 but my mix of flours was as follows:
bread flour 55%, spelt flour 15%, wholewheat flour 10%, rye flour 10%, 5% barley flour, 3% potato flour, 2%soy flour. 
the dough was firm and I added an extra 20g water. 3  stretch and folds were done at 30 minute intervals then left to bulk ferment.
Back to the pecan cherry loaf! wait a minute, whats that over there? oh darn! its the porridge! so tipped dough back onto the bench and carefully worked the porridge in.  Right, now it looks about right! 3 stretch and folds at 15 minute intervals and then left for 2 hours before refrigerating overnight. phew, nothing more tonight on this bread.
After dinner it was Back to 1:2:3 loaf - pre shaped, rested 20 minutes, shaped and popped into fridge overnight.  
I am exhausted - why did I do this to myself? I slept like a log!
This morning, 06:30 am take pecan cherry cranberry loaf out to warm up. 
7 am turn on oven and preheat DO
7:15 preshape pecan loaf
7:30 final shape, leave to proof in plastic bag at room temperature.
8 am Bake 1:2:3 loaf straight from fridge 15 mins lid on at 250°C, 18 minutes lid off
reheat oven and DO
9:15 bake pecan loaf - I think it has proofed enough - 15 mins lid on 18 minutes lid off. turned oven off, removed from DO returned bread to oven for 3 minutes with door cracked open.
Left both breads to cool. Tonight sliced ready for freezing but someone had other ideas.  We couldn't resist the pecan loaf. it is very moist, hints of thepecan nuts and delicious bursts of flavour from cherries and cranberries.  the righthand loaf is the 1:2:3 and I haven't tried it yet. It was a bit overshadowed!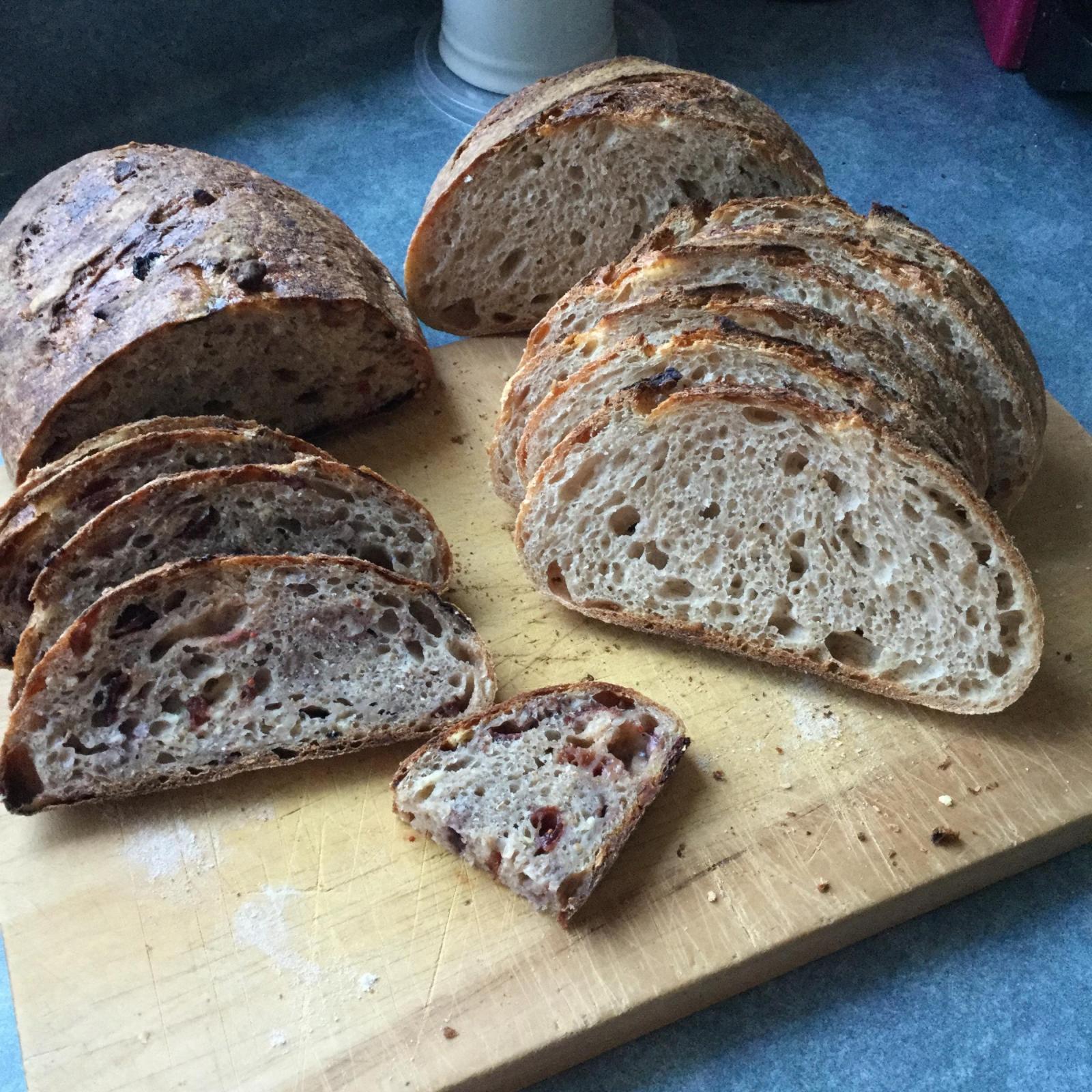 I will definitely make this again.  Not sure if it bulk fermented or proofed enough but it is delicious!!!  thak you Ian for posting this recpe.
Note to self! don't make more than 2 doughs at a time!!  lol
just a little crazy
Leslie