September 29, 2017 - 11:16am
Sweet Potato Buns / Rolls
Some of my customers asked if I was making buns for Thanksgiving dinner, so I said I'd give it a go. Sweet Potato buns seem to be just the thing. I did a sweep of this site and the internet in general to look at recipes; none quite filled the bill (the recipe needs to be easily scalable to several dozen buns and the ingredients can't be too expensive or difficult to handle, or time-consuming to prepare). So I tested and tweaked, and came up with the following.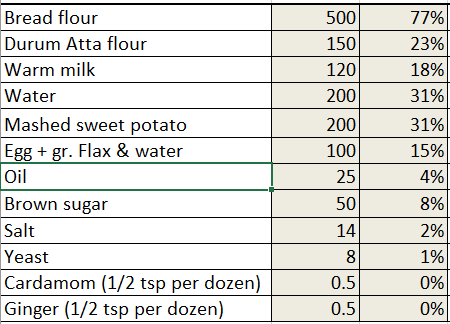 The sweet potatoes were roasted then put through the food mill, so the resulting mash is not too wet. If you are using boiled sweet potatoes or something like pumpkin or squash, you'll have to adjust the liquid in the recipe accordingly to make a soft dough.
I mixed the wet ingredients, then the dry ingredients and then mixed them all together. I used the Ankarsrum and let it run for probably six to eight minutes, or until a soft, sticky dough was achieved. Note that with the sweet potato this will indeed be a sticky dough! One thing to note - rather than using two eggs, I used one egg and the equivalent to another egg using ground flax seed mixed with water 1:2. That makes it much easier to scale (e.g. if you need 75 grams of this, then you can use one large egg plus about 8 grams of flax seed mixed with 17 grams of water). It's also cheaper and the flax seeds are a nice addition to the buns. The durum atta flour also adds good flavour.
I left the dough to rise for about two hours, folding gently once during that time. When it was risen and puffy, I scaled the buns to 85 grams, shaped them into rounds and put them in a greased pan, not quite touching. They then went into the fridge overnight (covered with greased plastic wrap). In the morning I baked them in a 350F oven, straight out of the fridge, for about 20 minutes, turning the pan once.
I'm really happy with these. The aroma of the dough and the finished buns is excellent, and they taste really good. The crumb has that nice 'shred' you look for in an enriched bun, and is nice and moist. A keeper!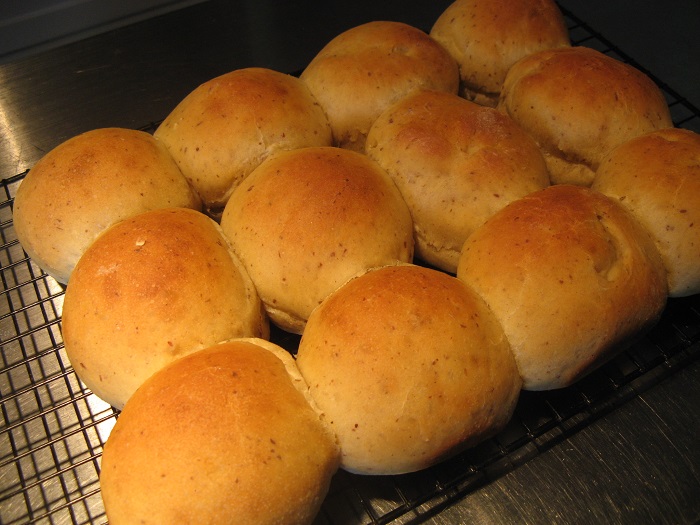 Note that some of the buns don't have smooth tops. This is because I put half of them 'pinched' side up to see how they would look. It didn't add anything, so I'll bake them all smooth side up in the future. :)