September 19, 2017 - 8:31pm
Sept 15: 66% Whole Grain Porridge Loaves
Thanks to the influence of Isand66 and danni3ll3 and dabrownman (among others), I seem to have become somewhat hooked on the textures and flavours created by adding a cooked porridge made with toasted grains.  Since I wasn't sure how my "challenge" rolls would taste, I still wanted a moist and flavourful loaf for our sandwiches, and went with one of my favourite techniques:
INGREDIENT

AMOUNT (g)

FLOUR TOTAL (g)

% WATER

WATER (g)

BAKER'S %

LEVAIN

 

 

 

 

 

Fresh Milled Durum

90

90

 

 

10.18

Water

72

 

 

72.00

8.14

TOASTED ADDERS

 

 

 

 

 

Steelcut Oats

20

20

 

 

2.26

Rye Flakes

20

20

 

 

2.26

Barley Flakes

20

20

 

 

2.26

Wheat Germ

20

20

 

 

2.26

Oat Bran

20

20

 

 

2.26

Whole Millet

20

20

 

 

2.26

PORRIDGE (made w/ toasties)

 

 

 

 

Non-fat Dry Milk Powder

40

 

 

 

4.52

Full Fat Sour Cream

60

 

74.5

44.70

6.79

Water

158

 

 

158.00

17.87

DOUGH

 

 

 

 

 

Fresh Milled Durum

105

105

 

 

11.88

Fresh Milled Hard Red Wheat

105

105

 

 

11.88

Spelt

150

150

 

 

16.97

Red Rye Malt

7

7

 

 

0.79

White Rye Malt

7

7

 

 

0.79

Salt

13

 

 

 

1.47

All Purpose Flour

300

300

 

 

33.94

Water

400

 

 

400.00

45.25

 

 

 

 

 

 

Total Dough Weight

1627

 

 

 

184.05

 

 

 

 

 

 

Total Flour

 

884

 

 

100.00

Total Water (Hydration)

 

 

 

674.70

76.32
LEVAIN: Use 8g of 65% hydration durum starter from fridge and do a 3-stage build up to highly active 162g of 80% hydration levain (90g of durum / 72g water). Plan to use shortly after peak on 3rd feed (refrigerate at peak and hold overnight)

PORRIDGE:
Toast 20g each of millet, steel-cut oats, oat bran, wheat germ, rye flakes, and barley flakes over medium heat.
Add 280g of boiling water to 40g of dry milk powder and 60g of sour cream. Whisk until fully blended. Set aside extra hot water.
Remove pan with grains from heat, and carefully pour in about 3/4 of the hot water mixture. Stir until it is fully absorbed. Add the rest of the liquid, and return pan to medium-low heat, cooking until reaches soft and creamy consistency. Remove from heat and set aside to cool to room temperature.

AUTOLYSE:
Mix together 105g of freshly milled whole hard red wheat, 150g of whole spelt, 105g of freshly milled whole durum, 300g AP flour, 7g diastatic rye malt, 7g red rye malt, and 400g of water in to a shaggy mass. Cover and let rest for 2 hours.

DOUGH:
Add levain and 13g salt to the autolyse. Knead for about 10 minutes (minimal gluten development), then cover and let rest for 20 minutes.
Knead again (about 300 turns) up to medium gluten development, adding water if needed. Cover and let rest for 30 minutes.
Transfer dough to wet work surface, and do 2 full sets of stretch-and-fold. Roll in to tight ball, cover, and let rest for 30 minutes.
Weigh out the now cooled porridge to determine how much water was used. Spread out dough on wet work surface, and spread out the porridge over top as evenly as possible. Incorporate the porridge using a few sets of letter folds. Do a dozen or so slap-and-folds if needed to get it fully incorporated. Transfer to clear fermenting container, cover, and let rest for 30 minutes.
Do two more sets of stretch-and-fold in the container on 30 minute intervals, then transfer container to the refrigerator overnight.

PRE-SHAPE, SHAPE, PROOF, BAKE:

Once dough has fully fermented in the fridge, transfer it to a clean work surface, divide in to two equal sized pieces, and pre-shape both in to rough logs. Cover and allow to bench rest for 30-60 minutes.

Lightly dust work surface with flour, then flip, de-gas, and stitch / shape in to final loaf shapes. Transfer to bannetons, one covered in a damp towel and allowed to proof on the counter, and the other covered by a plastic bag and placed back in the fridge for an hour.  After the hour, put it on the counter to finish proofing as well.

Preheat oven to 475 degrees F with roaster inside.

Once dough is fully proofed, score then transfer to roaster. Bake covered at 450 degrees for 25 minutes, then uncovered at 425 degrees for 25 minutes (to internal temperature of 200-202 degrees). Transfer to cooling racks to cool completely, while returning roaster to oven and again pre-heating to 475 degrees F.  Repeat with second dough once it has fully proofed and oven is hot.

Do not cover loaves until fully cooled (at least 6 hours) and do not slice until next day.
On all previous bakes with this much dough, I have shaped and baked it as a single loaf.  With some conversations about shaping and scoring here in the fora recently, I decided to split this attempt in to two loaves, to see if it made any difference to the shaping and scoring.  Well - what a difference!  Getting a good shape, with a tight skin, is much easier with less dough --- and the scoring works better with that tighter skin.
I still wasn't feeling great, so didn't think about getting pictures of both loaves until the next day when I was slicing one up for sandwiches: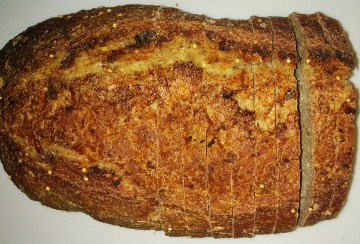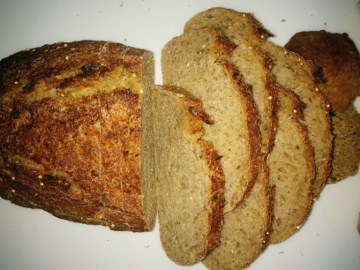 While I was very happy with the shaping and scoring, I was over the moon with our idea of a "perfect" crumb for sandwiches: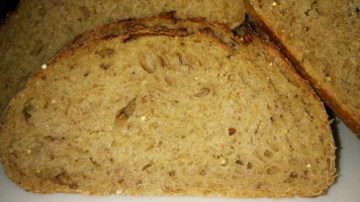 This loaf was first sliced on Saturday --- and I had the last slice from it this morning.  It was stored in a plastic bag on the counter, and it was so moist and fresh-tasting still this morning that I enjoyed it plain --- not toasted, and no toppings.  The second loaf came out just as good, and is more than 3/4 gone in sandwiches and nibbling.  The last bits are in the freezer, but I doubt that they'll be there for long...
For a few days when I wasn't feeling well, it sure was nice to have the bakes fall so nicely in to place.  Hoping that all of your bakes work out so well, too, and that you still manage to bake happy (even if a wee bit under the weather)...